Discover the best aluminum foil alternatives (and plastic wrap alternatives!) for a healthier, zero waste lifestyle! There's also a bonus tutorial for making your own beeswax wrap.
You've probably noticed a lot of information lately about living a zero waste lifestyle.
You've probably also noticed that people are becoming increasingly aware of and concerned about all the ways we're potentially exposing ourselves to harmful substances in our everyday lives.
So what do these things have to do with aluminum foil alternatives? A whole lot!
I hope you enjoy these aluminum foil alternatives for a healthier, zero waste lifestyle and develop a better understanding of why you may want to eliminate aluminum foil from your kitchen!
I'm assuming if you found this post you're already questioning whether or not you should be using aluminum foil. Instead of starting off with talking about whether aluminum foil is safe to cook with and how finding aluminum foil alternatives can be more environmentally friendly, I'm going to jump right into what you can use instead of aluminum foil.
If you'd like to read a bit more about why you might want aluminum foil alternatives, please just scroll down or use the table of contents to jump to the appropriate sections.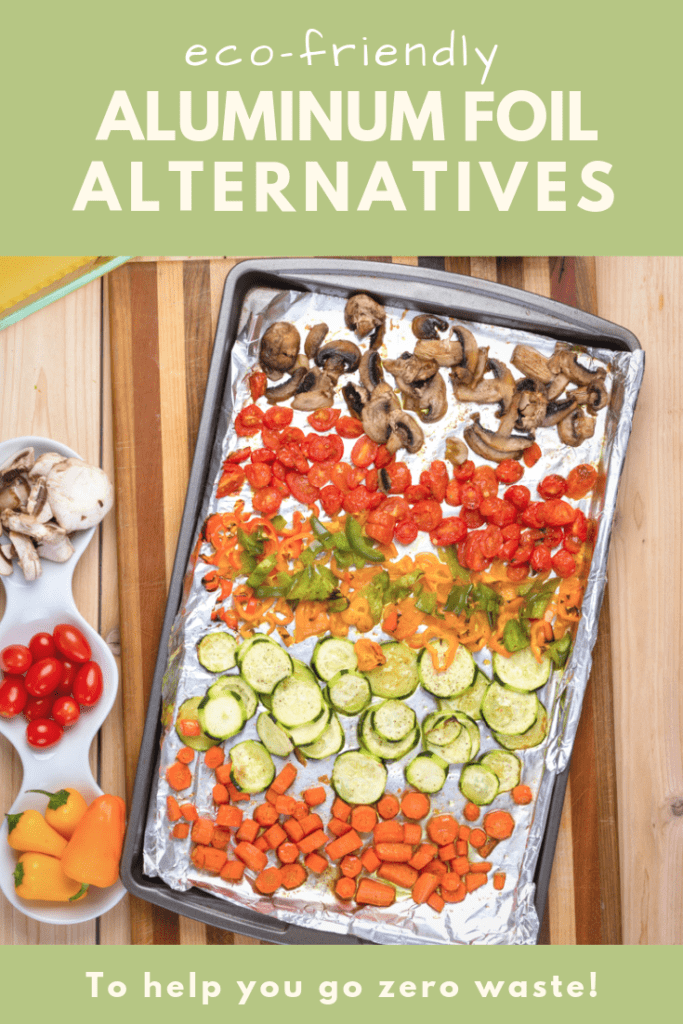 This post may include affiliate links, which means I may make a commission on purchases made through these links at no additional cost to you.
Aluminum foil alternatives for food storage
Instead of wrapping food in aluminum foil or throwing it over a casserole dish before placing it in the fridge, consider these food storage solutions! (They're all great plastic wrap alternatives, too!)
Use reusable cloth wax wrap to wrap or cover food.
Sale
Bee's Wrap Reusable Beeswax Food Wraps, Made in the USA, Eco Friendly...
ECO FRIENDLY REUSABLE FOOD WRAPS are here to eliminate single-use plastic wrap from your kitchen. The green alternative to plastic food storage, our...
ALL NATURAL wraps are made in the USA and contain organic cotton, beeswax, organic plant oil, and tree resin - free from toxins and unnecessary...
VARIETY PACK OF THREE WRAPS in assorted sizes for all of your food storage needs. Use our small wrap for half a lemon, onion or avocado; the medium...
You can make your own beeswax wrap if you're feeling crafty. Check further down the post for a homemade beeswax wrap tutorial!
If wax wrap isn't your thing, try the new stretchable and suction silicone bowl lids.
No products found.
Place your food in reusable glass containers with lids.
Look for a set with lots of square/rectangular containers to maximize your fridge space!
Razab 24 Pc Glass Food Storage Bento Containers Airtight Lids...
Food Storage Container 24 Piece Set - Most Unique Set. BPA Free, Non-Toxic. Includes 12 Glass Food Storage Containers In Small, Medium And Large Sizes...
Built In Vent - If you want a container that you can pop directly in the microwave or oven, look for a glass container with built-in vents under the...
Versatile Use - Reusable Refrigerator-, Freezer, Microwave And Dishwasher-Safe (Top Shelf Recommended), And Oven Safe Up To 500 Degrees Fahrenheit...
Learn from my mistake! Don't buy anything from Amazon again until you sign up for Ebates (They're called Rakuten now, but it's Ebates)! It's free to sign up and you can get money back on sites like Amazon, Walmart, and Target. I am so frustrated when I think about all the money I could have saved if I'd signed up sooner!
Aluminum foil alternatives for baking
There's no doubt about it – aluminum baking sheets are the best! They conduct heat much better than stainless steel. If you have an aluminum baking sheet and you've decided you don't want your food touching it, simply cover it with a silicone mat (aka a Silpat mat) when you bake.
Silicone Baking Mat - Set of 3 Half Sheet (Thick & Large 11 5/8" x 16 1/2")...
THICK/LARGE & MULTI-PURPOSE: Fits US standard half size baking sheets (16.5" x 11 5/8") - Mat thickness is 0.75 mm (approx. 1/32"). Perfect for...
FOOD SAFE/NON-TOXIC & HEALTHY: Made of premium quality non-toxic materials passed strict safety tests. No oil or fat is required for baking which...
OVEN/MICROWAVE/DISHWASHER/FREEZER SAFE - DURABLE & LONG LASTING: It's flexible yet tear resistant, and designed to withstand thousands of uses under...
You can also line your pans with parchment paper, though it isn't considered strictly "zero waste."
Wait, what? Parchment paper isn't zero waste? But isn't it paper?! The coating on parchment paper means it isn't recyclable or compostable. Womp womp.
[efn_note]"Going Zero-Waste In the Kitchen." Pure Green Magazine, www.puregreenmag.com/pure-green-blog/zero-waste-in-the-kitchen.[/efn_note]
The one exception (that I'm aware of) is the If You Care parchment paper, which is unbleached and certified compostable.
Sale
If You Care Parchment Baking Paper Sheets,Roll 70 Sq Ft Roll, Unbleached,...
BEST VALUE: If You Care Parchment Paper comes as pack of one box, providing a total of 70 sq ft of unbleached baking paper. Compare to other brands...
SILICONE COATED: What makes our parchment paper unique is that it is coated with silicone, unlike most parchment papers that are coated with Quilon,...
BETTER BAKING SHEETS: Our FSC Certified unbleached parchment sheets are made of heavy duty, greaseproof, nonstick paper which is chlorine free and...
If you're feeling really thrifty or eco-conscious, you can reuse butter wrappers instead of parchment paper!
If you're striving to cut down on your waste and move towards a zero waste lifestyle, remember the 5 r's: Refuse, Reduce, Reuse, Recycle, Rot. Something you can reuse time and again is virtually always a better choice than a single use item!
If you need to cover something in the oven you can use a baking sheet, metal lid, parchment paper, silicone lid, or a silicone mat instead of aluminum foil.
Dutch ovens with lids, stoneware, CorningWare, and enamelware are all baking and storage solutions with lids.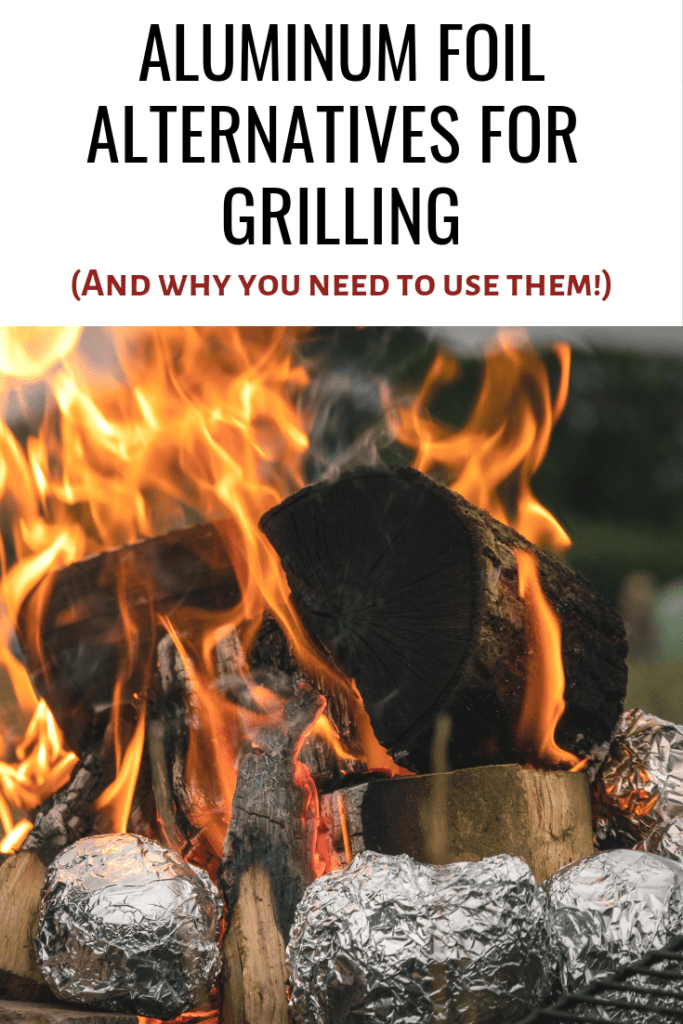 Aluminum foil alternatives for grilling
Instead of grilling on aluminum foil, you could use a stainless steel grill basket. We use one all the time for grilling veggies!
Grillaholics Grill Basket for Outdoor Grill - Durable Premium Stainless...
EASY TO USE - Say goodbye to tricky rolling grill baskets that don't stay put. Our grill basket boasts a wide, sturdy base for effortless grilling....
HEAVY-DUTY DESIGN - Built to outlast the competition, our vegetable grill basket is crafted from heavy-duty, thick-gauge, food-grade stainless steel....
EXTRA LARGE SIZE - Tired of juggling multiple batches on the grill? Our vegetable grilling basket offers a larger cooking surface, with angled,...
You can also get nonstick mesh mats for grilling that allow for air circulation.
You can grill on a Himalayan salt plate or a wood plank.
There's a product called cedar grilling papers that you can use to wrap food you're grilling or baking, but I've never personally tired them. If you have, please leave a comment to let me know whether you like them or not!
You can also grill on a bed of another food, such as lemon slices, for extra flavor (though you might want to use this in conjunction with another item like a grill mat or basket!)
Is aluminum foil bad for the environment?
A lot of people assume that aluminum foil must be better for the environment than plastic wrap…right?
Unfortunately, it really isn't!
Calculations show that aluminum foil is worse than plastic wrap in terms of fossil fuel energy consumed, greenhouse gas emissions, human health impacts, aquatic toxicity, and the potential for causing fish-killing algae blooms.
[efn_note]Rastogi, Nina Shen. "Which Is Greener-Plastic Wrap or Aluminum Foil?" Slate Magazine, Slate, 13 Apr. 2010, slate.com/technology/2010/04/which-is-greener-plastic-wrap-or-aluminum-foil.html.[/efn_note]
A piece of aluminum foil has to be used 8+ times in order for it to come out ahead on all these metrics! I don't think that even my grandma used a single piece of aluminum foil more than 8 times on a regular basis.
The one up side is that aluminum foil can be recycled, while plastic wrap can't.
Eliminating both plastic wrap and aluminum foil is a great step to take if you're working towards becoming zero waste.
What is zero waste living?
There are entire sites devoted to zero waste living, so this is just the briefest summary!
In short, zero waste living means trying to send noting to landfills. It works on the principle of the 5 r's: Refuse, Reduce, Reuse, Recycle, Rot. It follows nature's example – the Circle of Life, as it were – in which everything is returned into the system.
It can be easy to feel like the problem is just too big for your efforts to matter, or that if you can't completely eliminate trash from your life then it doesn't matter, but that simply isn't true.
Every choice we make as individuals adds up and can have an impact. Our family is currently far from zero waste, but we're taking steps every day to reduce what we send to landfills. Reducing our waste is a major goal for us in the year ahead!
Some ways we're currently trying to reduce trash include:
Donating or reselling unused, unwanted, or outgrown items
Focusing on natural material toys

Purchasing clothing from resell stores

Compositing

Buying in bulk

Making our own hand soaps and body wash from bulk-purchased ingredients

Brewing kombucha instead of purchasing commercially-produced teas, sodas, etc.

Using refillable water bottles instead of bottled water

Using homemade beeswax wraps instead of plastic wrap
As I said, even small steps to reduce trash can really add up!
If you want more simple ideas on how to go zero waste, Zero Waste Home is a fantastic place to start.
Sale

How to make your own beeswax wraps
If you try searching for the the best homemade beeswax wraps tutorial you're going to find so many different recipes!
It seems like one of those things everyone has an answer for, but no one really quite has the solution.
Using just beeswax alone is the easiest way to make wax wraps, but the wraps can be brittle.
Adding rosin, like in commercial wraps, can make them tackier, but lots of people have problems getting the rosin to melt (myself included!)
I did some research and it turns out that rosin from different species of pine tree have different melting points. Some melts at fairy low temperatures, but some doesn't melt until closer to 300ºF!
If you have a higher melting point rosin, you're never going to melt it using water and a double boiler. You'd have to use a dedicated electric skillet and watch the mixture very closely because wax will catch on fire around 400º.
If you want to use rosin for stickier wraps, make sure to use an option like this one with plenty of reviewers who've successfully melted it for use with DIY wax wraps.
If you're not looking to buy a huge bag of rosin, that's okay!
I think most people are more likely to find success making their own wax wraps with just beeswax and either coconut oil or jojoba oil.
The resulting wraps won't be super sticky, especially in cooler temperatures, but they'll be supple enough to bend instead of crack and you can always tie the wrap in place if you need to.
Materials needed to make your own beeswax wraps:
Fabric. Use lightweight cotton, preferably something "quilting weight."

Wash, dry, and iron your fabric prior to use!

Scissors or pinking shears
For circular wraps: Tailor's chalk, a disappearing fabric marker, pen, or some other way to mark your fabric.
For rectangular wraps: A rotary cutter and mat make your life a whole lot easier!
Baking sheet & something to line it with (foil, parchment paper, or a silicone mat) -or- an old sheet you don't mind not potentially not being able to use for other purposes in the future
Wood popsicle sticks, skewers, or chopsticks for stirring
A mason jar -or- large Pyrex measuring cup
A small pot with water
For your beeswax mixture:
2 oz beeswax. Beeswax pellets or pastilles are easiest, but you can use a block.

Yellow beeswax will darken your fabric a bit – use white beeswax if you'd prefer to avoid this.

2 tablespoons coconut oil or jojoba oil
If you want to try rosin, use about .75 oz (Again, make sure to get one that has lots of happy customers! I've learned the "hands on" way that any old rosin might not melt.)
This recipe was enough for me to make 5 8.5″ rounds and 2 8.5″ squares of wax wrap with two applications of wax on each piece.
They stick pretty nicely to themselves!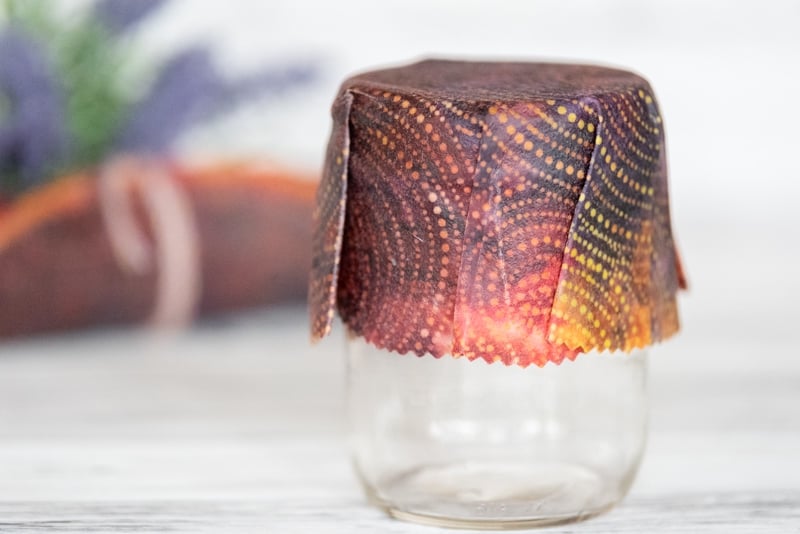 How to make your wax cloth wrap
Cut your fabric into your desired shapes and sizes. My suggestion is to find whatever dishes you cover most often, then add 2-4″ to the diameter or both length and width to get a nicely sized piece of wrap.
Do not let the size of your baking sheet keep you from making a large piece of beeswax wrap! You can fold your cloth in half, if you need to, and the wax mixture will still ultimately soak through.
I found a plate a few inches larger than some bowls that were frequently covered with plastic wrap and traced around it. Use tailor's chalk or a fabric marker if you have it. If you don't, you can trace using a felt tipped pen or even a Sharpie, just make sure to cut to the inside of the line to keep the ink from being on your final wrap.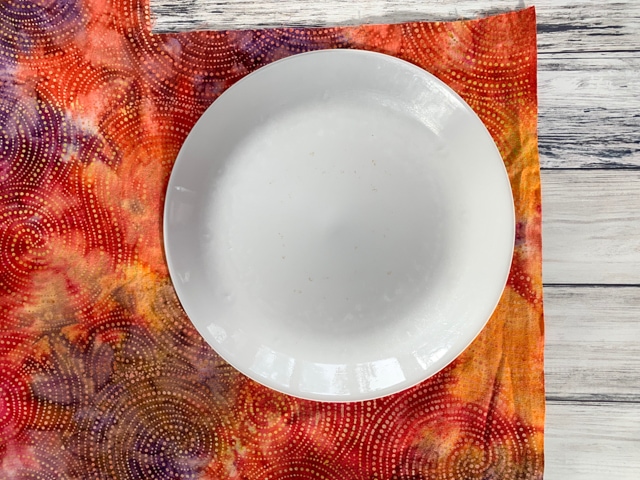 Melt your beeswax and oil (and rosin, if using) in a double boiler. I used a large Pyrex measuring cup in a small pot of water over medium-low heat.
Stir the wax mixture periodically with a wooden stick or skewer to promote melting.
Make sure your water does not boil! It should be a low and slow process.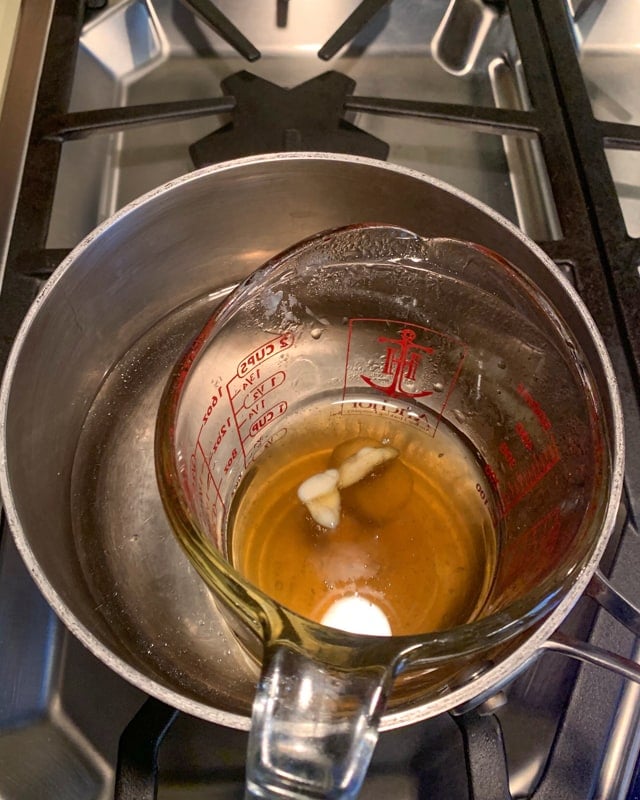 Line a baking sheet with the cover of your choice and heat your oven to 300ºF.
Place a piece of fabric or two on your baking sheet. A bit of overlap is fine. You can even fold a cloth in half, if you need to, but I wouldn't do more than a double thickness.
Scoot your baking sheet as close as you can to your double boiler. Alternatively, you can use an oven mitt to remove the mason jar from the water bath to bring it closer to your baking sheet.
Brush a coat of wax mixture across your fabric. It will begin to turn opaque and harden pretty much immediately.
Pop your baking sheet in the oven. Keep a CLOSE eye on it – it only needs to be in there until the wax has re-melted.
Using tongs, chopsticks, or your fingertips, flip each piece of fabric and use your brush to smooth wax out to the edges. You may also want to apply a second coat of wax to the back – the choice is yours. It really depends on how your fabric is responding to the wax.
Pop the tray back in the oven for a minute or two.
Remove the tray and, using two pairs of tongs or your fingertips, grab a wrap and wave it around in the air a bit. It will cool down quite quickly.
Once it's no longer "wet," lay it flat to cool completely.
I tested a couple of my wraps after they'd cooled for a minute and thought they needed more wax, so that's when I started adding more on the second side. Honestly, I'm not sure which version I like better. You'll just have to see how things are for your fabric and your wraps!
To use your beeswax wraps, smooth them in place several times. The warmth of your hands and the friction will help heat the wax/oil mixture and form the wrap into the desired shape. You can add a piece of twine or a rubber band to hold a wrap in place around a sandwich, block of cheese, etc.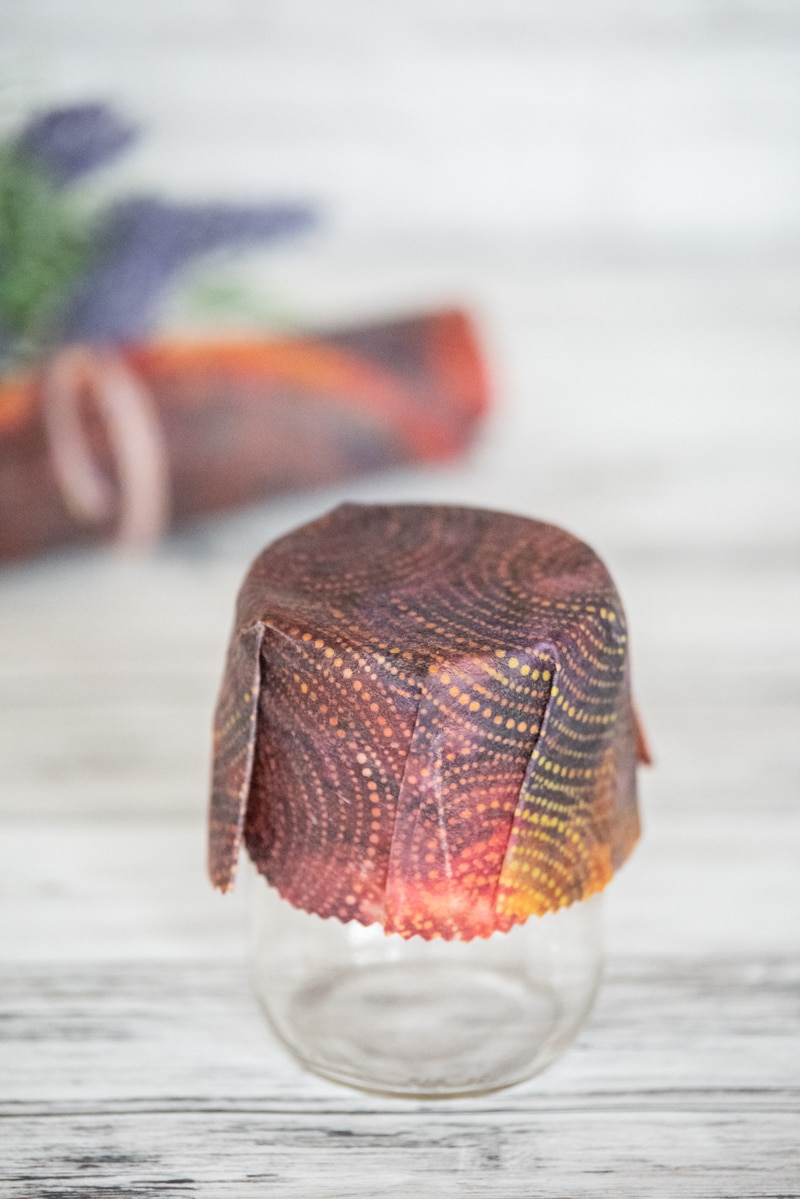 To clean your wax wraps, wash them with cool water and a mild soap like Dr. Bronner's.
Because you cannot wash them in hot water, don't use your wax wraps for things like raw meat.
Depending on how frequently you use them, they may need re-coating every 6-12 months.
To clean your measuring cup, wipe as much of the wax mixture out with paper towels or an old rag as possible. Pour very hot (or even boiling) water in the measuring cup and let it sit for a few minutes. Pour the water out and wipe again. By this point it should be clean enough to hand wash or put in the dishwasher. If not, add more boiling water, let it sit, and wipe again!
Is aluminum foil safe?
Based on your family's health, age, and diet, you have to make the call for yourself on whether or not you feel comfortable using aluminum foil for cooking and/or food storage.
According to the CDC, Americans take in an average of 24 mg a day of aluminum, which is an amount they consider safe. Completely avoiding aluminum exposure is impossible because it's one of the most abundant elements!
How much aluminum a person can actually process depends on whether or not they have various health conditions, such as bone disease or renal impairment, and even the contents of their stomach.
[efn_note]Morris, C M, et al. "Comparison of the Regional Distribution of Transferrin Receptors and Aluminium in the Forebrain of Chronic Renal Dialysis Patients." Current Neurology and Neuroscience Reports., U.S. National Library of Medicine, Dec. 1989, www.ncbi.nlm.nih.gov/pubmed/2614472.[/efn_note]
Children, being smaller, can process less aluminum than adults.
The exact, long-term effects of high aluminum exposure aren't completely known or agreed upon. However, at least one study showed aluminum slowed the growth rate of human brain cells.
[efn_note]"Aluminum Exposure: a Study of an Effect on Cellular Growth Rate." NeuroImage, Academic Press, 28 Sept. 2001, www.sciencedirect.com/science/article/pii/S0048969700008925.[/efn_note]
Studies have found an increased amount of aluminum in the brains of Alzheimers patients, though scientists debate whether or not it's because of increased aluminum exposure.
[efn_note]Masahiro Kawahara, Midori Kato-Negishi Int J Alzheimers Dis. 2011; 2011: 276393. Published online 2011 Mar 8. doi: 10.4061/2011/276393[/efn_note]
A study published in the International Journal of Electrochemical Science analyzed the aluminum content of various foods prepared in aluminum foil. The researchers found that the amount of a aluminum absorbed but the food depended on a variety of factors, including the fat content of the food, the cooking temperature, how long the food was cooked for, and the pH of the food. High temperatures, long cooking times, and acidic preparation increased the amount of aluminum absorbed by the food.
Overall, the study concluded that "Aluminum foil used in cooking provides an easy channel for the metal to enter the human body…Aluminum foil is not suitable for cooking specially with acidic food. It is also possible that excessive consumption of food baked with aluminum foil may carry a serious health risk. "Risk Assessment of Using Aluminum Foil in Food Preparation" Ghada Bassioni, Fathia S. Mohammed, Essam Al Zubaidy, and Issam Kobrsi Int. J. Electrochem. Sci., 7 (2012) 4498 – 4509
Ways you may be exposed to aluminum
I just want to reiterate that the CDC maintains that most people's daily exposure to aluminum is completely safe. Your comfort level with aluminum exposure for yourself and your family is your call. In case you're curious about ways you may be exposed to aluminum, here's some info for you.
Aluminum is frequently added to:
Flour

Baking powder

Anti-caking agents
This report has detailed information on the average concentration of aluminum per kg of many different types of food, if you're interested.
Consumer products are a source of potential aluminum contamination. You can be exposed to aluminum from:
Antiperspirants

Cosmetics

Antacids. Antacids can contain approximately 104–208 mg of aluminum per dose, but according to the CDC it's in a form that mostly isn't absorbed.

Buffered aspirin may have 10-20 mg of aluminum per dose.

Environmental and workplace contamination.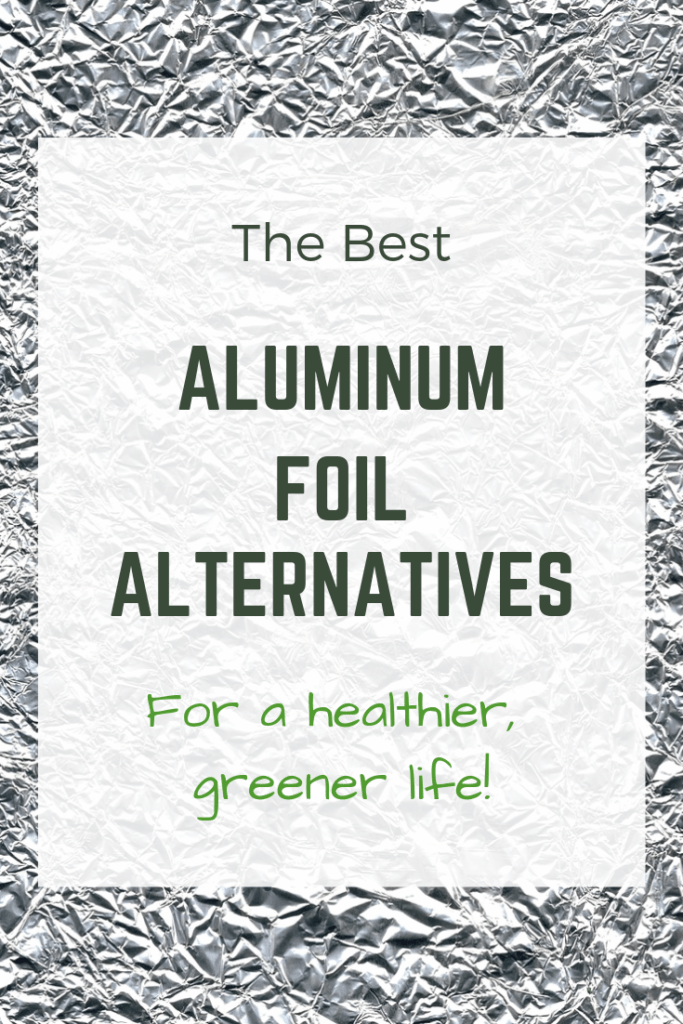 Whatever your reason is for wanting to find aluminum foil alternatives, I hope that this guide helps you out! If you have any additional foil alternatives to share, I'd love it if you could leave comment and share to help everyone out!
More green & zero waste living resources
Natural carpet cleaner & deodorizer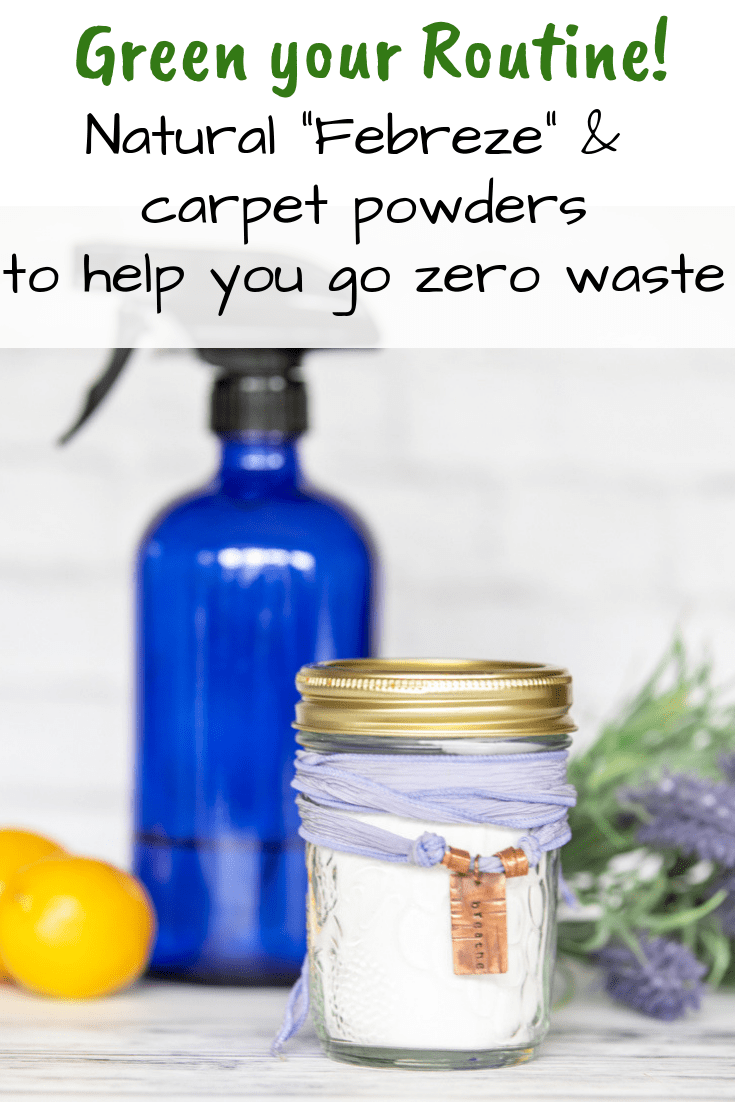 Natural wood polish & cutting board conditioner