Discover a yoga teachers top picks for the best yoga towels! Yoga towels for hot yoga, sweaty hands, and even yin yoga!
Viewers on my YouTube channel frequently ask what yoga mat I use and about what props I recommend. That's why today I'm sharing my top picks for the best yoga towels!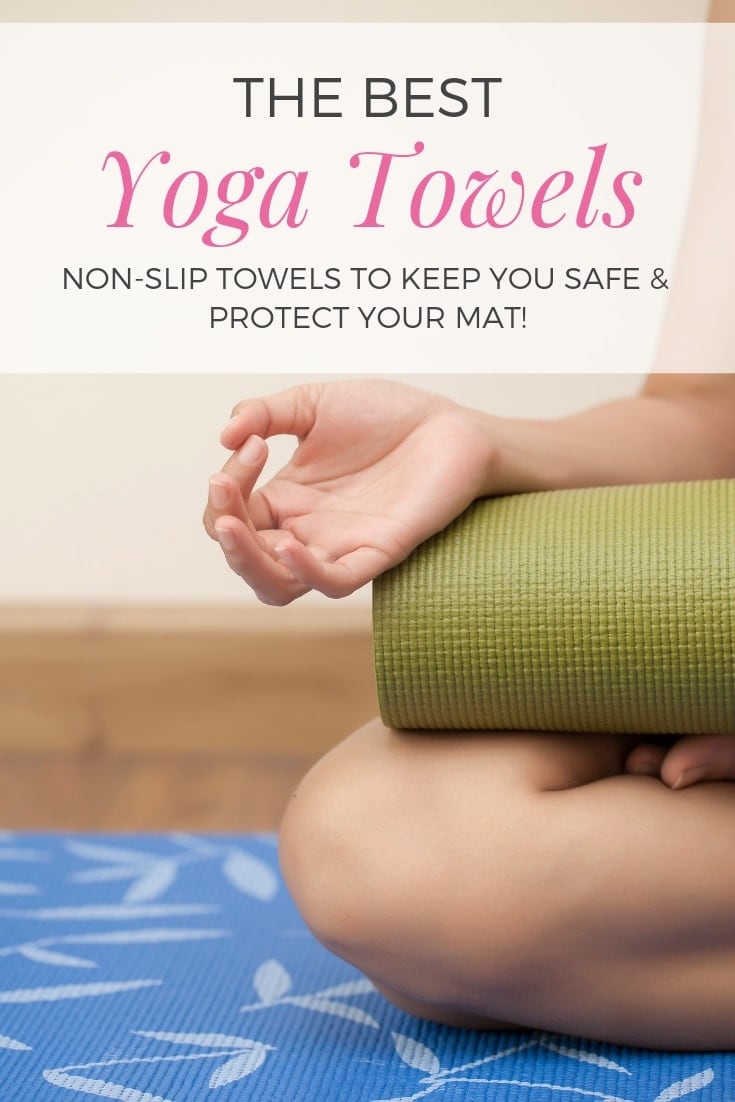 This post may include affiliate links, which means I may make a commission on purchases made through these links at no additional cost to you.
In this guide, I'll cover the best towels for hot yoga, the best towels for sweaty hands during yoga class, and also towels that make great yin yoga props. We'll also discuss why you might benefit from using a towel in your yoga practice. You can scroll through all the recommendations, or use the table of contents to hop to the section you're most interested in!
✅ In a hurry? The Ewedoos towel with anchor fit corners is a subscriber favorite!
Why do I need a yoga towel?
In short, yoga towels can increase your enjoyment of your practice, help keep you safe, and protect your yoga mat.
Yoga towels are different from bath towels because they're typically thinner and have non-stick dots, coatings, or pockets to help hold them in place.
Using a yoga towel can keep you from slipping, sliding, and potentially hurting yourself during a sweaty hot yoga session. They're very helpful during flows with lots of down dogs, high lunges, and warrior I & II because people tend to slip a lot with these poses!
Yoga towels also keep excess sweat and wear & tear from damaging your yoga mat, which means your mat will last longer. If you've invested in a thick, nice mat you'll want to keep it nice as long as possible!
If you're using a studio mat, a yoga towel can help protect you from other people's sweat, dirt, and germs.
Yoga towels also provide extra padding, which is good news for anyone with sensitive joints.
Some people just don't like using yoga towels. If you prefer not to use a towel but are tired of slipping around, you should consider getting rosin. It comes from pine trees so it's all-natural and it can help absorb perspiration and improve grip. You can apply it directly to your hands and feet, and you can also put some on your mat. You can get rosin in a shaker bottle, but in my experience it's worth the couple of extra dollars to get a rosin bag. It's much neater and you waste less, so it pays for itself!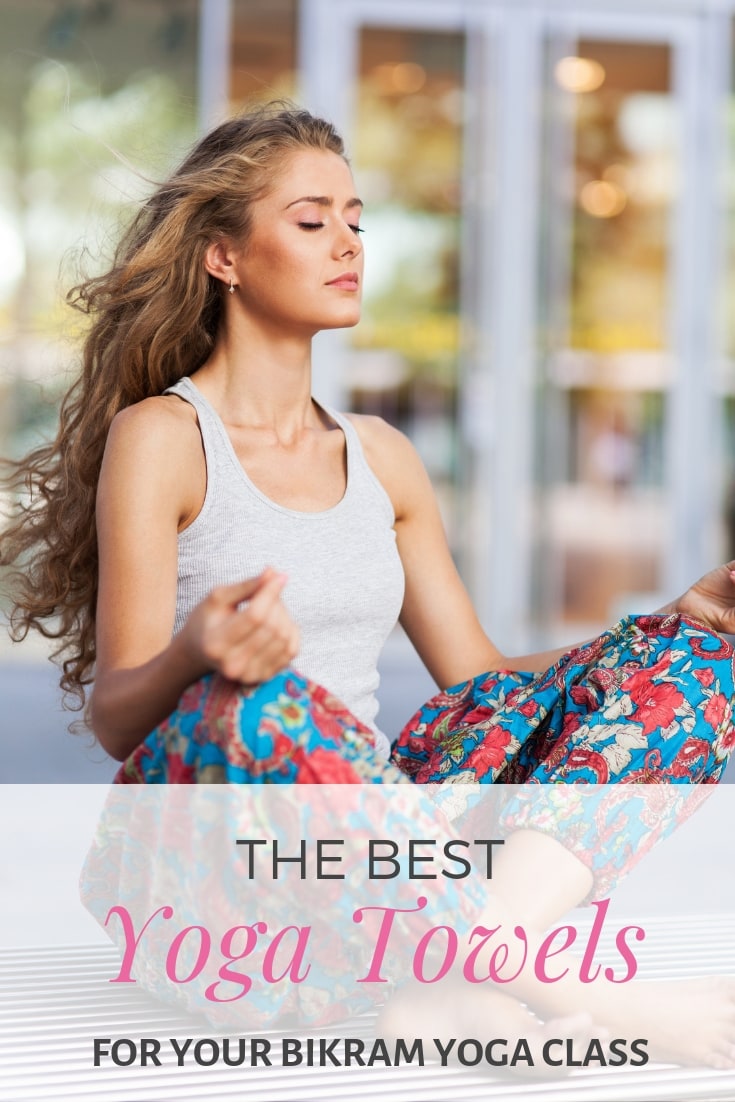 The best towels for hot yoga
A towel is an absolute must-have if you practice Bikram or hot yoga. You can't go wrong with any of these top hot yoga towels! They're all highly-rated and have the benefit of being easy to care for.
Many no slip yoga towels have little dots or a webbing on the bottom that's made from either silicone or latex. They can be uncomfortable, especially under your knees, and mean you have to be careful with how you wash and dry your yoga towel.
Fortunately, these dots and grids aren't actually necessary! The best hot yoga towels use pockets to help hold them in place and are made from materials that become more and more grippy as they get wet.
The Yoga Mate towel is a great choice for anyone who doesn't like the feel of silicone dots of webbing under their towel. It comes in several color schemes and is a standard mat size of 68″x24″. The one thing you really need to keep in mind with it is that it becomes more grippy as it gets wet, so it may slip around some at the beginning of class. Spritzing it down with water can help it grip to your mat!
The Heathyoga towel is a good option if you need a no slip towel that's latex free and comes in eye-catching designs. This mat has corner pockets and comes with a free spritz bottle so you can spray it down for even better grip.
This solid color Heathyoga nonslip towel also comes with pockets. It doesn't have a spritz bottle, but it does come with a carrying bag. It also comes in two sizes, which is nice.
The Ewedoos yoga towel is my personal top pick for several reasons. It comes in neutral colors and tie-dye options, has corner pockets, plus it's available in two sizes. It's also a great deal and typically priced a few dollars less than the other, comparable towels in this post!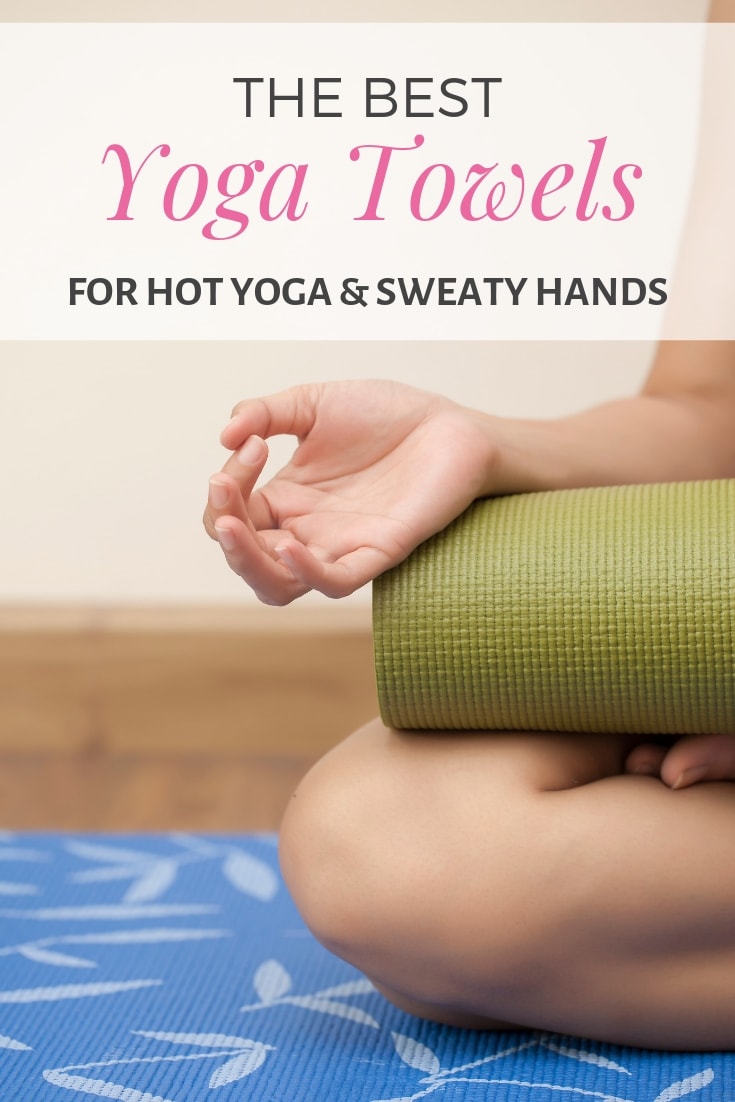 The best yoga towels for sweaty hands
Some people prefer just a hand towel for yoga or want a hand towel in addition to a mat towel. You can use a hand towel to cover just a portion of your mat or to wipe your hands or face as needed. Just like with mat sized towels, yoga hand towels typically need to be damp to grip well. Whatever your reason for wanting a yoga towel for sweaty hands, these are my top picks!
The Manduka hand towel is a great choice because at 16″x24″ it's one of the larger hand towels available.
The Yoga Mate towel also comes in hand towel size! It's typically under $10, so it's a great value.
The Jaci yoga hand towel is also a great choice if you're looking for a towel that's easy on the budget but still offers great performance! It's still fairly large at 24″x15″ and typically costs a couple dollars less than the Manduka for only an inch less towel.
The best towels for yin yoga
You might not expect to find recommendations for towels for yin yoga, but they can be a helpful prop!
Although you're unlikely to get sweaty doing yin yoga, yin isn't shy about using props. Towels and blankets make fantastic yin yoga props to help with your poses or to cover up and keep warm. The extra padding from a yoga towel is also beneficial during yin yoga's long holds!
A falsa yoga blanket can be a great choice for yin. You can fold it up and sit on it to elevate your seat, use it for extra knee padding, or even drape it over your shoulders! You can also roll it up and use it like a smaller bolster. (A blanket is perfect for support in reclined hero and reclined butterfly, for example!)
If you don't like the feel of "Mexican" blankets like the one above, a thick Turkish towel can work well for yin yoga, too! I've purchased a super cheap-o Turkish towel before that was kind of a let down, but my nicer ones are super soft and provide just the right amount of padding/lift in many yin poses. One or more of my Turkish towels are frequent guests in my yin yoga classes! You can also use a towel instead of a strap (something else you can see demonstrated in some of my classes).
The Manduka cotton blanket is another soft choice if the falsa-style blanket doesn't appeal to you!
I hope you enjoy these suggestions for the best yoga towels!
I'd also love to hear about your favorite towels and blankets for yoga if they aren't mentioned so I can check them out!
And, of course, I invite you to stop by my YouTube channel for free yoga classes! I share "yoga for the rest of us." I create accessible practices and frequently give multiple modifications for a pose so my classes are beginner friendly.