Welcome to your bonus list of canning and preserving resources!
I've been canning and preserving food since we discovered concord grapes in our backyard with I was eight years old. My food dehydrator is used at least once a week and I love having a pantry stocked with nutritious, home canned items. These are the supplies and materials I've found most helpful over the years: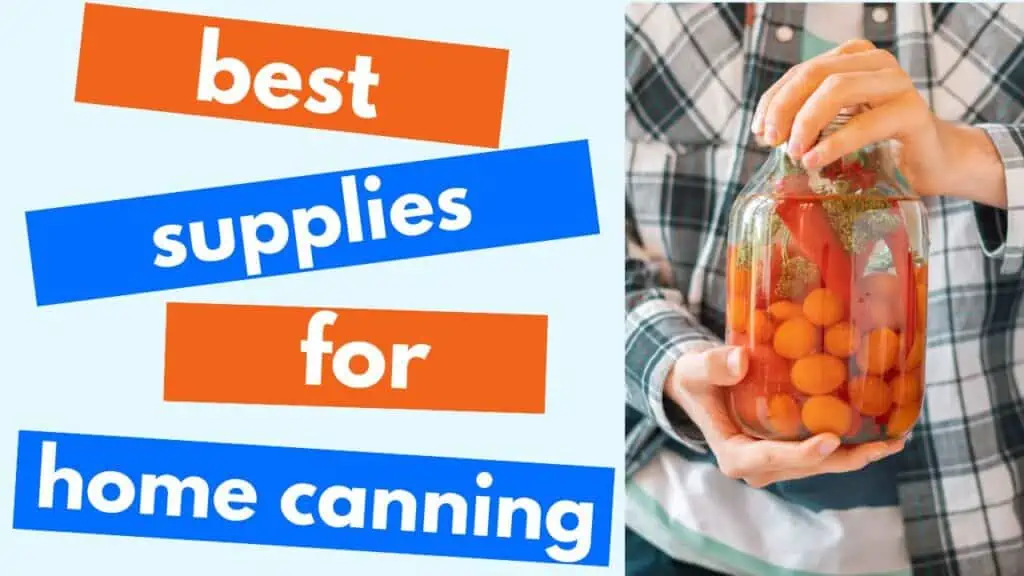 This post may include affiliate links which means I may earn a commission on qualifying purchases at no additional cost to you.
Water bath canner
A water bath canner is the simplest, least expensive way to start canning. You can make high-acid foods like tomato sauce and jams with a water bath canner. A water bath canner is a great place to get started with canning! This is the exact water bath canner I own.
Kitchen Crop VKP Brands Canner, Holds 7 Quart Jars, 20 Quart Liquid...
USE ON ANY RANGE: Flat clad bottom for even heating on any cooktop, including induction ranges
STEAM OR WATER BATH: Double-sided Stainless Steel Canning Rack lets you process by steam or water bath method
NO GUESSWORK: Built-in Temperature Indicator in Tempered Glass Lid with 3 elevation zones makes timing easy
Pressure canner
I LOVE my All American pressure canner. Pressure canners are kind of scary, and they can be dangerous. I've heard more than one pressure canner detonation story from "old timer" neighbors!
The All American has the most secure lid so I feel safe using it in my house with kids and pets. An All American canner is an investment that will last a lifetime. It's made from one solid piece of milled aluminum and doesn't have a gasket to rot or replace.
All American 1930: 25qt Pressure Cooker/Canner (The 925) - Exclusive...
PRESSURE COOKER + CANNER - All American 1930 Pressure Cookers/Canners offer an easy solution for home canning. The USDA recommends pressure canning as...
METAL-TO-METAL SEAL - Only All American 1930 Pressure Cookers/Canners feature an exclusive, precision machined, metal-to-metal sealing system....
EASY TO USE - Since our seal doesn't use a gasket, the cover can be easily opened & closed. Each model also features an easy-to-read steam gauge, an...
Canning supplies
You'll need jars, lids, and bands to get canning. You may also want a canning ladle, jar lifter, and funnel to make canning safer, faster, and easier.
Supa Ant Canning Supplies - USA Assembled & Certified Food Grade Stainless...
THE ONLY CERTIFIED FOOD GRADE STAINLESS STEEL CANNING KIT IN THE MARKET:The only type of stainless steel that is Corrosion resistant offering...
ALL-IN-ONE CANNING SUPPLIES STARTER KIT : This kitchen tool set consists of all essential canning tools : extra wide canning funnel for wide mouth...
CANNING ACCESSORIES WITH GREEN FLUORESCENT COLOR: to liven up the kitchen and make them more visible when you are looking for them and a storage box...
I've started using Tattler reusable jar lids. They are BPA free (Ball brand lids have a BPA coating on the inside) and can be used over and over again. Remember the canning jar lid shortage of 2020? But Tattler lids and never worry about a jar lid shortage again!
Food preservation books
In addition to caning and freezing, I also use an Excalibur dehydrator. I've used my Excalibur at least once a week for the past three years!
Using a tested and approved canning recipe is incredibly important for food safety. Here are my favorite food preservation books for canning, fermenting, and dehydrating:
Happy canning!