I truly love transforming objects from something plain, unwanted, or everyday into something special!
Over the past few months, my sister put a lot of work into clearing things out of her room at our mom's house so that we could have the space for our baby. We're starting to transition LG to 'her' room for naps and she spends a fair amount of time playing there during the day so we're super thankful that my sister is sharing her space with us!
I came across a handful of things while helping her clean that I knew I wanted to use for crafting projects. This DIY boho market basket is a fun, easy project that transforms a plain basket into a fun, on-trend market basket that's perfect for running errands or decorating around the house. I hope you enjoy!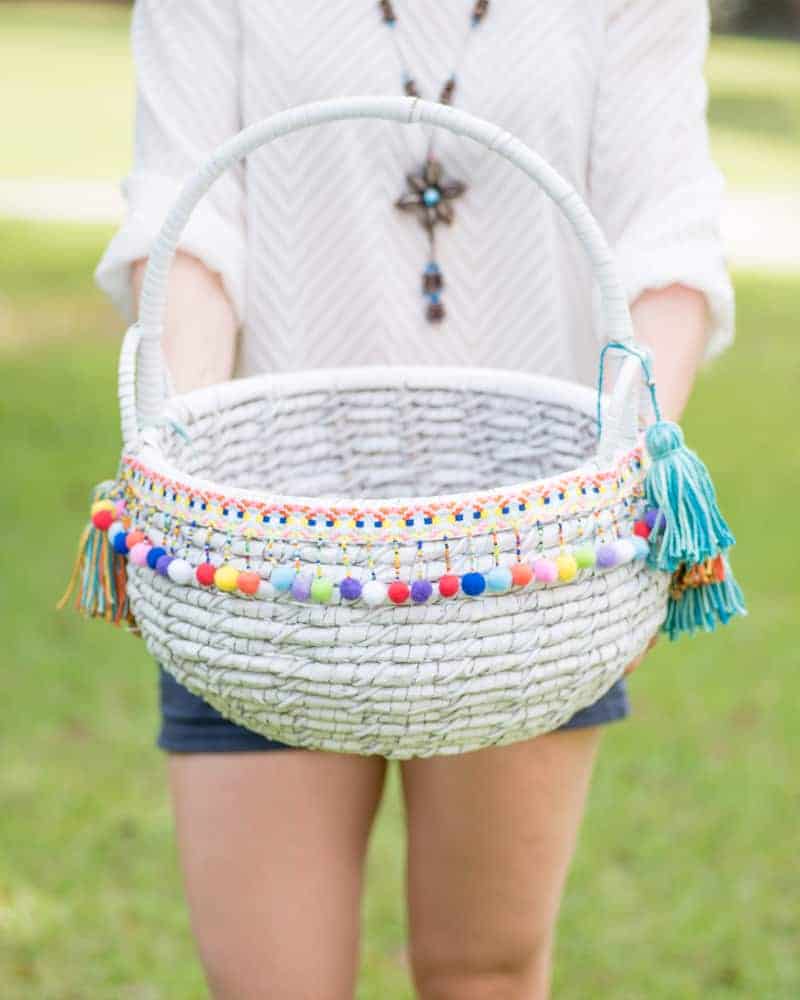 This post may include affiliate links, which means I may make a commission on purchases made through these links at no additional cost to you.
Materials needed for a DIY boho market basket
A basket! A large basket with a handle works best.
Matte/flat white spray paint.
Something to protect your spray painting area. An empty box, newspaper, a piece of plywood, etc.
Trim with pompoms or tassels. There are so many fun options available! This is the trim I used. I went with one of the wider trims I could find since I had a very large basket. If you have a smaller basket, you may want a slightly narrower trim.
A lighter or a product like FrayCheck.
Hot glue. I really prefer top ten hot glue tips!}}
These things are seriously lifesavers! Or at least they're finger savers.
Large pompoms or tassels. You can purchase them already made or make your own!
To make tassels you will need: yarn, a piece of cardboard or cardstock, and scissors. I used cotton Crafter's Secret in Dessert Gold and Caribbean.
Additional embellishments (optional). I put a few charms and large beads on my tassels to add a finishing touch!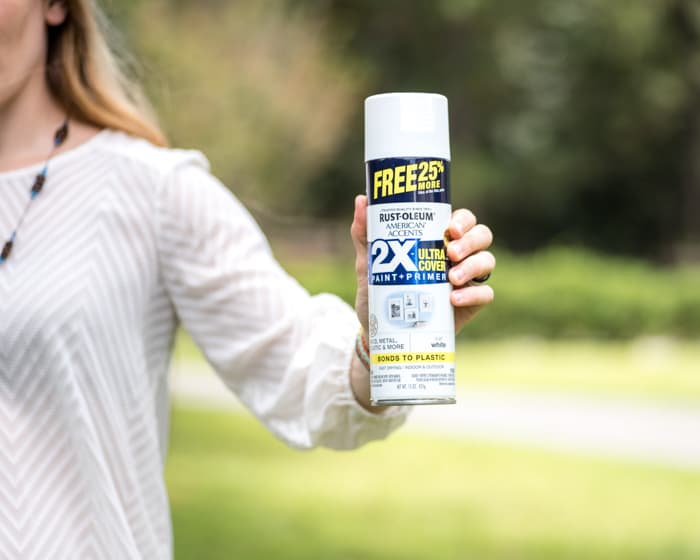 DIY boho market basket tutorial
Protect your spray painting area and then get to painting! Here are a few tips to help your paint job look its best:
Make sure your paint is warm – this helps it come out more smoothly. I like to set it in a bowl of hot water or just out in the sun for a few minutes.
Warm paint goes on better, but don't apply it in the sun! Always spray paint in the shade for best results.
Paint in several thin/light coats to avoid drips. I painted my basket four or five times to cover all the angles and avoid drips.
After your basket is fully painted and dry, you're ready to bring it inside and attach your trim! I find it easiest to go ahead and cut the trim to length before gluing any of it down. Make sure to give yourself an extra inch or two of trim so you'll have an overlap instead of a gap! Carefully singe the cut ends, or apply a product like FrayCheck, to prevent unraveling.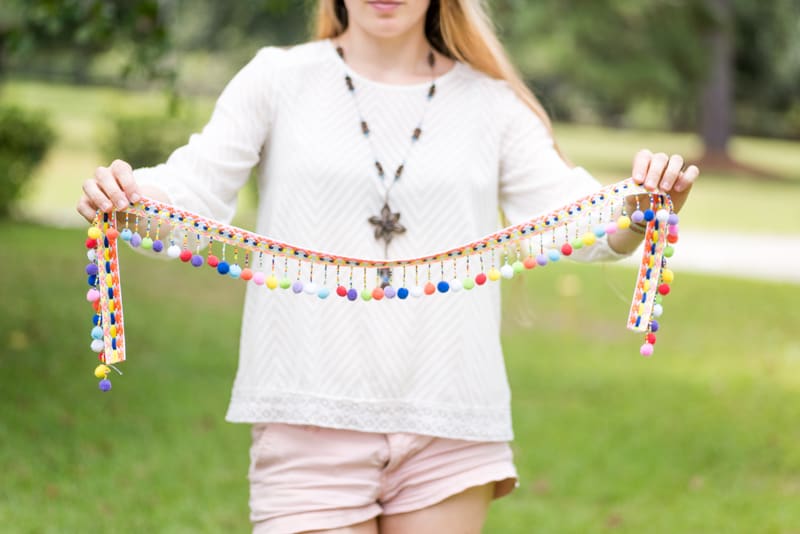 Hot glue your trim in place. For best results, apply the glue to the trim a few inches at a time, press in place, then work on a new section. High temp hot glue has a fairly short "open" time, so it's better to work section by section. Run your bead of glue slightly to the inside of your trim, about 1/8″ of an inch in or so, instead of right along the edge. The glue will squish down as you press it into place so not gluing right on the edge helps minimize excess visible glue and opportunities for burned fingers!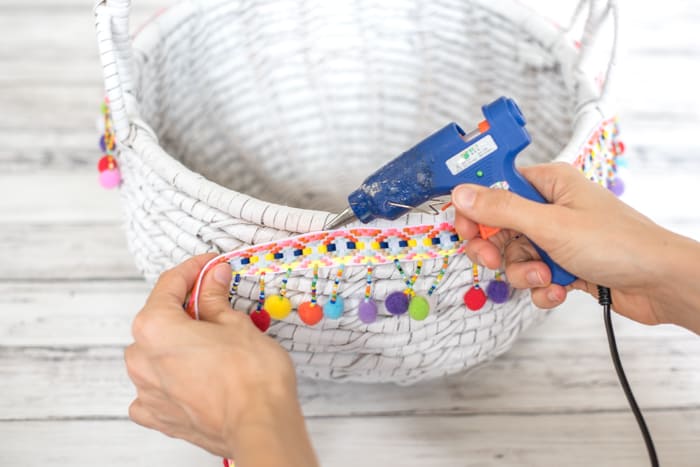 Once your trim is fully glued in place, you can call it a day or you can add more flair!
To make tassels: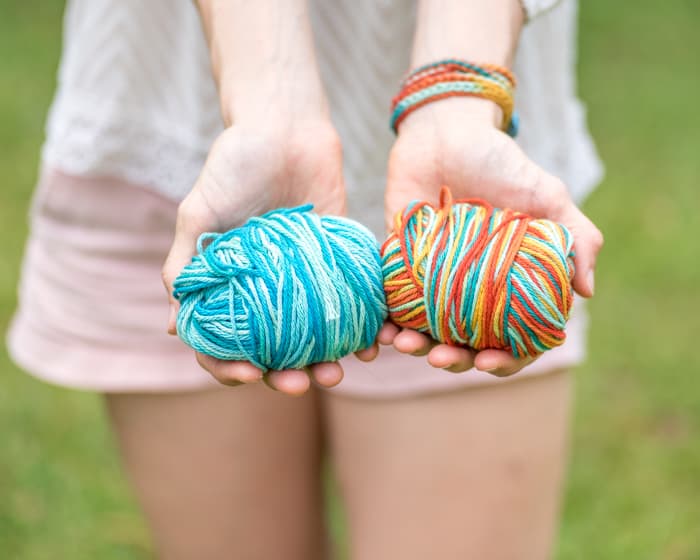 Cut or fold a piece of cardboard or cardstock to make your tassel template. Your template should be as wide as you want your tassels to be tall. Mine were about 2.75″, but play around with things to see what you prefer for your basket.
Wrap, wrap, wrap your template with yarn! I love full tassels, so I made about 80-90 wraps. Again, this will depend on your basket, yarn, and personal preference. Go with whatever you like!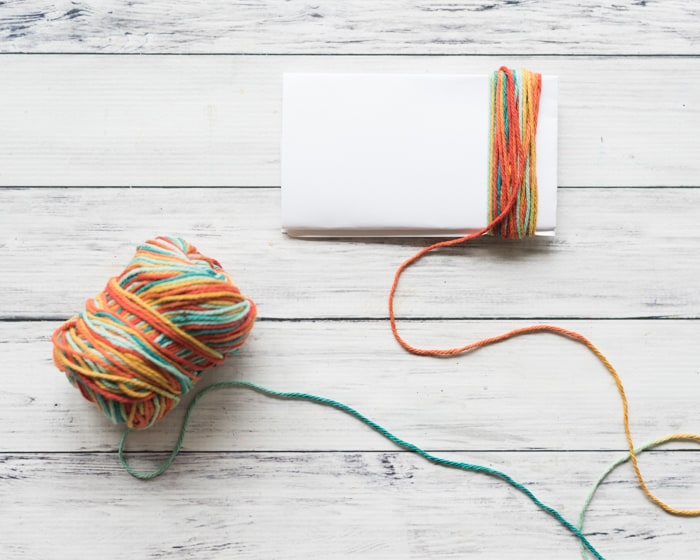 Once you're happy with your wrapping, cut the yarn, then cut two additional pieces of yarn. I cut pieces about 10-12″ long to ensure I had enough. Thread one piece under your loops and securely tie it in place.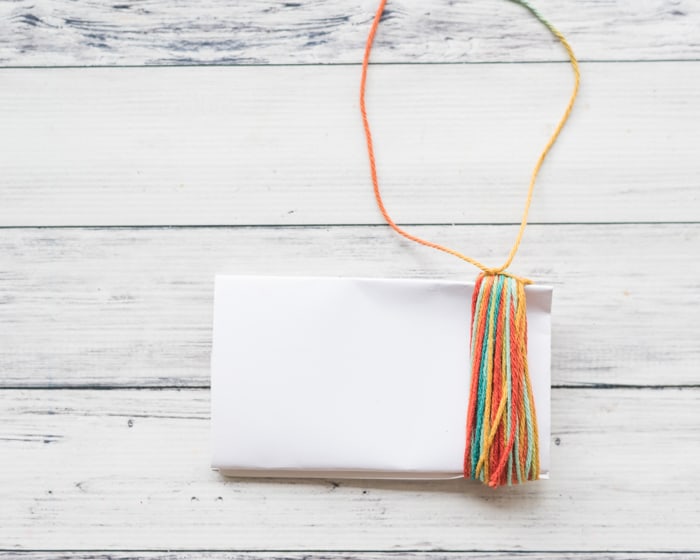 Slide your yarn off the template, then tie a second piece of yarn tightly around it, as shown below, to form the "head" of the tassel. I like to tie it on one side, bring the yarn around to the opposite side, and knot it again for good measure.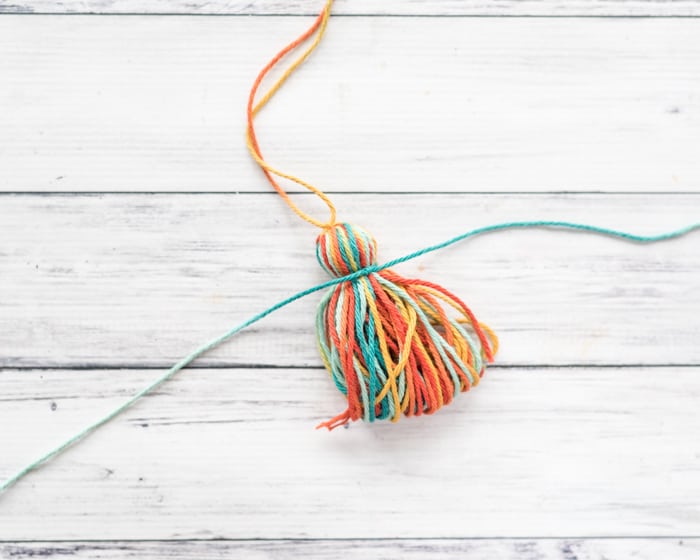 Cut the loops and trim up any stray ends, if needed. Shake out to fluff and then tie it to your basket.
Repeat as many times as you'd like!
To make your tassels even more fun, string some beads onto the yarn or attach charms.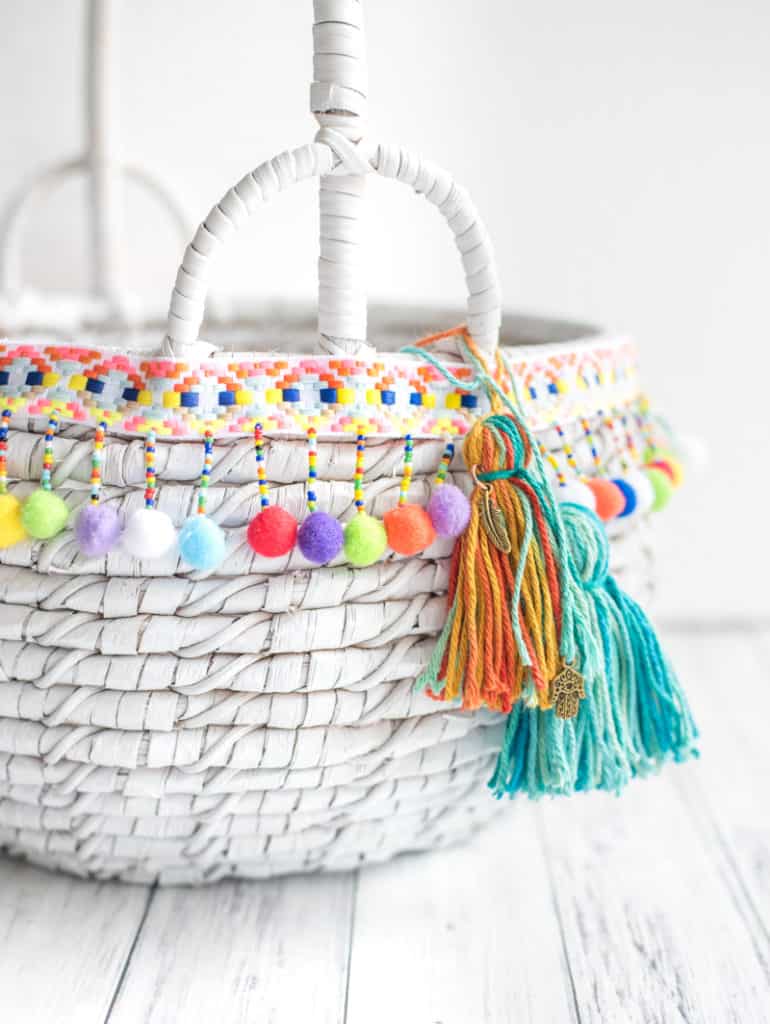 Enjoy your awesome new DIY boho market tote!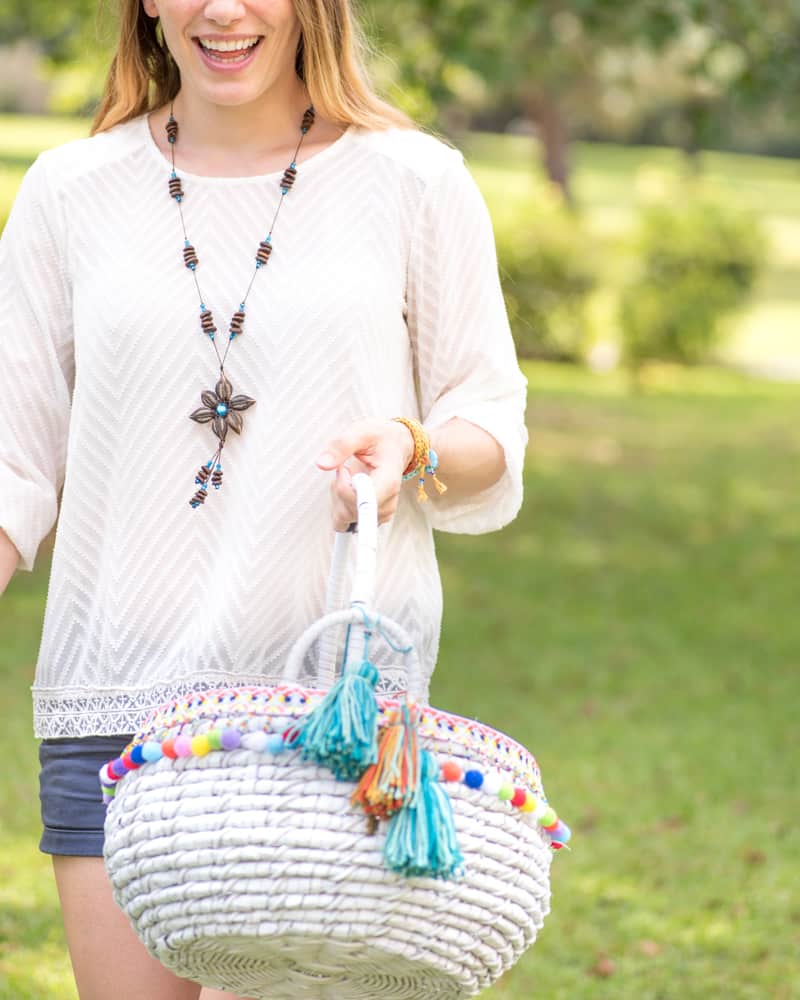 I'd like to give a major shout out and thank you to my husband for his help with this tutorial! He strapped our baby in a carrier and took all the non-tassel photos for this post while wearing our girl. Thank you, Mister! (Him wearing the baby is why I'm making a funny face in the photo above – she was outward facing and being silly so I was being silly back at her during our photo session!). I really love that we're currently able to add more of a human element to tutorial photos and I hope to get more pictures like this in the future!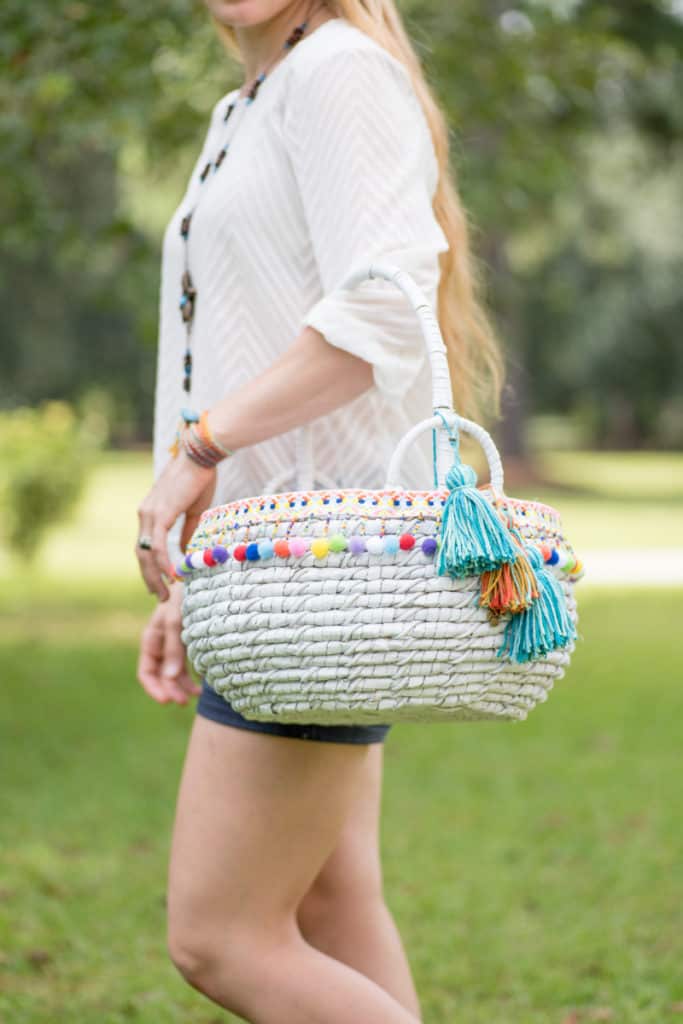 We are super loving the llamas, pompoms, and tassels that are in right now so you can definitely expect to see some more pompom-y upgrades to boring items in the future! How are you feeling about these current trends?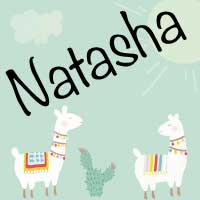 More Related Posts
[pt_view id="15d429e15n"]
[catlist search="tutorial" number