This free Thanksgiving prewriting worksheet set is a fun way for young children to practice fine motor skills and hand-eye coordination as they trace along each dotted line.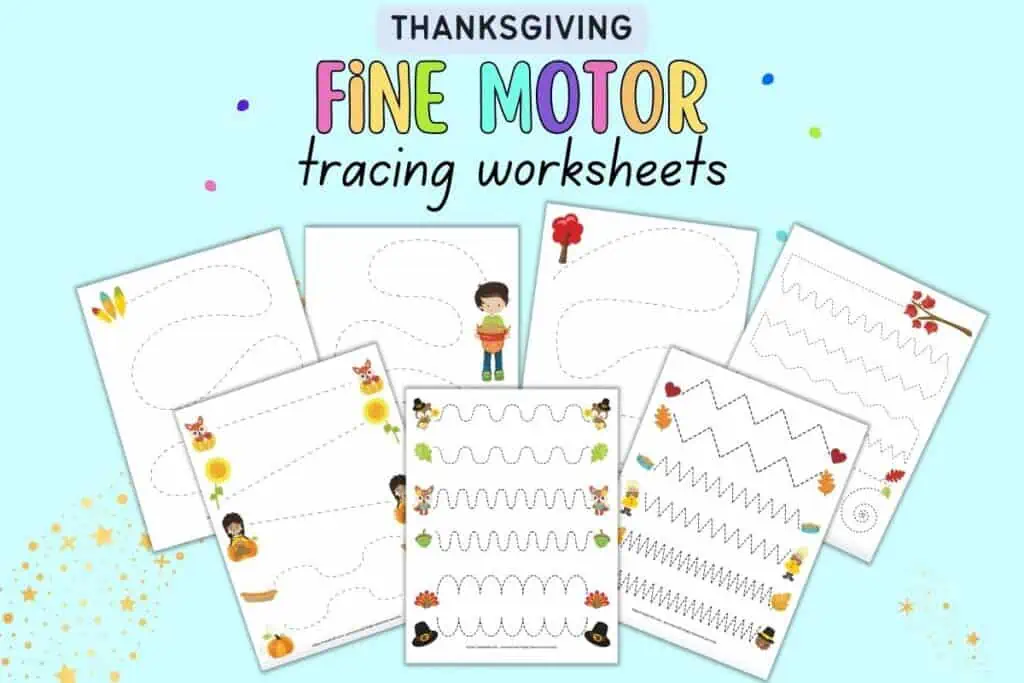 This post may include affiliate links which means I may earn a commission on qualifying purchases at no additional cost to you.
They're perfect for homeschool preschool parents, classroom literacy centers and fine motor centers, and therapists.
Successfully completing these free printable worksheets will require young writers to put in lots of practice as they learn how to control their pencil to make precise movements.
These tracing lines will help your young learners successfully learn proper letter formation, once they're ready to move on to writing letters.
What are prewriting skills?
Prewriting skills are all skills that must be learned before your child can write fluently.
Prewriting skills help your child hold and use a pencil correctly and comfortably, but they also include drawing, coloring, and copying prewriting shapes. These prewriting shapes teach the basic building blocks of letters.
Prewriting skills include both:
Fine motor and manual dexterity skills and…
Specific letter formation shapes: | — O + / \ X Δ and a square. (source)
These printable prewriting worksheets help your child practice pencil control s/he will need to write letters confidently and accurately. 
Your child, or students, will practice horizontal lines, straight lines, diagonal lines, and curves with these activity pages.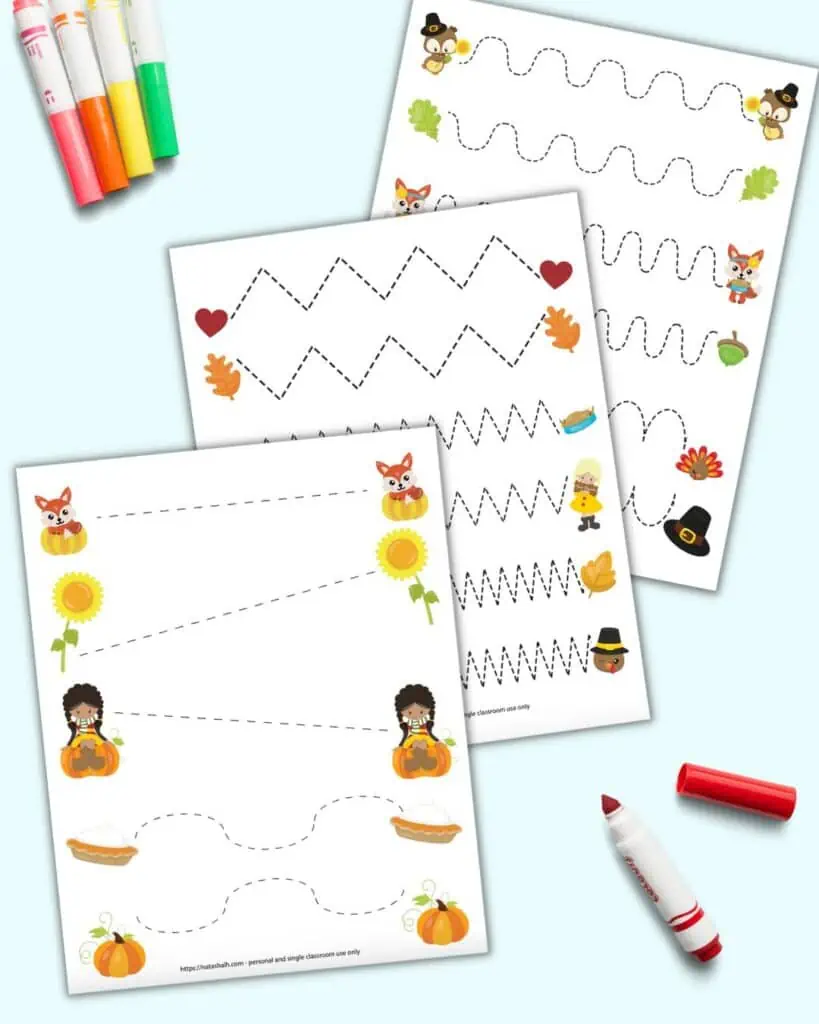 How to use prewriting worksheets
In addition to dotted lines to trace, this set of interactive worksheets also features four pages of longer paths.
One of these paths is complex and combines elements from to earlier pre-writing printables in the pack, but the last three pages have more simple paths. These pages can be a good place to start using pre writing worksheets with younger children.
If your child isn't quite ready for writing tools, s/he can practice by tracing the lines with a finger or using small items, such as small toys or math manipulatives, to trace the dashed line.
Your child won't know how to hold a pencil correctly at first, no matter how many times you demonstrate. This is fine and normal.
Demonstrate the correct pincer grasp and make sure to model it, yourself, whenever possible. Don't stress if your child doesn't use the correct grasp yet. 
It takes years for correct pencil grip to develop. Just keep modeling the correct grasp and providing plenty of opportunities to practice. 
For an added challenge, provide a pencil, not a marker. Markers write similarly no matter the angle or pressure used. Pens and pencils need more control and finesse.
We use shorter, thicker pencils that are more manageable for preschoolers. Readers have asked about using golf pencils. They are short, but they are skinny and difficult for young children to grasp. A thick carpenters pencil from a store like Home Depot or Lowes is a better choice if you can't find preschool pencils.
Channie's Easy-to-Hold Big Pencils for Preschoolers, Kindergarten Wooden...
Cute Pencil Set for Children - Pre-sharpened number 2 beginner pencils for writing and drawing; Easy to hold for small hands, perfect for...
Jumbo Barrel - Thicker than regular number 2 pencils; Graphite core creates thick, dark lines; Each pencil is 5'' long to help your child gain better...
Complete School Set - Two sets with 5 wood pencils each; Ready to use in kindergarten or preschool; Pencils come pre sharpened for immediate use
On the other hand, markers can be a great way to use these pages. When you laminate each page, or slide them into a dry-erase pocket, it's easy to make the pages reusable.
Reusable pages mean one child can complete the same prewriting activities multiple times or you can use these fine motor practice pages in your classroom morning work tubs or classroom centers. 
Sale
Mr. Pen- Dry Erase Pocket Sleeves, 10 x 14 Inch, 6 Pack, Colorful, Plastic...
Package includes 6 dry erase pocket sleeves in 6 bright colors, which are red, green, yellow, orange, pink, and blue.
Mr. Pen dry erase pocket sleeves are made with durable and long-lasting PET plastic with industrial-grade stitching according to the highest quality...
Our dry erase pockets measure 10 x 14 inches, which makes them perfect for storing most sizes of paper or student activity sheets.
A dry-erase marker can stink and stain, so you may want to consider using Stabilo Woody 3 in 1 pencils. They do have a broader tip and provide a bit more friction, but they write beautifully on laminated pages and there's no ink to stain or stink.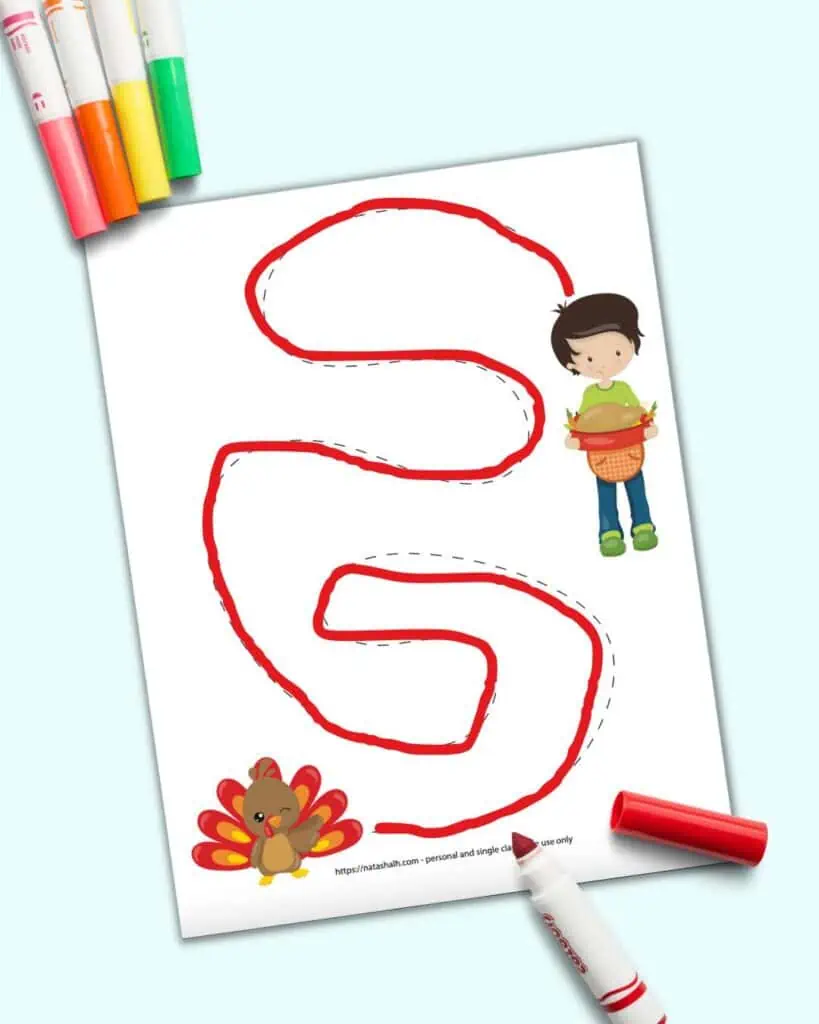 Sale
Thanksgiving themed prewriting worksheet PDF file download area
Like other preschool printable activities here on The Artisan Life, these free printables are licensed for personal and single classroom use. This includes use with library activities and therapy clients.
You are not licensed to sell or redistribute the files or print outs to other adults to use with their children or students. Please refer friends and colleagues to this post so they can download their own copy.
I hope you enjoy using these Thanksgiving themed prewriting worksheets! Make sure to check out the posts below for more printable Thanksgiving activities:
Thanksgiving Printables
Keep your kids busy and learning without a screen and have fun making your own Thanksgiving crafts with these printables for Thanksgiving.