Fall picture bingo is a fun way to celebrate the fall season with your children or students. Even young kids can play because no reading is required! Grab a set of printable fall bingo boards for your family, classroom, or harvest festival today.
It's no secret that I'm a huge fan of printable picture bingo. Today I'm excited to share this cute fall bingo game with you. Pick from two different free printable fall bingo sets or grab a super affordable set of fall bingo cards for a big group.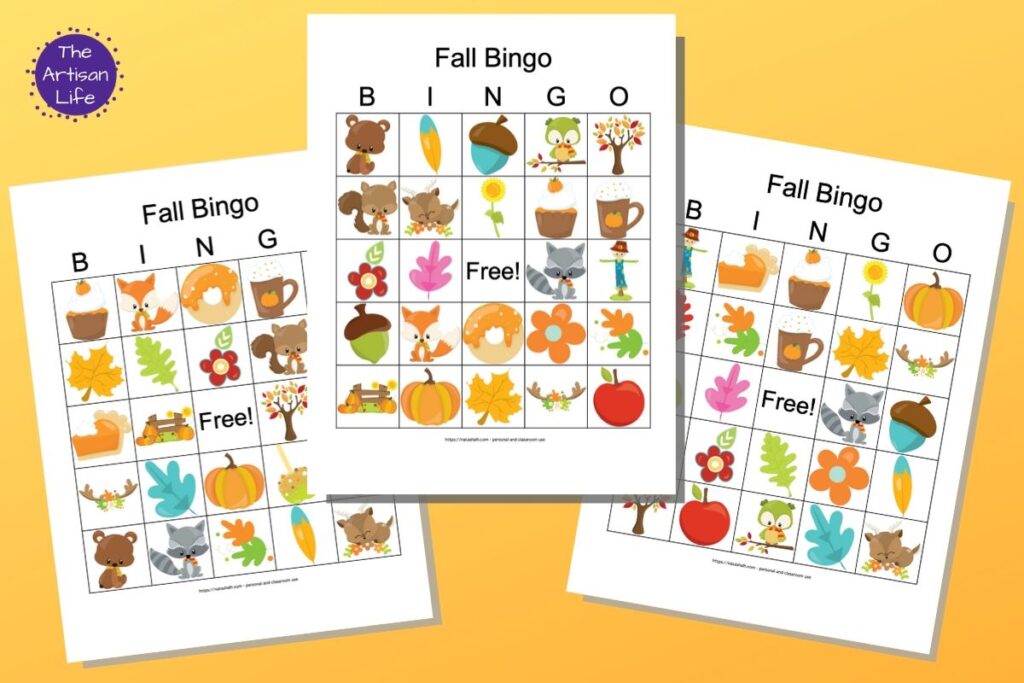 Benefits of playing bingo
Playing board games (as opposed to electronic games) with your children has a variety of benefits, including:
Opportunities for learning and structure, taking turns, and following directions
Improved language skills
Sharpened focus
Increased visual discrimination skills
Teaching the value of cooperation and teamwork
Games can also help your child develop their emotional intelligence and self-regulation skills. If things don't work out exactly as they'd hoped, they have the opportunity to learn about resiliance and develop their coping skills.
How to play fall picture bingo
Your children do not need to read or know their numbers to play fall bingo. However, they will need to be able to tell some colors apart and pay careful attention. If your child is working on their basic colors and visual discrimination skills, this is the perfect game for your family!
You can play with these bingo cards as a matching game for young children or as a more traditional picture bingo game with the whole family.
Download links are located further down the page. You can pick from free sets of 4 or 10, or very affordable sets for a large group. Just keep scrolling a bit more to get to the download section!
Related: Free fall do a dot printables
How to use bingo as a matching game
This post may include affiliate links which means I may earn a commission on qualifying purchases at no additional cost to you.
The easiest way for toddlers to play bingo is using the cards as a matching game. My daughter has loved her printable matching cards since she was about two years old. The first time I printed a picture bingo card for her, she immediately started matching the tiles to the pictures on the board.
To use fall bingo as a matching game:
Print a game card and the call cards at the back. I recommend laminating both the bingo game card and the call cards.
Cut out the call cards. I use my paper trimmer.
Place the call cards in a bowl and have your child draw one at a time, them match it to their bingo card.
Not all images are on every card. (There are 24 images per card, but 29 total possible images.) You may want to look over the card your child is playing with and remove the five extra images.
This is my daughter using her summer bingo game for matching: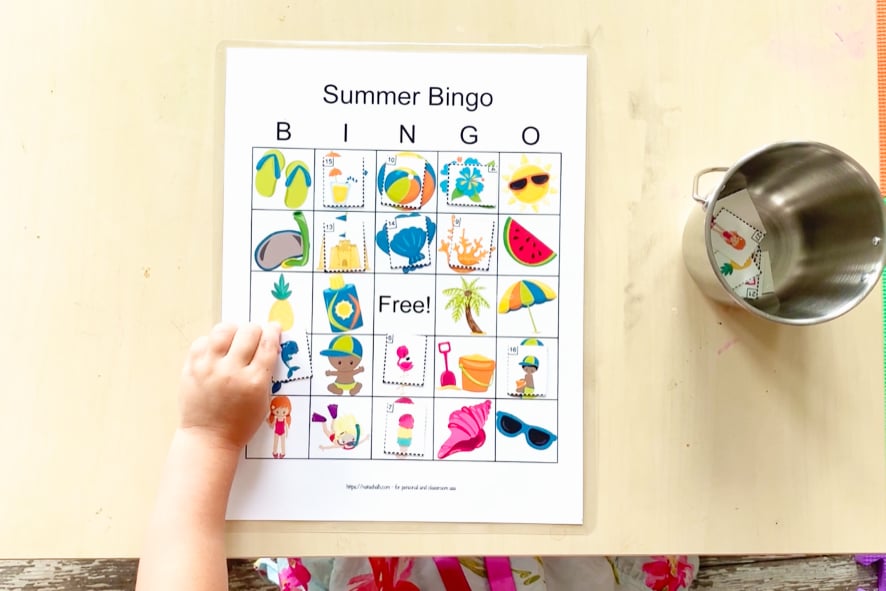 How to play picture bingo
Playing picture bingo is fun and easy:
Print as many bingo cards as you need. Make sure to print the call cards at the back, too. I always use presentation paper. It's a heavyweight paper with a special coating for crisp, vibrant images.
Laminate your bingo cards and call cards. This is optional, but highly recommended. When I use my colored ink, I want my printables to last!
Cut out the call cards. I use this paper trimmer. I've had it since 2015 and it's still doing strong!
Find something to use as markers for your cards. If you've laminated them, players can cross off called images with a dry erase marker or crayon. I like to cut and use squares of cardstock because they're no-mess, not a choking hazard, and reusable.
Place the call cards in a bowl and draw them one at a time. Show the image around.
Players mark off the image if they have an exact match on their card.
The first player to get five in a row in a straight line or on the diagonal yells "bingo!" to win.
Don't be surprised if your kids want to trade cards and play again. And again. That's why I recommend laminating them! You can also place the cards in dry erase pockets if you don't have a laminator.
I always use presentation paper for my bingo cards and laminate them. It's the only way they'll last more than a day or two with my toddler! Presentation paper helps the images be more crisp and vibrant.
Printable fall harvest bingo cards
Please note that, like all free printables on The Artisan Life, these are available for personal and classroom use. You are welcome to print and use them as many times as you'd like for activities you are personally organizing and with your own children, students, therapy clients, etc.
You are not licensed to sell, alter, or redistribute the files to others for use with activities they are organizing.
The images on these bingo cards are fall themed. There are no Halloween or Thanksgiving images. You can find Halloween picture bingo here.
You have four sets of bingo boards to pick from. Two sets are free and the others are very low cost:
50 fall bingo cards for a large group (perfect for fall festivals!)
25 fall bingo cards (I call this the classroom set)
10 free printable fall bingo cards
4 free printable fall bingo cards
All bingo cards are unique and can be combined with other sets. So, for example, you can purchase the set of 25 and grab the freebie set of 10 for a total of 35 unique cards.
Fall harvest festival bingo – 50 cards
This set of fall bingo cards for a crowd is great for harvest festivals, scout gatherings, and multi-classroom parties. This set of 50 harvest bingo games is available right now for one very low price.
Classroom set of 25 fall bingo cards
This popular set of 25 fall themed bingo cards is perfect for classroom parties or fall-themed lesson. The whole set is currently available for a special discounted price.
Free printable set of 10 fall bingo games
The set of 10 free printable bingo boards is always the most popular. It's perfect for larger families and small groups, alike. You can also use it to add a few more cards to one of the other sets!
This set of cards is free, just fill out the form below the preview image to let me know where to send the file!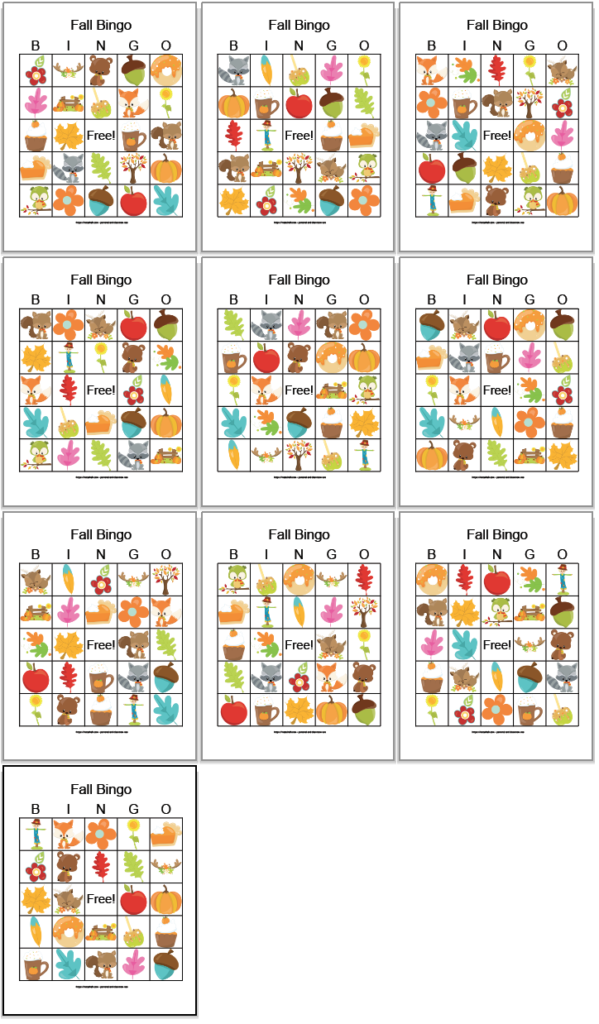 Four free printable fall bingo cards
Finally there's the set of four free printable fall bingo cards. This set is completely free and available for download in the post. Follow the link below the preview image to get your PDF printable from Dropbox. The link is highlighted in grey to make it easier to find.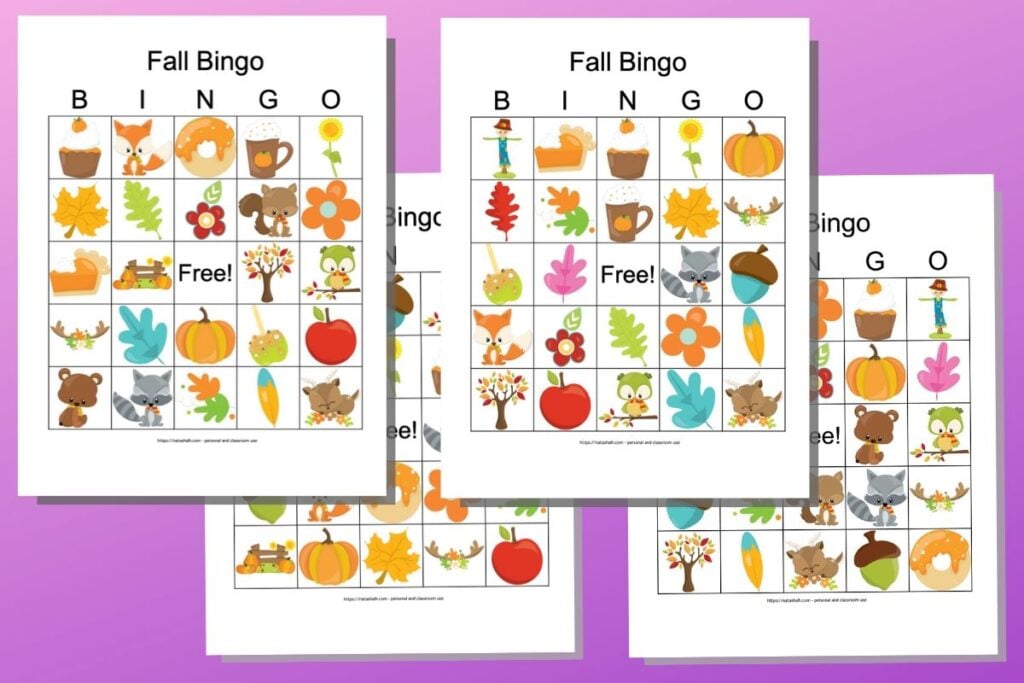 I hope you enjoy playing picture bingo with your family or students this fall! Please leave a comment and let me know what other fall themed printables you'd like to see.
Fall Printables & Activities
These printable fall activites and decorations will keep your kids busy & your home festive for the fall season!