This post may include affiliate links, which means I may make a commission on purchases made through these links at no additional cost to you.
After college I made my own laundry soap for a while and one of the key ingredients was Fels Naptha soap. Moving to a smaller place without a spot to store my 2 gallon soap bucket caused me to stop making laundry detergent, but it didn't make me forget about trusty Fels Naptha.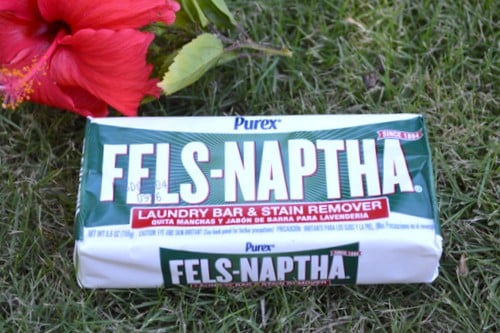 A couple of weeks ago, I noticed an opportunity to review Purex Fels-Naptha and I knew I wanted to participate. I was so excited when my little package arrived that I actually jumped up and down a couple of times. Weird? Probably, but I was thrilled. Here are my most recent experiences with the bar of laundry soap, followed by an opportunity to win coupons to try it for yourself!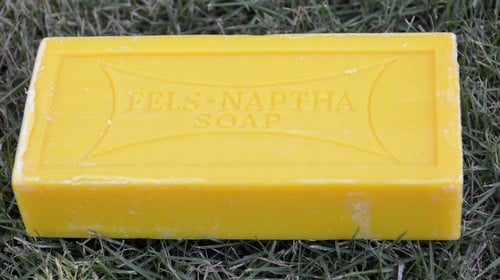 As people who follow my blog know, my man is in the Navy. He's been in his dress whites a couple of times already this summer (you may have seen one of our homecoming photos), and he has at least one more dress occasion coming up soon. Guys + white clothes…well, I think we all see the problem. Some parts of the uniform are washable, but other parts are dry clean only, and he somehow managed to get junk on the seat of both pairs of dress white trousers. Getting the camera to focus was difficult (and I had to take the pictures in the shade so reflecting light didn't blind me!), but you can see the smudges. I'm not sure what they were, but doubtlessly something oily, grimy, or otherwise icky that should stay onboard the submarine. Since I knew some of the stains had been there over a month, I actually wasn't that hopeful about getting them out.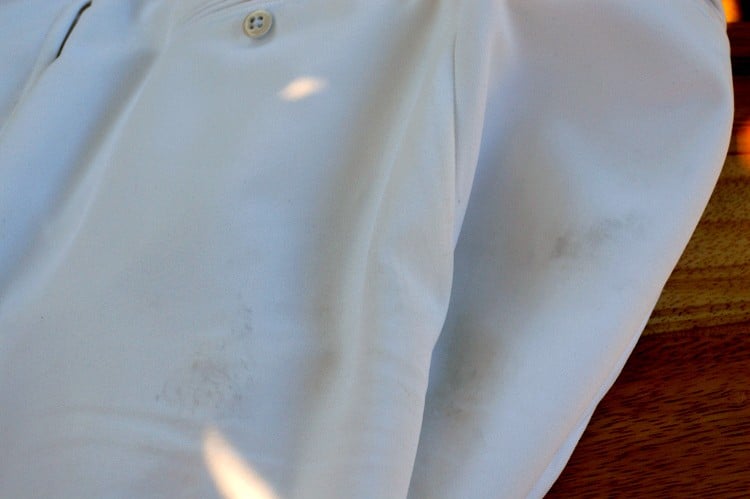 To get started, I wet the stained areas on one pair of trousers.
Next, I rubbed the Fels-Naptha bar on the moistened area until I could tell that it was soapy. Then I scrubbed the fabric between my fingers to work up a little bit of lather.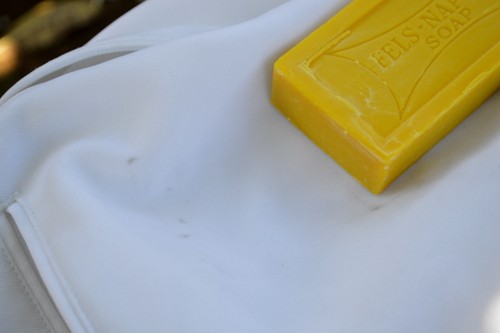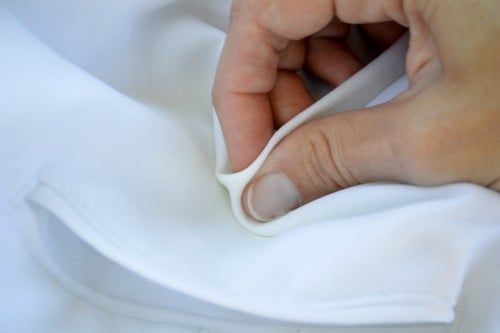 I let the lathered up trousers sit for about 3 minutes. The bar's wrapper suggests letting the soap sit for 1 minute when you use it as a pre-wash stain treatment, so I figured I'd leave it a little longer since I wasn't planning to actually launder the trousers. I don't feel like all that ironing in a house with no AC! Last, I rinsed the soap out, scrubbing the fabric with my fingers under the running water to make sure I got all the soap out.
I was so excited to see the stains were gone that I rushed to the closet for the other pair and cleaned them up, too. Then I let them air dry and now they're ready to go! I'd never used Fels-Naptha as a stain remover before and I was pleased with how well it worked.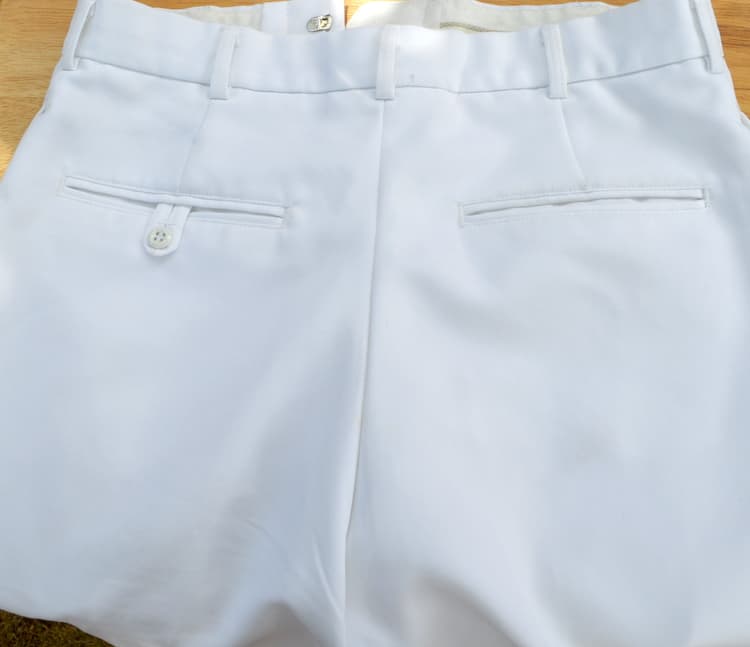 After seeing his freshly cleaned trousers, Papi Chulo asked if I could clean the collar of his choker jacket. It's one of the pieces that says "dry clean only" and it was really grimy. I'm not sure how long some of that gunk had been in place; he got back from deployment last month and I don't think that particular jacket went with him. The collar was already a little dirty before the last time he wore it (to an outdoor function), which means some of the stain was at least 9 month old sweat, grease, and whatever else. Ick. I was not optimistic.
Once again, I carefully wet the collar, lathered on some soap, and did a little scrubbing. This time I used an old toothbrush because the collar was more difficult to scrub by hand without wetting the rest of the garment. I let it sit for about 5 minutes, and washed it while scrubbing gently with the toothbrush. It was substantially better looking (better than when he put it on last week), but I wanted to see if I could get it even cleaner. I lathered, scrubbed, waited, and rinsed again. Incredibly, that gunk came out! Wow! I honestly didn't expect to remove the greasy stain along his collar.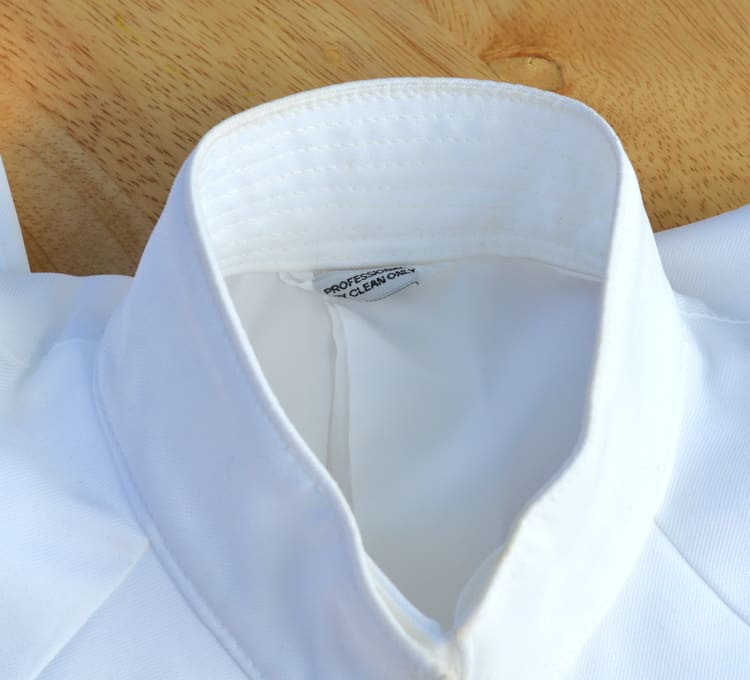 I enjoyed using the bar as a stain remover because I had control over where, exactly, I applied it, unlike sprays that sort of go everywhere. Plus, it's more cost effective than sprays because you're not paying for all that added water. And, hey, a little bit of scrubbing is worth it for this guy: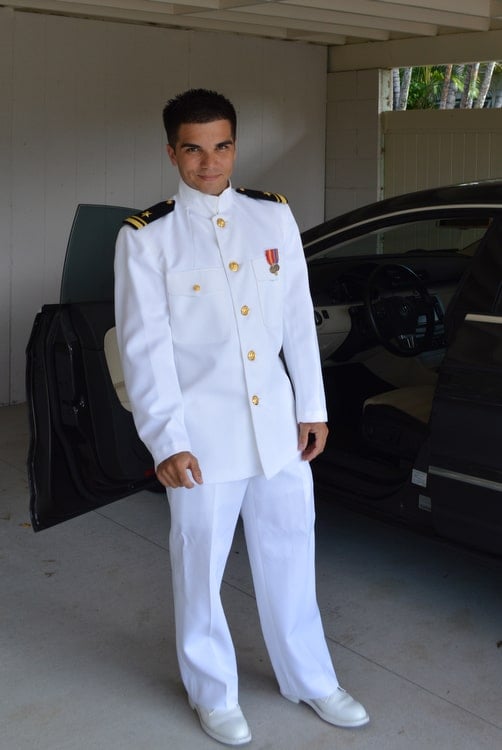 In addition to using Fels-Naptha to treat and remove stains, you can also use it as laundry soap or a laundry soap enhancer. When I used in the washing machine, I just used a little kitchen plane grater to put some directly in with the laundry. I thought about writing my clean towel experience using Fels-Naptha, but I figured that spot cleaning dress whites was more exciting and practical. Have you see how much it costs to dry clean a suit or a uniform? (For the record, though, I used only Fels-Naptha to clean a white towel that had post-beach sunscreen grime on it and everything came off.)
Have you tried Fels-Naptha yet? Do you use it as a stain remover, or do you make your own laundry detergent with it? If you haven't used it, how would you like to try a bar for free? In addition to getting my own bar to try, Purex also sent along giveaway coupons! If you're not sure where to find it, the Purex/Fels-Naptha website has a convenient store finder. A bar of laundry soap is a simple thing, so I kept the giveaway simple and painless, too. It's open all the way through August 3 and I'll be giving out up to three coupons, depending on how many people participate. By 'liking' the Purex page on FaceBook, you can find out about new products and chances to win even more cleaning supplies! Good luck and enjoy.
a Rafflecopter giveaway
**Purex provided me with a sample of Purex Fels-Naptha Laundry Bar in exchange for a product review, but the opinions expressed here are my own.**