Oregano is a popular herb that flavors the food of many different cuisines. It's an easy to grow perennial herb that thrives with little attention. This makes it perfect for classroom gardens, school gardens, and busy families. Oregano is a popular pizza herb and is used on tomato sauces so it's a very kid-friendly herb that your family will definitely use.
Oregano truly is one of the easiest plants to grow. It's perfect sandy soils and dry soil, plus it thrives with little water. It's a great option for first-time gardeners! Keep reading to discover everything you need to know about how to plant, grow, and harvest oregano successfully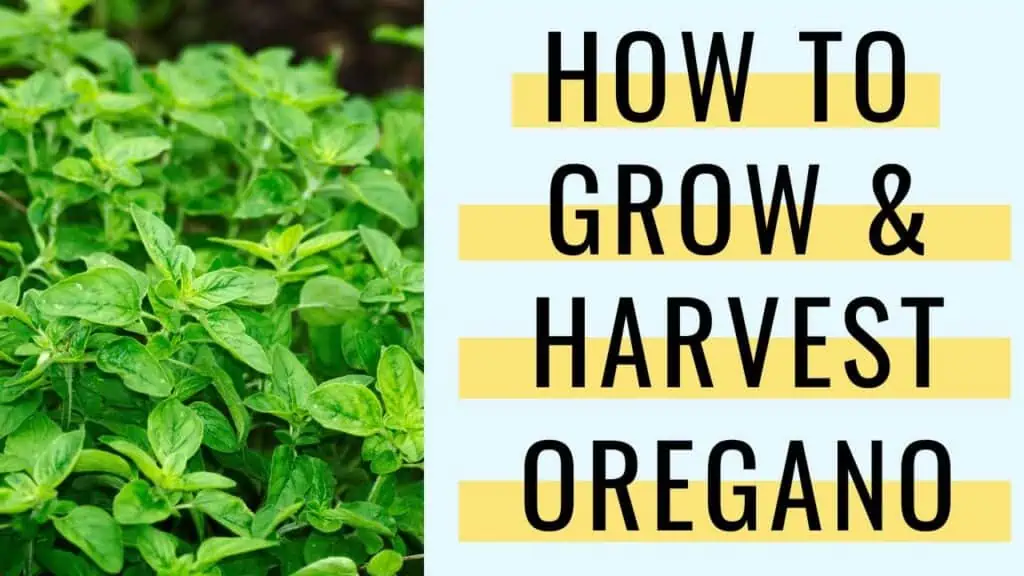 Oregano is very easy to grow and will return to your garden year after year with just a little care. You can grow it in pots or in the ground to have it fresh and also harvest a large amount in the summer to dry for later.
Oregano is perfect for gardening with children. Don't worry if you don't have space for a large garden – it lends itself well to both container gardening and square foot gardening.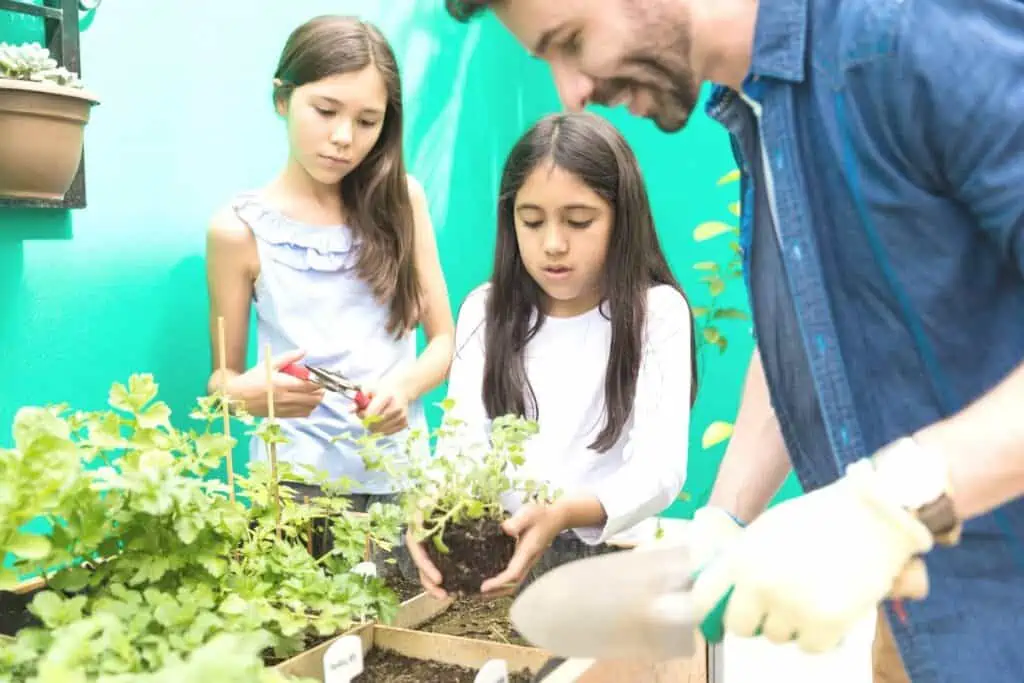 Growing Oregano
Oregano (Origanum spp.) is a Mediterranean herb. Like other Mediterranean herbs, it prefers hot, dry, and sunny conditions. In spite of this, it adapts well to a wide variety of growing conditions, although it will never truly thrive in wet soil. For happy, healthy plants, you need well-draining soil.
If you garden somewhere in the range of USDA zones 5-9, oregano will be a perennial plant for you. This means you can plant once and enjoy a harvest for several years. Gardeners in colder zones can still grow this herb as an annual or plant it in containers that can be brought inside during the winter.
Some varieties of oregano are more cold tolerant and can be successfully grown as a perennial in zone 4 with a thick layer of mulch or other extra protection through the winter.
Oregano is mostly grown for its leaves and culinary uses. Oregano also has edible flowers that bees and other pollinators love. Plants can grow up to 2' tall and form a nice ground cover.
The flavor of oregano is pungent and somewhat spicy, although the flowers are milder than the leaves. Because it's a member of the mint family, some cultivars of oregano even have hints of peppermint.
Growing conditions have a big impact on the herb's flavor. Fresh oregano tastes less potent that dry oregano leaves. Hot, dry growing conditions will make give leaves a stronger flavor.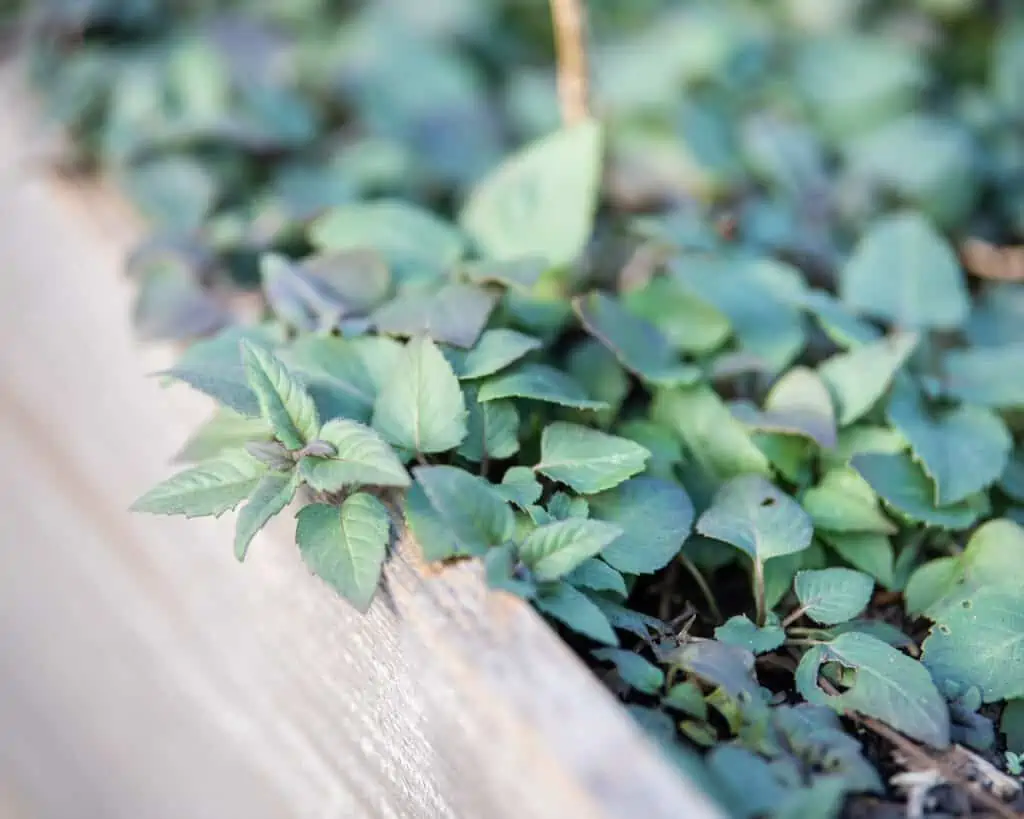 Types of oregano
Whether you want the traditional, bold flavor or are interested in branching out to a more decorative plant, there's an oregano out there for you! Gourmets with a large kitchen garden may want multiple varieties, such as Mexican oregano, Cuban oregano, and a classic Mediterranean oregano variety of truly authentic flavors. 
Here's a look at some of the best options:
How to Start Oregano from Seed
Many gardeners who are learning how to plant, grow, and harvest oregano want to start the process at the very beginning: with the seeds.
Oregano is easy to start from seed, but you will need a little patience. You can start seeds indoors 6-8 weeks before your last average frost date in the spring, or sow them directly in the garden after the danger of frost has passed.
To start seeds indoors, fill a seed-starting tray with a good quality, sterile seed-starting medium. Mix it with water before filling the tray until the soil is just damp.
Oregano seeds are tiny and need light to germinate. Sow them on top of the soil and press them in gently with your finger but don't cover them. Water the seeds and place your seeded trays somewhere that is 60-70°F for the best germination.
Your oregano should germinate in 7-14 days. Once you see sprouts, place your seedlings under grow lights or by a very sunny window. I use clip-on grow lights for my indoor seedlings. They cost a lot less than panel grow lights and give your seedlings a boost so you have healthy plants.
EZORKAS Grow Light, 80W Tri Head Timing 80 LED 9 Dimmable Levels Plant Grow...
Our Grow Light is the latest in plant growth lamps with an automatic timing function and a USB plug (comes with AC adapter). Not only can you set it...
This LED lamp has grow lights made up of 80 efficient growing LEDs (52 red and 28 blue). It meets the conditions of plant growth without sunlight. The...
Our grow lamps provides 9 dimmable modes and 3 spectrum modes to suit varied stages of plant growth. It has 9 levels of light intensity and has 3...
Be sure to water the soil just before it dries out, while avoiding getting the leaves wet. Running a fan a few times a day will provide good airflow and prevent fungal diseases. A fan also helps your plant grow sturdy and strong, which makes it more likely to thrive outdoors. I use this small clip-on fan for my seedlings.
Genesis 6-Inch Clip Convertible Table-Top & Clip Fan Two Quiet Speeds -...
TWO QUIET FAN SPEEDS: Want to cool down without the pesky background noise? Enjoy two quiet speeds to suit your preference without disrupting family,...
Dual features: this fan conveniently converts from a clip on fan to a table top fan so you can enjoy its features at your desk or from any other...
Adjustable head: customize the direction of airflow and cooling with the adjustable head for times when you need to move around the room or to...
 Once the seedlings have several sets of true leaves, young plants can be transplanted outside in early spring after the danger of frost has passed. Established oregano plants are cold hardy, but tender seedings are not. Be sure to follow the hardening off process in this post on how to prepare seedings for transplanting.
If you prefer to sow seeds directly outside, follow the same steps, except that you will need to prepare a garden bed or containers before planting instead of trays. Seeds germinate best outdoors when soil temperatures have reached at least 60°F.
For tips and techniques on extending your growing season, take a look at Niki Jabbour's new book Growing Under Cover. She gives advice for warming your soil more quickly in the spring and growing your plants throughout the winter. She lives in Canada – if she can grow all year long, so can you!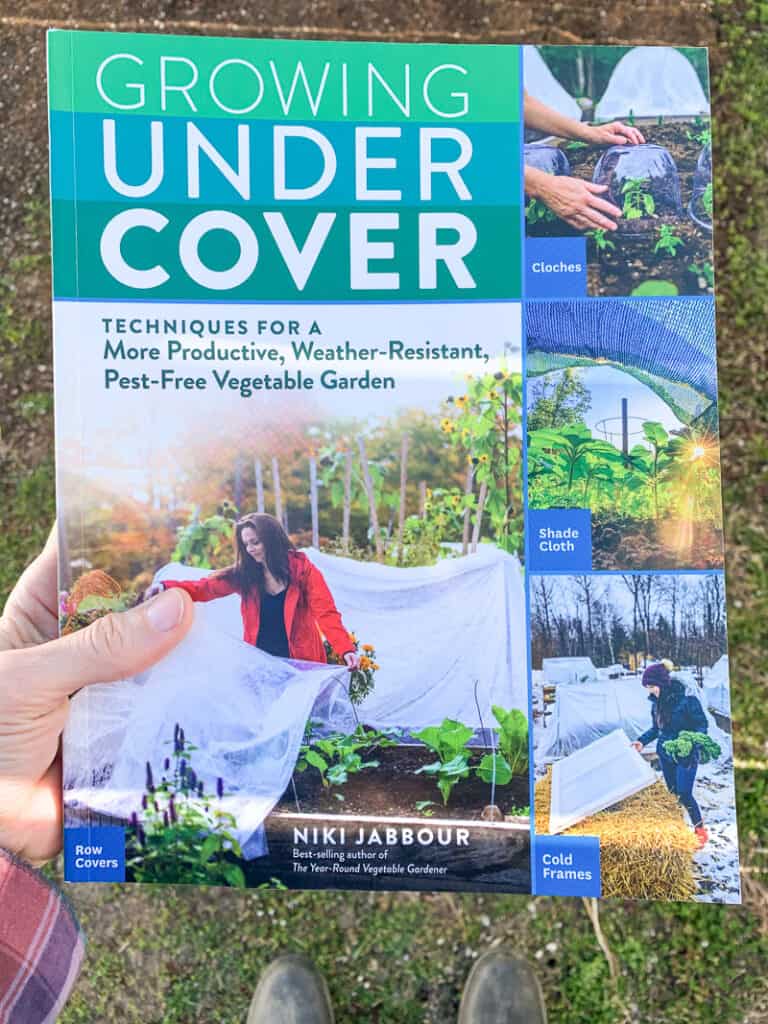 Sale
 Tip: Oregano seedlings tend to vary greatly in how intense their flavor is. Plant more seeds than you need and test-taste each seedling when it has a few sets of true leaves. Keep the ones with the best flavor and thin out the rest.
How to Plant Oregano Seedlings
When and Where to Plant Oregano
Whether you bought seedlings at the store or grew your own from seed, they can be transplanted outside after the danger of frost has passed. Ideally, wait until the soil is at least 65-70°F. As noted above, established oregano plants are cold tolerant, but new seedling aren't.
The two biggest requirements for a good planting spot are full sun and well-drained soil. The one exception to this is golden and variegated oregano, which may need partial shade to keep their coloring.
You can prepare your garden ahead of time by weeding and/or creating raised beds if the soil drains poorly. Or fill up some pots (make sure they have drainage holes) with a good potting soil. I like using fabric grow bags for oregano. They breathe well and are less likely to become waterlogged than plastic pots.
VIVOSUN 5-Pack 5 Gallon Grow Bags Heavy Duty 300G Thickened Nonwoven Plant...
Sturdy Fabric Material: Made of 300g of thickened nonwoven fabric, these pots are moderately permeable, and BPA-free
Great Drainage: Nonwoven fabric means the pots do not retain excess water, allowing your roots to breathe for healthier, more vigorous growth
Durable, Reinforced Handles: While the competition uses flimsy handles that are merely strips of the same fabric the pot is made from, we use serger...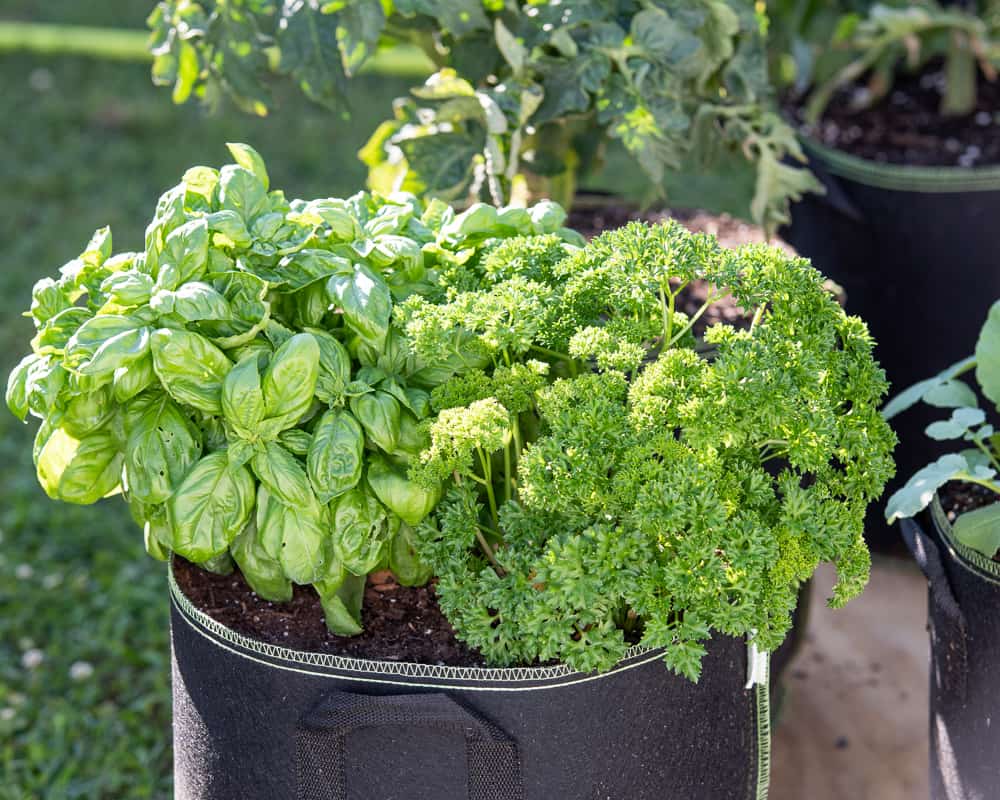 Oregano is more flavorful if grown in soil with low to average fertility. You do not need to add compost or organic matter. Overly rich soil actually diminishes the flavor of oregano.
Oregano Planting Tips
If you grew your own seedlings, remember harden them off before planting them outside. This is a simple process of gradually acclimating them to outdoor weather without exposing them to overly harsh conditions. If you're not sure how to harden off your seedlings, be sure to visit this post on how to prepare seedlings for transplanting.
Plants bought at a nursery are usually already hardened off, but you can ask if you're not sure.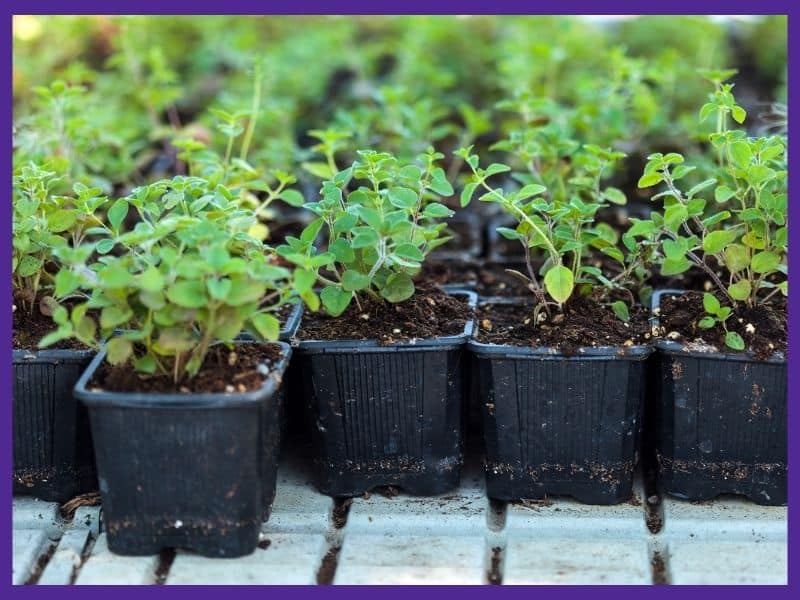 You can fit 3-4 oregano plants into a medium to large container, or plant one per small container. It makes a great companion plant for more upright herbs like parsley, basil, or rosemary and even looks ornamental trailing over the sides of pots. Discover more about which herbs to plant together in this post.
Plant each seedling so that the root ball is just covered with soil then water them in well. A watering wand is best for delicate seedlings . The gentle flow keeps disruptions to a minimum. Discover the best watering wands in this post.
Simple Tips for Oregano Care
Oregano is a very easy herb to care for and doesn't require much attention. Just put it in a sunny spot and don't fertilize or water it too much!
Oregano is drought tolerant once mature, but you do need to water your seedlings while they get their roots established. Container-grown oregano will need watering during very dry periods. Water just before the soil dries out completely.
Once your plants are growing well, pinch off the growing tips to encourage vigorous, bushy growth (you can eat these trimmings!).
Other than that, there's not much to do until harvest time. Oregano doesn't need fertilizer, and it usually does better without mulch, which can make the soil too damp.
At the end of the season, you may want to mulch over your oregano with leaves or evergreen branches if you live in zones 4 or 5. This gives plants a little extra insulation for winter.
Something to note for the future is that oregano does start losing flavor when plants get 3 or 4 years old. You can rejuvenate your patch of oregano by letting plants drop seeds and transplanting the new seedlings or by taking and rooting cuttings.
Oregano Pests and Problems
Insect pests are rarely a problem for oregano, and even deer and rabbits tend to stay away from this strongly scented herb.
The most frequent problem is root rot and other fungal diseases that develop if growing conditions are too damp.Planting in well-drained soil is essential to avoid this problem.
As a zone 8A gardener, I have dealt with lots of pests. Caterpillars, beetles, slugs, aphids – you name it. That having been said, I've never actually had a pest damage my oregano. 
How to Harvest Oregano
To harvest oregano, you need a pair of clean, sharp scissors or small garden snips. You can start harvesting anytime after plants get 3-4" tall. Some varieties are very low-lying. If you have a shorter oregano variety, harvest once it has several sets of true leaves and is well-established without worrying about the exact height. I use Fiskar's Micro-Tips virtually every day. It's worth it to get the non-stick blade version.
Sale
Fiskars Micro-Tip Pruning Snips Garden Clippers - Plant Cutting Scissors...
GARDENING ESSENTIAL: Steel blade plant snips ideal for a variety of pruning tasks like cutting flower stems, shaping and maintaining your herb garden,...
MAXIMUM POWER AND PRECISION: Non-stick blade coating makes smooth cuts, reduces gumming, and enhances rust resistance; Easy-Action design helps reduce...
LONG-LASTING AND RELIABLE: Steel blades stay sharp through heavy use and provide excellent durability for lasting value; Fiskars pruning snips and...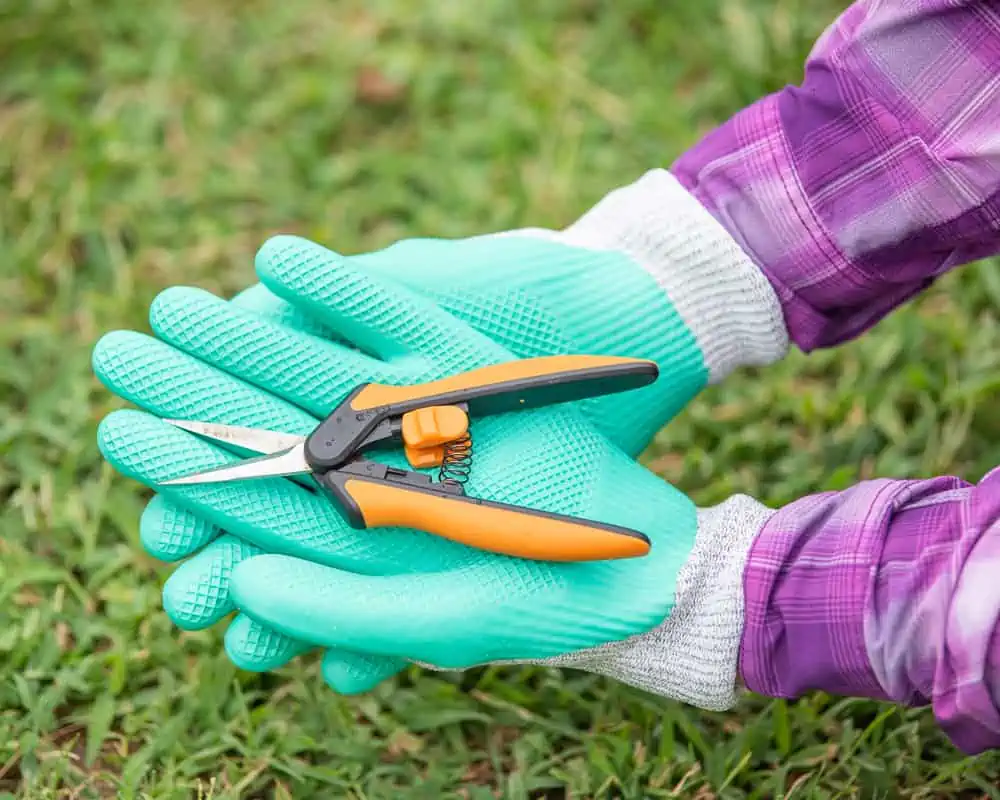 You can pick off individual leaves as needed, but an easier way to harvest is to cut off whole sprigs of oregano.Try to cut right above a leaf node, where you see a new set of leaves coming out, but don't worry about being too precise because oregano is very forgiving.
If you would like to dry oregano, make a large harvest right before plants bloom. This is when their flavor will be at its best. Harvest as much as you need, just leave behind about 2/3 of the plant. Common advice is to only harvest 1/3 of a plant and leave 2/3 behind, but I've found that I can typically harvest more oregano since it's so hardy.
If you're wondering what a "leaf node" is, I have you covered! Be sure to watch this short minute video covering the basics of oregano care and how to harvest oregano:
Drying and Storing Oregano
You can freeze oregano to store it, but it keeps its flavor the best if dried. In fact, oregano intensifies in flavor as it dries, making the dried herb much more potent than the fresh.
If you live in a dry climate, you can either hang up small bundles of oregano sprigs to dry, or lay them out on a wire rack. Choose somewhere warm, dry, and out of direct sunlight. With good air circulation, your herbs should dry in just a few weeks.
If you live in a humid climate, an herb dryer is your friend. We use this round Presto dehydrator for drying herbs. Unlike older models, new new version has trays that flip to stack more easily for storage. It's a real space saver!
Sale
Presto 06301 Dehydro Digital Electric Food Dehydrator
Six-tray system for dehydrating foods at a fraction of the cost of commercially dried foods with no additives or preservatives.
Makes jerky from meat, poultry, and seafood includes sample packets of jerky spice and cure
Digital thermostat and timer for precise drying time and temperature choose drying temperatures from 90 to 165 degree f
When the oregano is crispy and crumbly, remove the leaves from the stems, but keep them whole. Store in airtight containers and add to your recipes at the very end of the cooking time.
If kept somewhere cool and dark, dried oregano will remain flavorful for 6 months or longer.
My favorite way to preserve herbs is to place them in glass jars and vacuum seal them with a small handheld jar vacuum sealer. They cost less than a Foodsaver, and they take less space. 
The Delicious "Joy of the Mountain"
Once you learn how to plant, grow, and harvest oregano for yourself, you'll probably discover why it's been nicknamed "joy of the mountain." Homegrown herbs always have better flavor than what you can find in the store, and there's a real joy to being able to pick them fresh.
And of course, don't forget to cut and dry some to keep your kitchen stocked through the winter!