These free printable lily pad templates and lily pad outlines are perfect for frog crafts! Grab sizes from an extra large lily pad down to small lily pad cut outs for your next project or lesson about the life cycle of a frog.
As I wrote in my post on the best frog toys for toddlers, my daughter is obsessed with frogs. She absolutely loves everything to do with frogs and was my inspiration for creating these lily pad templates. I hope you enjoy!
The lily pad outlines are perfect for coloring or cutting and tracing on to cardstock or construction paper.
This post may include affiliate links which means I may earn a commission on qualifying purchases at no additional cost to you.
If your child (or students) are working on their cutting skills, have them use a pair of blunt-tipped scissors to help cut out the lily pads. Older children can trace the lily pads, too.
It's incredibly important for children to practice their cutting and tracing skills. Research shows that more and more children lack basic fine motor skills because they're using more tech. Good, old-fashioned paper and scissor crafts are a great way to help your child gain important skills!
These lily pad patterns can also be used as part of a lesson about ponds or the lifecycle of a frog. People frequently wonder if frogs actually sit on lily pads. Yes, they do! In fact, lily pads are very important for frogs. Frogs use lily pads to hunt for insects and as protection from predators like fish and snakes.
Free printable lily pad outlines
First, some important business. These lily pad printables are free for personal and classroom use. Please do not redistribute them to other adults for use with their classrooms or children. Just send friends and coworkers to this post so they can download their own copies!
Please do not download the preview pictures. They are low resolution previews that will look terrible if printed. Use the download links to get the high resolution PDF files. All files are linked individually below each preview image.
Each size of lily pad printable is available in two versions. One has a smooth edge and the other has a wavy edge. The smooth edge is easier to cut and trace. The wavy edge brings more of a challenge for older children and is more interesting.
Your time is valuable – save precious time and grab all 10 lily pad templates in one handy PDF for the very low price of $1. You'll also get a BONUS of green lily pad templates to print.
If you have time to spare and want to click around, keep scrolling just a little bit more.
Extra large lily pad printable
First there are two extra large lily pad templates. Each lily pad is 10″. Print two copies of the template and tape them together or trace one side, flip the template, then trace the other side.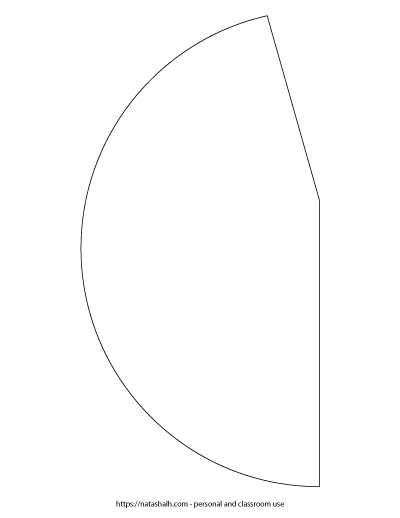 Extra large round lily pad template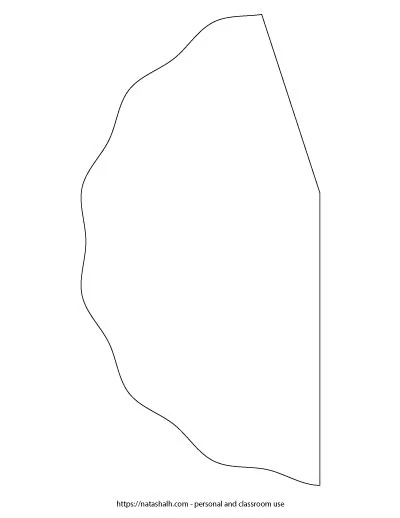 Extra large wavy lily pad template
Large lily pad pattern
Next comes the large lily pad printable. These lily pads are 7.5″ high and come one to a page.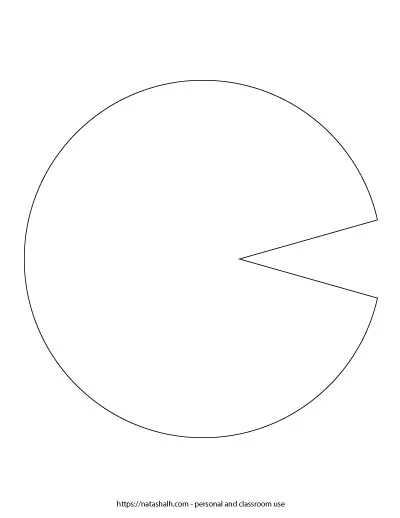 Download the large lily pad outline here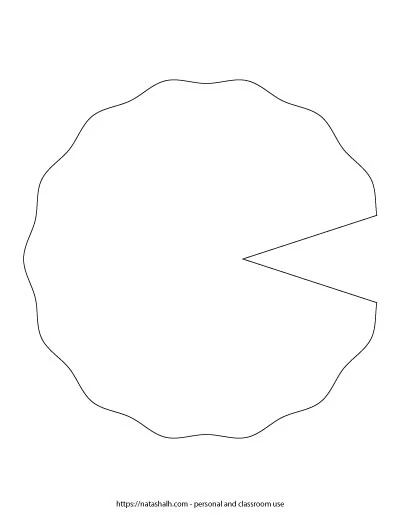 Download the large wavy edge lily pad here
Medium lily pad templates to print
There are two medium lily pad templates to print and cut. The first version has 5″ high lily pads:
Download the round medium lily pads here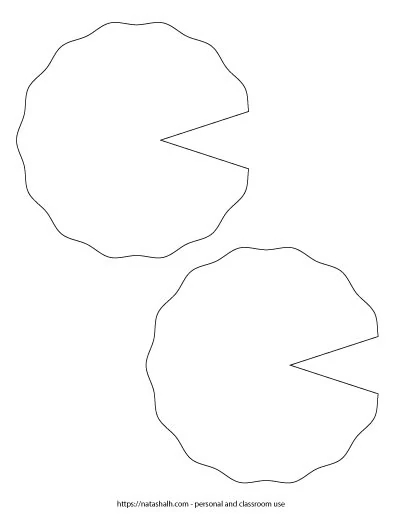 Download the wavy edge medium lily pad pattern here
Next there are four lily pads on one page: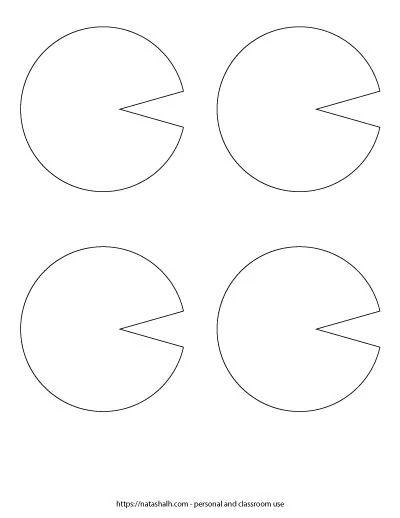 Download four round lily pads on one page here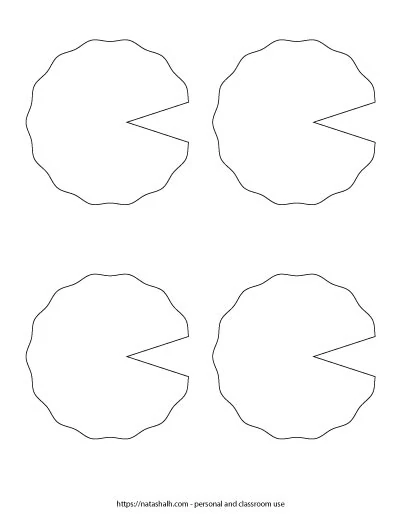 Download four medium lily pad patterns here
Small lily pad templates
Finally there are small lily pad templates. These lily pads are only 2″ tall.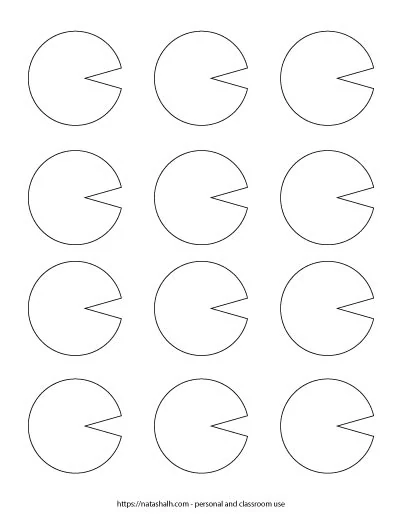 Download 12 small lily pad templates here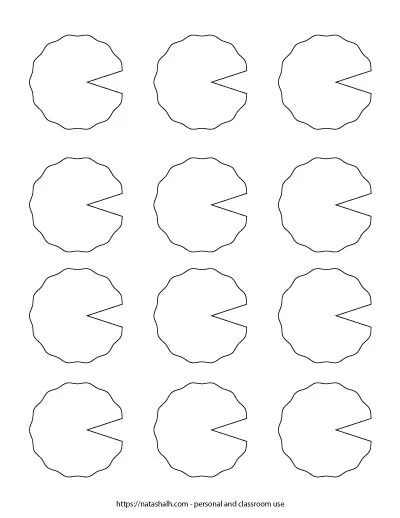 Download 12 small lily pads with a wavy edge here
Then there are the BONUS green lily pad templates included in the $1 printable pack: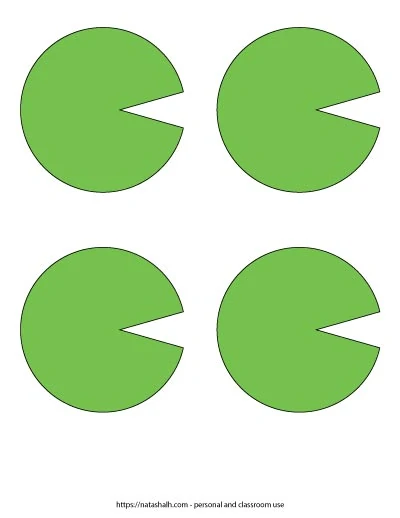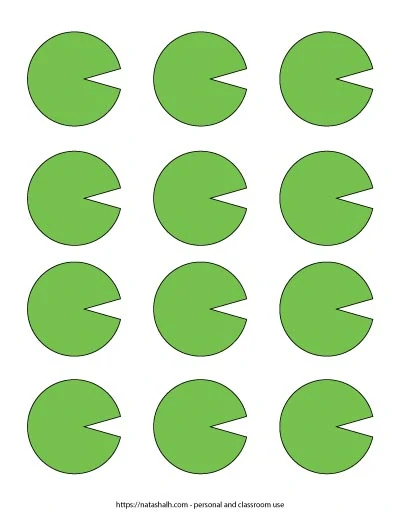 Don't lose track of these lily pad templates – Pin them now!