These free printable play dough mats are a fun and easy way to teach your child (or students) their abc's while they work on important fine motor skills. Download your printable letter play dough mats today with no email address required!
Play dough mats are the perfect way to familiarize your toddler or preschoolers with the alphabet. Children can play with play dough and form play dough letters long before they can write, or even trace, the alphabet.
My daughter, who is almost 3 at the time of first publishing this post, is interested in letters but unable to draw or trace them for herself. She loves making the letters she knows with these play dough mats and I'm sure your older toddler or preschooler will love them, too.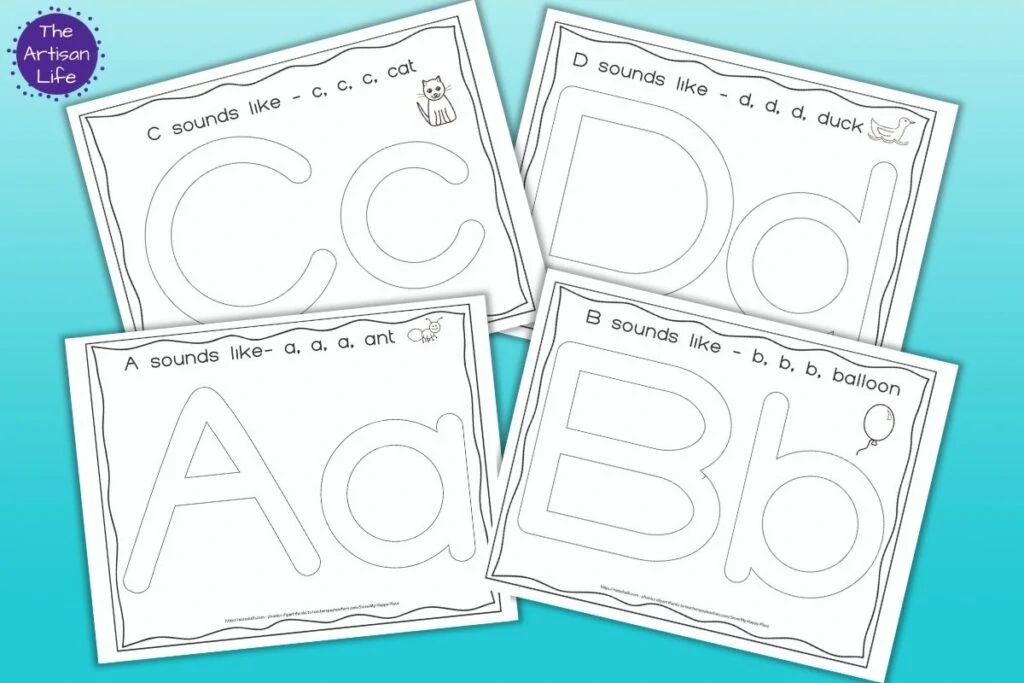 Each mat features an uppercase and lowercase letter, text with sounding out the letter, and black and white clip art of an item to match the sound. For example: "A is for a, a, a, ant" with a picture of an ant.
All vowel sounds in the example images for these abc mats are short. Short vowels are commonly taught first because they are more consistent.
Reading the phrase aloud to my daughter, I would say "Ah is for ah, ah, ah, ant." (In phonetic notion, the short a is written as /a/.) It can be tricky as an adult to say the short vowel sound instead of the letter name, but I am firmly in camp "teach letter sounds before letter names."
If you want more resources for teaching your little learner the alphabet, be sure to check out these alphabet coloring pages and, once they've mastered these play dough mats, alphabet tracing pages.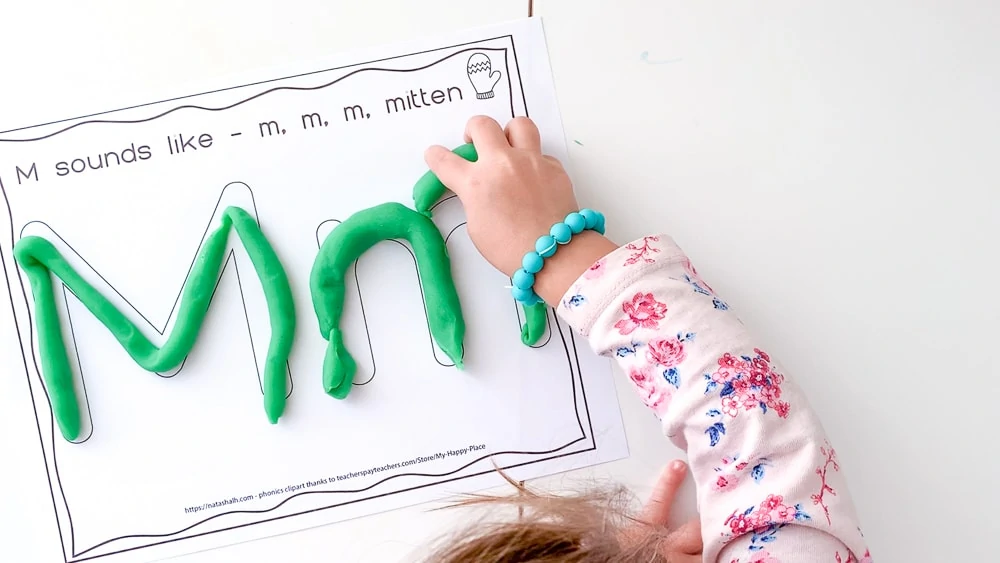 Why teach letter sounds instead of names?
Although mainstream American education typically teaches letter names before sounds, some philosophies of education, such as Montessori, emphasize teaching letter sounds first.
One study compared young students from the US, who received instruction on letter names first, with students from the UK, where letter sounds are taught first. Children who received instruction on letter sounds had fewer vowel spelling errors.
If you're wondering what your preschooler should know by when, make sure to get your free school readiness checklist:
Benefits of playing with play dough
Play dough is a wonderful toy and teaching tool. In fact, a study conducted by Temple University found that classic, basic toys like blocks and clay are more beneficial for development than electronic "educational" toys!
Playing with play dough has many benefits including:
Improves fine motor skills
Strengthens hand and wrist muscles
Improves hand-eye coordination
Improves pre-writing skills
Encourages creativity and imagination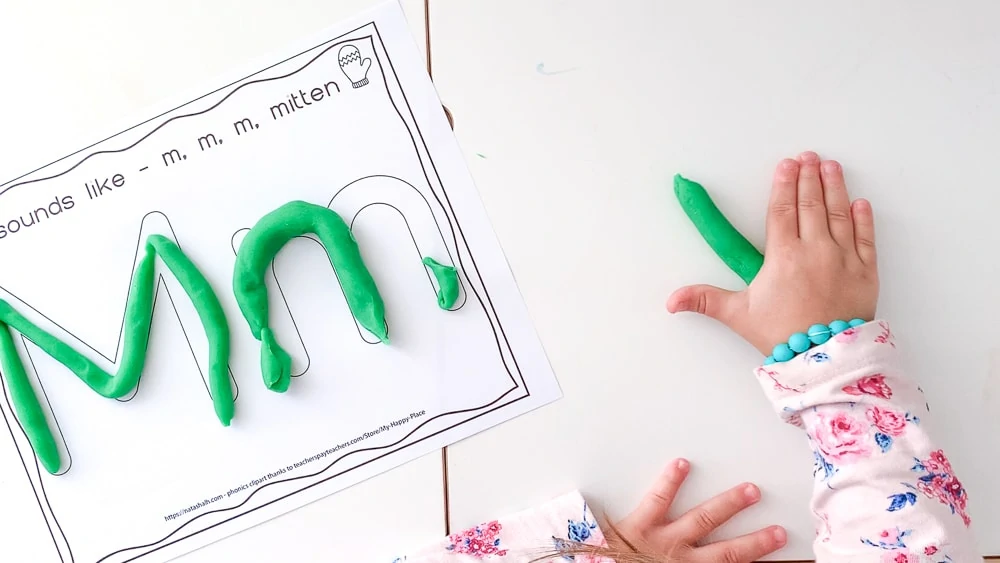 Homemade play-doh recipe
This post may include affiliate links which means I may earn a commission on qualifying purchases at no additional cost to you.
I haven't purchased Play-Doh in years because it's so easy to make your own.
There are a zillion play dough recipes available online, but I believe this one is the best because it has staying power. Because it is cooked and has cream of tartar, I've never had any mold problems and this play dough has stayed soft for over a year (when stored in a ziplock bag).
I've thrown batches away because they became physically dirty, but never because they became moldy or dried out if stored correctly.
This batch is a great size, too. It's large enough for plenty of fun but small enough to fit in a single quart sized ziplock bag.
Cooked play-doh ingredients:
1 cup of water
Food coloring – I use gel food coloring
1 cup of flour
1.5 teaspoons of oil (vegetable oil or canola oil)
.5 teaspoons of cream of tartar
.5 cup of salt
You will also need a cooking pot and a sturdy spoon. A small bowl and a whisk are optional, but helpful.
Cream of tartar is important to this recipe as a preservative and is part of why this play dough lasts so long. It's cheap and easy to find in most grocery store baking/spice aisles. Bonus: baking powder is baking soda with cream of tartar so you can mix up your own baking powder the next time you need it for a recipe!
Cooked play-doh recipe:
Stir together flour, cream of tartar, salt, and oil in a bowl
Add water and 10 drops of food coloring to a cooking pot
Whisk flour mixture into water
Add more food coloring, if desired
Cook over medium-high heat and stir with a wood spoon or sturdy plastic spoon. Use a mixing spoon, not a serving spoon, whisk, or spatula. They are too flimsy.
Continue cooking, stirring frequently, until the mixture becomes thicker and play dough-y. It will continue to harden as it cools, so remove from the stove when it's still a bit softer than what you want.
Allow play dough to cool fully before allowing your child to play with it. It will be HOT!
Store in an air tight container, like a ziplock bag, once it's fully cooled
One the play dough is completely cool, you're ready to print your play dough mats and start making some "snakes" to fill the letters with!
Watch the video clip below for a quick demonstration of how nice and soft this play dough can be and see it in action with these abc mats:
Free printable ABC play dough mats
Alright, let's get to the printables.
To make the most of your printables, I recommend laminating them for repeated use. We have successfully used un-laminated play dough mats a couple of times, but it's far better to laminate them. At home laminating machines are inexpensive. If you get one, it will pay for itself (compared to the cost of getting your pages laminated at a copy shop) if you print and laminate the entire alphabet.
Sale
Scotch TL901X Thermal Laminator, 1 Laminating Machine, Gray, Laminate...
LAMINATING MACHINE: One Scotch TL901X Thermal Laminator to help you protect frequently used documents up to 9 in. wide
PROFESSIONAL FINISH: Two heated rollers with two temperature settings create bubble- and wrinkle-free results that give your holiday paper items a...
FAST LAMINATING: Laminates one letter-size page per minute and has a release lever for quick pouch release to save you time during the busy holiday...
Like all printables on The Artisan Life, these alphabet mats are for personal and single classroom use.
You are not licensed to use the files commercially or redistribute them to other adults for their personal use. You are welcome to use these pages with paid therapy clients as long as you are not charging specifically to play with them.
A lot of teachers have asked if they can share PDFs with their digital classroom. Please, if at all possible, send parents to this blog post to download the PDFs for themselves if you want to make this part of your digital lesson plan.
Individual download links are located below each preview image. When you click the link, it should open in a new window and begin downloading automatically.
If a dialogue box pops up asking for download permission from DropBox, please accept in order to receive your download. I recommend using a computer, not a phone, to download the files. They can be downloaded to your phone, but you'll have to go hunting for them in your file folder.
Your time is valuable – get the entire alphabet plus 8 more pages with long a, e, i, o, & u; soft c & g; and an alternative x in one convenient file for the very low price of $1.79.
Keep scrolling a tiny bit more for the individual freebie links with short vowels.
Don't worry – the purple watermarks are not on the PDF downloads. I just don't want you to print the preview images because they are low resolution and will look terrible if printed. Any blurriness or off colors are a result of image compression so this page can load more quickly for you.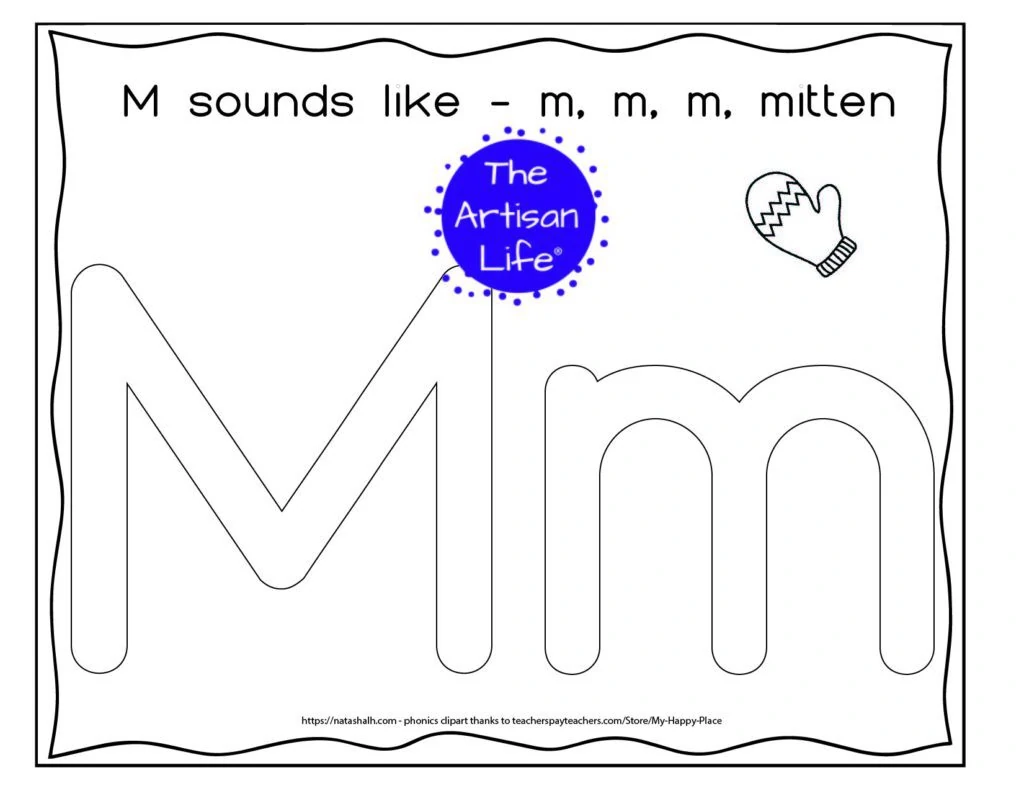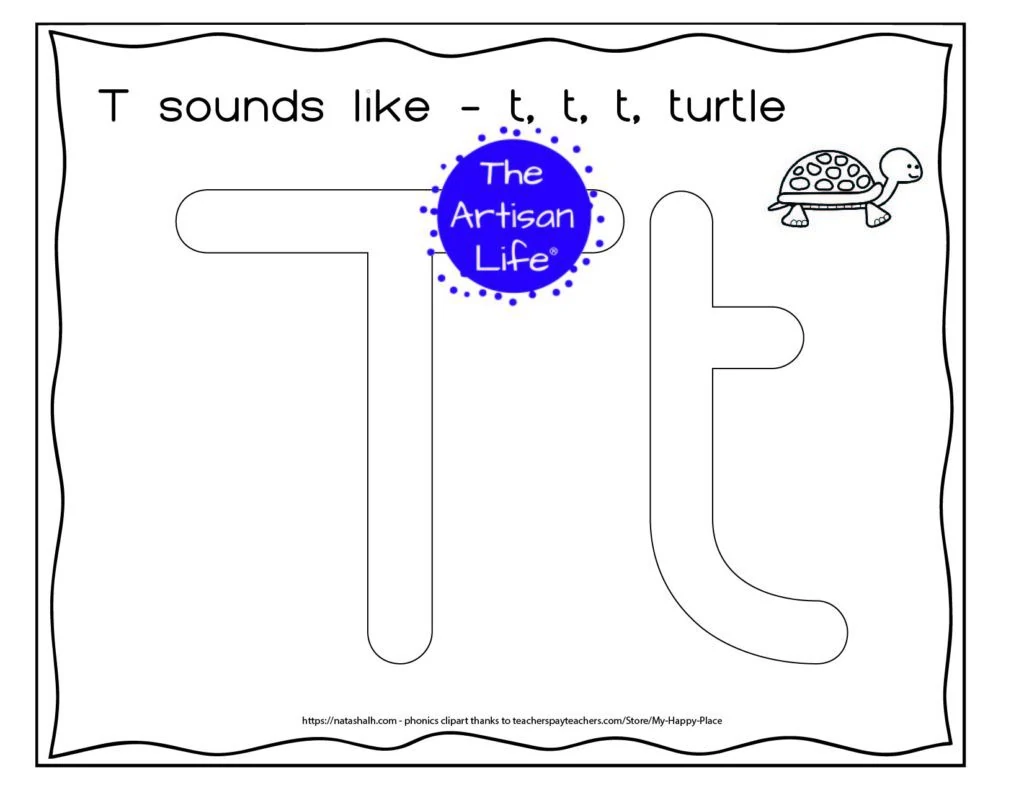 It's not too late to get the whole alphabet plus 8 additional pages with more letter sounds for just $1.79:
While you're here, make sure to get your free preschool learning checklist to ensure your child is learning everything they need to know:
Farm Theme Preschool Printables
These farm theme preschool printables are fun for your little learner and low-prep for you!