These printable alphabet tracing strips feature pumpkins that are a great fit for your fall or pumpkin preschool theme! Download them with uppercase letters, lowercase letters, or both on the same strip and laminate them to use again and again.
Tracing letters is highly beneficial to early learners. It helps introduce the shapes and forms of letters, develop fine motor skills, and build writing confidence.
The bright, cheerful pumpkins are sure to catch your little learner's eye and make practicing handwriting with these writing strips fun!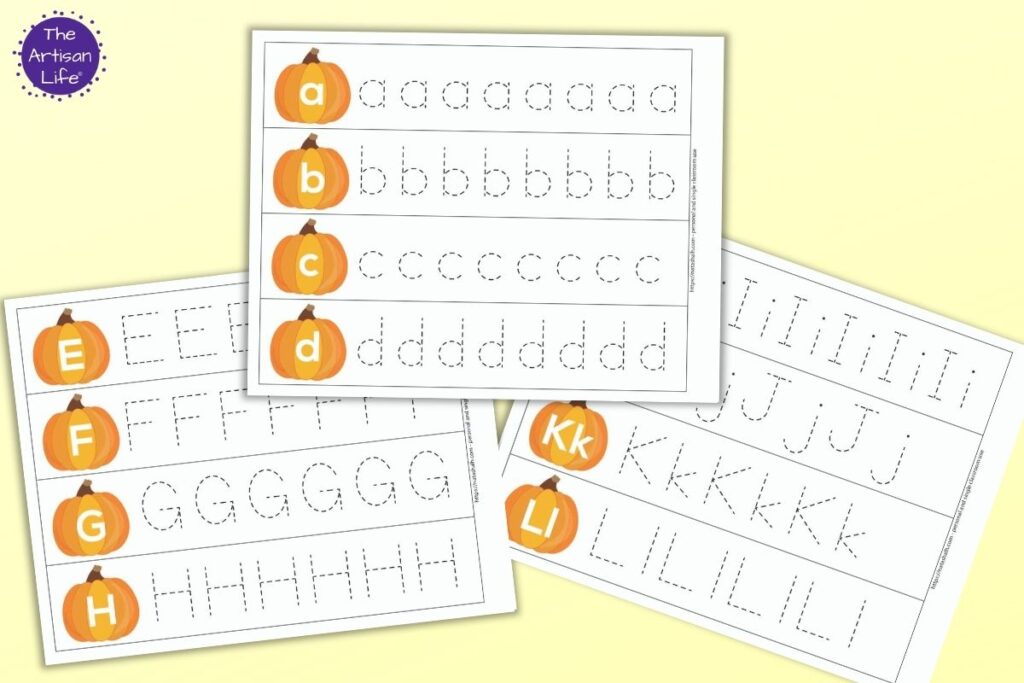 There are several schools of thought regarding teaching children their letters and how to write.
Some believe in teaching children uppercase letters first. They argue these letters are easier to tell apart and are less likely to be reversed than lowercase letters.
Others advocate teaching lowercase letters first since most letters are used in their lowercase forms. Advocates of lowercase letters first also believe that lowercase letters are easier to form because they involve fewer strokes.
And, of course, another camp believes in teaching children how to write uppercase and lowercase letters simultaneously!
Whichever philosophy you believe in, there is a set of pumpkin letter tracing strips for you. I made separate sets for uppercase and lowercase letters as well as a combined set to teach both forms at the same time. Use whichever you prefer for your curriculum.
How to use letter tracing strips
This post includes affiliate links, which means I may earn a commission on purchases made through links at no additional cost to you.
The simplest way to use these letter tracing pages is simply printing them and having your child trace the letters with a crayon, pencil, or marker.
However, these pages were designed to be laminated, cut into strips, and used again and again with fine tip dry erase markers. Have your child erase their own work for extra fine motor practice!
I saw someone asking in a FB group recently if having a laminator at home is worth it. I absolutely believe it is if you're going to laminate more than 15-ish pages ever. Pages cost at least a dollar each to laminate at a copy store, plus you have to drive around there and hang out while they laminate.
For an easy go bag activity, hole punch the upper left corner of each card and place them on a binder ring.
If your child has trouble with tracing their letters, have them practice their fine motor tracing skills with these printable fall fine motor tracing worksheets.
If they need more practice tracing letters, be sure to check out this series of free printable alphabet tracing worksheets. Each letter has four pages of practice, including correct letter formation graphics.
Printable pumpkin letter tracing strips
First, the boring important stuff. Like all preschool printables on The Artisan Life, these are for personal and single classroom use. You are also welcome to use them with therapy clients.
You are not licensed to alter, sell, or redistribute the files to others for their personal use. Instead, please refer your friends and colleagues to this page so they can download their own copies.
*** In light of current events, you may share the file with distance learning students and therapy clients, but I still prefer that you send parents to this page to download their own copies if at all possible. The Artisan Life is user – sending people here to download their own printables is an easy way to support my work and keep me making printables for you. ***
The set of lowercase pumpkin letter tracing strips is available completely free of charge, no email address required. (Just keep scrolling down a bit more!)
The uppercase, lowercase, and upper + lowercase (Aa format) tracing strips are available in one convenient PDF for the very low price of $1.29
Free pumpkin letter tracing printable
I'm personally teaching my daughter lowercase letters first, so I decided to make the lowercase pumpkin letter tracing strips available completely free. No email opt-in is required, just download the PDF by following the link below the preview image.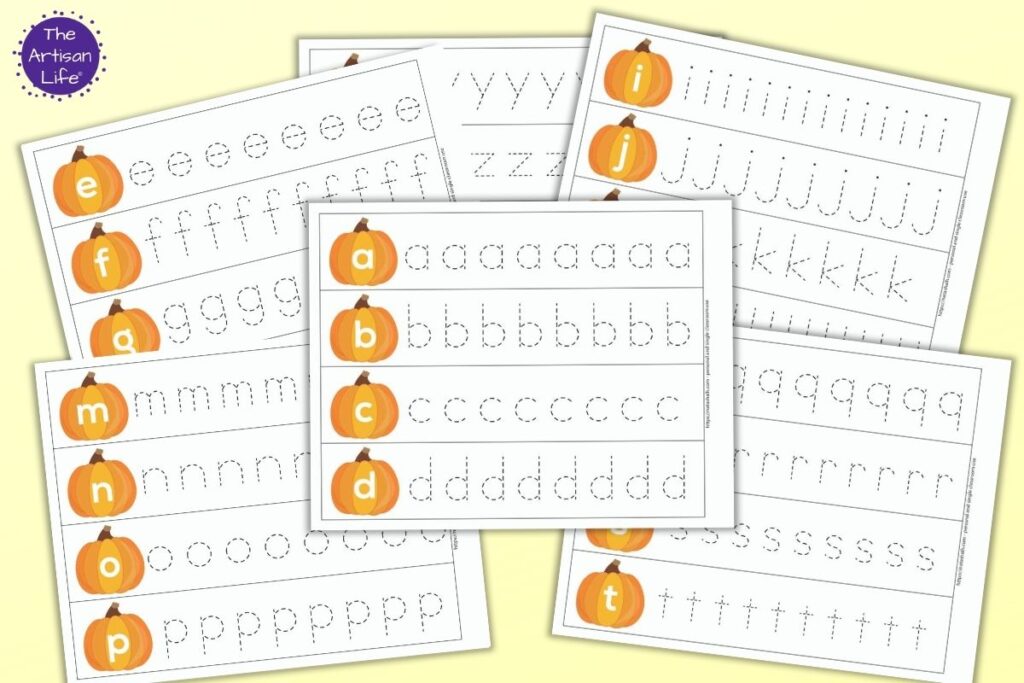 I hope you enjoy using these pumpkin themed alphabet tracing pages with your child! Make sure to check out these free printable alphabet tracing worksheets if they need extra practice with their letters.
Fall Theme Preschool Printables
Looking for free and low-cost preschool printables for your fall theme? You've come to the right place!