These letter A tracing worksheets will help your preschool, pre-k, or kindergarten student learn their letters and practice important fine motor skills.
There are four different styles of letter Aa tracing worksheet. All files are PDFs and are linked individually below each preview image. The links are highlighted in grey to make them easier to find.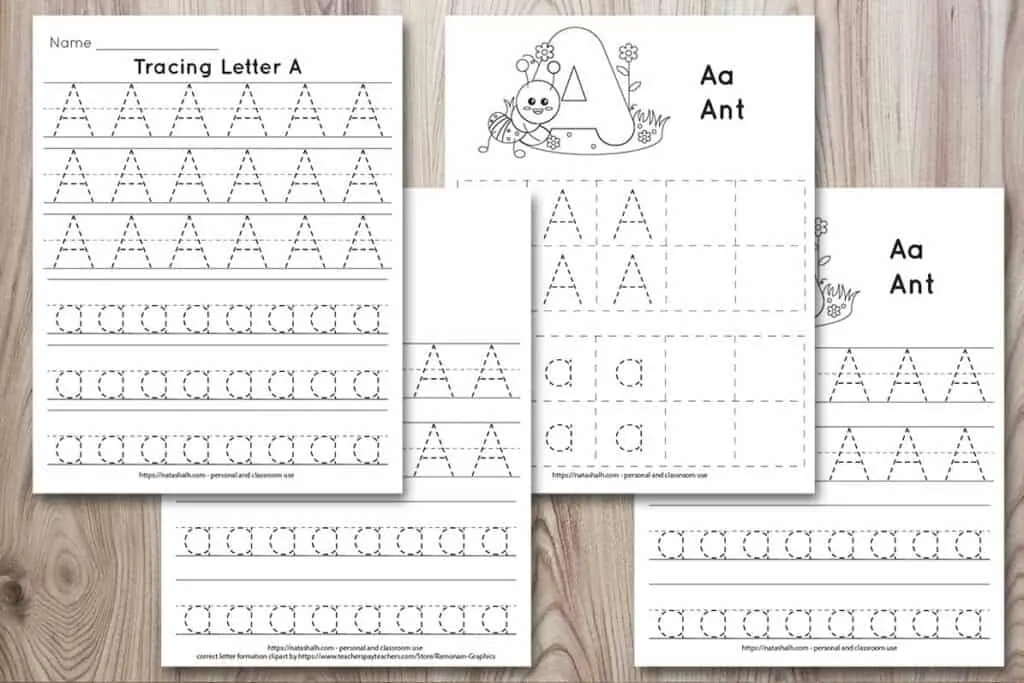 Free printable letter Aa worksheets
These letter tracing worksheets are for personal and classroom use. You are welcome to print and use them as many times as you'd like with your own students, children, or therapy clients. You are not licensed to redistribute the files or printouts to other adults for use with their students/kids. Please refer your friends and coworkers to this page so they can download their own copies.
There are four different Aa tracing worksheets to pick from. All have lowercase and uppercase letters to trace. Two pages have an A and an ant to color. One page has correct letter formation graphics for A and a and the final page is lined with plenty of letter tracing practice opportunities.
Lined letter Aa tracing page with ant to color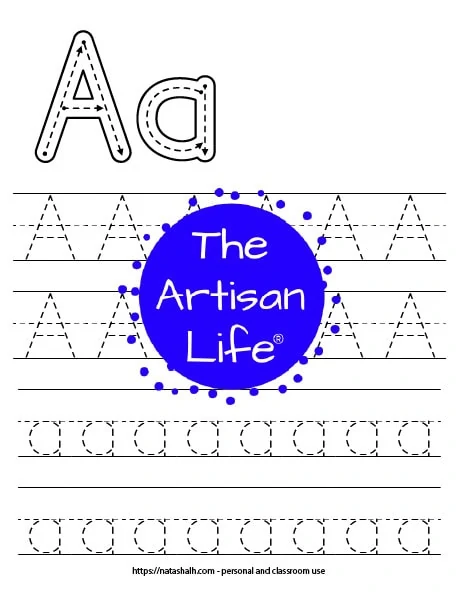 Letter a tracing with correct letter formation
Lined letter A tracing practice page
How to use printable alphabet worksheets
This post may include affiliate links which means I may earn a commission on qualifying purchases at no additional cost to you.
These worksheets are designed for younger children. The tracing letters are large so that beginning writers and readers can trace them.
Young children enjoy repetition and learn through repetition. One study demonstrated that young children learned new words more effectively when read the same story over and over again when compared to a group of their peers who hear the same set of words in multiple different stories.
Instead of rushing to print 10 different activities to teach your child a new letter, print several copies of a favorite worksheet and allow them to trace the letters again and again.
Alternatively, to save time and paper, laminate your printables or place them in a dry erase pocket. Your child or students can trace the same page multiple times with a marker or crayon. Wipe it clean to erase and the worksheet is like new! You can even use the same printables year after year when you laminate them.
Letter tracing worksheets
These printable letter tracing worksheets are ideal for preschool, pre-k, and kindergarten. Grab free printable letter tracing worksheets with lowercase and uppercase letters to trace!