This post may include affiliate links, which means I may make a commission on purchases made through these links at no additional cost to you.
Today I'm sharing how to make delightful sparkling cranberry Greek yogurt muffins. Yes, I'm still obsessed with Greek yogurt! It works wonderfully as a substitute for oil in most baked goods, so these muffins are low in fat and high in protein. They're basically a legitimate breakfast food. 😉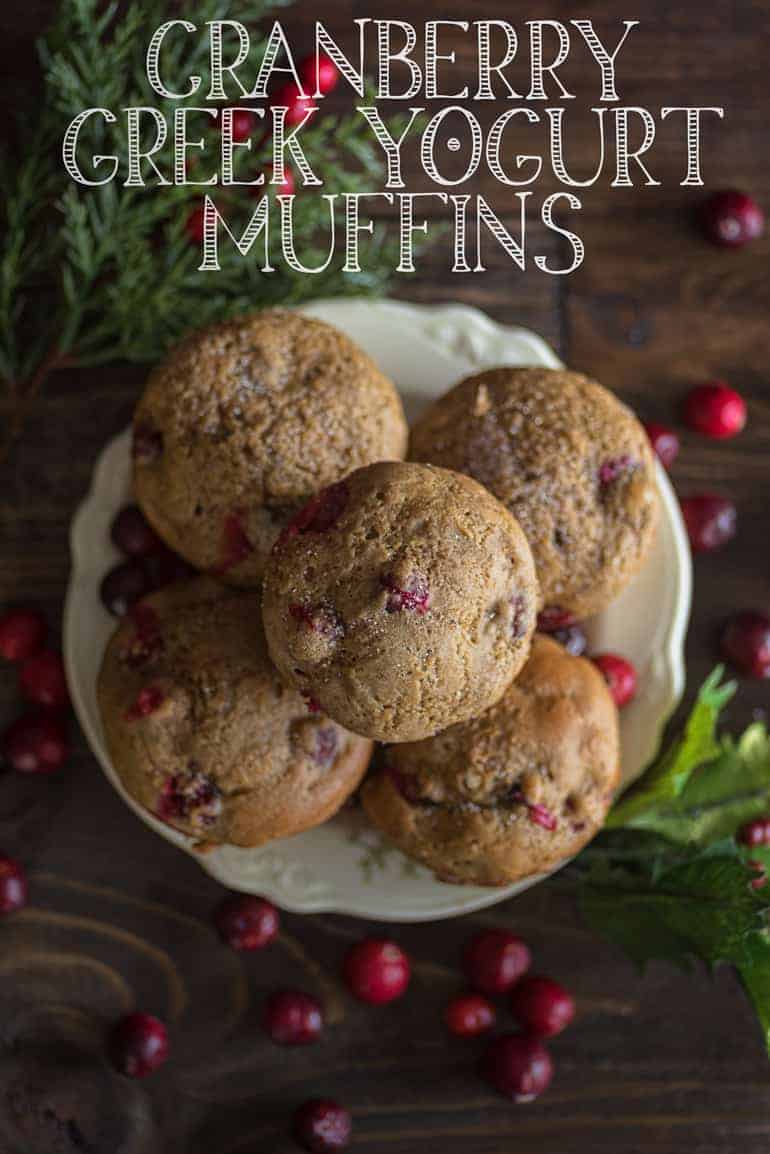 As regular readers know, I do not eat much sugar and prefer not to bake very sweet things.
If you have a major sweet tooth, you may want to increase the amount of sugar or decrease the quantity of cranberries to one cup.
My husband and I love these cranberry muffins, but if you're used to 'standard' American desserts, you may not find them as enjoyable. If you're fond of ingredient swaps like Greek yogurt for oil and using less sugar, or if you are more accustomed to European desserts, I think you'll enjoy these cranberry muffins, too!
Maybe that sounds like an odd way to introduce a recipe, but I recently had an unpleasant comment from someone on a different recipe complaining that they didn't understand why anyone would like the end result because it wasn't sweet and tasted like yogurt. That was kind of the point of that particular recipe! Anyway, that's why I wanted to leave a friendly reminder for any folks stopping by who aren't familiar with my low sugar ways. =)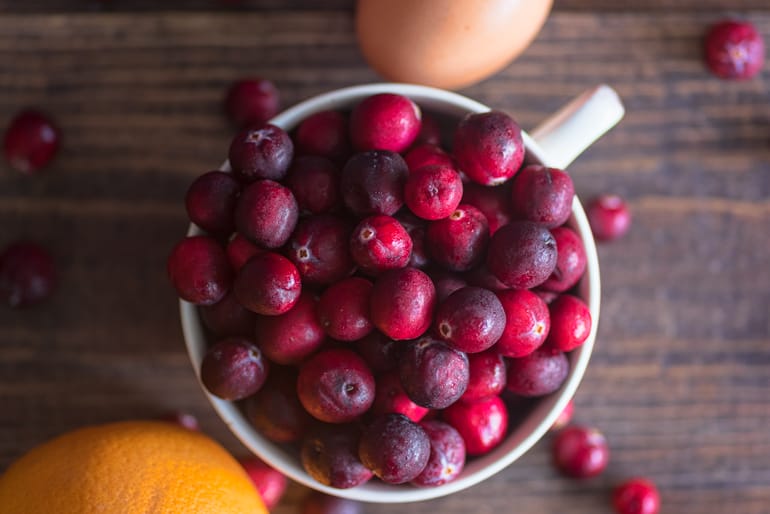 Yield: 18
Sparkling Cranberry Greek Yogurt Muffins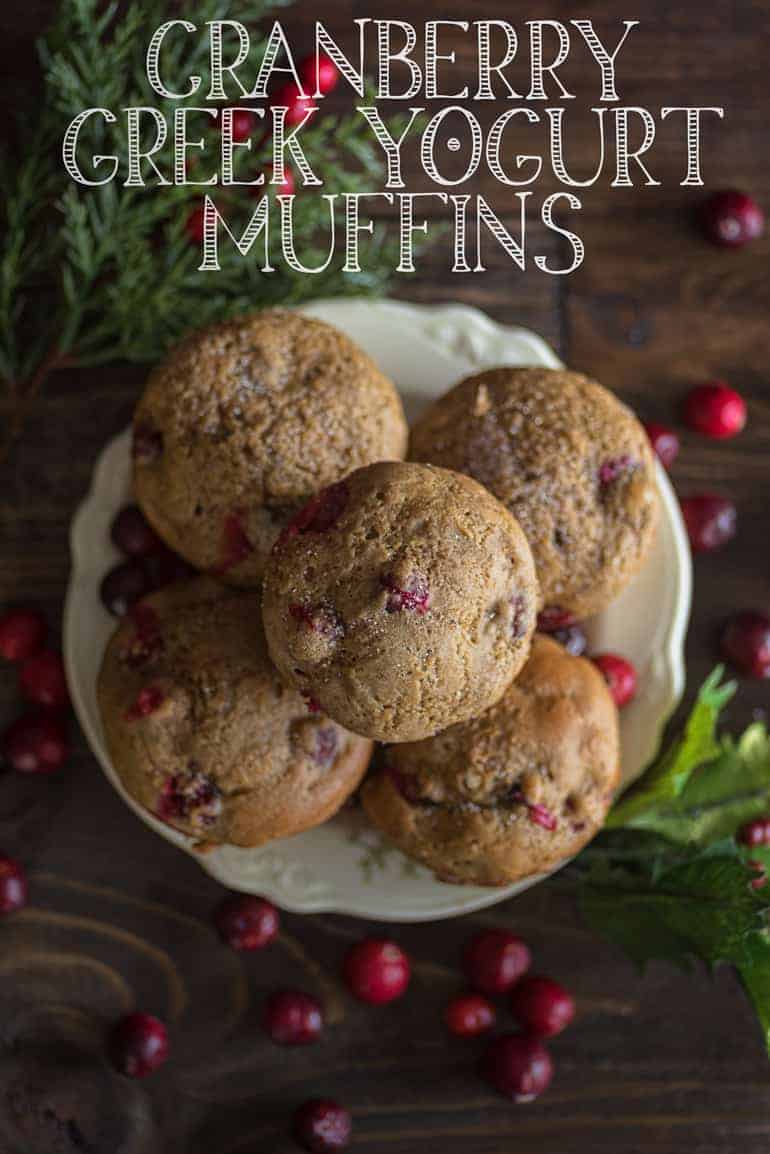 Prep Time 10 minutes

Cook Time 25 minutes

Total Time 35 minutes
Ingredients
2 cups of flour
1½ tsp of baking soda
1½ tsp of baking powder
¼ tsp salt
2 tsp of ground cinnamon
1/2 tsp of ground ginger
2 eggs, at room temperature
½ cup of light brown sugar, packed
1 cup of plain Greek yogurt (I highly recommend Fage!)
1 tsp vanilla extract
Zest and juice from two small/medium oranges or from 1 large orange (aim for about 1/2 a cup of juice!) or 1/2 cup of orange juice
1/2 cup of almond milk (adjust, as needed, to compensate for the quantity of juice from your oranges)
1 1/2 cups fresh cranberries
Cooking spray or your fat of choice to grease the muffin pan
Additional sugar, to top. I used raw cane sugar.
Instructions
Adjust an oven rack to the middle position and preheat your oven to 350 degrees Fahrenheit.
Combine the dry ingredients (flour through ginger in the list above) in a medium mixing bowl.
In a separate medium bowl, beat the eggs, brown sugar, and yogurt on medium speed with a stand mixer fitted with the balloon whisk attachment or a hand mixer until just combined.
Add the orange juice/zest, milk, and vanilla extract and beat until just combined.
Add half of the dry ingredient mixture to the yogurt mixture and beat to combine, then add in the second half of the dry ingredients and beat to combine. Mix thoroughly, but don't over mix or your batter can become tough! The batter should be fairly thick, but easy to spoon. If it's a particular dry day or your flour is very dry, you may want to add an extra splash or two of milk. (I live in Hawaii and things are always humid, so this ratio of flour::liquid worked well for me, but baking is more of an art than a science and I encourage you to adapt things to meet your weather's needs..)
Using a spatula, carefully fold the cranberries into the batter.
Pour the batter into a well greased muffin pan, making sure not to overfill each cup. Aim to fill each one about 2/3 - 3/4 of the way, but not all the way to the rim. If you're using a "standard" sized muffin pan, you should be able to make about 18 muffins, so prep two pans! Alternatively, you can pour the extra batter into silicone baking cups, or even into disposable muffin pan liners. Place the additional liners/cups on a baking sheet and bake alongside the regular muffin pan.
Bake until a toothpick inserted into the center of a muffin comes out clean and the tops are slightly golden brown, about 23-37 minutes.
Turn muffins out onto a wire rack.
Enjoy!

Like most baked goods, these muffins are easy to freeze.
Arrange them on a baking sheet or parchment paper and place them in the freezer for 30-60 minutes before placing them all in an air tight container. This initial individual freezing helps ensure you can remove the muffins one at a time for thawing and enjoyment.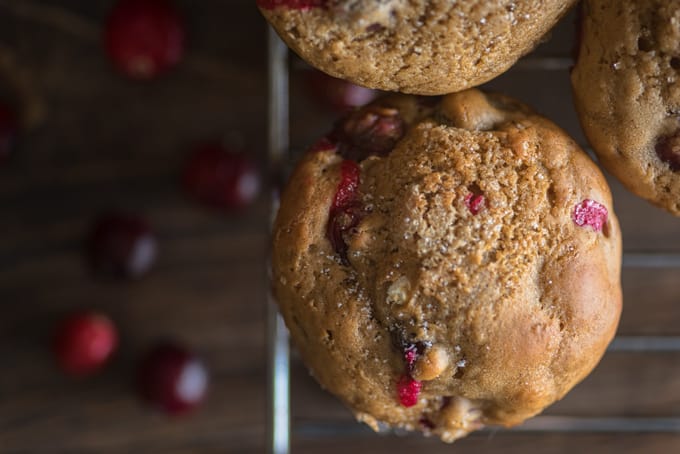 While I'm sharing kitchen tips, I'd also like to remind you to make sure your baking soda, baking powder, and spices are fresh!
It's amazing how quickly all of these ingredients loose potency, so please make sure your ingredients haven't been sitting in the pantry since last Christmas. Trust me – it makes a big difference!
As noted in the recipe, you'll be able to make about 18 'normal' sized muffins, so I used my muffin pan and a half dozen silicone baking cups. This is a fantastic solution if you don't have two muffin pans!
Cranberries are so delightfully 'holidays' to me. Are there any particular baking or cooking ingredients that you look forward to using this time of year?
More Greek yogurt baking recipes
If you like these muffins, you'll probably also enjoy these other recipes with Greek yogurt!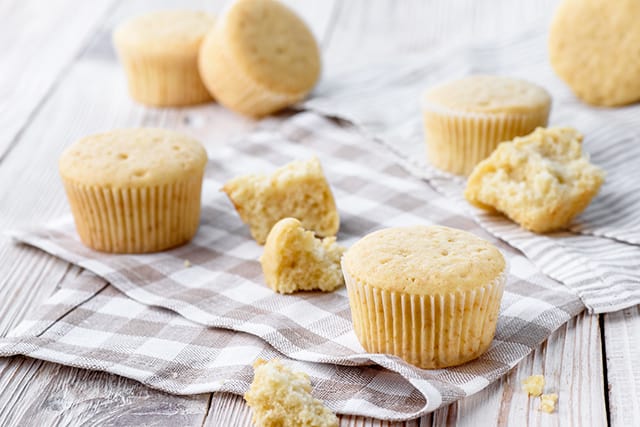 Gingerbread Greek yogurt muffins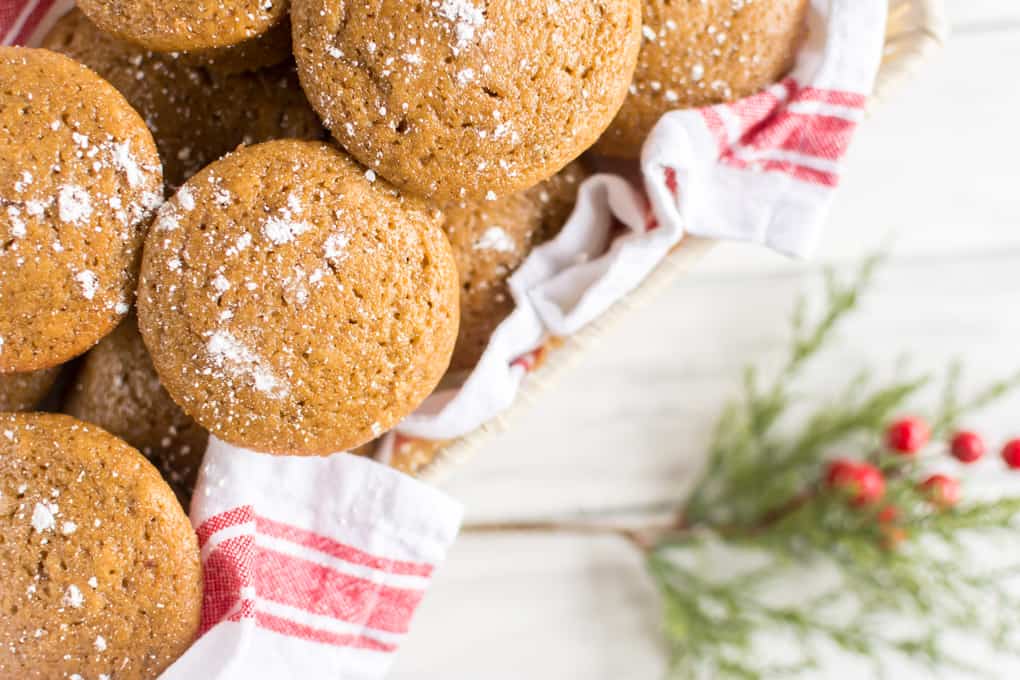 Greek yogurt sweet potato bread