This free printable St. Patrick's Day word search is a family-friendly way to celebrate St. Patrick's Day with your kids and it's easy to use, even if you personally stink at word searches, because it comes with an answer key.
I love word searches. That's why I have a whole page devoted to free printable word searches here on The Artisan Life! They're fun, educational, and an easy, no-prep activity for kids. Simply print, hand them over with a pencil, and catch a few minutes of quiet time to yourself!
This word search printable for St. Pat's comes in two versions – color and in-saving black and white. Both are available totally free, no email address required!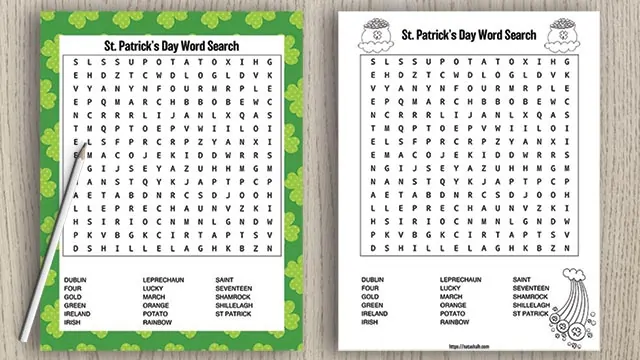 This post includes affiliate links, which means I may earn a commission on purchases made through links at no additional cost to you.
How to use your printables
First, download your free printable word searches. The links are below the preview images lower down in this post. No email address required!
Next, of course, you need to actually print your word puzzles. I hate using all my ink for a one-off printable, which is why I highly recommend laminating your pages or putting them in a dry erase pocket. A dry erase pocket is basically a super strength page protector.
When you laminate the word search or use a dry erase pocket, your child can do the word search over and over again. Sometimes kids actually want to do the same puzzle back to back. If not, you can stash it away to use again tomorrow or even next year. It's an easy way to get more mileage out of one simple printable!
Free printable word searches for St. Patrick's Day
There are two versions of this St. Patrick's word puzzle. One has cute green shamrocks and the other is in ink-saving black and white with coloring page elements. Both puzzles are the same and share an answer key. The words are all related to St. Patrick's Day or Ireland.
The word searches are free for personal and classroom use. This includes using them with a scout troop, Sunday school class, etc. as long as you are personally involved with the event. Please do not redistribute the digital files or printed copies to others – just send them to this post so they can download their own copies!
The puzzle has 17 word to seek and find:
Dublin
Four
Gold
Green
Ireland
Irish
Leprechaun
Lucky
March
Orange
Potato
Rainbow
Saint
Seventeen
Shamrock
Shillelagh
St Patrick
Words can be hidden forwards, backwards, and on the diagonal. They can also share letters.
Related: Free printable shamrock templates
Word search with shamrocks
First there's the colorful version of the word search:
Black and white St. Patrick's Day word search
Next we have the black and white version with St. Patrick's Day coloring elements. There are two pots of gold and a lucky rainbow to color!
I truly hope you enjoy using these printables with your family or students. I have more free printable games and templates for St. Patrick's Day – make sure to keep scrolling to check them out!
Free Printables for St. Patrick's Day
Stop scouring Pinterest for printables and check out these free templates and patterns!