This free printable St. Patrick's Day bingo is a family-friendly way to celebrate St. Pat's with your kids!
Playing picture bingo isn't just an easy, no-prep way to keep your kids entertained. Picture bingo can help your kids pay more attention to detail, extend their attention spans, and improve their visual discrimination skills.
Pick from low-cost classroom sets with 50 or 24 cards, or snag free printable smaller sets of 10 or 4 to play with your family or small group.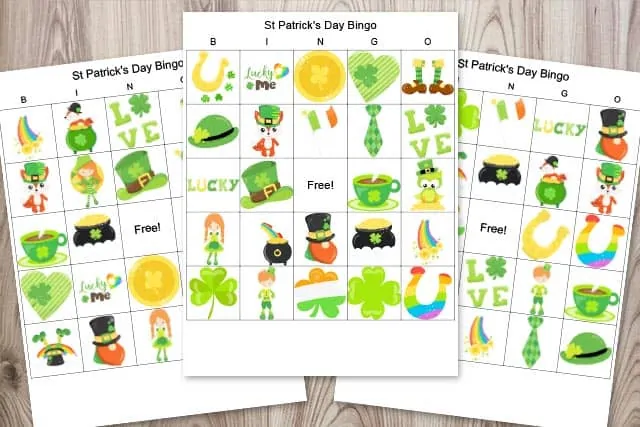 How to play picture bingo
This post may include affiliate links which means I may earn a commission on qualifying purchases at no additional cost to you.
Picture bingo is a little bit different from "regular" bingo. When I first started making picture bingo cards, my husband was really hung up on the lack of a container full of numbered balls! He just didn't understand how you could play bingo without them. He kept trying to come up with ways to print stickers and put them on ping pong balls or something. I told him no body has time for that!
Luckily, playing picture bingo is easy and there are no spinning baskets of plastic balls required. Each set of printables comes with a call sheet that you can cut up to make pieces of paper to pull out of a bowl or basket.
To save time, you can also call randomly straight off the printed page. Make a little tic mark to denote which pictures you've already called.
This St. Pat's bingo has a pool of extra images, which means you can't use as single bingo card to call the pictures. Each single card does not have all the possible images on it.
Related: Free printable rainbow templates
I love to print my bingo cards on something called presentation paper. It's a heavyweight paper with a special coating for crisp, vibrant images. If I'm going to use my colored ink, I want it to look fantastic!
Regular cardstock works, too, but the ink sinks in a bit so the pictures aren't as nice.
The difference is more obvious in real life, but the mermaid bingo card on the left in the photo was printed on presentation paper. The card on the right twas printed on cardstock.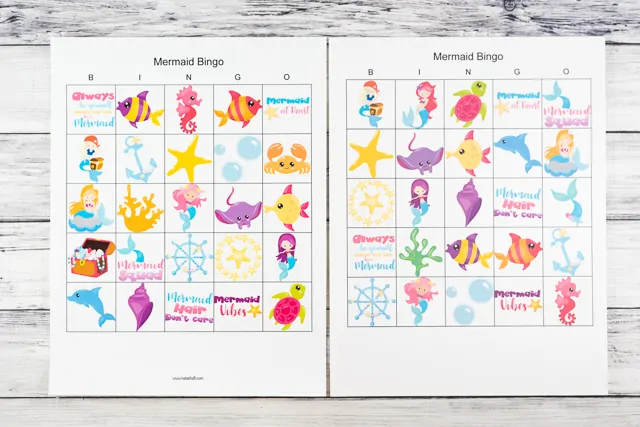 To reuse your bingo cards time and again, laminate them or place them in a dry erase pocket.
Taking your pages to a copy shop or office supply store for lamination adds up quick (I used to work at a copy center – you're going to pay at least a dollar per page for lamination). That's why I bought my own inexpensive home lamination machine.
Now I can quickly and easily laminate my own pages at home. It costs less per page after about 25 uses and I don't have to chase my toddler around the store while she tries to grab scissors off the displays (why do they always go for the most dangerous thing they see???)
Amazon Basics 9-Inch Thermal Laminator Machine
Thermal laminator machine for protecting printed documents or images
Includes a 9-inch thermal laminator and (2) 3-mil-thick laminating pouches
Laminates documents up to 9 inches wide, including letter, legal, business-card, and photo-size papers
To make your bingo games even more fun, use small prizes as bingo markers. Small erasers work really well. Since this is St. Pat's bingo, gold coins are another great option! If you give your kids candy, Skittles or small gold foil wrapped candies also make fun St. Patrick's Day bingo markers.
Free printable St. Patrick's Day bingo cards
These bingo cards are available for personal and classroom use. That means you are free to use them as many times as you'd like with your children, personal classroom, scout troop, etc. Please do not redistribute the digital files or give printed copies to others – just send them to this page so they can download their own copies!
There are three four different sets of bingo boards, so pick whichever best suits your needs. You can grab a set of 20 for just $2.29. You can also download 10 cards as a thank you for becoming an Artisan Life family member, or download 4 St. Patty's Day bingo cards absolutely for free, no email address required.
Please keep scrolling past the paid sets to get the smaller free sets.
Related: Free printable pot of gold templates
Set of 50 St. Patrick's Day bingo cards for a crowd
I've received requests for additional cards, so I made a set of 50 St. Pat's bingo boards! It's available for a very low price below.
These cards are completely unique and are not duplicated in the other, smaller sets of bingo cards.
Set of 24 printable St. Patrick's Day bingo boards
Next we have the set of 24 bingo boards available for one very low price. This set is perfect for classrooms and larger groups.
This set does not overlap with the set of 10 free bingo boards shown below. They can be combined for 34 total cards.
Set of 10 bingo boards for St. Patrick's Day
Then we have a set of 10 unique bingo cards available for Artisan Life family members.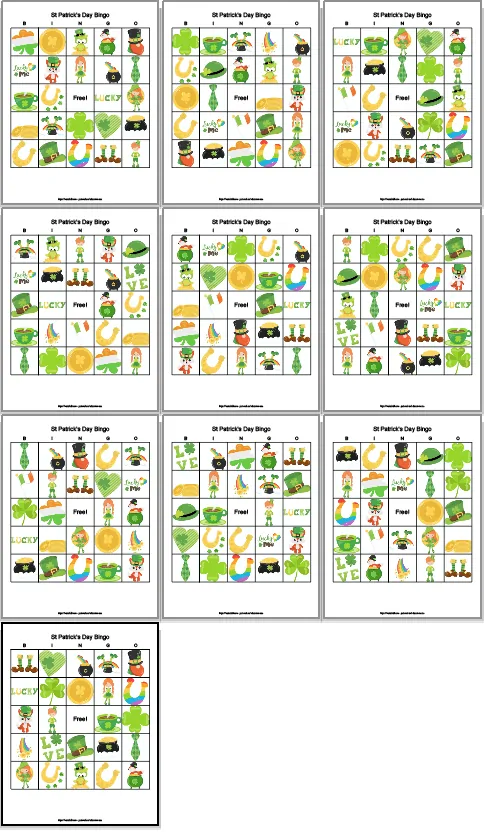 If you're already a member, go ahead and fill out the form below to receive your download link.
Not a member yet? No problem! Join the Artisan Life family for family-friendly printables you can use even if you don't have the time to set up elaborate activities for your kids. You'll get access to high-quality free printables like these to keep your kids busy without turning them into YouTube zombies!
Set of 4 free printable St. Patrick's Day bingo cards
And, finally, we have a set of 4 free printable bingo cards available for download. They can be combined with the 10 cards for members for 14 unique bingo boards. Please note that these 4 cards are included in the paid set of 24 cards.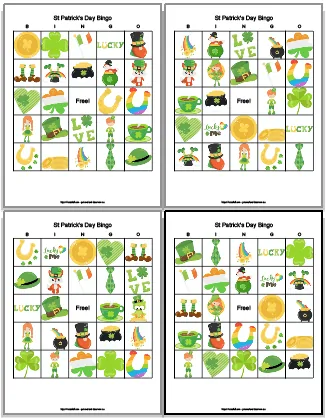 Download the set of 4 bingo cards here
I hope you enjoy playing St. Patrick's Day bingo with your family. Make sure to grab these additional free printables for St. Patrick's Day here on The Artisan Life:
St. Patrick's Day Free Printables and Crafts
If you're looking for St. Patrick's Day printables, you've come to the right place!