These free printable Happy Planner Classic and US letter planner pages are so cute for October! The watercolor Halloween illustrations are the perfect blend of spooky and sweet. I hope you love these printable planner pages for October as much as I do.
Taking advantage of printable planner pages is a fun and easy way to spruce up your planner and get ready for planning your busy fourth quarter. By this late in the year, I'm usually feeling a bit bored with the set of planner pages I purchased and ready for a change!
Unfortunately, planner pages for the current year usually aren't stocked in the fall and ordering pages online can be hit or miss (plus you have to wait for the snail mail to arrive).
Printing your own planner pages at home for October is the perfect way to make your planner fun again without waiting for the mail.
As a bonus, I've also created a sheet of Halloween planner stickers for you. Bye, boring planner pages you purchased last January.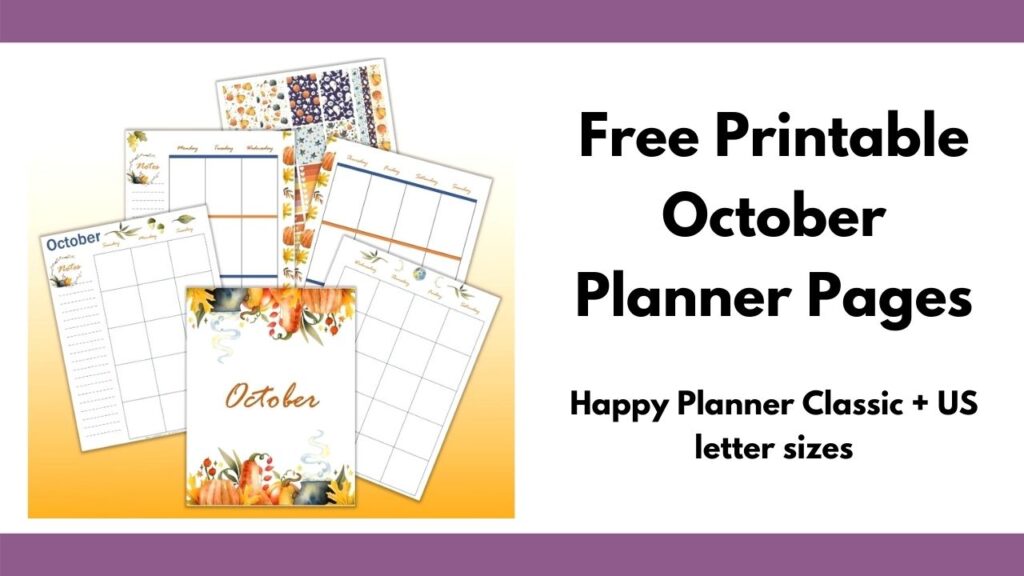 How to use printable planner pages
This post may include affiliate links which means I may earn a commission on qualifying purchases at no additional cost to you.
There are three important things to remember when using these printable planner pages:
Use premium printer paper, not your cheapest copy paper
Make sure the pages print at 100% size for the Happy Planner (unless you're intentionally scaling them down). Many programs will try to scale the Happy Planner pages up to fill the page – make sure to double check and ensure you're printing at actual size/100%.
Scale to "fit" for the letter size if your printer can't print marginless. If you can do marginless printing, use that feature.
I used my printer ink (so you don't have to waste yours) to test five different papers to demonstrate the best paper for planner printables. Make sure to check out that post for a side-by-side comparison of papers to see why I recommend using 32# paper.
Your print dialogue box should look something like this: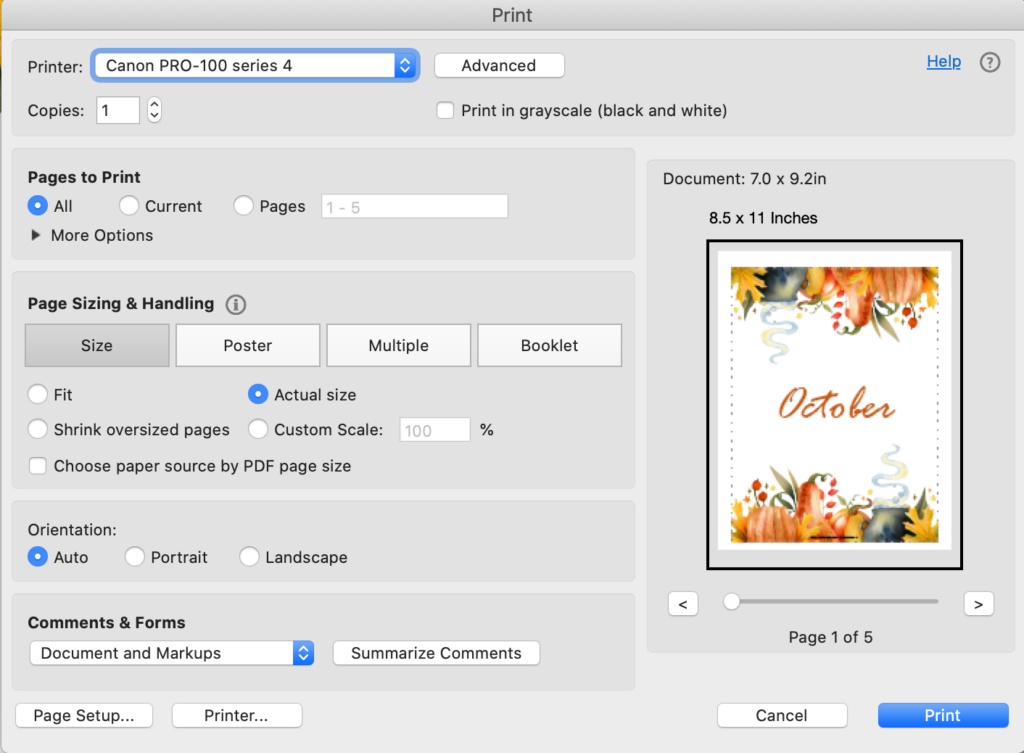 The Happy Planner pages have very light grey dotted trim lines to eliminate guesswork and frustration. I use my paper trimmer with a guide wire to trim away the excess easily and accurately.
The printables in the video were printed on this presentation paper. I always use either presentation paper or premium printer paper for my planner printables. I think the presentation paper has more beautiful images, but the Premium32 paper is heavier (so your writing is less likely to show through).
After trimming your pages, you'll need to punch holes with your Happy Planner hole punch before inserting them in your planner.
Related: Free printable floral planner pages
Printable October planner pages
Like all journal and planner printables here on The Artisan Life, these pages are for personal use. You are not licensed to alter, redistribute, or sell the digital files or printed pages.
Instead of sharing the files with others, please send them a link to this page so they can download their own files (even if you have the freebie version). The Artisan Life is a user supported site – your views and support mean the world to me!
The Happy Planner insert printables are not simply scaled down versions of the letter size. I designed them first and painstakingly matched box sizes to make sure you can use your favorite HP stickers with these printable planner pages.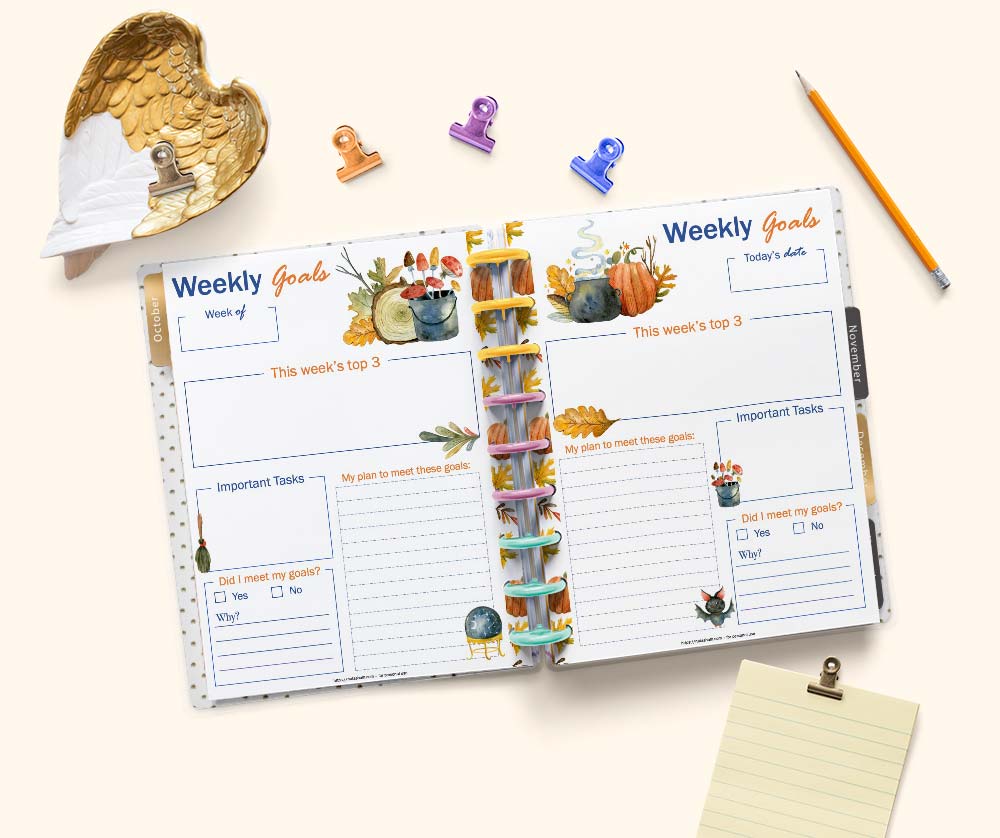 The letter-sized October planner printables can easily be added to your 3 ring binder, household binder, or your planner system of choice if you want to scale the pages when you print.
Related: free printable bill payment checklists
The US letter will fit in the Big Happy Planner, but the box sizes may not line up exactly. I'm personally a Classic user and don't have any Big pages on hand.
There are two versions of the printables: the set of free planner pages and the October planner kit with 22 pages for one very low price.
Related: Free printable November planner pages
October planner printables kit super value bundle
First let's take a look at the October planner kit printables bundle. (Just keep scrolling a bit more for the freebie pack!)
The Happy Planner and US letter sized versions have the same pages. Here's what's included:
"This planner belongs to" page
October cover page
Notes page
2 page spread calendar
2 weekly goals planners (left and right margins)
2 daily goals planners (left and right margins)
5 weeks of vertical weekly pages. Three weeks have October-related quotations.
Habit tracker for October
Large watercolor book tracker with 25 books
Smaller book tracker with 13 books
Here are the habit tracker and the smaller bookshelf. Isn't the cat super cute?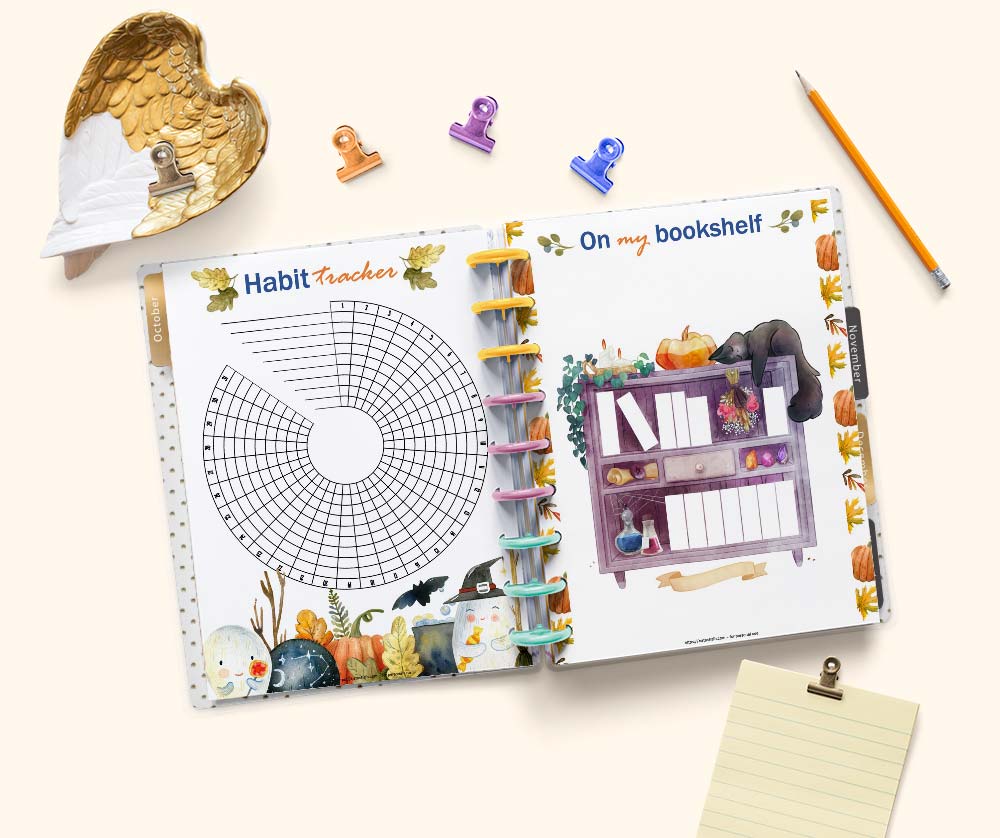 You can see a preview of every page (Happy Planner version) in this video clip:
Please note that you will need to unzip the compressed file. Many computers already have a file extraction tool installed (it's free on every Mac out of the box). For Windows, you can download the program 7zip for free or or use EzyZip to decompress files online for free.
Grab this October planner kit for the very low price of $2.99
Free printable October planner pages
The set of free printable Happy Planner October pages has 5 pages plus the bonus sheet of printable stickers. Here's what's included:
October cover page with watercolor illustrations
Happy Planner monthly calendar pages for October (undated)
Happy Planner vertical weekly layout pages (undated)
Coordinating printable sticker sheet
The US letter sized PDF has the same pages in 8.5×11 size: a cover page, two page monthly calendar, and two page vertical spread weekly layout. The box stickers are not optimized for the letter size pages, but you can still use many of them.
You will need to unzip the compressed file. Many computers already have a file extraction tool installed. For Windows, you can download the program 7zip for free or or use EzyZip to decompress files online for free.
This set of October planner pages is free for Artisan Life family members. Just use the box below to let me know where to email your files and they'll fly across the internet and into your inbox! (If you're already a member, just sign up again using the same email address as before.)
More October Happy Planner stickers
You can never have too many planner stickers, right?
October Planner Stickers
If you'd like more planner stickers for October, here are a few of my favorite picks from Etsy sellers. There's a combination of digital downloads and printed stickers, so make sure to check each listing description.