This free printable floral weekly planner features lovely purple and blue florals, a two page weekly spread, and pages for your daily and weekly goals.
Whether you want more pages for your favorite planner, want to start using a paper planner, or love building your own "Frankenplanner," these free printable weekly planner pages can help you create a beautiful, useful planner. The "top 3" daily and weekly goal setting pages will help you set and achieve your goals while the weekly planner pages keep your busy life organized.
I hope you enjoy using these floral printable planner inserts as much as I enjoyed creating them!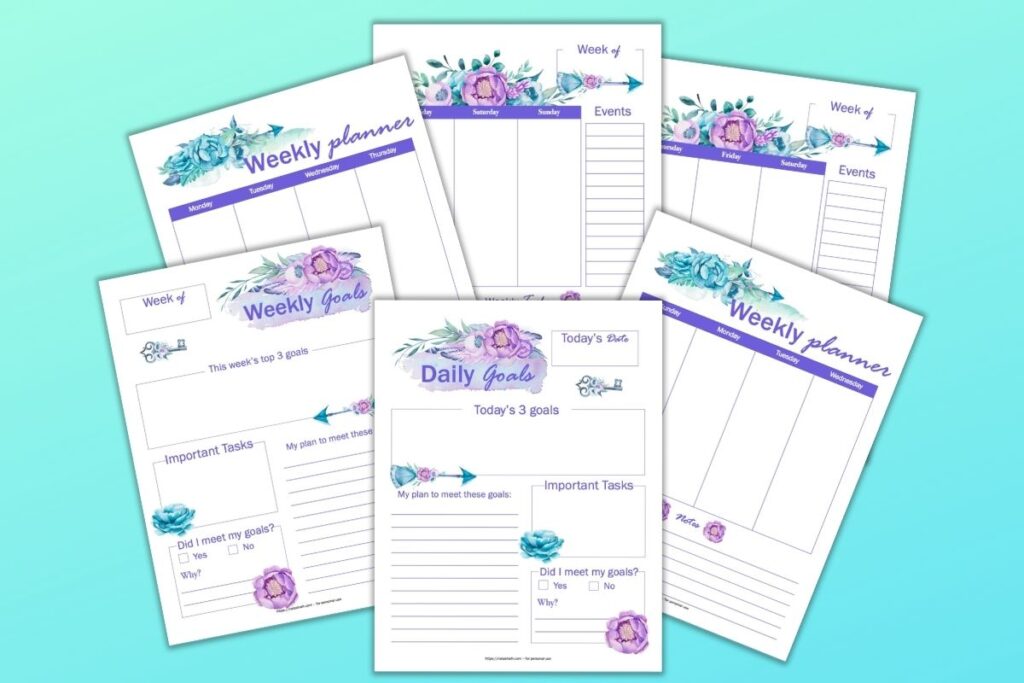 How to use printable planner inserts
This post may include affiliate links which means I may earn a commission on qualifying purchases at no additional cost to you.
Since planners are designed to be written in, it's important to print your planner pages on premium printer paper.
You can print on "regular" printer paper, but it doesn't hold up to serious planner use. Your writing and doodles will feather, ghost, and bleed and colored pens and pencils won't look as vibrant.
I prefer to use either this premium printer paper or this presentation paper. Both yield nice results. The presentation paper is heavier and has beautiful, crisp and vibrant images. It can add a bit of bulk to your planner, though, if you're adding a lot of pages. The premium printer paper is a good choice that doesn't add as much bulk, but isn't as sturdy for drawing and painting.
Free printable two page weekly planner inserts – letter, Happy Planner, and A5 size
This set of printable floral planner inserts is available in three sizes: US letter (Big Happy Planner), Happy Planner Classic, and A5 size.
All there versions have the same basic layout, just resized and nudged around to fit the appropriate page size.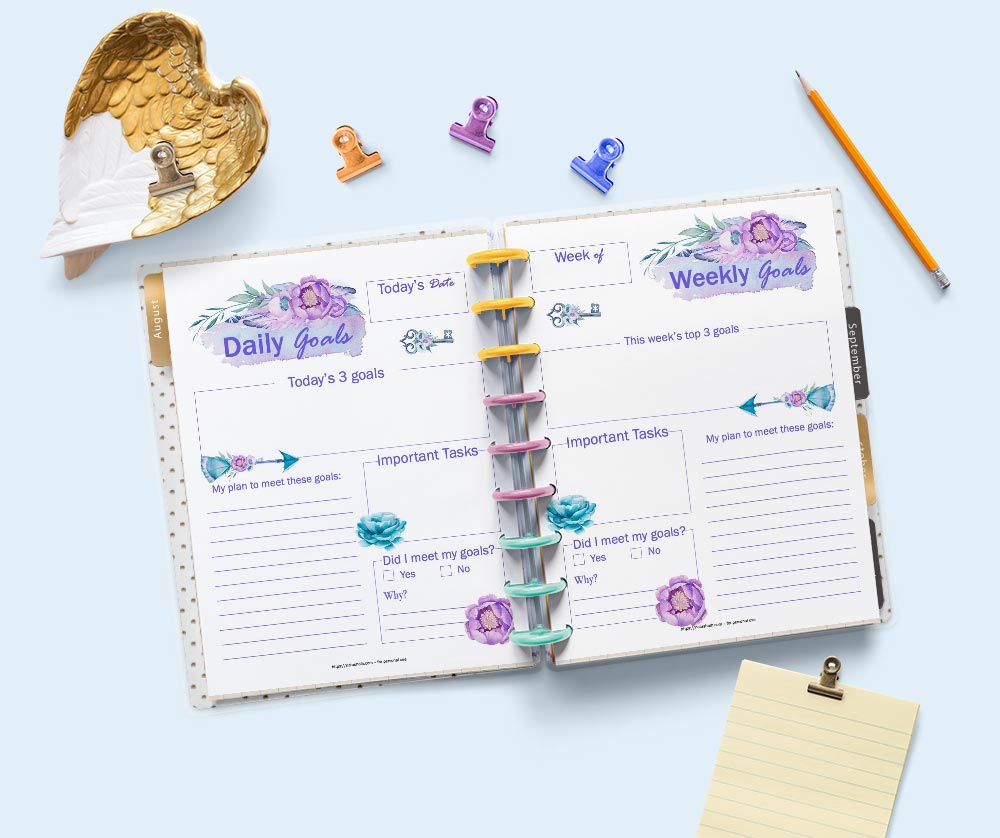 To pint the classic Happy Planner and A5 printables, make sure you print at 100% scale. Some programs automatically check the "fit to page" option. Make sure this box is unchecked and that you're printing at 100% for the correct sized pages.
Both sizes feature a light grey trim line so you can easily trim the pages down to size. It's easy to make accurate cuts when you use a paper trimmer with a wire guide.
This is what your settings should look like in Mac's Preview: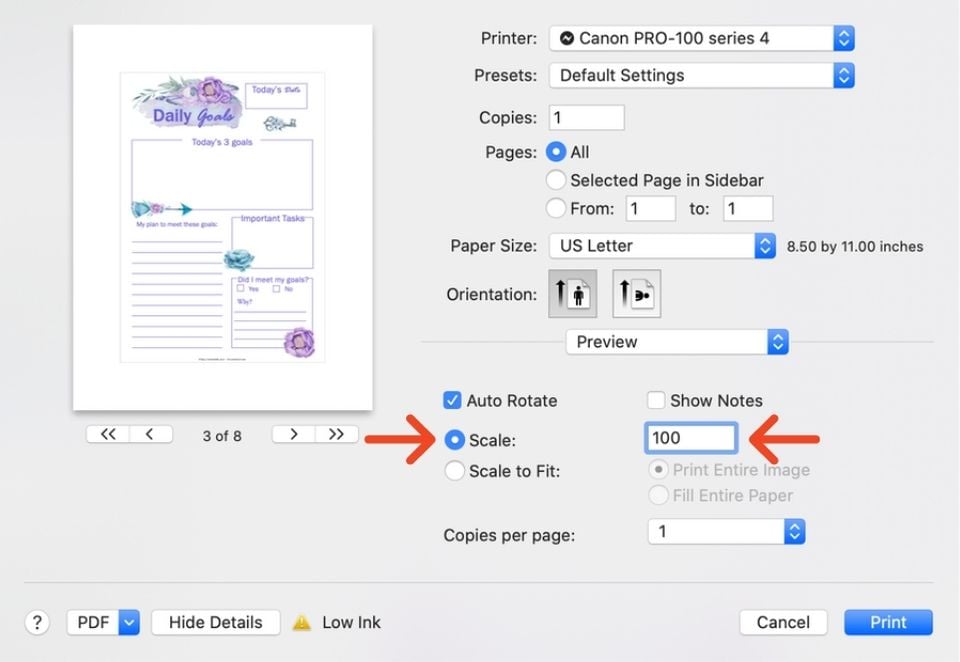 If you're using Acrobat Reader, your settings should look like this: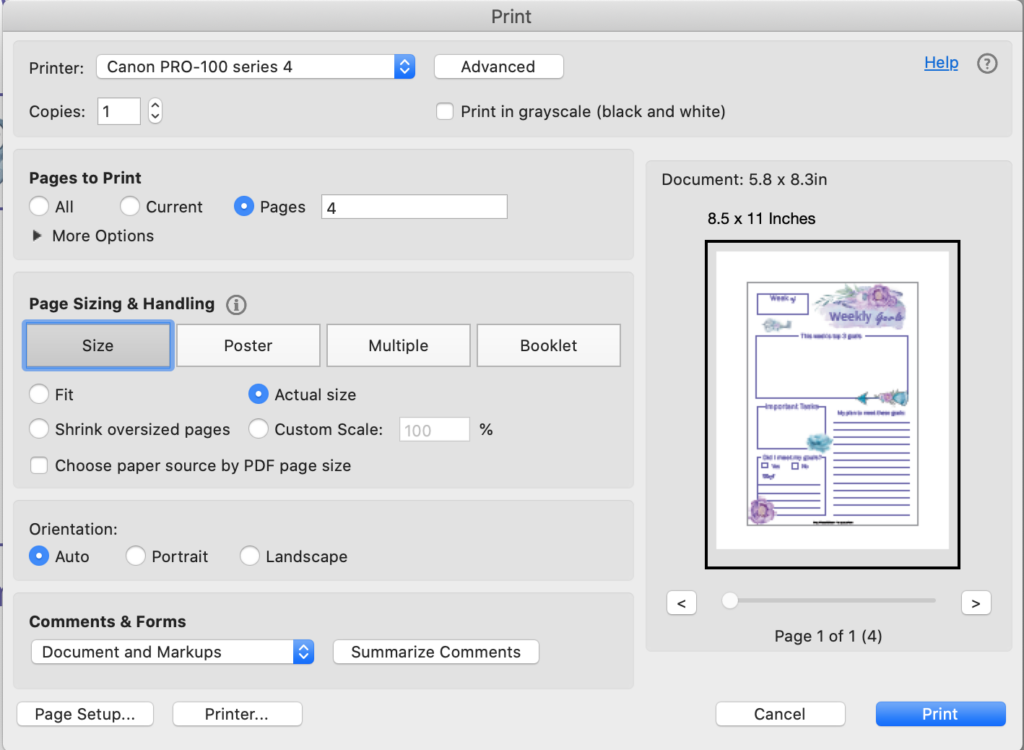 You'll also need to hole punch the pages with a Happy Planner hole punch or A5 hole punch so you can insert them into your planner.
The two page weekly spread, also called the vertical week on two pages, is a classic planner layout. There's plenty of room on each day to write your notes, appointments, and reminders (or use your favorite planner stickers!) The downloads feature both Sunday start and Monday start pages.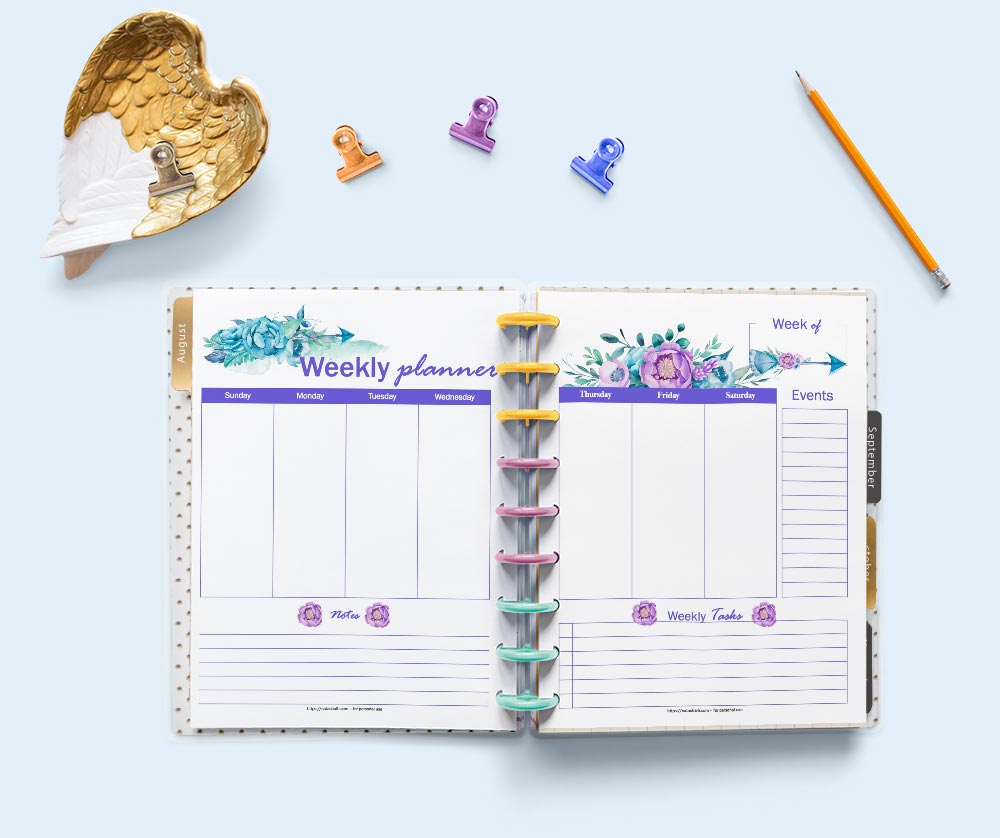 Each set also includes a cover page, belongs to page, daily goals, and weekly goals.
Just use the box below to let me know where to send your download links and your free printable planner inserts will fly across the internet to you:
I hope you enjoy using these floral free weekly planner insert pages! Make sure to visit these other posts on The Artisan Life for more free planner and bullet journal printables:
Planner & Journal Printables
Looking for more planner and journal printables? Check out these freebies on The Artisan Life!