These printable Happy Planner Classic and US letter planner pages are so cute for November! The watercolor illustrations have beautiful fall colors and a subtle Thanksgiving vibe. I hope you love these printable planner pages for November as much as I do.
Using printable planner inserts is a fun and easy way to spruce up your planner and get organized for the busy holiday season.
There's no trip to the store to the store to be disappointed by limited stock for the current year. There's no waiting anxiously for the mail to finally show up. Just download, print, and enjoy!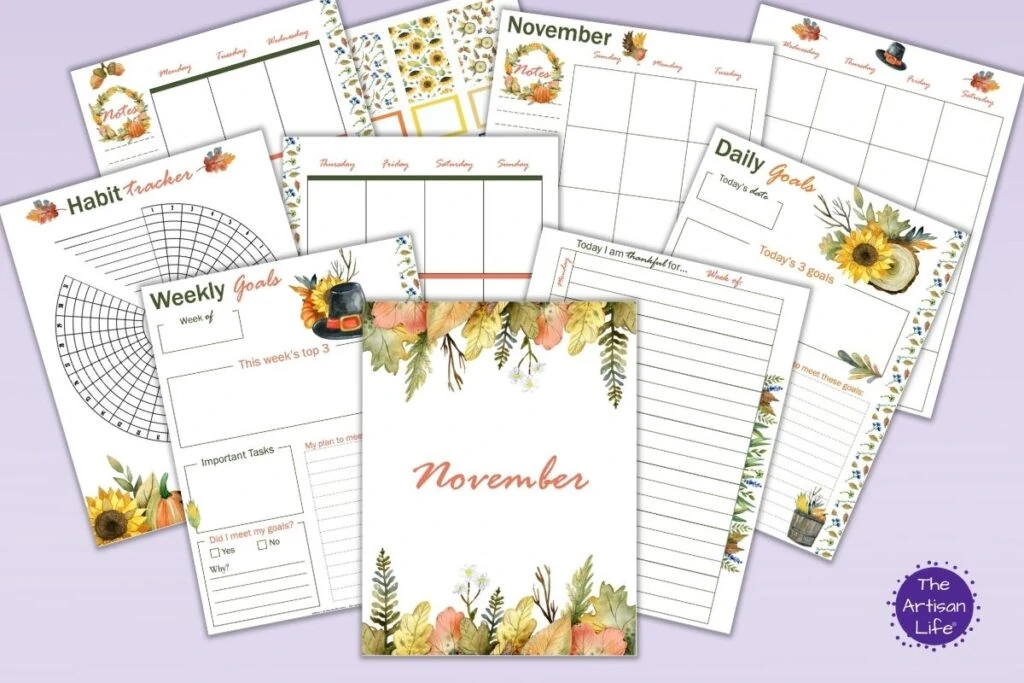 I've also added a new gratitude journal page with space to jot down three gratitudes every day so you can have a thankful November, even during challenging times. This page is included in the free version of the printables.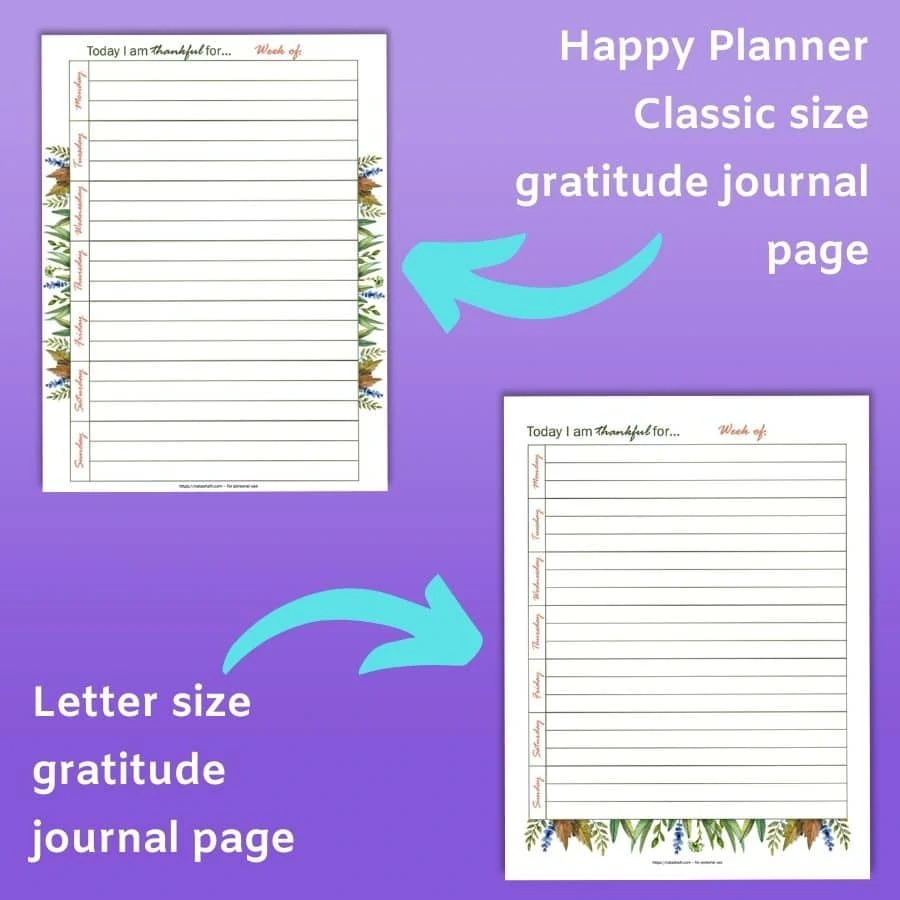 This post may include affiliate links which means I may earn a commission on qualifying purchases at no additional cost to you.
How to use printable planner inserts
There are a few important things to remember when printing these printable planner inserts:
Use premium printer paper, not your cheapest copy paper. Recently I've been using this 32 lb bright white paper for my planner printables and I'm loving it.
Make sure the pages print at 100% size for the Happy Planner Classic and US letter sizes (unless you're intentionally scaling them down).

Many programs will try to scale the Happy Planner pages up to fill the page – double check and make sure you're printing at actual size/100%.
If your printer supports marginless printing, I recommend this setting for the letter size. Most of the pages fit safely within normal printer margins, but 3 pages have decorative elements that will be slightly cut off on the bottom/top. (You will not lose any functional parts of the pages to printing margins.)
I used a ton of my ink to test five different papers to demonstrate the best paper for planner printables. Make sure to check out that post for a side-by-side comparison of papers to see why I recommend using 32# paper.
The Happy Planner pages have light dotted grey trim guides to make cutting them down to size easy. I use my paper trimmer with a guide wire to trim away the excess easily and accurately as shown in the video below featuring my October planner pages:
Please note the print actual size option in the screenshot below. Double check to make sure you print at 100%/actual size, as shown here in Acrobat Reader:
After trimming your pages, you'll need to punch holes with your Happy Planner hole punch before inserting them in your planner. The punch has been hard to find online lately and may be available for less at Michaels – if they have it in stock.
Related: free printable floral planner pages
Printable November planner pages
Like all journal and planner printables here on The Artisan Life, these pages are for personal use. You are not licensed to alter, redistribute, or sell the digital files or printed pages.
If you want to share these printable planner pages with someone else, please send them the link to this page so they can download their own copies. (If your friends really love planners, get in touch with me to ask about my affiliate referral program!)
The Happy Planner insert pages are not just scaled down versions of the letter size. I designed them first and carefully created the correct size boxes to make sure you can use your HP stickers with these printables.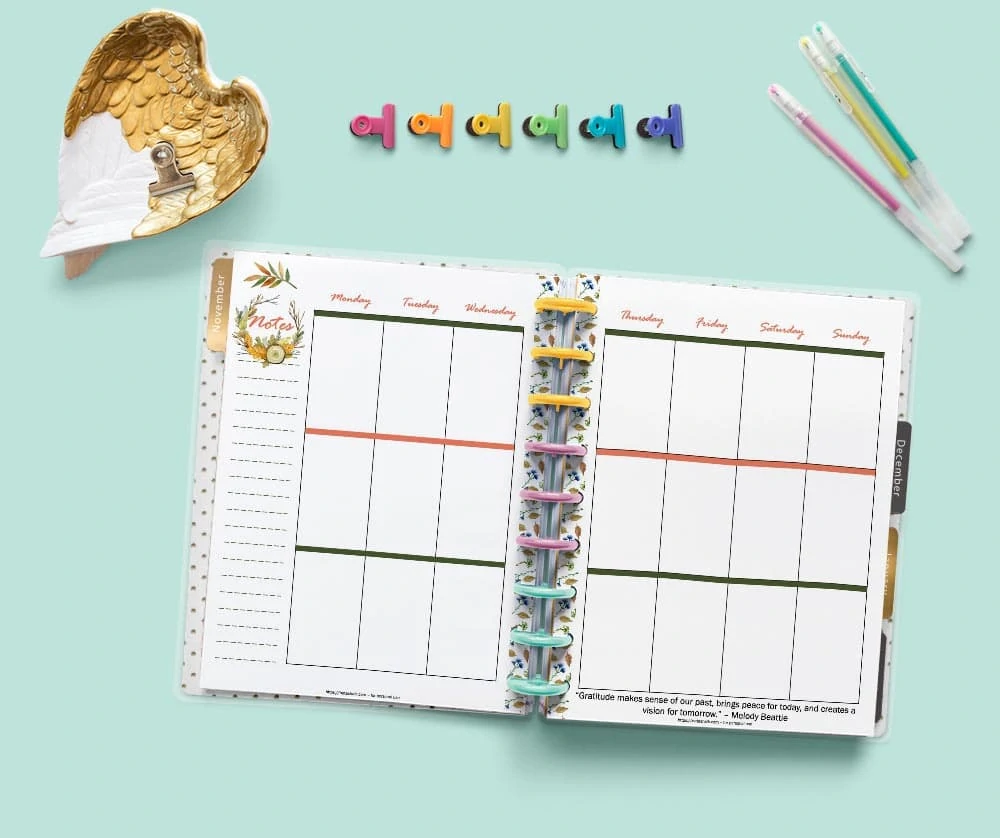 You can hole punch the letter sized November planner pages and add them to a 3-ring binder, Big Happy Planner, or your household binder. They can also be scaled down if you want to cut them to fit in a different sized planner, such as a Filofax.
There are two versions of the printables: the set of free planner pages and the November planner kit with 23 pages (in each size) plus bonus stickers for one very low price. (Please just keep scrolling past the paid version to reach the free version.)
November planner printables kit
First let's take a look at the November planner printables kit. (Just keep scrolling a bit more for the freebie pack!)
The Happy Planner Classic and US letter sized versions have the same pages. Here's what's you'll receive:
"This planner belongs to" page
November cover page
Notes page
Gratitude journal page
2 page spread calendar
2 weekly goals planners (left and right margins)
2 daily goals planners (left and right margins)
5 weeks of vertical weekly pages. Three weeks have gratitude-related quotations.
Habit tracker for November
Large watercolor book tracker with 25 books
Smaller book tracker with 14 books
3 sheets of BONUS color-coordinating stickers
This entire set is available for the very low price of $2.99:
Here's a look inside so you can see the habit tracker and the gratitude journal page: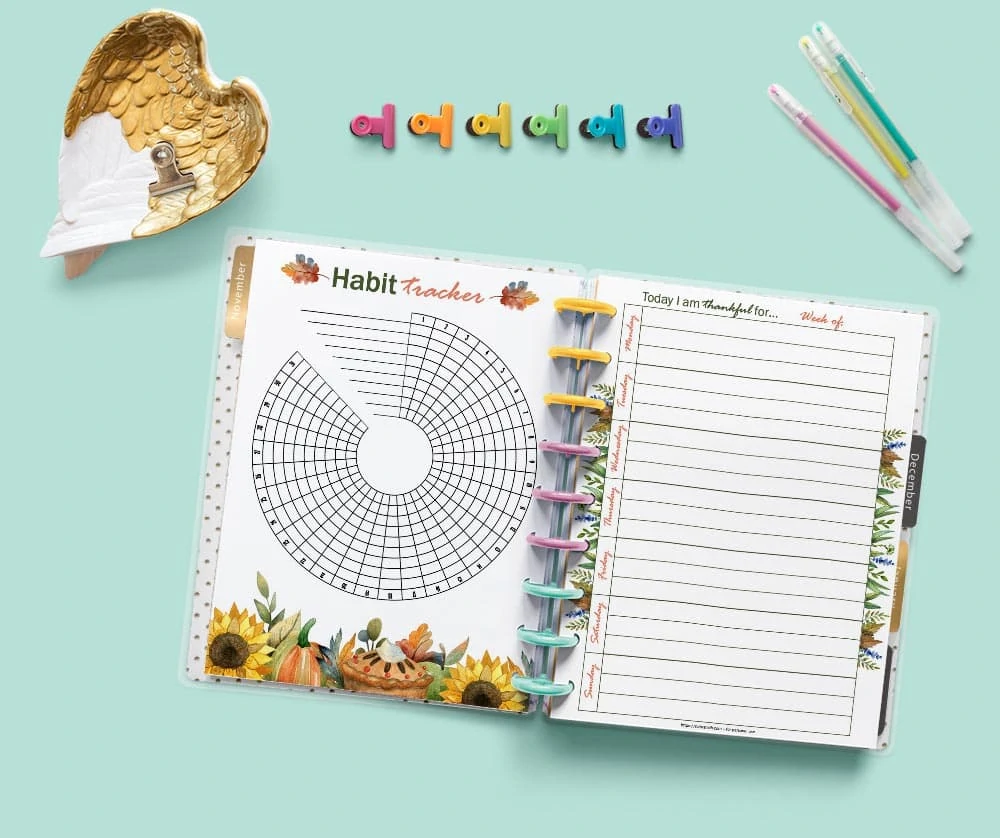 You can see a preview of every page (Happy Planner version) in this video clip:
The letter sized pages do not have the tape-style borders on the edges because most printers would cut them off, anyway.
These are the sticker sheets. The date stickers go to 31 so you can use these for other months, too. I love the cute "tapes!"
You will need to use an archive tool/unzip tool to access your PDFs. This comes included with all Mac computers and some Windows computers. If you don't have a program to decompress files already on your computer, you can decompress them for free online at ezyzip.com.
I recently found a fantastic article from an Etsy seller about how to unzip any file on any device. It's a fantastic resource if you need help decompressing your files.
Normally you'd expect to be told there are no refunds or returns on digital products. I offer a money back guarantee on printables purchases. In the unlikely event that you're not happy with your purchase ,you can request a refund within 14 days. Just reply to your purchase email and I'll help you out!
Grab your November planner printables here today – risk free.
Free printable November planner pages
Alright, let's check out the free version of these planner inserts!
The set of free printable November planner inserts has 6 pages:
November cover page with watercolor illustrations
Monthly calendar pages for November (undated)
Vertical weekly layout pages (undated)
Gratitude journal page
You will need to unzip the compressed file. Many computers already have a file extraction tool installed. For Windows, you can download the program 7zip for free you don't already have an archive tool installed. I recently found a blog post from an Etsy seller detailing how to extract/unzip any file. It's very helpful if you're unfamiliar with unzipping files.
Here's a look at the letter sized November planner pages: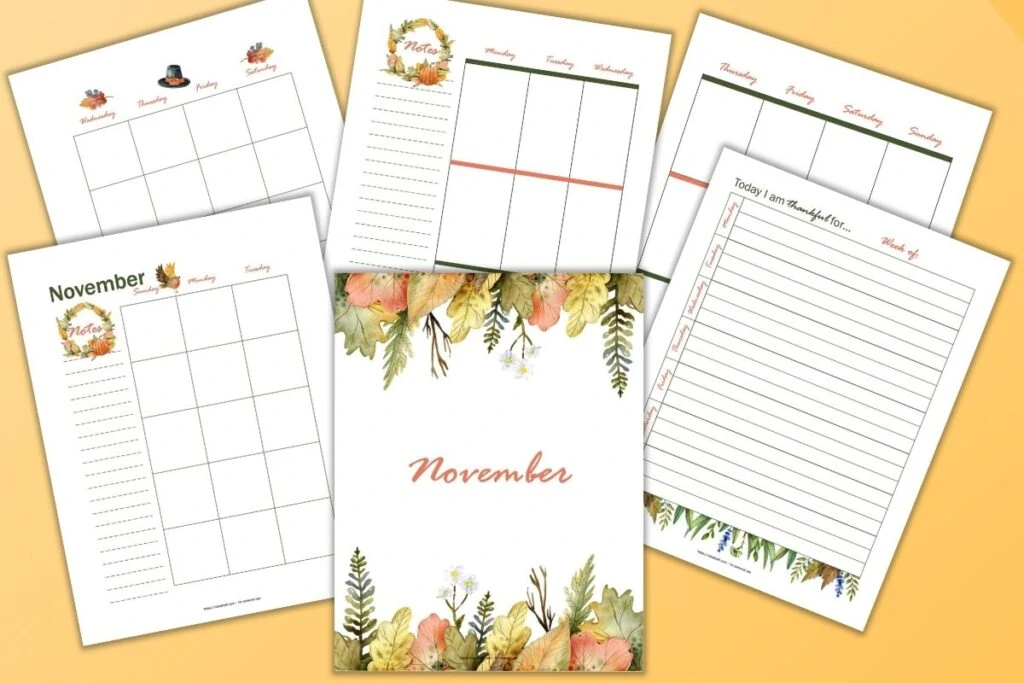 The set of free letter and HPC November planner pages are available to Artisan Life family members at no charge. Just use the box below to let me know where to send your printables and they'll fly across the internet and into your inbox! (Already a member? You can use the same email address you've previously signed up with.)
More November Happy Planner stickers
November Planner Stickers
You can never have too many planner stickers, right?
This list includes a variety of printable planner stickers and physical printed stickers to make sure to check eash listing.
Planner & Journal Printables
Looking for more planner and journal printables? Check out these freebies on The Artisan Life!