These oven roasted veggies for fall are easy to make ahead! Cook them the day before a family meal to save your sanity of make veggies once and eat all week with this meal-prep friendly vegetable recipe.
As part of our nutrition journey, we're trying to get better at weekly meal prep. Spending a chunk of one day (most people I know go with Sunday afternoon) prepping and portioning food for the week saves you a lot of time and makes it easier to eat well when you're in a rush during the week.
We haven't gotten to the point where we're prepping everything for the week, but we started with cooking about half a week's worth of chicken and roasted veggies. Today I'm sharing our weekly meal prep oven roasted veggies recipe. I hope you enjoy, whether or not you're into meal prepping!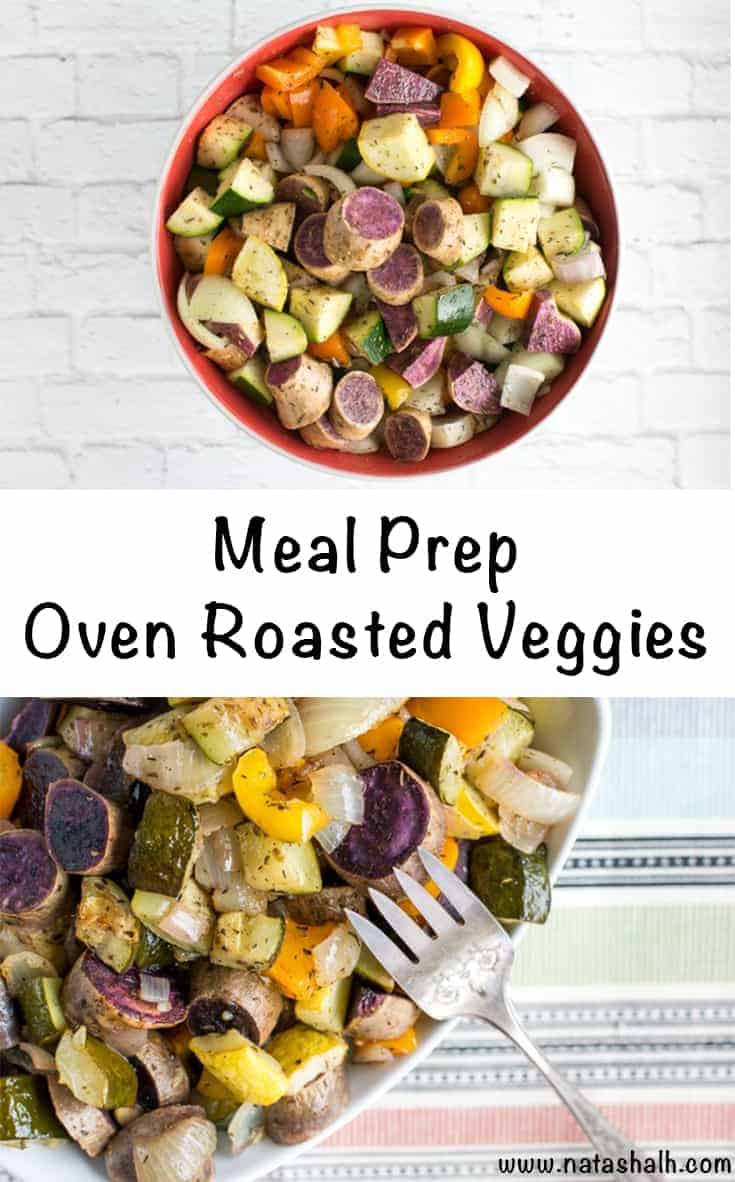 This post may include affiliate links, which means I may make a commission on purchases made through these links at no additional cost to you.
I used zucchini, yellow squash, yellow and orange bell pepper, red onion, and purple sweet potato. Feel free to leave out ingredients you don't like or add others (like carrots or mushrooms).
The most "difficult" part of this roasted veggie recipe is actually cutting up all the vegetables!
Try to make the zucchini and squash pieces a little larger than the potato pieces because the squashes cook more quickly than potatoes.
By using larger chunks, you can help even out the cooking time and have a whole pan of vegetables that are cooked appropriately.
I cut my zucchini/squash into rounds about 1″ thick then quartered each round.
In general, I tried for pieces of potato about 1/2″ thick.
Onions I halved pole to pole, halved lengthwise, then cut into 1/2″ wide sections.
The bell peppers I cut into chunks about 3/4″ across.
For maximum flavor, mix up the quick dressing and allow the vegetables to marinate for an hour or two. If you're in a hurry, you can skip this part and go straight to preheating the oven! Either way, make sure to use a heavy duty rimmed baking sheet when you're ready to cook the vegetables.
I know I mention it all the time, but you really need a heavy duty aluminum baking sheet for top results! I use and love the Cooks Illustrated-reccomend Vollrath pan. You can tell from the photo that it is well used, indeed! A heavy duty pan conducts heat evenly and it won't buckle or warp.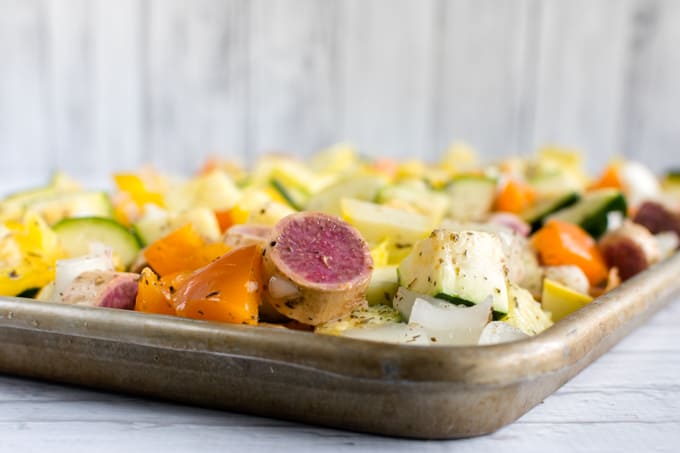 We divided the roasted vegetables into 8 servings with about 150 calories each. The vegetables are tasty on their own, but also go well with noodles or even in a wrap!
If you're doing meal prep, don't forget that eating everything exactly as you prepared it isn't mandatory.
We cook up a lot of plain chicken then season it to complement the rest of the meal on any given day. For example, we used similar herbs to the roast vegetables' dressing to season chicken for accompanying pasta and roast veggies, but used Cuban-style spices when we ate chicken with black beans and rice a different day.
I keep talking about meal prep, but you can absolutely eat these right out of the oven! They'd be a tasty side and a fall get together, and they're an easy way to put a lot of vegetables on the table.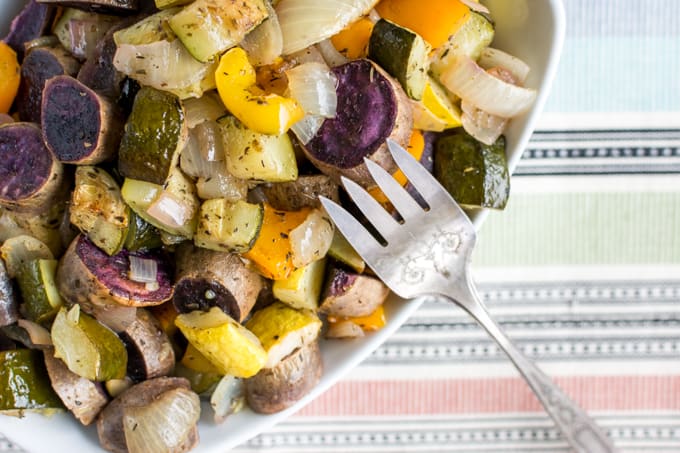 If you are planning to reheat these veggies throughout the week, it is important to stop roasting them just shy of fully tender so they don't become mushy when re-heated.
Somewhere in the 40-45 minute range works well for "al dente" with my pan and oven, but ovens do vary so make sure to keep an eye on your vegetables! To reheat, you can just pop a serving in the microwave for 30-60 seconds, or you can reheat them on the stove.
Do you have your vegetables chopped and ready to go? Great! Let's get to the recipe.
Yield: 8
Weekly Meal Prep Oven Roasted Veggies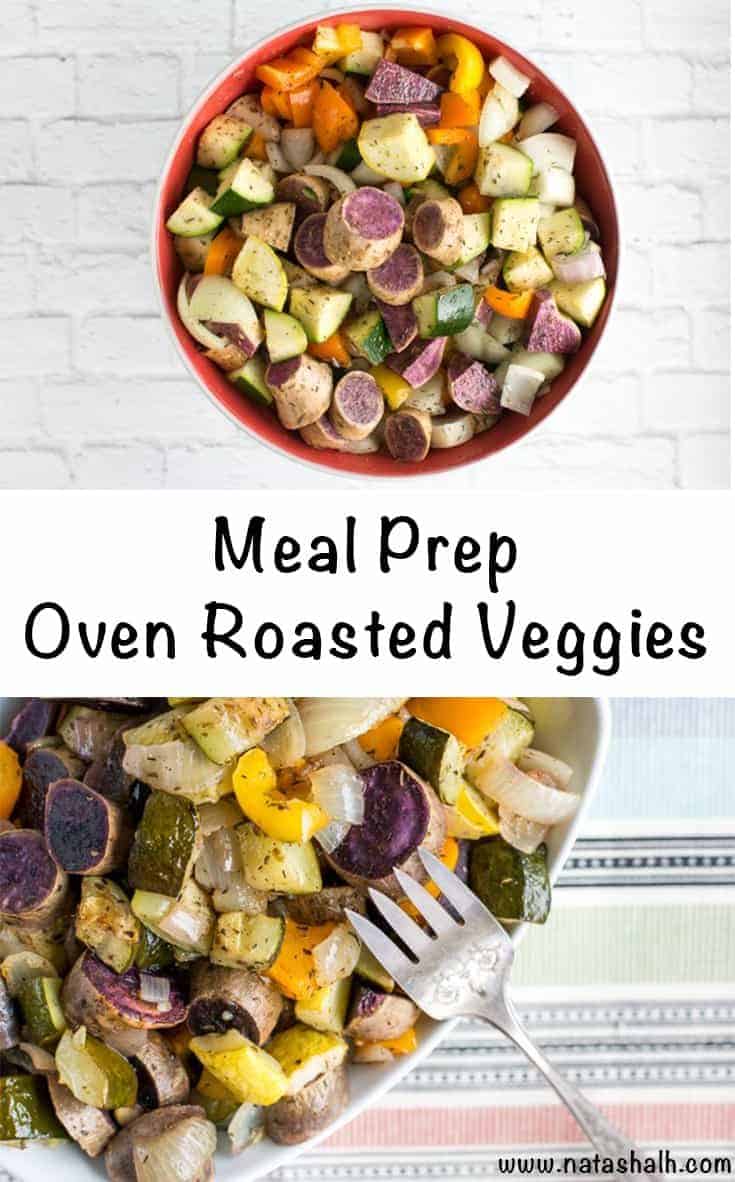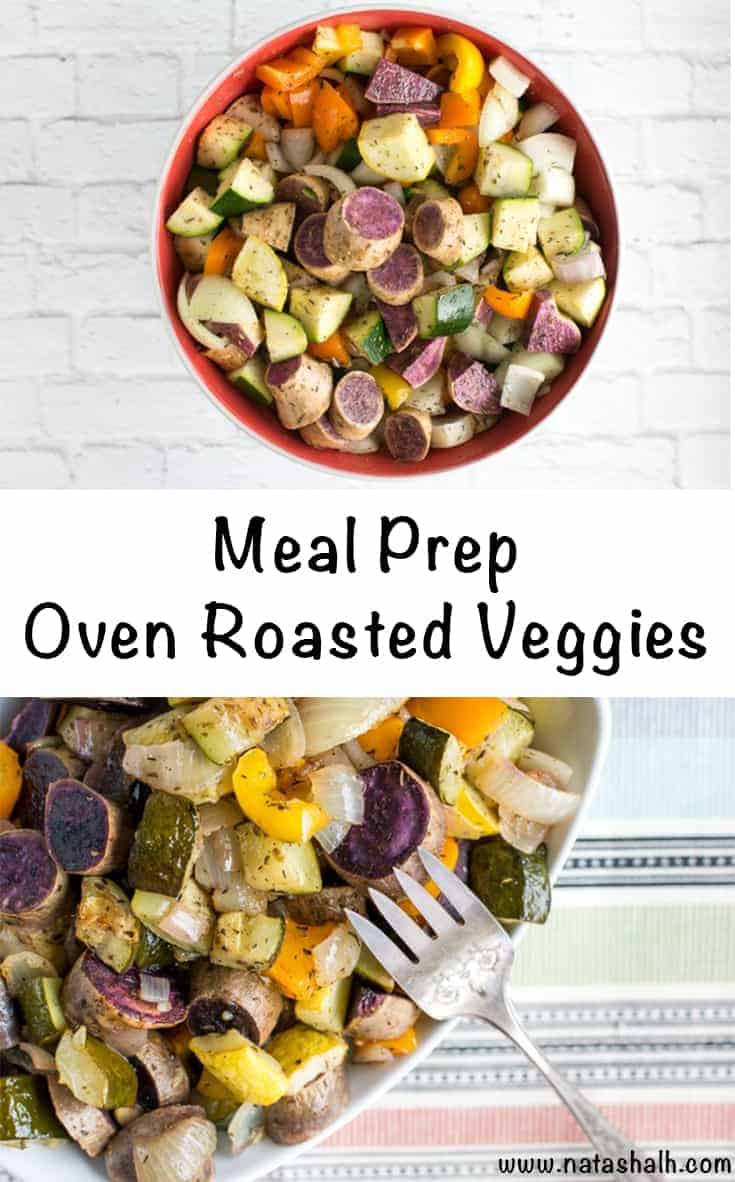 Total Time
1 hour
20 minutes
Ingredients
For the dressing
1/4 cup extra virgin olive oil
zest and juice from one lime
1 teaspoon dried oregano
1/2 teaspoon dried thyme
1/2 teaspoon freshly ground black pepper, or to taste
1/4 teaspoon salt, or to taste
For the vegetables
1 lb sweet potato
1 pound yellow squash
1 pound zucchini squash
1 orange bell pepper
1 yellow bell pepper
1 shallot (about 1.5 oz)
Instructions
Whisk all dressing ingredients together to combine.
Chop all vegetables as directed above, and mince the shallot.
Transfer the vegetables to a large bowl, drizzle with the dressing, and toss to combine. Cover and refrigerate for 1-2 hours, if time allows.
Preheat your oven to 370º Fahrenheit and adjust a rack to the middle position.
Toss vegetables again to re-coat with dressing, then transfer to your rimmed baking sheet. Everything will probably not fit in a single layer - that's okay.
Roast until the vegetables are tender or, if you're planning to re-heat them throughout the week as part of a meal prep plan, until they're almost tender. This should take 45-60 minutes. Gently flip/stir the veggies every 15 minutes.
Serve and enjoy or portion out to enjoy later!
We've tried these roasted veggies solo, with pasta, and in a wrap. How would you enjoy them? Any additional ideas for us to try out?