This post may include affiliate links, which means I may make a commission on purchases made through these links at no additional cost to you.
I saw a great Pin the other day that read "Of course I finished the book – isn't that what you're supposed to do once you open it?" This caught my attention because a) I am totally happy to sit and read all day and b) I've recently read several fantastic short books in one go. Once I realized "b," I started thinking about how I've told other people about these books because they pack so much between their narrowly-spaced covers. From there, it was only a matter of seconds before I realized I should write a blog post about them to share my five favorite afternoon reads that will change your life.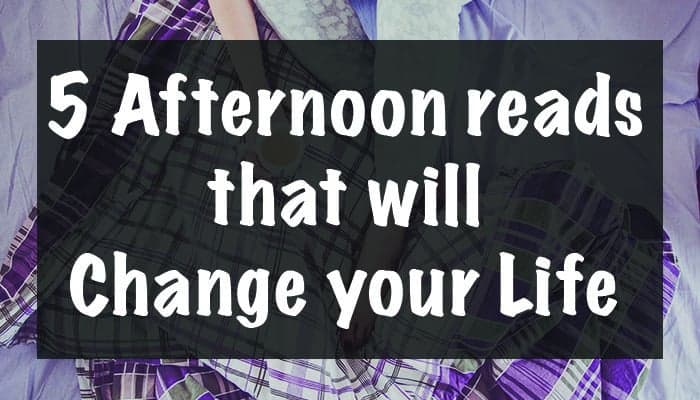 I realize '5 afternoon reads that will change your life' sounds dramatic, and probably makes you a bit skeptical. I admit that simply reading one or all of these probably won't instantly alter your existence, but I firmly believe the messages, inspiration, and calls to action in them will, if acted upon, change your life. As I said above, I've told lots of people about one or more of these books and I'm excited to share all of them in the same place.
Buddha in Blue Jeans by Tai Sheriden
Let's start with the shortest and least expensive: Buddha in Blue Jeans. When 'purchased' for Kindle, it's entirely free! Less of a book and more of a piece of poetry, it reminds you of all the things you will learn simply by sitting quietly. My husband and I have both read Buddha in Blue Jeans multiple times. It only takes a few minutes and is a wonderful reminder of everything you can have and learn for free.
Sit Like a Buddha by Lodro Rinzler
So how, exactly, do you sit quietly? It sounds so simple, but it's been difficult for me. Almost eight years of being an only child, too many car and plane trips, and a few boring jobs have taught me to keep my mind busy and distracted from the world around me. Recently I decided to learn more about sitting quietly and have begun following the shamatha, or calm abiding, method of meditation as outlined in Sit Like a Buddha. I listened to this one on from Audible (a bargain at just over $2 and read by the author!) instead of physically reading it and like to return to relevant sections of the book when I need inspiration or guidance. An hour or two spent reading this book can have truly life-changing results if you put what you read into practice.
The Life-Changing Magic of Tidying up by Marie Kondo
As I mentioned the other week, getting and staying organized is a major goal for me in 2016 and I've been following the KonMari method from The Life-Changing Magic of Tidying up. I know it's a love it or hate it method. I'm sorry if you hate it because I love it! The book focuses on discovering which possessions 'spark joy,' discarding the rest, and giving your treasured possessions distinct, permanent homes of their own within your house. The book outlines specific methods for finding what brings joy and gives tips for how to combat discouragement ("my house is just too messy!" or "I'm too lazy"). I particularly love Kondo's emphasis on keeping things you love instead of throwing away things you don't use. It's a much more positive approach to tidying that, in my experience, makes it a more joyful process.
Big Magic by Elizabeth Gilbert
Another book I wholeheartedly recommend is Elizabeth Gilbert's Big Magic. Just like with Sit Like a Buddha, I listened to this as read by the author via Audible. After listening all the way through, I deleted it from my phone, which is what I pretty much always due to free up memory. A couple days later, I re-downloaded it and it's been on my phone ever since. Big Magic is about 'living creatively,' but the book is for absolutely everyone, not just people who currently consider themselves creators. It isn't about becoming a famous painter or author – it's about daring to do anything creative that brings you joy, regardless of whether or not it seems valuable to others or ever brings you a penny. There are a few lines from the book I frequently repeat to myself whenever I'm feeling discouraged as a reminder that my "art" is about what brings me joy, not about what someone else says I should or shouldn't do with it. (If you have a blog, online store, or have ever done a craft fair you know what I mean! Some days it feels like every person in the world has wandered by to tell you what you 'should be doing.') Gilbert also insists that absolutely anyone can be creative and that creativity is in your blood, it's your birthright. I've met so many people who are convinced they aren't creative or who are scared of their creativity, but I have believed for years that everyone has creative potential. If you need to reaffirm your right to creativity, read Big Magic pronto!
Very Good Lives by J.K. Rowling
The last book on my list is by J.K. Rowling, but it isn't fiction. It is Very Good Lives, the book version of her Harvard Commencement address. You don't even need to download or purchase the book to experience it – just head over to YouTube to watch Rowling actually deliver the speech at Harvard. It will probably be the most meaningful, and simultaneously entertaining, 20 minutes you spend this month. It's difficult to paraphrase something that's already so short and packed with wisdom, but some of my favorite points from the speech are that failure is inevitable, so don't live a life driven by fear of failure ("It is impossible to live without failing at something, unless you live so cautiously that you might as well not have lived at all – in which case, you fail by default."); use your imagination; work on what you love; and to use your power to give voice to the voiceless. Particularly cool is that she practices what she preaches – proceeds from sales of Very Good Lives go to support Rowling's charity for disadvantaged children and Harvard financial aid.
Whether you borrow it from a friend, check it out from the library, or buy a hard copy and read it in bed wearing pajamas, I really hope everyone who stops by this post find the opportunity to read at least one of these short books.
Have you already ready one of these five books? Are there any that you've read and would add to this list? I'm a huge bookworm and am always on the lookout for a good read!