This post may include affiliate links, which means I may make a commission on purchases made through these links at no additional cost to you.
My husband definitely knows how to get me to make him some treats! Whenever he starts daydreaming aloud about Oreos and Blizzards, I insist that we are not purchasing these things and that I will make something that will be less sugar-filled and have at least some vaguely healthy component. Then I create something new and he gets his sweets, after all. Like I said, he has things figured out. Most recently, I made these bakery style oatmeal cookies. What makes them "bakery style?" Their size!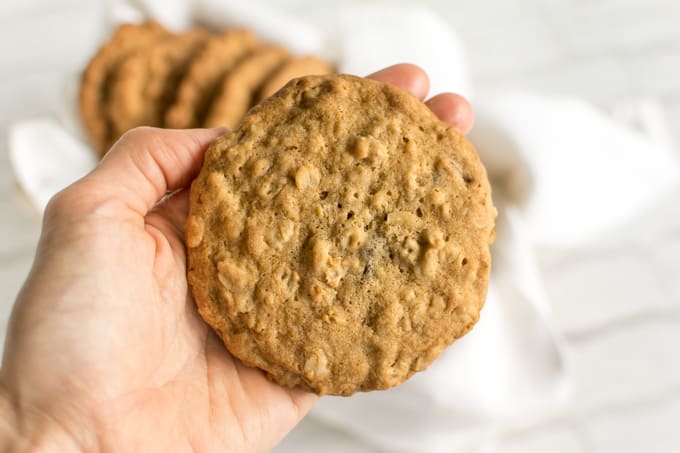 These bakery style oatmeal cookies are really tasty, easy to make, and a great way to use that last handful of granola that doesn't really seem like it's enough to eat. You know how that works – you pull something out and say "oh, that isn't enough to eat," and then put it back again. We can't be the only people who do that! We used a Quaker granola with dry fruit and chocolate in these cookies, but you can use whatever you'd like.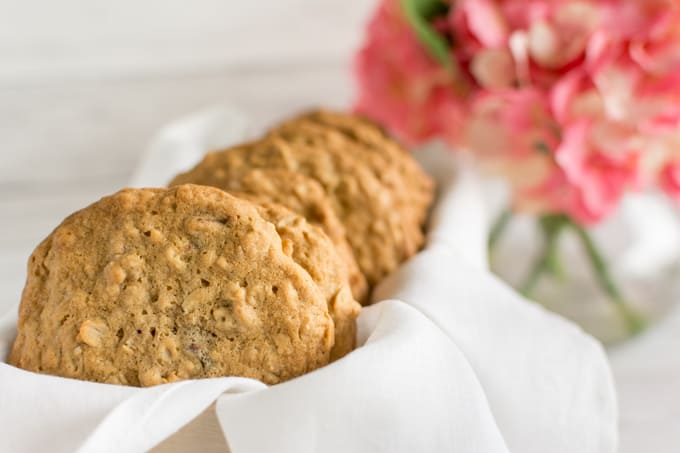 When it comes to baking, I can't say enough about the importance of having a high-quality, heavy-duty aluminum baking sheet. Have you ever stuck a cookie tray in the oven and then heard it pop? Or looked in the oven and seen the tray looking all wonky and bent out of shape? That's an indication of a lighter-duty baking sheet. A heavy-duty aluminum baking sheet won't pop and warp, and it will transmit heat more evenly to bake better treats! I use and love the Cook's illustrated recommended baking sheet topped with a Silpat mat for virtually every baking project.
Yield: 12
Bakery Style Oatmeal Cookies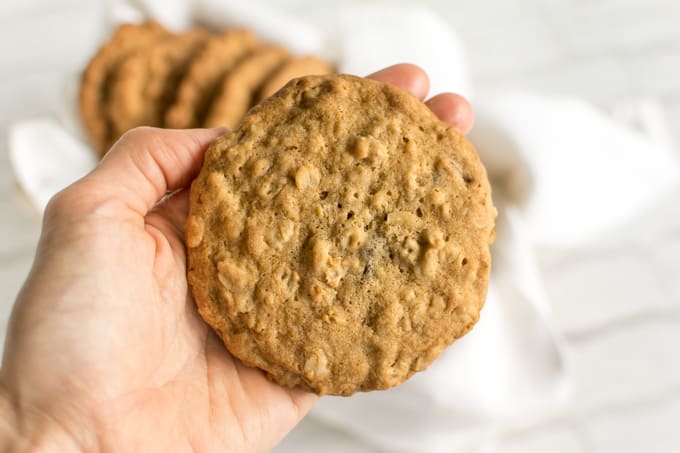 Prep Time 10 minutes

Cook Time 15 minutes

Total Time 25 minutes
Ingredients
1 cup flour
1/2 teaspoon baking soda
1/2 cup butter, room temperature
1/3 cup light brown sugar
1/3 cup granulated white sugar
1 teaspoon vanilla
1 egg
1/2 cup granola (I used a fruit and chocolate granola)
1/2 cup uncooked oatmeal
Instructions
Preheat your oven to 375º F and place a rack in the middle position.
Combine the flour and baking soda together in a small bowl.
Cream the butter, sugars, and vanilla together either in a stand mixer on medium or with a hand mixer. This will take about 3 minutes, but cream until the mixture is light, fluffy, and fully combined.
Add egg and beat in on medium until just combined.
Change mixer to low and add in flour. Mix until just combined.
Turn off the mixer and stir in the granola and oatmeal.
Place heaping mounds of dough on your cookie sheet. I like to use about 2 tablespoons of batter per cookie and recommend spacing the mounds 2-3" apart on the sheet. You will either need two sheets or to bake in two batches. Flatten each mound very slightly with a dampened hand.
Bake until the cookies are just turning golden brown on top and still look slightly puffy, about 13-15 minutes.
Remove from the oven, allow to cool on the tray for 5 minutes, then transfer the cookies to a wire rack to finish cooling. Bake a second batch, if needed.
Enjoy! Store fully cooled cookies in an airtight container on the counter.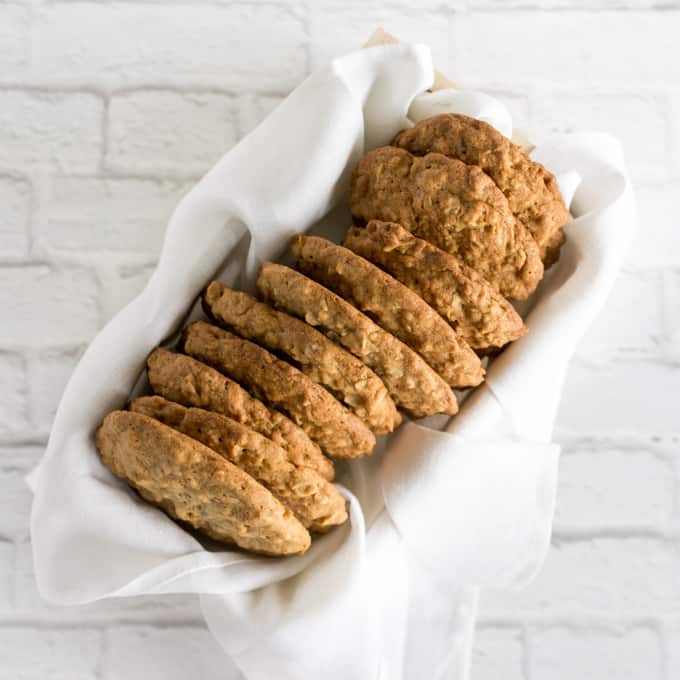 I had a really difficult time keeping my husband away from the cookies long enough to have a sufficient quantity to photograph! He was so sad when I asked him to please stop eating them until I could take pictures in the morning.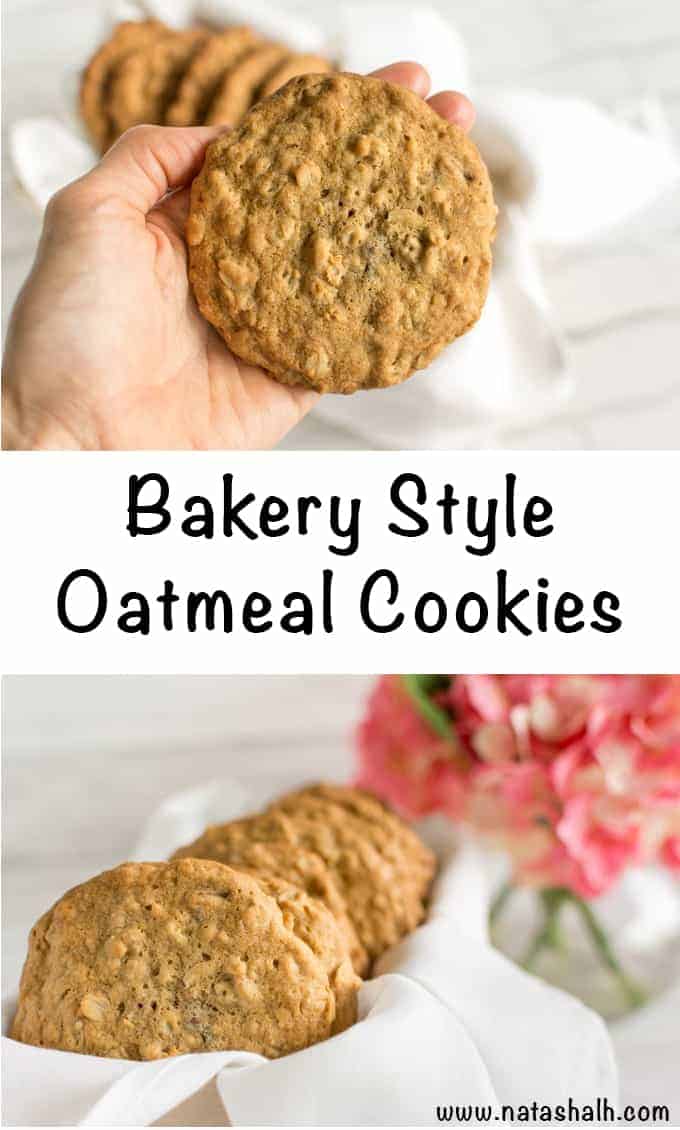 What type of granola would you like to put in an oatmeal cookie? Super chocolate? One with lots of nuts? Maybe even white chocolate and coconut? My husband thanks you for your tasty suggestions!