These free printable bee theme letter matching cards are a fun, low prep way to help your little learner practice matching their uppercase and lowercase letters. They're a great fit for your homeschool preschool pollinator theme, bee theme, or farming theme. I hope you enjoy!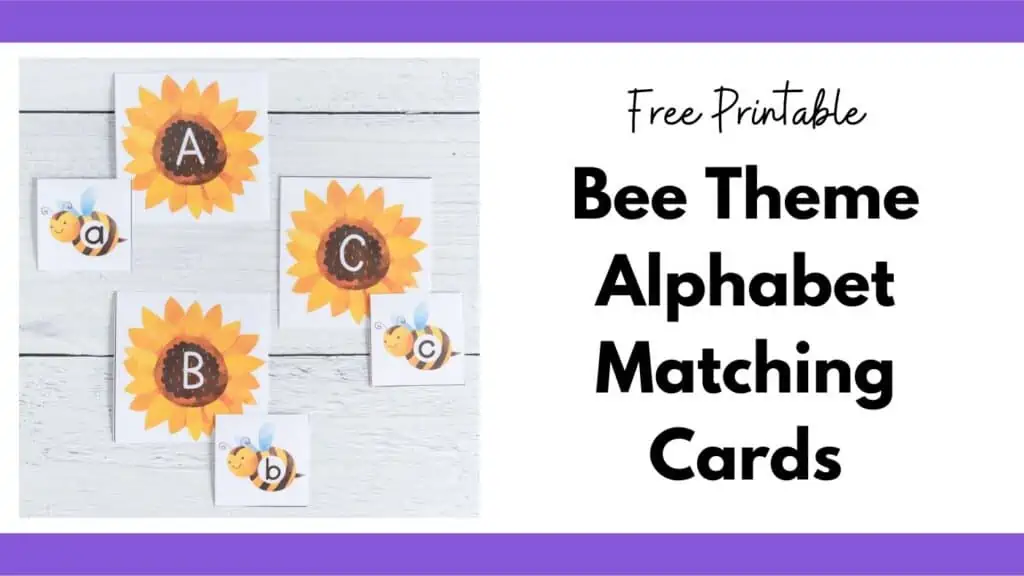 Letter matching activities help preschoolers and kindergarteners associate the lowercase letters with their uppercase counterparts. They're low-prep and make a great addition to a literacy center or to your go-bag of activities. When laminated, they're durable enough to use repeatedly and easy to wipe down with a cleaner at the end of the day. They can also be used as a file folder game.
This post includes affiliate links, which means I may earn a commission on purchases made through links at no additional cost to you.
Teaching letter alphabet matching to preschoolers
There are different ways to teach your child the alphabet. Some educators and teachers teach uppercase letters first. Other educators/parents teach children lowercase first. And, of course, some people elect to teach both at the same time. Uppercase letters can be easier to tell apart, but lowercase letters can be easier to write and are used more frequently.
Some people will tell you that one specific way is "right" and all other ways are "wrong." Based on my experience as a classroom educator and mom, I don't believe that's true. The best method for one child may not be the best method for another. Always "follow the child" and do what works best for you and your child.
I personally teach my daughter lowercase letters first, as in the Montessori method. (I also teach letter sounds and am not teaching the alphabet in "alphabetical order." Living Montessori Now has a thorough post on what order Montessori teaches letters in and why.)
Whether you teach upper or lowercase first, your child will have to know both to read successfully. That's where these alphabet case matching cards come in.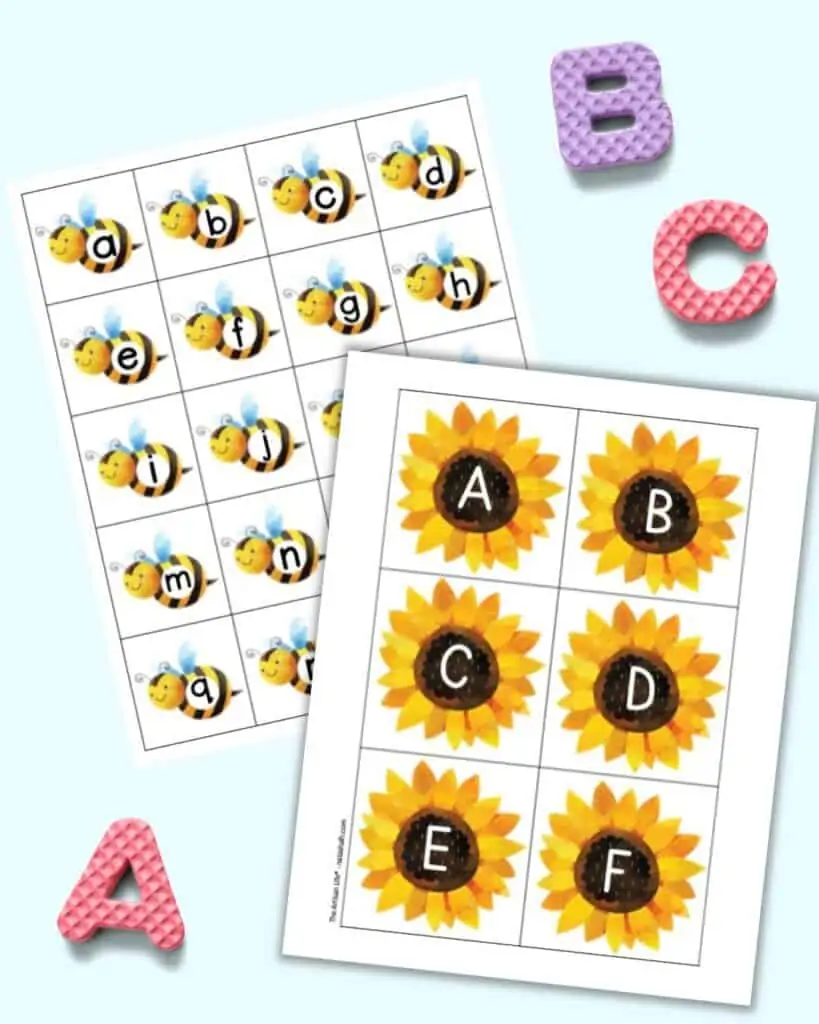 How to use and prepare letter matching cards
These cards are easy to prepare and use. Here are some tips to help you make the most of this alphabet matching game.
Materials needed:
Free printable bee theme alphabet matching cards (download link is lower in the post)
Cardstock or paper
Laminator and pouches

Optional but helpful. Cards are reusable and easy to clean when you laminate them.
Laminated pages are not recyclable, which may be an important consideration for you. However, they are incredibly reusable. If you're using these in a classroom, have multiple children, or have friends you can pass the cards on to, laminating the pages may be a better choice than printing multiple copies.

Scissors and/or paper trimmer.
File folder – optional, for making a file folder game
Tape – optional, for making a file folder game

I recommend washi tape because it's reusable, biodegradable, and recyclable

Hook and loop dots (for file folder game) homemade play dough – optional.
Small storage box, if you're not making a file folder game. We have this large bin with smaller boxes inside to organize various printables and toys.
How to use alphabet matching cards:
Download and print your alphabet matching cards. You'll see a row of purple arrows pointing towards an image with the text "click here to download your printables."
Laminate the pages first, if you're laminating.
Cut the cards out. A paper cutter or paper trimmer works best, but you can use scissors. If your child is a bit older and working on their cutting skills, you can have them use a pair of blunt-nosed small scissors to cut the cards. You can also cut the cards into strips, then have your little learner snip the cards apart. We use these small scissors from Fiskars. The photo below shows these Earth Day themed alphabet matching cards, but the process is the same for the bee themed cards.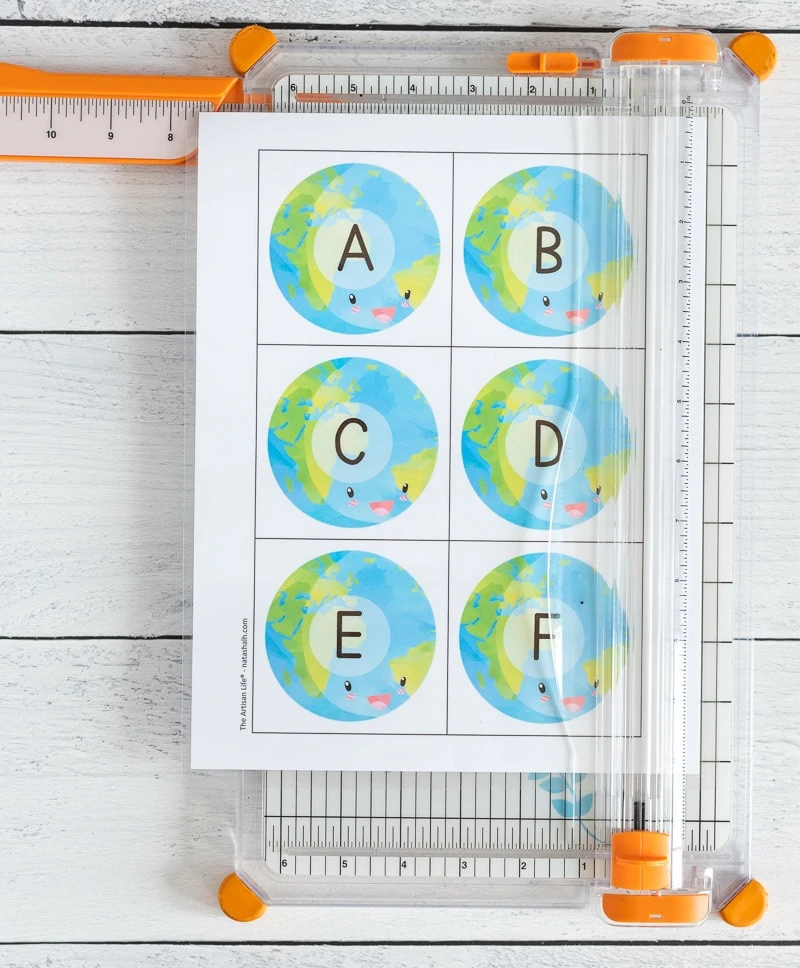 Introduce a few letters to your child. I recommend starting with the three or four letters your child knows best in the case they know best. If your child is already proficient with letters, you can use more to begin with – even the whole set.
Review these letters, then introduce the matching pairs.
I use the "I do, we do, you do" method for activities like this. First you model how to match the letters, then you have your child help, and finally they do it independently.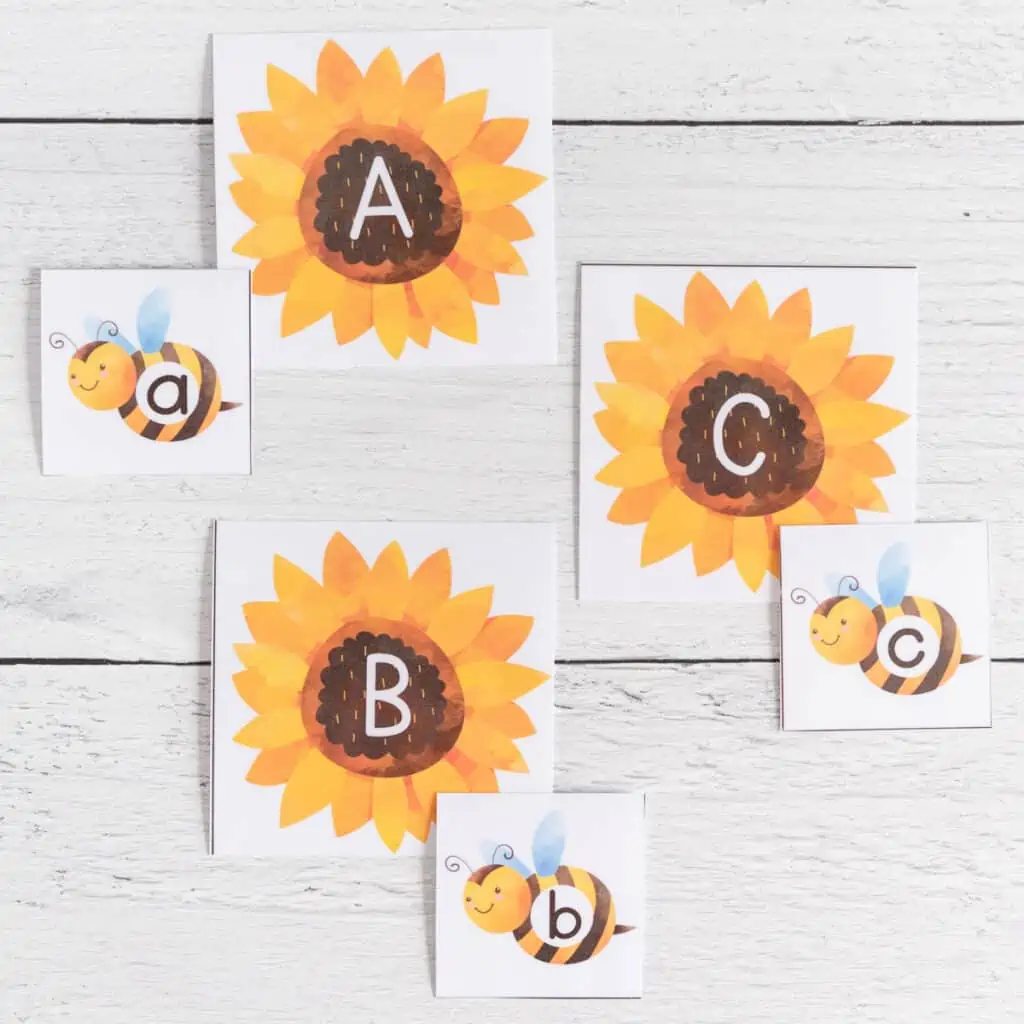 How to make an alphabet matching file folder game
It's easy to turn these printables into an alphabet matching file folder game. File folders are a convenient way to stay organized and it's easy for your child to pull out a file folder game to use on their own.
The only "problem" is that the whole alphabet won't fit in a single folder. This really isn't a problem, though, if you introduce letters to your child in groups instead of in alphabetical order.
Surprisingly, alphabetical order is not always the most beneficial way to teach preschoolers their letters. Living Montessori Now has a great post on what order to teach letters in. We generally follow the order given by Tim Seldin in How to Raise Children the Montessori Way:
cmat
srip
bfog
hiul
dwen
kqvxyz
Each side of a file folder can easily hold 6 of the uppercase letter cards, which means you can use a file with up to 12 letters at a time.
It's easy to make your file folder reusable when you use washi tape instead of plastic-based tape. Unlike plastic tape, washi tape is recyclable and biodegradable. Washi tape is typically made from hemp or bamboo, and it's repositionable. You can get at least two or three uses out of good washi tape.
The photos below show this set of Earth Day alphabet matching cards. The process is exactly the same if you want to make these bee themed alphabet matching cards into a file folder game.
Tape your desired letter cards in your file folder using washi tape: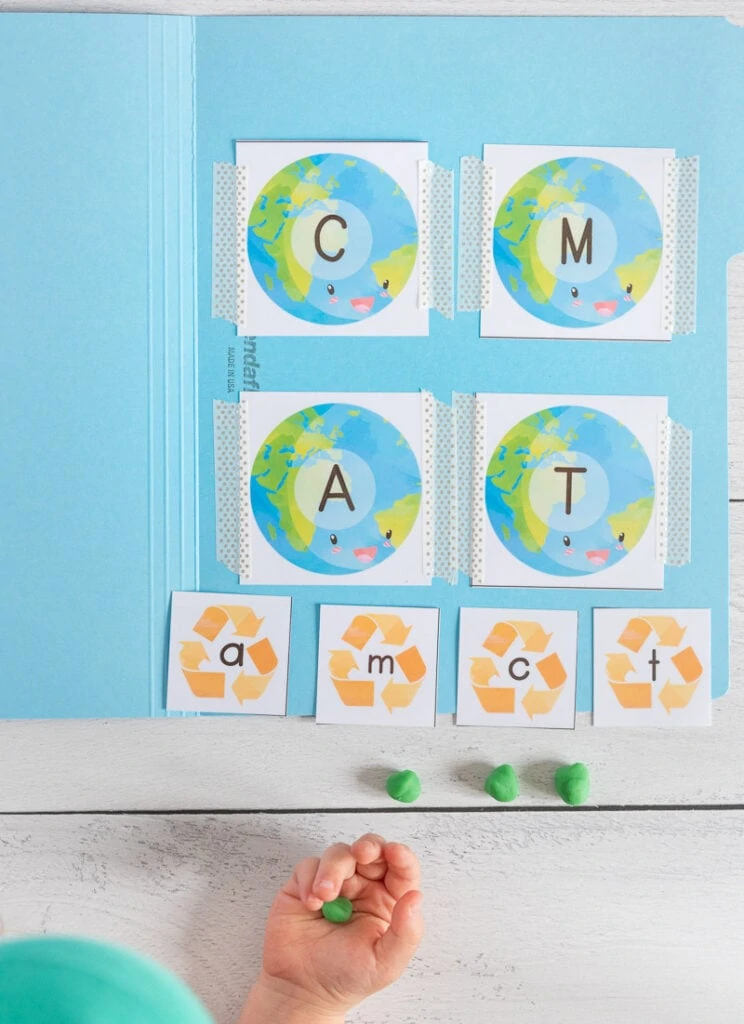 Have your child place the each lower case card on top of the corresponding uppercase card. Instead of using hook and loop dots, which are popular with file folder games, you can use play dough to hold the cards in place. We used play dough from the recipe in this post with free printable alphabet play dough mats. It still works like new more than a year later.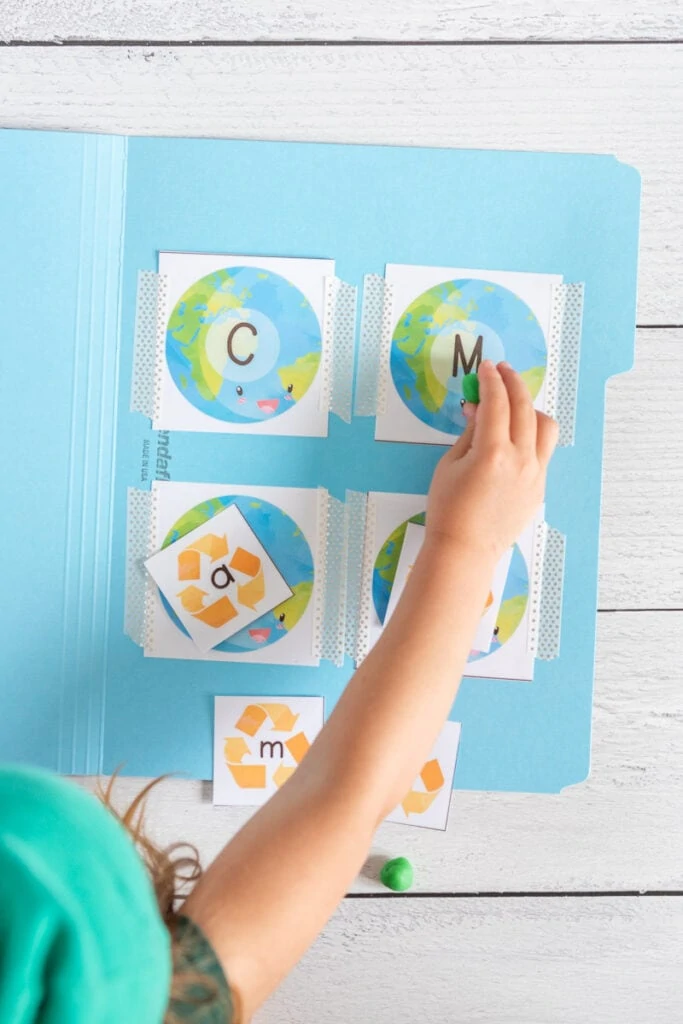 Whether you make a file folder game or not, a small storage box keeps the cards neat and protected while they're not in use.
Printable letter matching cards download
This resource uses clipart licensed from DigitalArtsi. Thank you, Jane, for your beautiful artwork and generous licensing.
These alphabet matching cards are licensed for personal and single classroom use. They are not licensed for redistribution (of the digital files or printed pages). Please refer your friends and colleagues to this post so they can download their own copies.
If you agree to this license, you may click below:

I hope your little learner enjoys these alphabet matching cards as much as mine does! Be sure to grab these additional pollinator-themed printables while you're here: