Set your preschooler up for writing success with these Day of the Dead themed fine motor practice worksheets. You can cut them into cards, make them reusable, and use them in classroom centers! I hope you enjoy.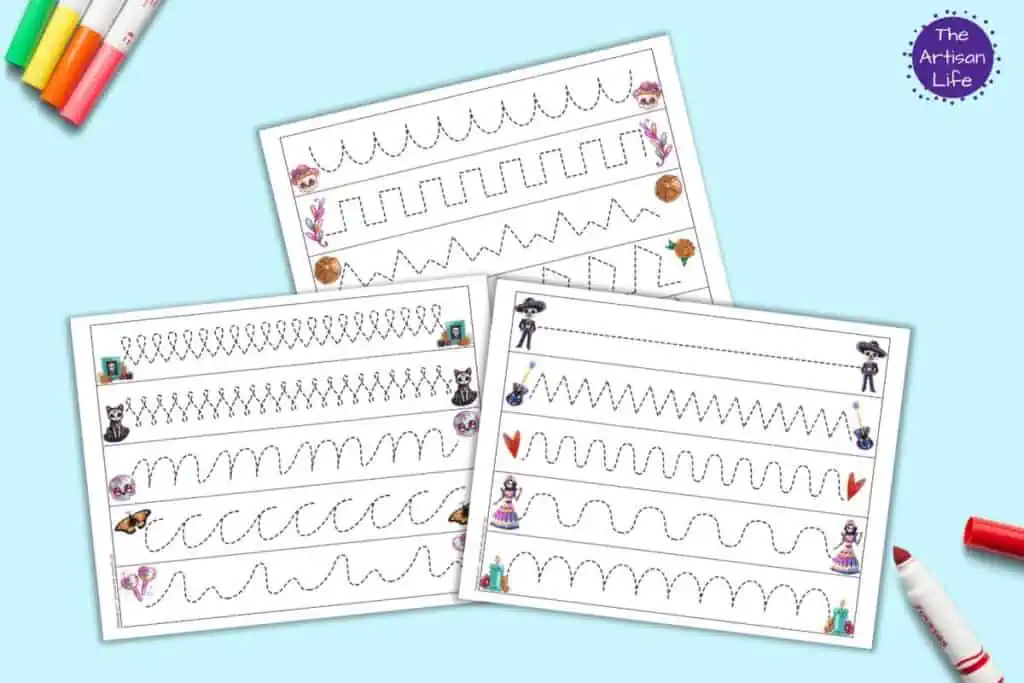 This post may include affiliate links which means I may earn a commission on qualifying purchases at no additional cost to you.
These prewriting practice tracing pages will help your child develop their fine motor skills and hand-eye coordination when they trace along the path with a finger or draw the lines with a marker or crayon.
It's easy to use these prewriting printables as a no-prep activity when you just print them out and let your child trace away.
Alternatively, you can make the activity reusable by laminating the pages or placing them in page protectors for use with a dry erase marker.
It's also easy to cut the laminated pages into strips that you slip onto a binder ring for a go-bag activity that easy to clean. 
For more Day of the Dead themed learning fun, please make sure to check out these poss:
How to print and use fine motor tracing cards
This set has three different pages to print and trace with a mix of straight, wavy, and zig-zag paths to trace. The shapes your child will make are preparation for writing common number and letter shapes.
The paths go from easy to pretty tricky. Your child may not be able to trace each line on the first try – that's okay.
As mentioned above, these fine motor practice pages are perfect for toddlers and young preschoolers. Your child can even use a finger to trace the lines if they aren't ready for a pencil or crayon yet!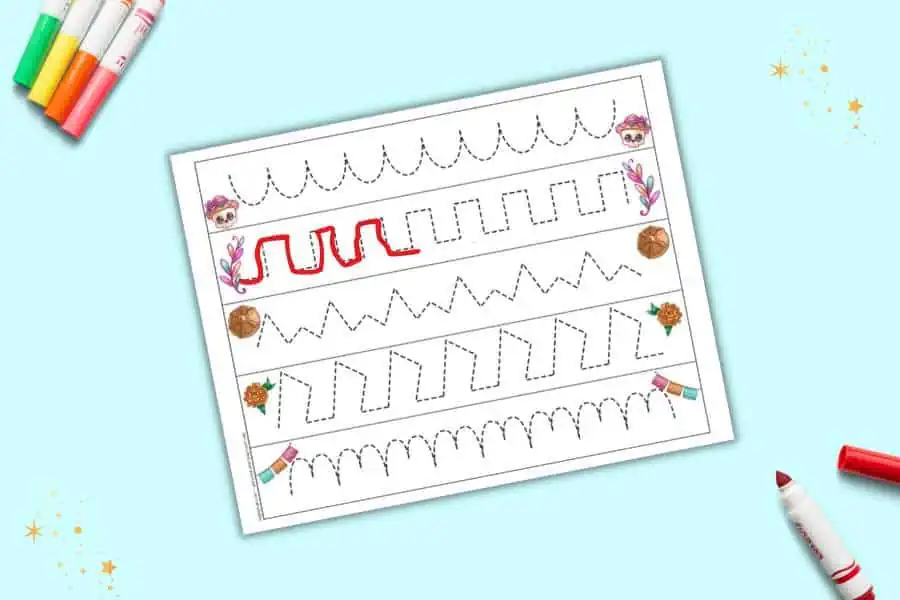 Materials needed:
Free printables. Download information is located lower in the post. Look for the big blue image that reads "click here to download."
Paper and a printer. I recommend 32 lb bright white paper for crisp, beautiful images, especially if you're going to make the pages reusable. This paper is also heavier and stands up better to enthusiastic learning. To see the difference this paper makes, stop by this post on the best paper for printables.
Laminator, dry erase pockets, or page protectors. Optional.

I love my inexpensive home laminator because it saves me the time and hassle of going to a copy center.
Instead of dry erase pockets, I usually use "secure" page protectors. They're sturdier than regular page protectors and have a flap to keep the page inside.

Scissors or paper cutter, if you want to make tracing strips. When the strips are laminated, they're easy to wipe down the sanitizing wipes.
Binder rings, optional for an easy go-bag activity or less mess at home.
Crayons, pencils, markers, etc. for tracing

Markers provide less friction. This means they are both easier to use and less of a fine motor challenge.
Pencils and crayons have more friction and can provide a greater challenge. We like Honeyscticks beeswax crayons because the colors are easy to see and they're pure beeswax.
Your child can also fill the line with small manipulatives, like pompoms, using a pair of plastic tweezers.
Your child can also just use their finger for tracing!
How to use prewriting practice cards
Download your free printables from lower down the page.
Print the pages you want. Laminate and cut pages if you want to make strips or place the sheets in page protectors if you want to make them reusable. In the image below you can see my daughter using her car tracing pages after they were cut into strips:
Another fun way to use these Dia de los Muertos tracing paths is with small manipulatives like pompoms, balls of play dough, or mathlinks cubes.
This can be easier than tracing or a change of pace for children who need a new activity to hold their attention. After placing the manipulatives, you can count how many it took to reach the end of the line. There are so many ways to use these simple tracing pages for fun and learning.
Free printable Day of the Dead fine motor practice pages PDF download area
These fine motor practice pages are licensed for personal snd single classroom use. This includes use with therapy clients and library activities.
You are not licensed to redistribute or sell the print outs or digital files to other adults to use with their children/students.
Make sure to grab these additional free printables for the Day of the Dead and preschool Spanish while you're here:
Day of the Dead Free Printables