This simple macrame bottle necklace is perfect for holding sand and shells from vacation!
Remember making macrame necklaces and friendship bracelets? Or maybe buying those little wish bracelets on summer vacation? Those braided bracelets with all the beads you were supposed to wear until they fell off on their own?
This DIY summer memories necklace is inspired by those childhood summer traditions, but it's a lot easier than those complicated macrame designs that seemed fun in middle school but completely impossible to remember now! This simple macrame bottle necklace is cute, colorful, and super easy. I hope you enjoy!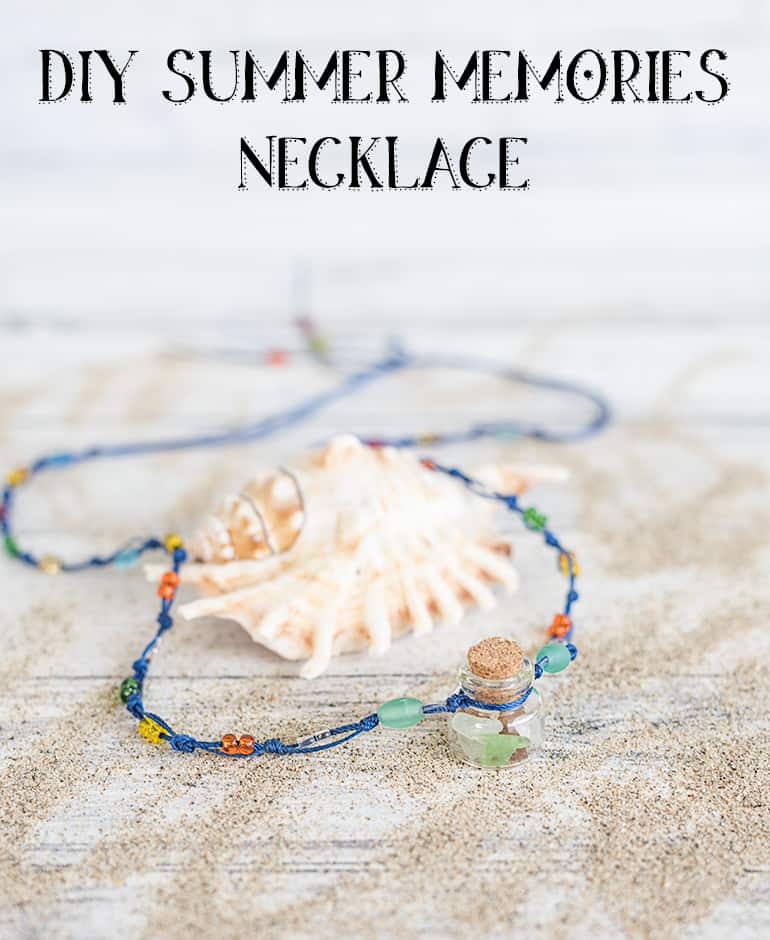 This post may include affiliate links, which means I may make a commission on purchases made through these links at no additional cost to you. 
Materials needed for a macrame necklace:
A small glass bottle. They are pretty popular these days and easy to find in most craft stores. Look for a bottle that has a small lip instead of one with a completely smooth neck.
24 feet of micro-macrame thread. I used a product called "S-Lon," but there are also other options. 

Scissors

Beads. I used small glass beads. Just make sure the holes are big enough to fit two strands of your cord through – no super tiny beads!

Summer memories for your bottle
Easy macrame necklace tutorial
This necklace is so super easy! The only knot you really need is the overhand knot, which is the simplest knot. If you're not sure what an overhand knot is, check out this quick animation from Animated Knots.
Cut your thread into 4 6′ pieces. You can always make them a little bit longer 'for good measure' or if you want a longer necklace. Line all four pieces up, then find their center. Place two stands on either side of your bottle's neck and tie securely on either side of the bottle to hold it firmly in place. Using a bottle with a lip is important – it helps keep it from sliding out of your necklace! I used a basic overhand knot, but square knots would work, as well.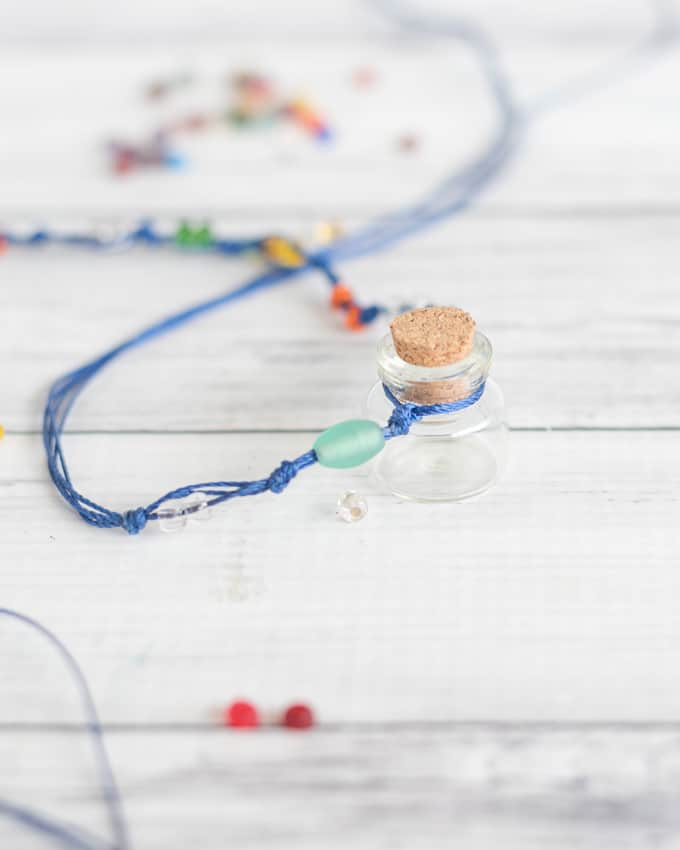 Get beading! I used slightly larger beads on either side of the bottle to help catch the eye and pairs of smaller beads for the rest of the necklace. Thread two strands of your cord through the middle of the bead(s), then bring the other two strands around the outside.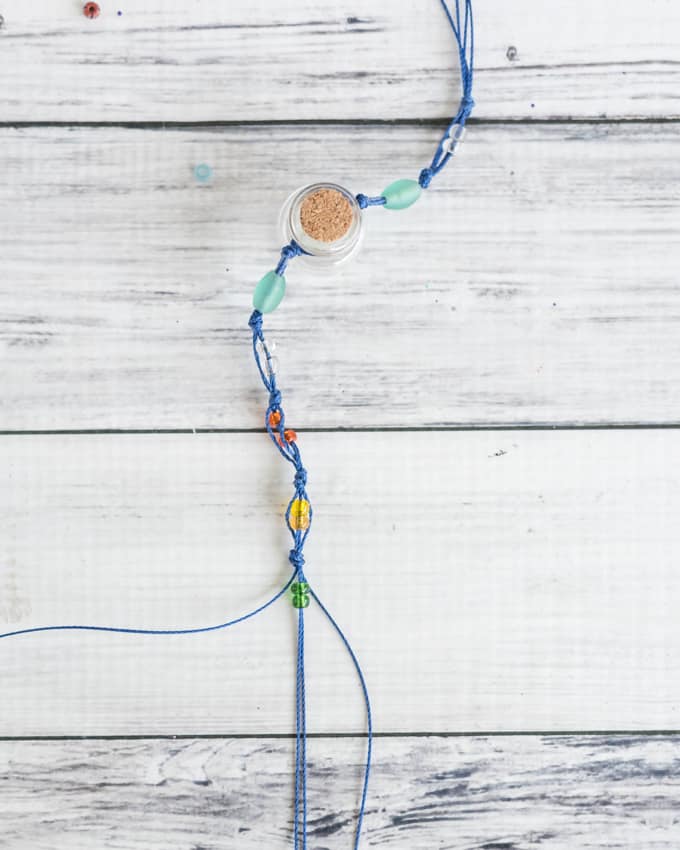 Use all four strands to tie an overhand knot. Make sure to leave some room for a fun appearance – there's no need to cinch everything down super tight!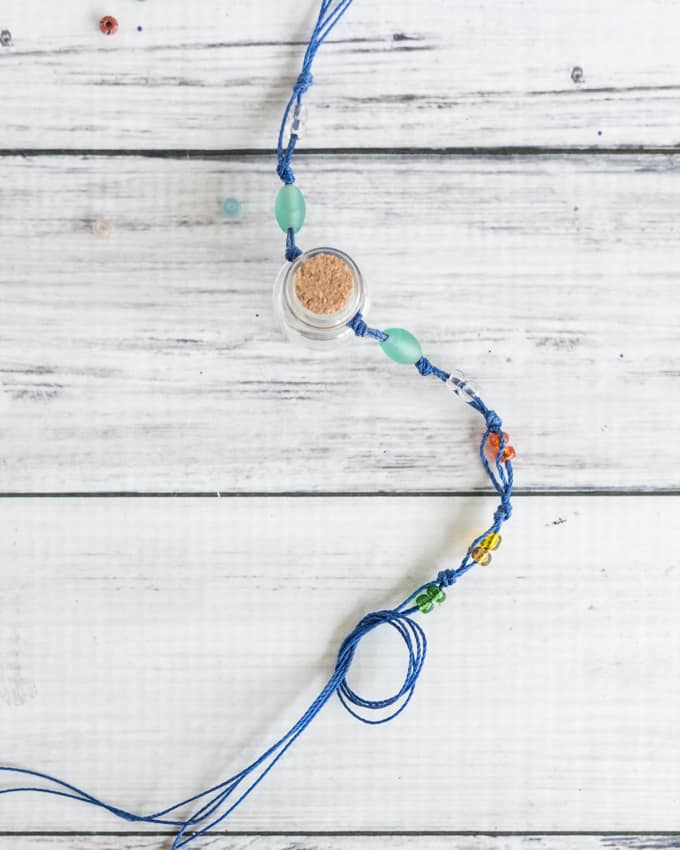 Just keep adding beads and tying knots!
There's no need to track which threads you use down the center/on the outside or alternate or anything.
If your thread's ends become frayed, just snip off the frayed bits and keep going. When you're happy with your necklace's length, tie all eight strands to form a closed loop (Just make sure it's long enough to fit over your head!).
You don't have to bead all the way to the end – you can see I had several un-beaded inches. I used a square knot to tie the cords, but an overhand would also work. For a bit of extra fun, I strung beads on the pairs of hanging threads, too.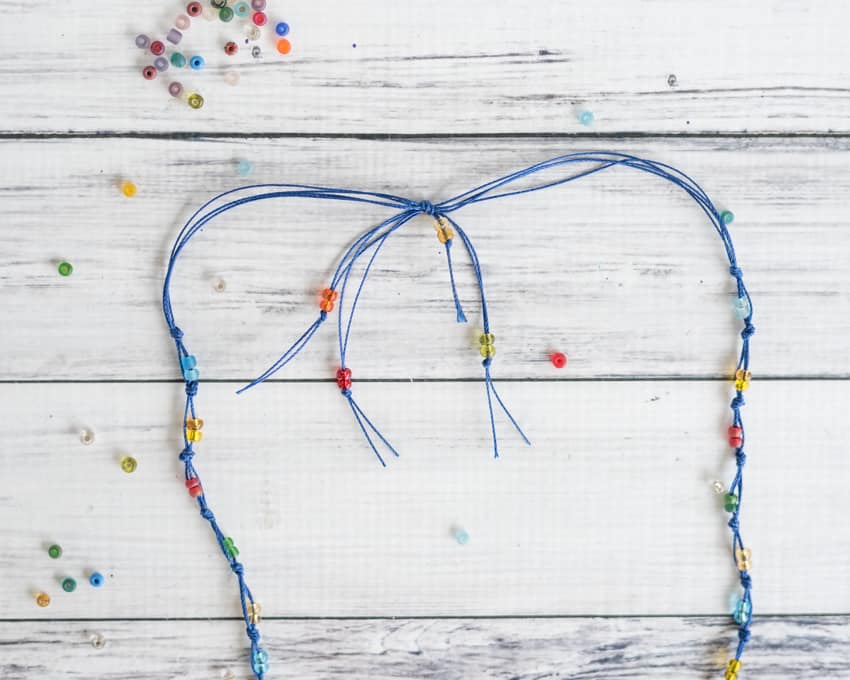 Fill your bottle with summer memories and your necklace is ready to wear! I added bits of sea glass. Shells, sand, or pebbles would be cute, too! You could also fill the jar with glitter, beads, or crystals.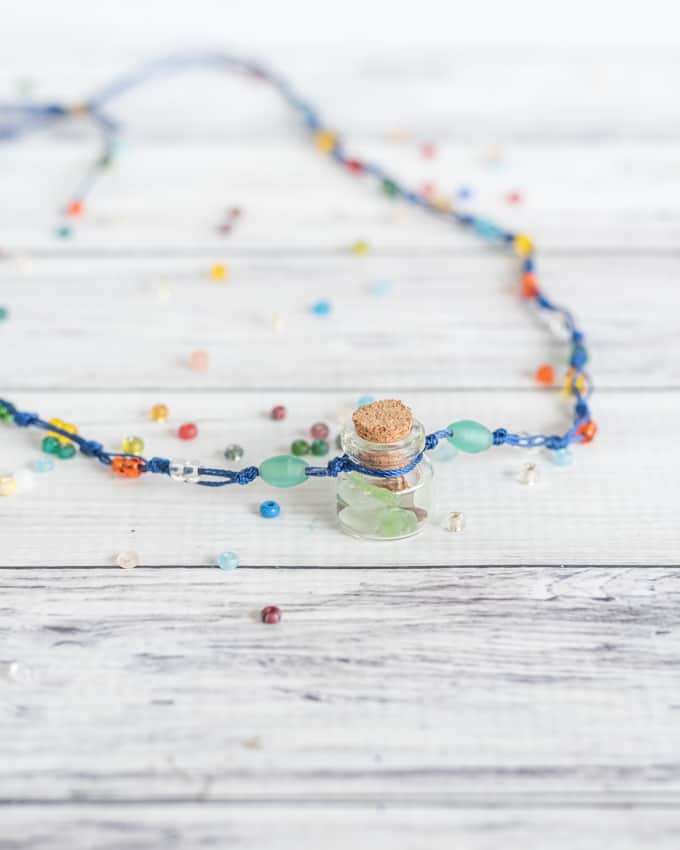 If the cork is very loose, you can secure it with a dab of glue. If you don't glue the cork, you can swap out the bottle's contents whenever you'd like!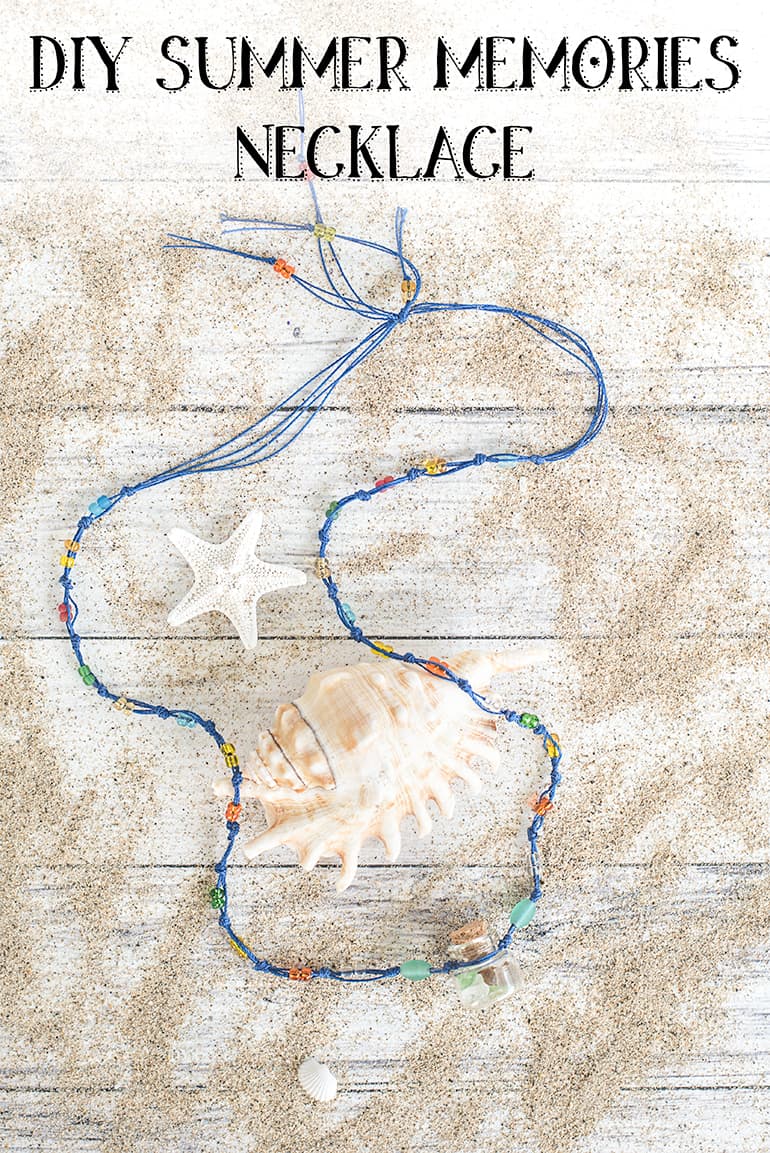 If you like crafting with bottles and jars, make sure to stop in on Friday. I'll be sharing a round up of fun crafts to make with upcycled jars!
What will you put in your summer memories necklace?