At first glance, this smoothie simply seems thick and chocolaty. It is both of these things, but it's also secretly a "green" smoothie and full of avocado!
This post may include affiliate links, which means I may make a commission on purchases made through these links at no additional cost to you. 
Avocado is high in fat, but it's "good fat," and it's full of fiber, low in sugar, and has plenty of vitamins and minerals. Add that to spinach, carrots, unsweetened cacao powder, and a few warming spices to create a tasty, filling smoothie. This chocolate avocado green smoothie is a decadent, satisfying breakfast or snack!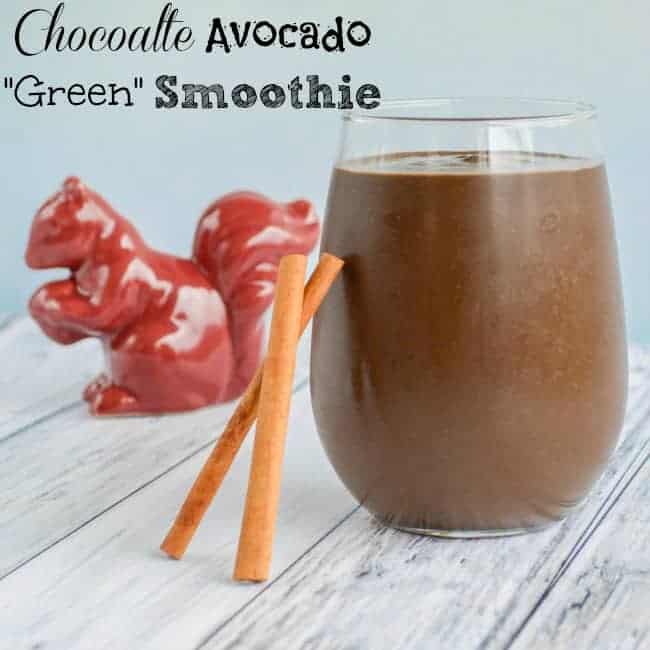 The warmth in this smoothie comes from a bit of cinnamon and a pinch of cayenne.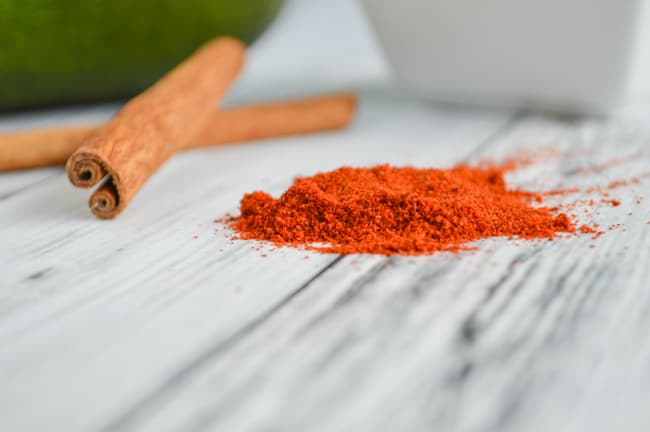 Don't worry – there isn't that much cayenne in the finished smoothie! But there is plenty of chocolate. Cayenne may seem like a very odd ingredient for a smoothie, but the first chocolate beverages were prepared with spicy peppers. Plus, cayenne is really good for you. Just add a little pinch to the smoothie and you won't even know it's there.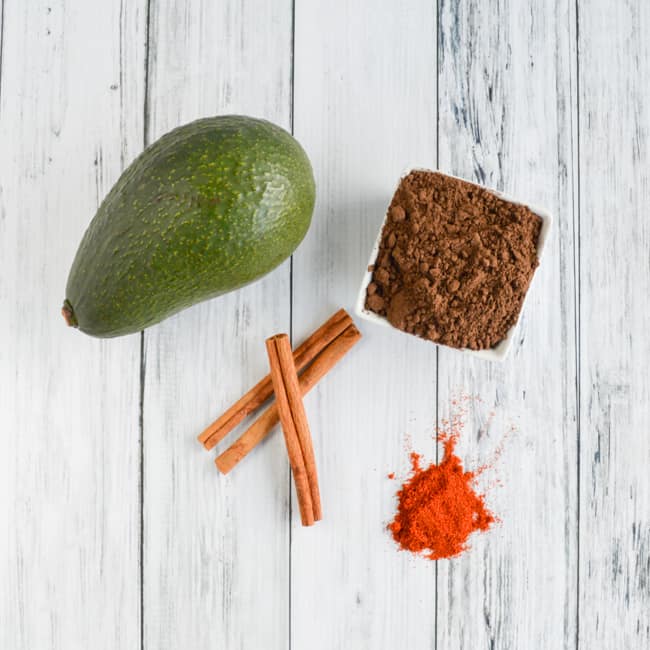 In case you're not familiar with prepping avocado, all you need to do is wash/scrub it off (yes, I'm weird and like to wash fruits and vegetables before cutting them so surface contaminates don't use the knife to travel into the item), slice it in half "length ways", pop out the seed, and scoop the flesh out of half the rind. To keep the unused half looking bright and beautiful, squeeze a little fresh lemon juice on it, wrap it tightly, and place it in the fridge. The lemon juice helps keep the flesh from turning brown and icky looking (like a banana or apple will when exposed to air).
This recipe perfectly fills the 16 ounce blender cup that works with our Ninja blender. You can always make it in the full-sized pitcher, though, if you don't have an individual cup. The recipe is designed for use with a high-powered blender and I think a "regular" bender would probably have some trouble with all the produce. If you're able to make it work in a standard blender I'd love to hear about it! But I'm getting off topic…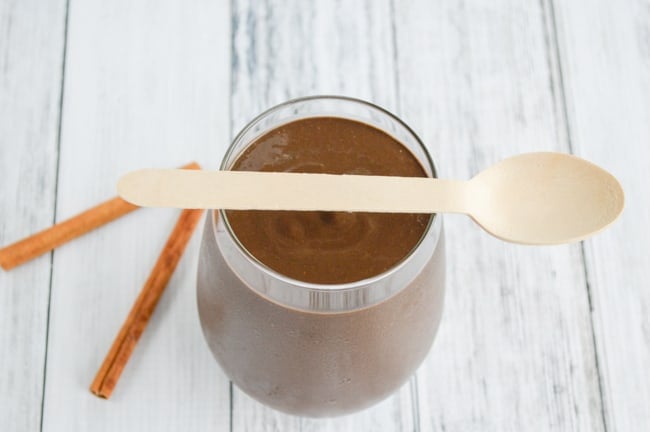 Ready to learn how to make a smoothie so thick you just might need a spoon? I thought so. =)
Chocolate avocado green smoothie recipe
Yield: 16 oz
chocolate avocado green smoothie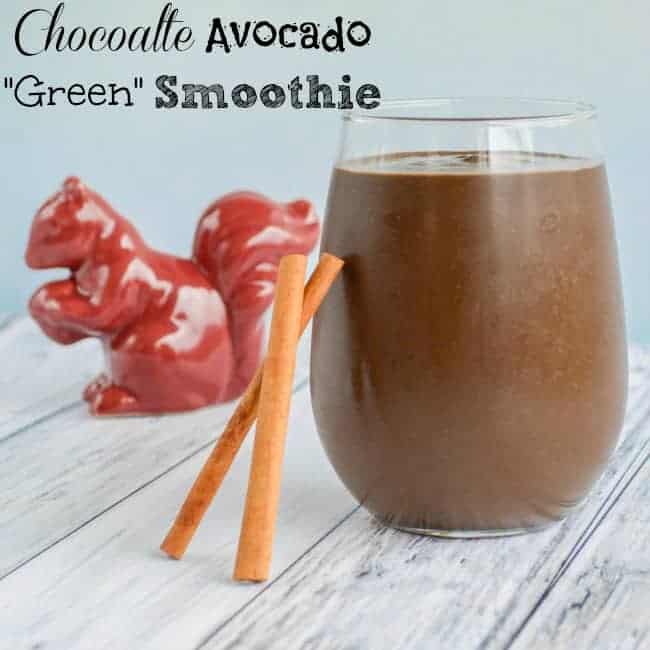 Prep Time 5 minutes

Total Time 5 minutes
Ingredients
1/2 a ripe avocado
5 or 6 baby carrots
1 cup of spinach, washed
3 tablespoons unsweetened cacao powder
1 tablespoon almond butter
1/2 teaspoon vanilla extract
A pinch of cayenne
1 cup of chocolate almond milk (or chocolate/plain milk of your dairy or non-dairy choice)
2-4 ice cubes, as needed, to thin the smoothie
Optional 1 teaspoon honey, or to taste
Instructions
Add everything except the ice cubes to your blender cup or pitcher and blend until smooth. This takes me less than 30 seconds.
Open up your blending container and take a look at the smoothie. It will probably be pretty thick! Add 2 or 3 ice cubes, close the blender back up, and pulse to break up the ice.
Add more ice or liquid, as necessary, until you're happy with your personal smoothie creation.
Enjoy!

Quite honestly, I usually can't finish all 16 ounces of chocolaty goodness by myself – it's just too filling! I simply pour the leftovers into silicone baking cups and then place them in the freezer. The next day, I turn the smoothie ice cubes out of the baking cups and store them in a ziplock bag in the freezer until I want to combine them with more milk to make a super quick smoothie another day.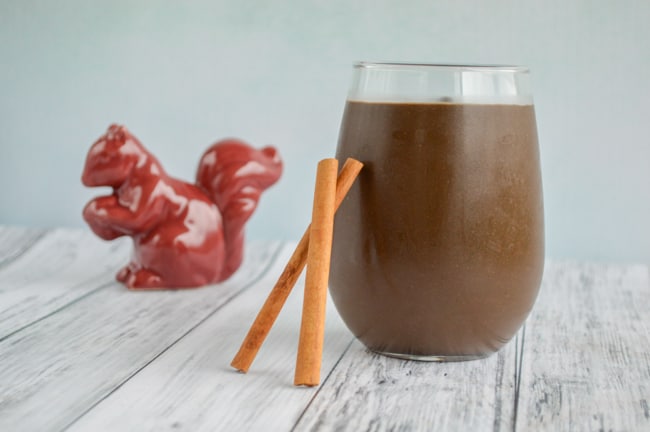 The really amazing thing about this smoothie is that you can give it to unsuspecting people and they won't guess it has avocado, carrots, and spinach. They'll just think it's a super creamy, rich chocolaty creation and won't guess that there are healthy ingredients are hiding inside! Plus, unlike most smoothies that melt pretty quickly, most of this one's thickness comes from the avocado, so you can take your time enjoying it without it turning all runny on you.
If you enjoy the rich, creamy combination of chocolate and avocado, you'll probably also like this Paleo chocolate avocado pudding!