This post may include affiliate links, which means I may make a commission on purchases made through these links at no additional cost to you.
This recipe for Greek yogurt pumpkin pie bars may be healthier, but please do not delude yourself: these are not actually healthy. Yes, they have Greek yogurt and, yes, they are better for you than they could be, but they're totally still a dessert.
I felt like that was a necessary disclaimer since so many of the desserts I've posted in the past year or so would only be considered a dessert by other weird people!
These pumpkin pie bars aren't as sweet as many mainstream desserts, but they don't have my characteristic total lack of sugar, either.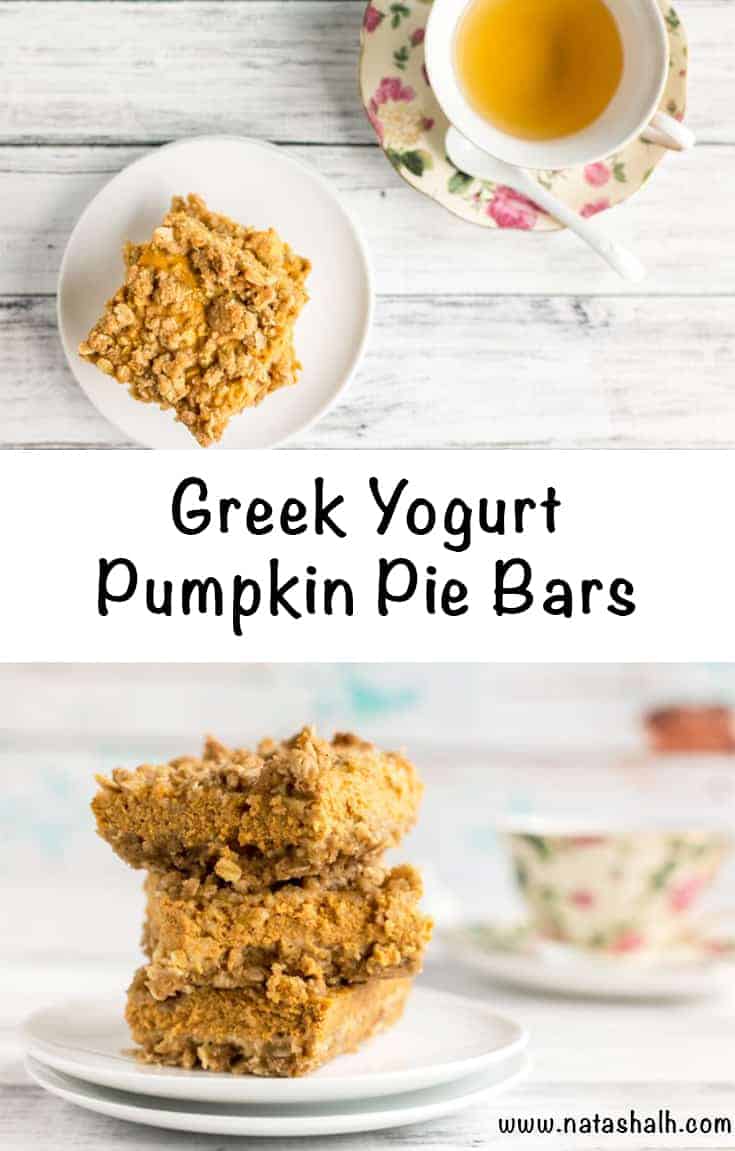 Strangely, these pumpkin pie bars came about as a result of being sick and tired.
We returned home to Hawaii right before Thanksgiving and were supposed to eat with friends, but Papi Chulo woke up feeling poorly. We ultimately decided to stay home and I had to get creative to come up with a Thanksgiving meal!
Barbecue and mashed sweet potatoes with nuts and apples formed the bulk of our meal, then we had the first version of these pumpkin pie bars for dessert. I wanted to make pie, but discovered that (quite inexplicably) our Graham crackers smelled and tasted like Play-Doh. With no time to make a real pie crust, I decided to try some pumpkin pie bars with an easy oatmeal crust. They were good, but after a few tweaks, the second batch turned out even better. (No, I didn't make them both on the same day! There were three days between batches.)
That second recipe is what I'm sharing with you today!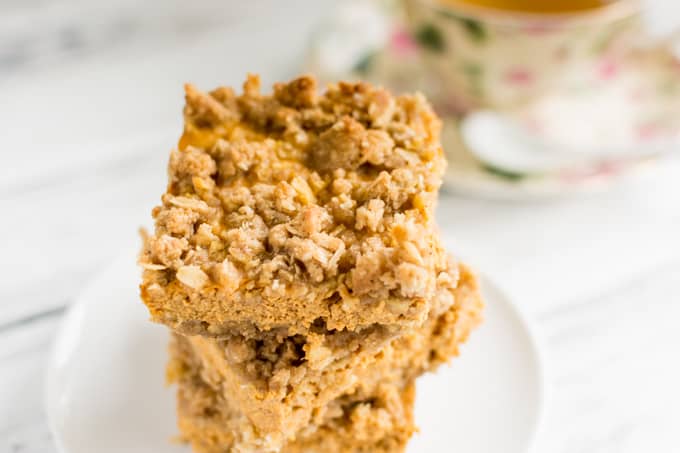 Making these is way easier with a standing mixer, but you can use your hand and arm power, instead. If you don't have a standing mixer, you'll need to cut the flour into the butter/oatmeal mixture with a pair of forks. With my standing mixer, it takes about 3 minutes to achieve the desired texture, so it will probably take even longer by hand. It's worth it, though!
Yield: 9
Greek Yogurt Pumpkin Pie Bars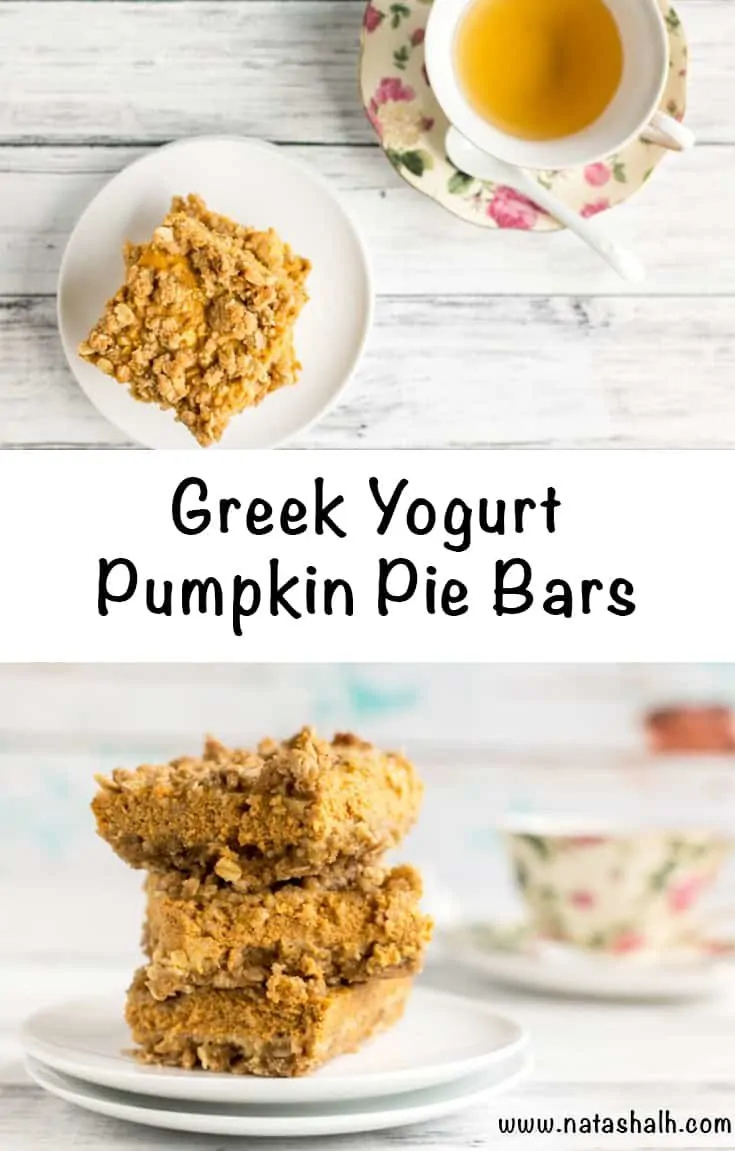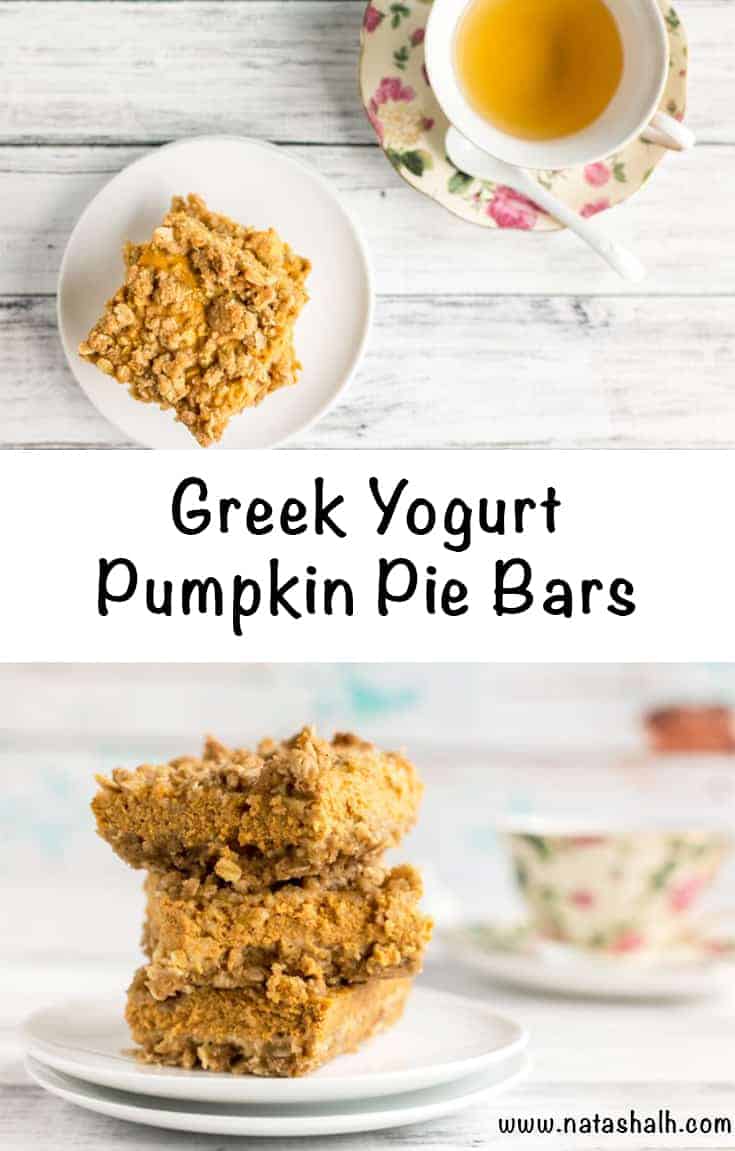 Prep Time 10 minutes

Cook Time 25 minutes

Total Time 35 minutes
Ingredients
For the crust and topping
3/4 cup flour
1 cup oatmeal
1/2 cup unsalted butter, cut into 1/4" cubes and chilled
1/4 brown sugar
1 teaspoon cinnamon
For the pumpkin pie filling
1 cup pumpkin puree (not pumpkin pie filling!)
1/2 cup plain Greek yogurt (I used Fage 2%)
2 tablespoons honey or maple syrup
1 teaspoon vanilla
1 teaspoon cinnamon
1/4 teaspoon nutmeg
1/4 teaspoon allspice
1/8 teaspoon ground cloves
1 egg
1 egg white
Instructions
For the crust
Adjust an oven rack to the middle position, preheat your oven to 350ºF, and lightly grease an 8x8 baking pan.
Combine the flour, oatmeal, brown sugar, and 1 teaspoon cinnamon in a medium bowl or the bowl of your standing mixer. Combine on low with the paddle attachment until the mixture takes on a coarse appearance with approximately pea-sized pieces of butter, about 3-4 minutes. Alternatively, cut the butter in by hand with a pair of forks until the same appearance is achieved.
Remove a cup of the crust/topping mixture and set aside.
Place the remaining mixture in an even layer across the bottom of your prepared dish and press it firmly in place with the back of a measuring cup. Make sure it's really compressed or it won't hold together!
For the filling
Rinse your mixer or pull out a second bowl. Combine the yogurt, pumpkin puree, and honey in the bowl and mix to combine. If you're using a powered mixer, set it to low. This should take less than a minute.
Add the vanilla, remaining cinnamon, nutmeg, allspice, and cloves and mix to combine.
Scrape down the bowl with a spatula, if you're using a standing mixer, then add the egg and egg white and turn the mixer back on. Use a medium to medium-high setting to whip the eggs in until fully combined. This should also take less than a minute.
Pour the pumpkin pie mixture on top of your crust. Spread with your spatula or a spoon to ensure the filling layer is even.
Sprinkle the reserved 1 cup of crust/topping across the pumpkin pie filling.
Bake until the oatmeal topping is golden brown and a toothpick inserted in the middle of the pumpkin pie bars comes out clean, about 25-30 minutes.
Allow the bars to cool fully before cutting and store any leftovers in an air tight container in the fridge. They're just as tasty cold, so you don't have to re-heat them if you don't want to!
For another healthy-ish treat, whip 1/2 cup of Greek yogurt, 1 tablespoon maple syrup, and a couple dashes of cinnamon together to make a tasty topping! A half cup of yogurt will give you enough topping to add a generous portion to each bar in the batch.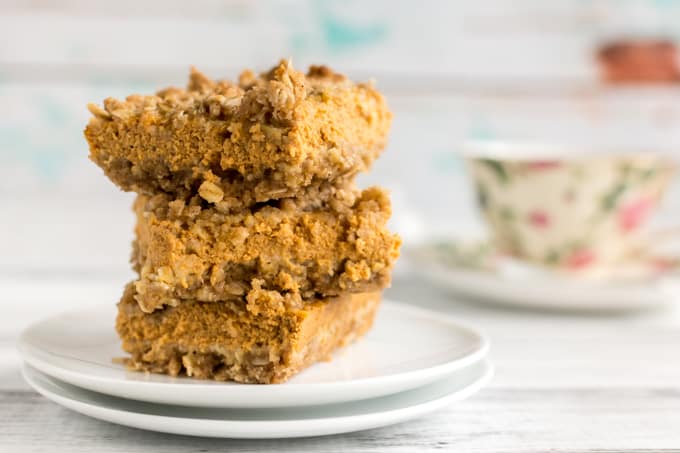 Fun tidbit – did you know that Grade B maple syrup actually means it has a deeper, more maple-y flavor, not that it's in any way lower quality? I always enjoy using Grade B syrup when I can get my hands on it.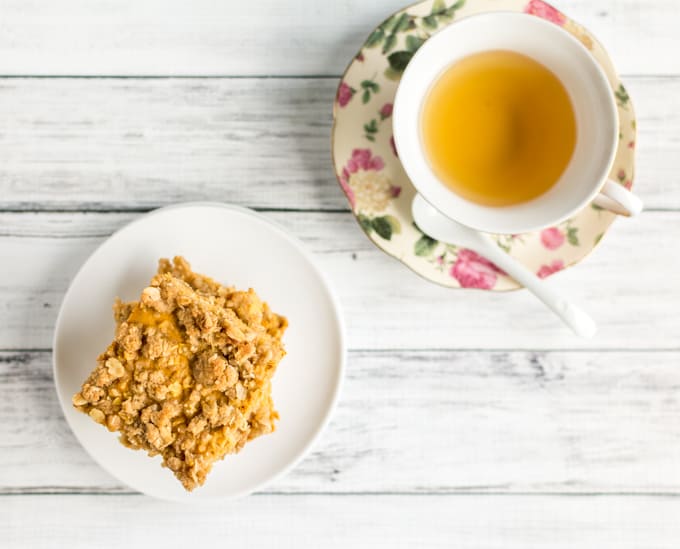 Okay, so I admit it – he had help eating those pumpkin pie bars…
Have you ever had to create an unexpected holiday meal? How did it turn out? Did you create any new dishes to match what was in the pantry?