Picture bingo is one of those great games that children of all ages and adults can enjoy. Today I'm so happy to be sharing free printable 4th of July bingo cards for you to print and enjoy with your family!
These cards feature fun, colorful images with a patriotic picnic theme. Many of the images are Independence Day related, like an Uncle Sam hat and an American flag kite, and a few of them are cookout themed (like the sunglasses and sunscreen).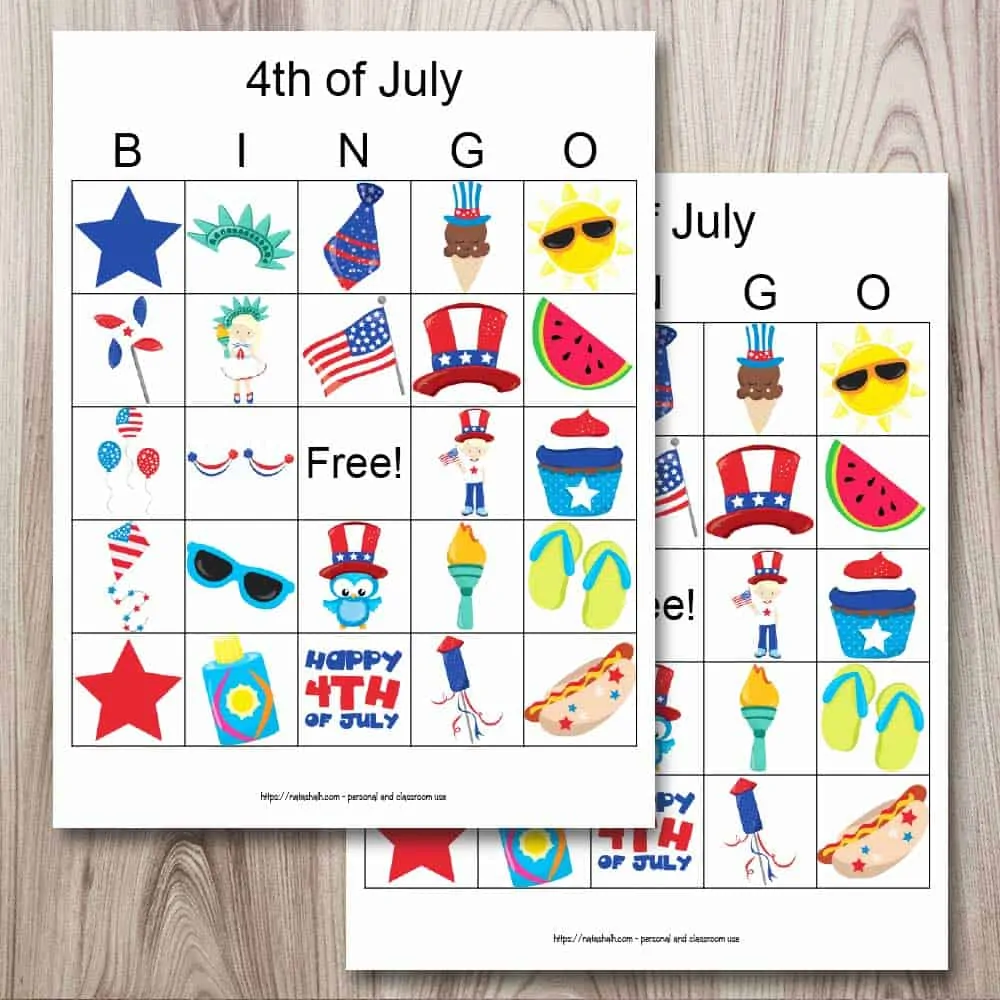 This post includes affiliate links, which means I may earn a commission on purchases made at no additional cost to you.
Unlike many of the patriotic bingo card sets I've seen, I did not include a colorful patterned background. I know how much ink costs and that people frequently want printables that are a little easier on their ink tanks!
I hope your family loves and enjoys this printable bingo game for July 4th as much as I do!
Looking for more family-friendly 4th of July fun? Be sure to check out the Fourth of July Family Activity Pack! It has 33 pages of activities to stave off complaints of boredom while waiting for the parade:
Ideas for using this Independence Day bingo game:
This bingo game is an easy, no-prep way to keep your kids occupied while you prepare for the holiday. You could also print out copies to use at a family/neighborhood/work cookout.
You can use these bingo cards in a 'traditional' way by cutting out the pictures on the call list sheet, placing them in a bag, and drawing them randomly.
You can save some cutting and the risk of lost pieces by giving the call sheet to an adult and having them 'randomly' call out images. I think this is a good choice if you're at a cookout because it means fewer pieces to keep track of!
Make a tic mark with a pencil to denote which pictures you've already called.

If you laminate the cards (or use

dry erase pockets

), you can use markers to mark off called images.
(Please note that the American flags are no longer at the top of the bingo boards like in the image above. I did a big update for the current year and made more bingo cards. Based on feedback, I removed the extra images at the top to save even more ink.)
You can print the game boards on plain printer paper, but it's not my first choice. Young kids love doing the same thing over and over, so even in just one day these bingo cards could see some heavy use!
For the most beautiful images, use presentation paper. Presentation paper is a heavy weight paper with a special coating for crisp, bright images.
For durable boards, but slightly less vibrant images, use cardstock.
The difference doesn't show up as clearly in a photo as it does in real life, but I printed the mermaid bingo card on the left on presentation paper. The one on the right is on cardstock.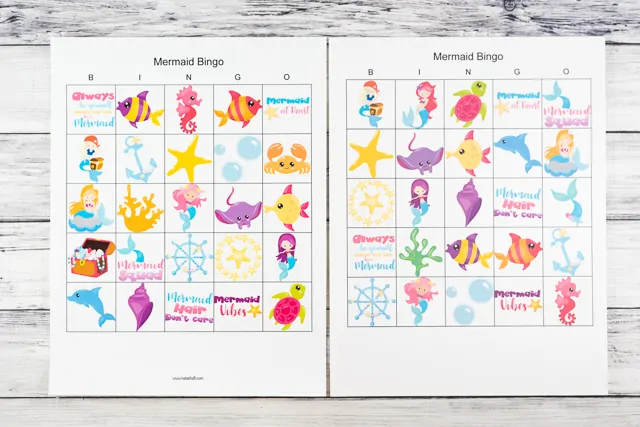 For repeated play, especially near food, water, and cookout fun, laminate the sheets or place them in a dry erase pocket.
Dry erase pockets are like page protectors, but sturdier!
If you are going to play near the pool or beach, you might want to get the bingo boards printed at a copy shop. Copiers use toner, not ink, which means the images won't run if they get splashed.
You can get sheets laminated at copy shops and office supply stores, but if you're going to laminate more than 10-20 pages ever, it's more economical (and a time saver) just to get an inexpensive home laminator.
When you laminate your bingo cards, you can store them with your holiday decorations and use them year after year!
You can make the game even more fun by using fun things like candy, patriotic erasers, or other small prizes as tokens to mark off called cards. If you laminate your sheets or use dry erase pockets, you could also use stickers. Stickers are very valuable currency in our house!
4th of July stamps
4th of July stickers
Patriotic stamps
4th of July party favors
Printable Patriotic Bingo
There are three different bingo sets to pick from:
A set of 25 bingo boards (this is perfect for cookouts and Scout troops)
10 free printable 4th of July bingo cards
4 free printable Fourth of July bingo boards
All sets are unique and can be combined for a total of 39 unique cards.
These printables are available free for personal and classroom use. It's fine to print them out and share them with your family, at a cookout, at camp, etc., but please do not redistribute the digital files or printouts to other adults for their use. Instead, just refer your friends to this post so they can download their own copy!
Classroom set of Independence Day bingo boards
This set of 25 bingo boards is perfect for classrooms, Scout troops, family reunions, and cookouts.
Even if you don't "need" 25 cards, purchasing the paid set is an easy way to support my work to bring you affordable, low-prep activities for kids. Thank you! (Keep scrolling a little more for the freebie sets.)
Because of the image pool size, you can still have multiple "bingos" on the same turn, but the cards are all different.
10 free printable 4th of July bingo cards
The set of 10 bingo boards is perfect for larger families and smaller groups. Just let me know where to email your PDF by filling out the form below the preview image!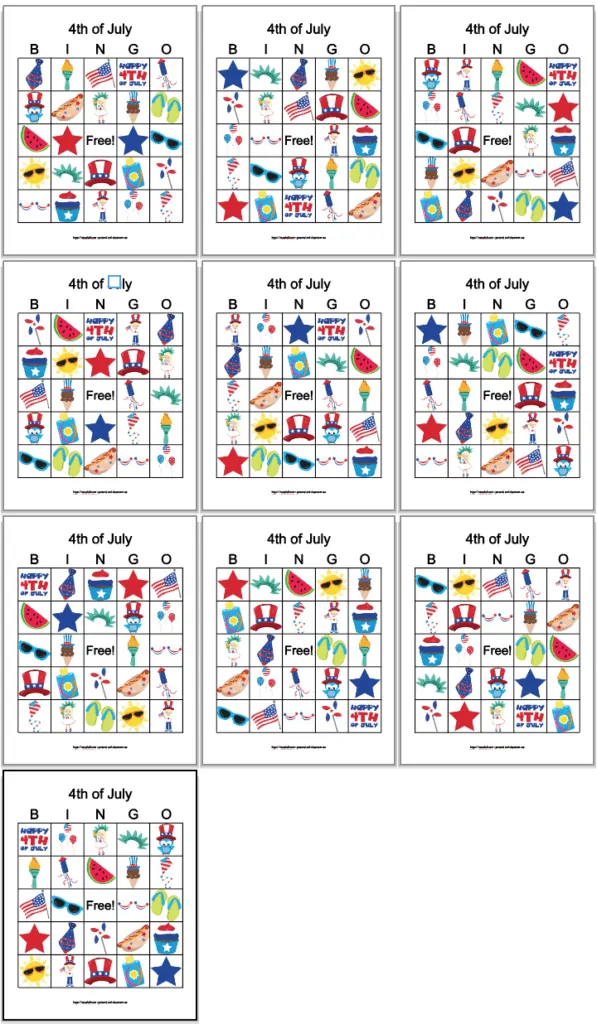 4 free printable Fourth of July bingo boards
Last but not least, there are four free printable patriotic bingo boards available for free, no email address required. Just follow the link below the preview image to download your printables.
This set is unique and can be combined with other sets.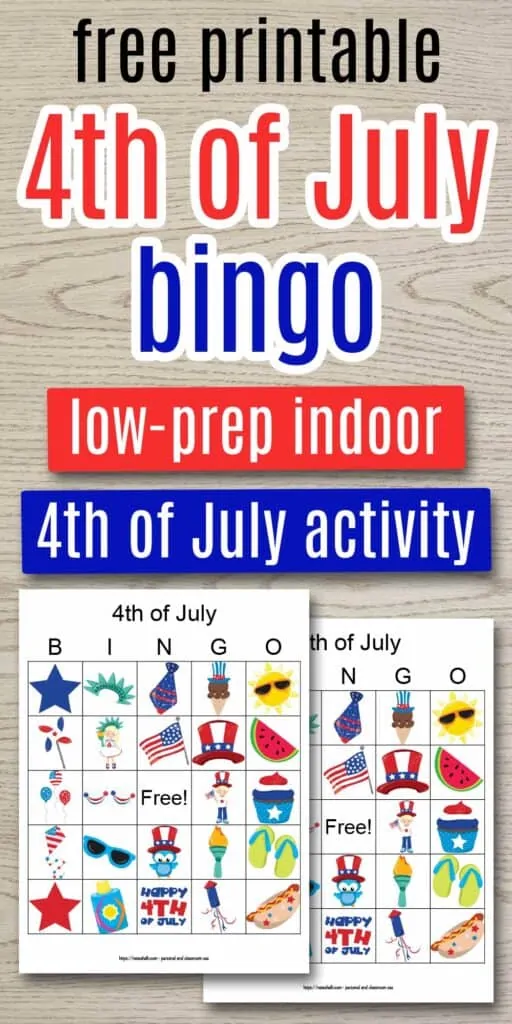 More free printables for the 4th of July & Summer
Coloring sheets for the 4th of July