These free printable mermaid coloring pages will delight your mermaid loving family! Just print them, hand them to your kids with crayons or markers, and enjoy some low-prep indoor fun.
This collection has 16 cute mermaid coloring sheets. They're designed with children in mind, but are fun for anyone who loves mermaids and coloring. If you have toddlers or preschoolers at home, be sure to grab these free printable dot marker mermaid coloring pages so they can enjoy coloring, too.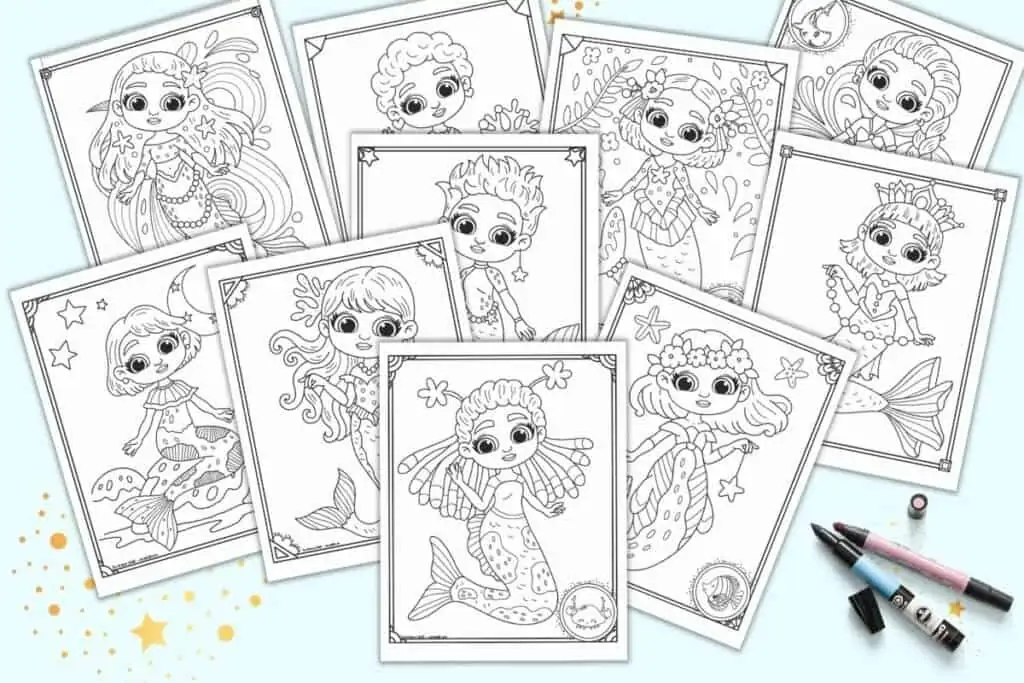 If your family loves mermaids and the ocean, be sure to check out these additional free printables while you're here on The Artisan Life:
This post includes affiliate links, which means I may earn a small commission at no additional cost to you on purchases made through links.
How to print and use mermaid coloring pages
The paper you use has a big impact on your coloring pages.
For best results, do not use whatever cheap copy paper is in the printer at work.
For a more enjoyable, fun coloring experience, print your coloring pages on 32lb bright white paper. This paper is thick, bright, and smooth for rich colors and easier blending. It's also thicker than "regular" paper, which means less chance of your child's markers bleeding through the page and staining their table…again.
You know how most kid's coloring books have rough, yellow paper that's annoying to color on. Your kids have noticed, too. My daughter is 3.5, but she wants to use "big kid (adult) coloring books because they're easier to color on. They will appreciate the 32 lb paper and spend more time coloring when you use it.
HP Paper Printer | 8.5 x 11 Paper | Premium 32 lb | 1 Ream - 500 Sheets |...
Made in USA: HP Papers is sourced from renewable forest resources and has achieved production with 0% deforestation in North America.
Heavyweight premium printing: HP Premium32 is a heavyweight (32 pounds), brighter (100 bright) and whiter (163 whiteness) paper with a super-smooth...
Certified sustainable: HP Premium32 presentation paper is Forest Stewardship Council (FSC) certified and contributes toward satisfying credit MR1...
My daughter's favorite markers for coloring are Crayola Supertips. They're affordable and fun for adults and children. They're pretty washable and they're available in a wide range of colors, including a set with 100 different shades. Supertips can color fine detail and make broad strokes, too.
Sale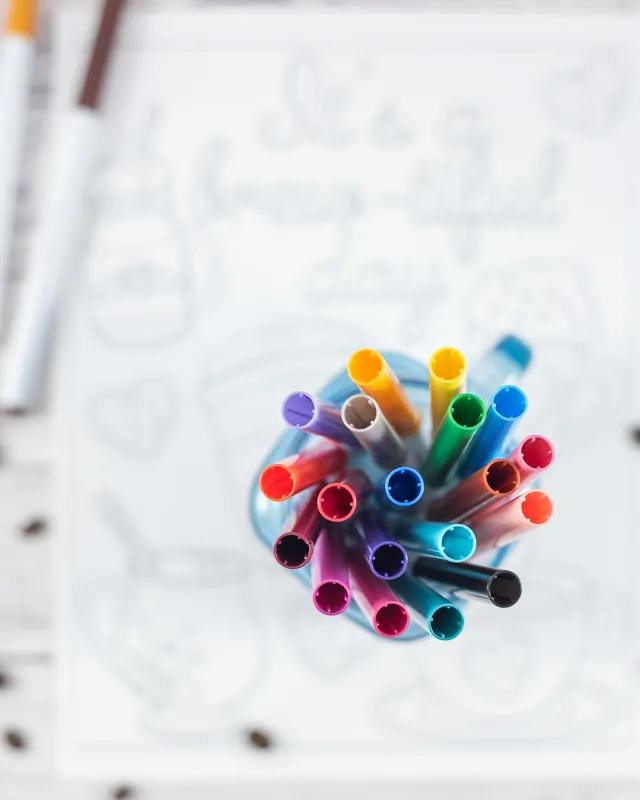 My daughter's favorite crayons are Honeysticks natural beeswax crayons. They do have a limited number of colors, but the colors are rich and creamy. They color well and are safe for children 1 year and older.
Honeysticks crayons are made in New Zealand from pure beeswax with food-grade colorants. If your child is still taste-testing their crayons, this brings a lot of peace of mind.
Remember a few years ago when there was a recall on crayons for dangerous contaminates? My daughter was in full-on mouthing mode at that time and I was frantically searching our crayons to make sure we didn't have any affected ones. Now I just use Honeysticks, instead.
Sale
Honeysticks Natural Beeswax Crayons - Classic Crayon Size and Shape for a...
100% PURE BEESWAX AND FOOD GRADE COLORS FOR PEACE OF MIND: Handmade in New Zealand using 100% Beeswax and Food Grade Pigments for Color. Free from the...
CLASSIC SIZE THAT IS DURABLE AND ERGONOMIC - At Honeysticks, we understand that children develop pencil grip at their own pace. We have developed a...
8 EXCITING COLORS TO STIMULATE CREATIVITY - Your child will love expressing their inner artist with an exciting range of 8 Colors. These handmade...
My husband loves coloring with gel pens, so of course our daughter wants to copy him. There are lots of very inexpensive gel pen sets available. Unfortunately, many cheap gel pens don't color, or write, very well. Purchasing a cheap set that doesn't actually work is so frustrating. That's why I wrote an entire post on the best gel pens for coloring. The two are my top picks. The budget pick is inexpensive and works surprisingly well.
If you want to use watercolor paints with coloring pages, you can run Canson watercolor paper through many printers. You may need to trim it down a little with a paper cutter first.
Sale
For wet media like paints, it's important to use a laser printer. If you don't have a laser printer at home, just take your files to a local copy shop, school, or library. You can also run a page off on your home inkjet and then take that page to a copier. Copiers use on toner, not ink, so the design won't run and bleed when the page becomes wet.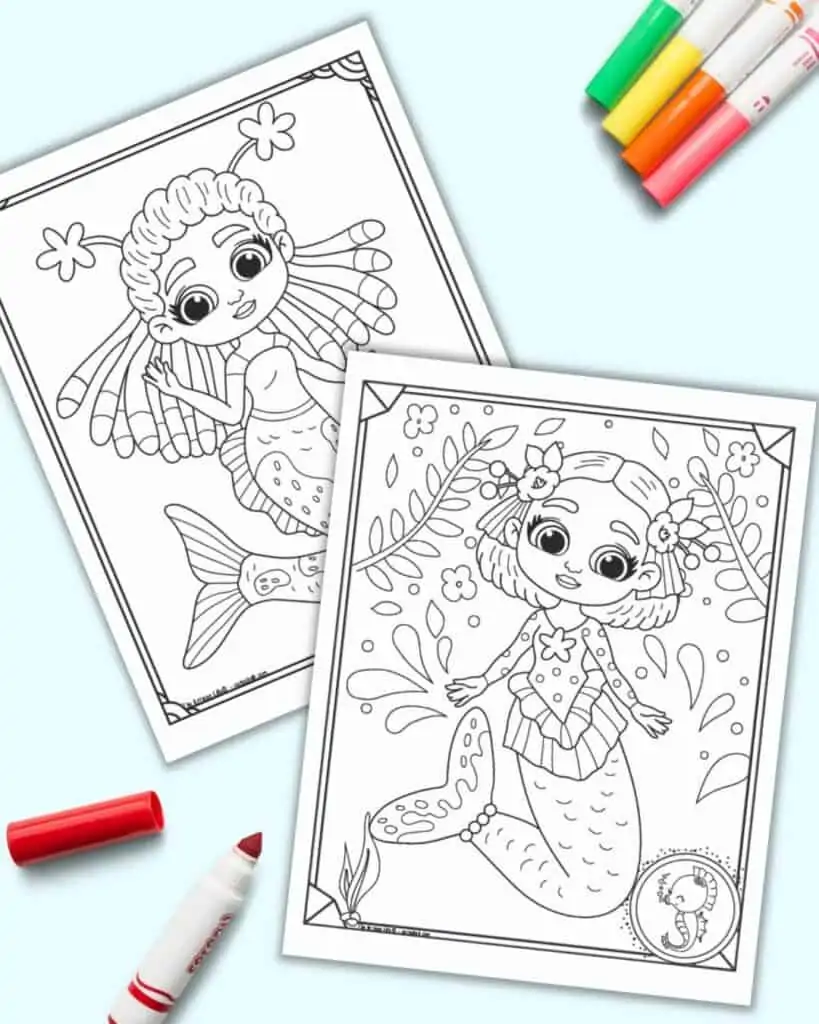 Free Mermaid coloring pages
Because there are 16 cute mermaid coloring sheets to print and color, downloading each one individually would be annoying and time consuming. All 16 pages are available for download in one single file. Download information is below the preview images.
Don't worry – each mermaid has her own page in the PDF. Preview images are shown in groups so this page loads more quickly.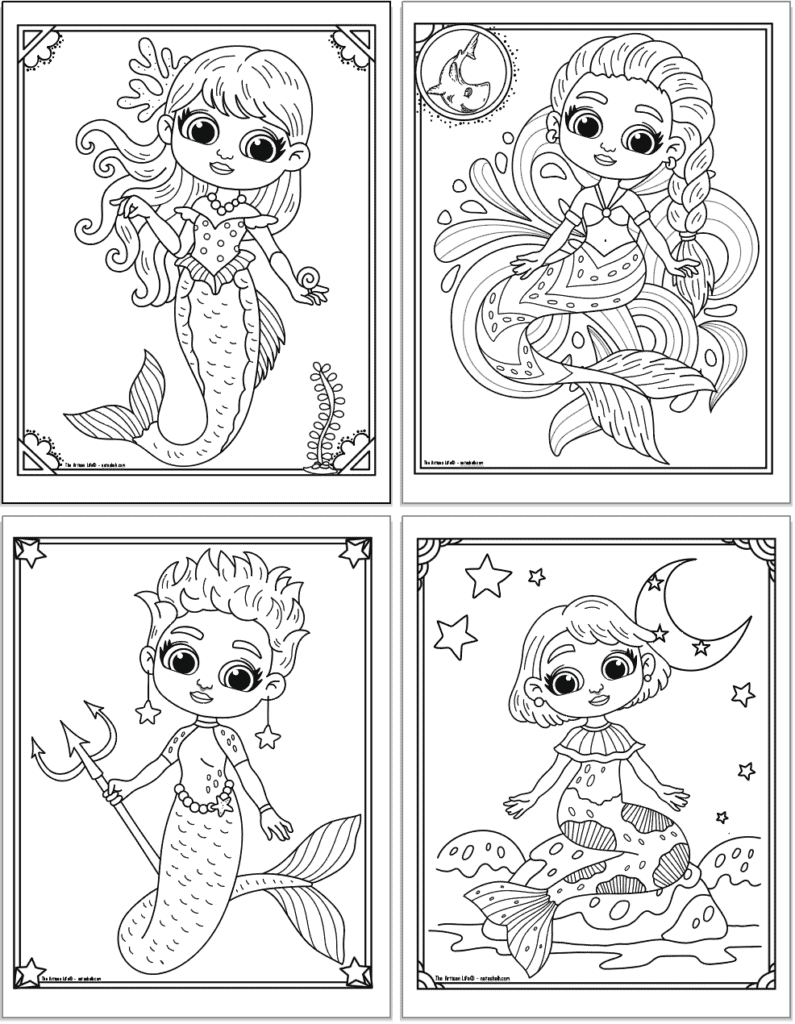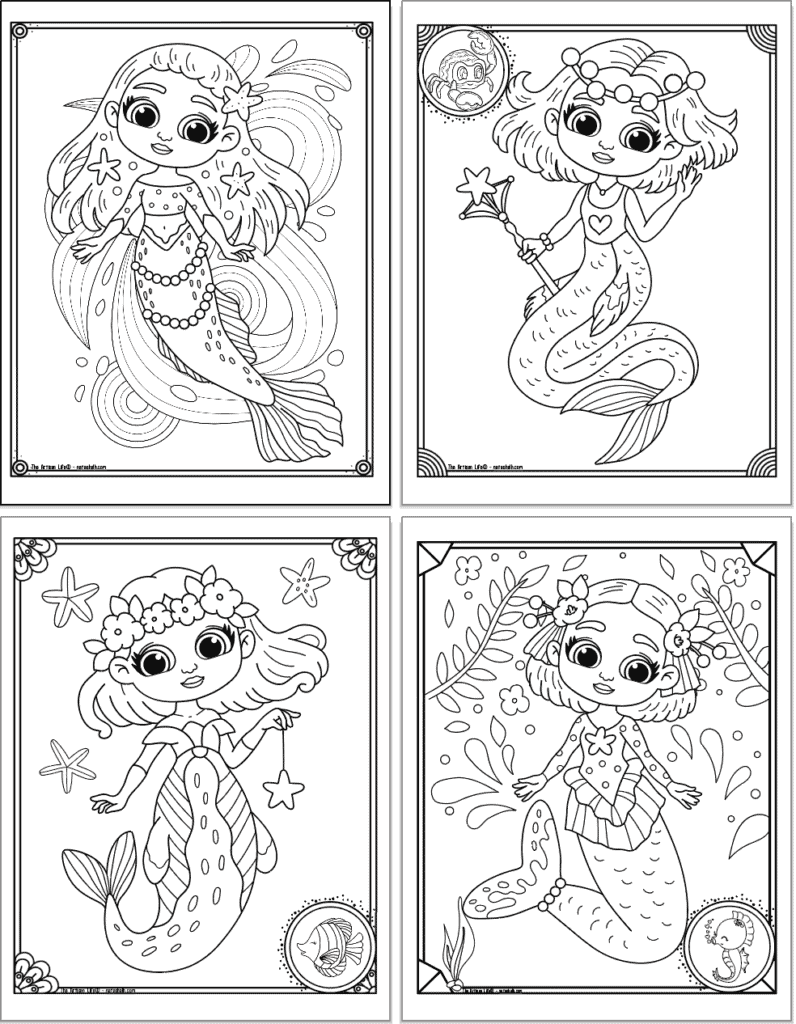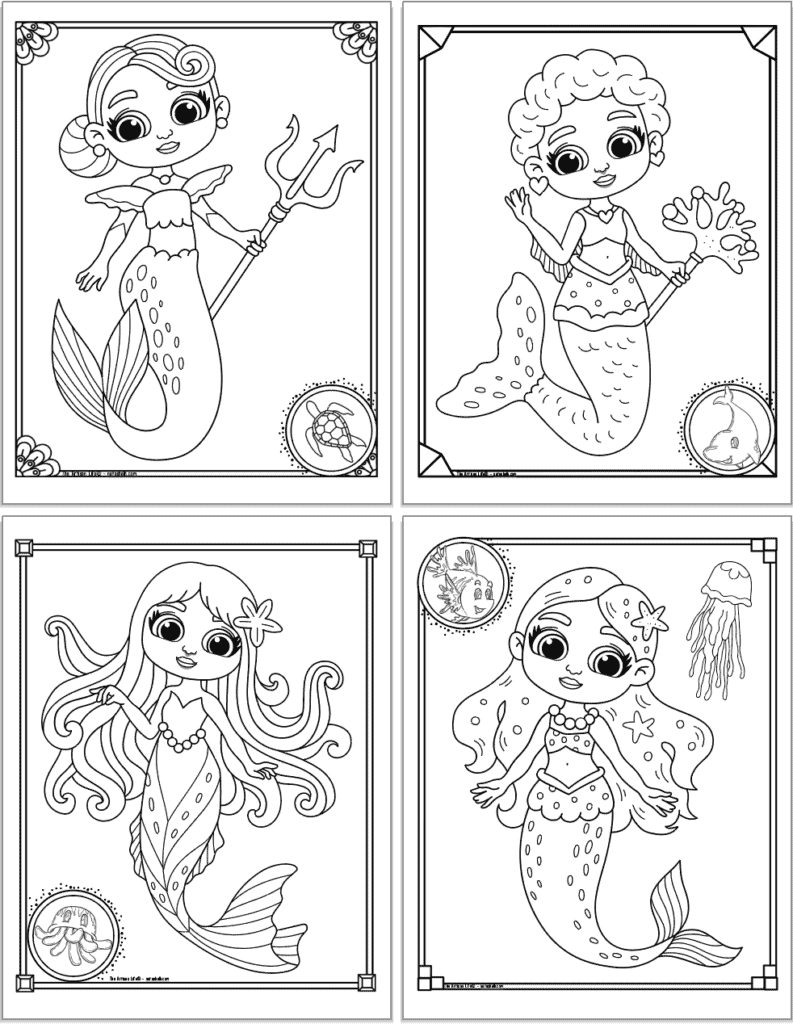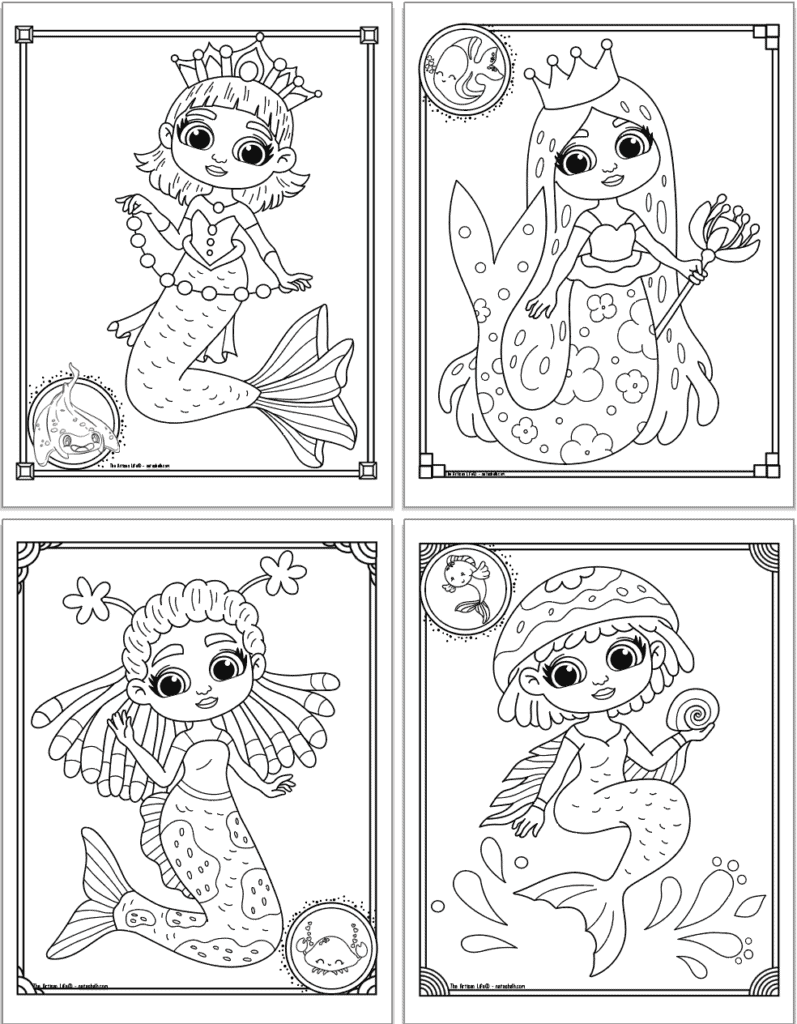 These mermaid coloring pages printables are available for personal and classroom use only. (Classroom, scouts, and birthday party use are okay, too!)
I hope your family enjoys these free printable cute mermaid coloring pages!
If you love mermaids, be sure to grab these additional free printables while you're here on The Artisan Life:
Mermaids, Fish, and the Ocean
Does your little learner love fish, mermaids, and the ocean? You've come to the right place!