These free printable Mother's Day cards and printable Mother's Day crafts are the perfect way for your children to get crafty and celebrate their mom.
These printable Mother's Day cards to color and crafts are great for children of all ages. There's a wide variety of cards to pick from, bookmarks, Mother's Day coupons, printable tea bag wrappers, and more. I hope you enjoy!
If you're looking for Mother's Day printables, be sure to check out these free flower pot templates, All About My Mom printables, and teapot templates.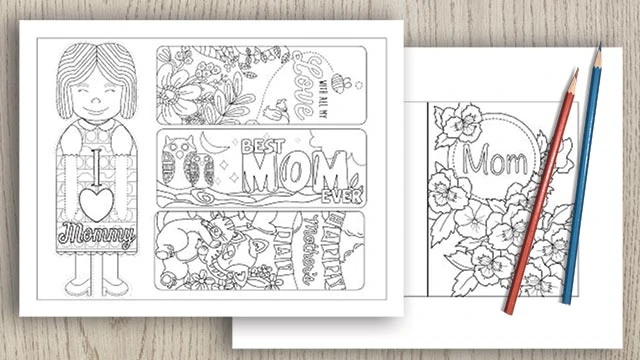 This post includes affiliate links, which means I may earn a commission on purchases made through these links at no additional cost to you.
You can easily navigate this post using the table of contents below, or scroll through to make sure you see all the previews.
How to use your printables – recommended materials
I highly recommend printing on white cardstock. It looks nice, is good for coloring, and is sturdy.
Presentation paper is heavier than normal printer paper but lighter than cardstock and is another option.
Plain printer paper is my last choice, but you gotta do what you gotta do! If you have to use plain printer paper, try to use the brightest white paper you can for prettier printables.
If your child wants to use markers or paints, make sure to use a laser printer. If you don't have access to a laser printer, just get things printed off at your local copy shop. They'll also have a variety of papers and cardstock to chose from, so you can try some premium papers without having to buy a whole pack.
If you have to print on ink jet, make sure not to use a wet medium (paint or markers) for coloring because it can make the ink smudge.
To cut out the cards, I recommend using a paper trimmer. I've been using this one for years and think it makes the most accurate cuts because there's a guide wire (plus it isn't one of those terrifying chopping cutters that seem like they'll take off a finger!)
Sale
Fiskars SureCut™ Deluxe Craft Paper Trimmer - 12" Cut Length - Craft...
ARTS AND CRAFTS STAPLE: Fiskars SureCut Deluxe Craft and Office Paper Trimmer is a great addition to scrapbook supplies, stationary projects, and...
PRECISION ART SUPPLIES: Scale and base deck grid help ensure accuracy; Break- and fray-proof SureCut wire cut-line makes it easy to see where the...
LONG LASTING AND RELIABLE: Lightweight and portable trimmer is easy to transport and store; Fiskars craft supplies and materials are built to last
For the printable gift box and teabag wrappers, a non-toxic glue like Original Tacky glue or a narrow tape runner work best.
For increased durability, you may want to use a laminator with the bookmarks (after they've been colored, of course!). You can also have a middle school throwback experience by 'laminating' them with clear packing tape.
Free printable Mother's Day cards to color
The images below are just low resolution previews, not the printable PDFs. Please download the actual PDF file. The low resolution previews will look terrible if printed. The free download information is located below the card image previews.
These printable Mother's Day cards to color are 4.25″ x 5.5″ once cut out, which means they fit in A2 size envelopes. Just make sure to print at 100% so they're the correct size.
The first card says "Happy Mother's Day" and features hummingbirds and flowers: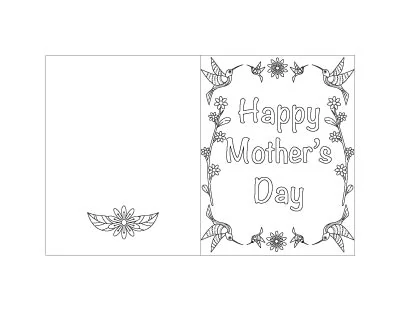 The next card has the same floral and hummingbird frame, but the text "for my mom"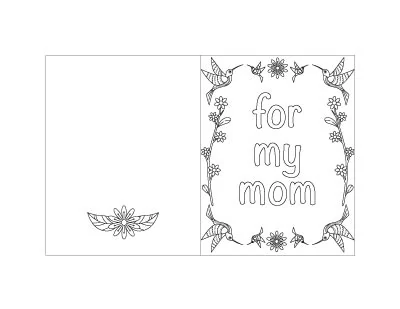 The third Mother's Day card has pretty violets to color and a butterfly on the back: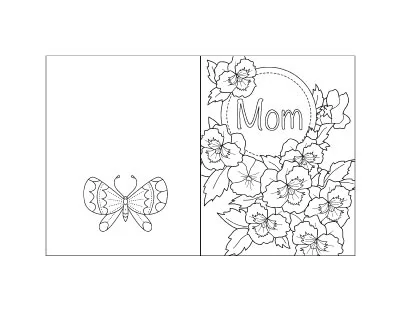 A wreath of flowers and the simple text "Mom" are on the next card:
Finally there's the same wreath of flowers to color with the text "Happy Mother's Day."
The next two cards are 4×6, which is a very common card size. They fit standard A6 envelopes.
The first printable card features the text "First my mother, forever my friend" and shows a mother reading to her child by flashlight under a chair fort.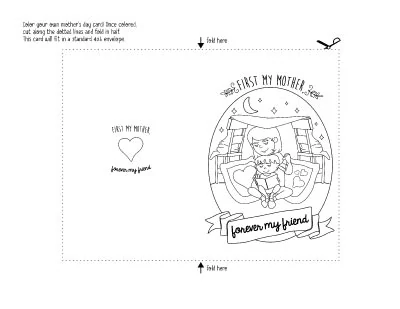 The second design has a mason jar with wild flowers and the text "Happy Mother's Day."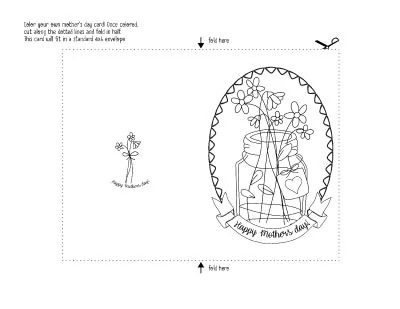 These postcards are approximately 3.8″x5″ when printed at full size and cut out: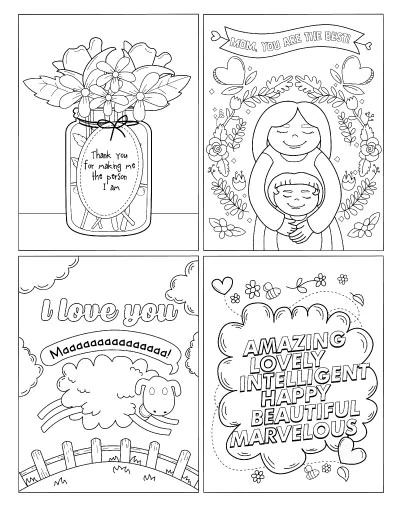 The file with all crafts and cards is available for the pay what you can price of $0+. Just input what you want to pay and download away!
Related: Free printable all about my mom questionnaire
Printable Mother's Day Crafts
This collection of printable crafts for Mother's Day includes bookmarks to color, gift tags, tea bag wrappers, and a sweet little gift box to color and assemble.
For everything but the wrappers, I recommend printing on cardstock. The wrappers look great on a bright white paper or presentation paper.
If your child wants to use markers or paints, make sure to use a laser printer! If you don't have access to a laser printer, just get things printed off at your local copy shop. They'll also have a variety of papers and cardstock to pick from, so you can try some premium papers without having to buy a whole pack.
The Mother's Day printable crafts and coupon book are available for $0+. (They're conveniently located all in one PDF with the printable Mother's Day cards shown above.) Just pay whatever amount works for you from $0 on up.
There are four printable Mother's Day bookmarks to color:
These free printable gift tags for Mother's Day are a great way to top off a present!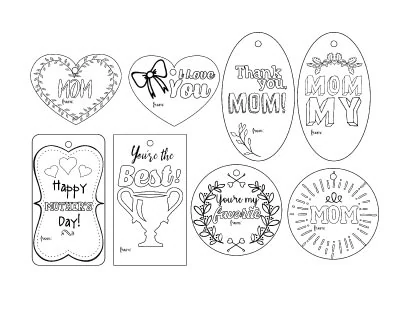 This printable gift box to color measures approximately 2″x2″x2″ when assembled.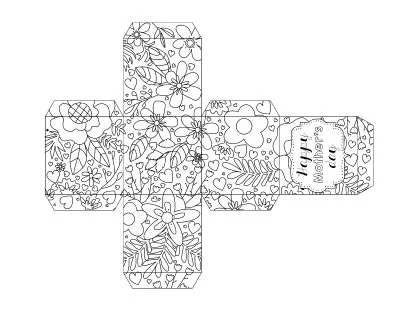 To make the gift box, color the design before cutting it out.
Cut along the outside edges with scissors, then fold along the solid lines.
Tuck the tabs on the "sides" of the box to the inside and either use glue or double sided tape to hold them in place. A tape runner is the best tool for the job!!
Add your gift, then fold over the top and tuck the tab inside. To help the box stay closed, use a sticker, piece of decorative tape, or ribbon.
These printable tea bag wrappers are made in a similar manner. I created a few different options for you. Some of the tea bag wrappers have elements to color, but there are also a couple cute spring-y full color designs. These teabag wrappers are designed to fit around a packaged teabag – no need to take it out of the original packaging first!
The "construction" process is the same for all of them: cut around the outside lines, fold along the dotted lines, fold the tabs under, and glue or tape in place. Again, a tape runner is perfect for this job! You can simply fold the top flap down or secure it with a piece of washi tape or a sticker.
Coloring page tea bag wrappers: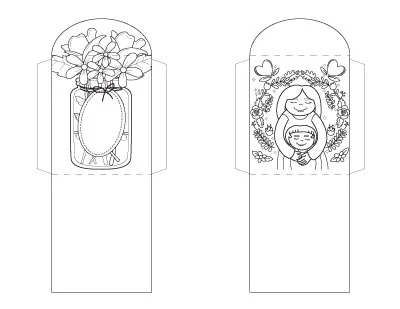 There are also two sweet, feminine tea wrappers: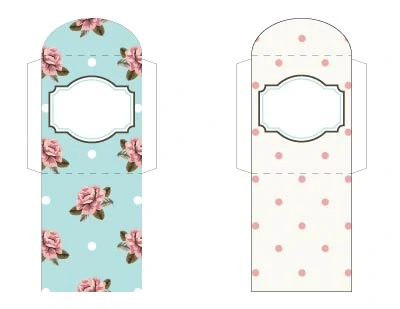 And two cute, springy teabag envelopes! One has strawberries and the other has little chicks.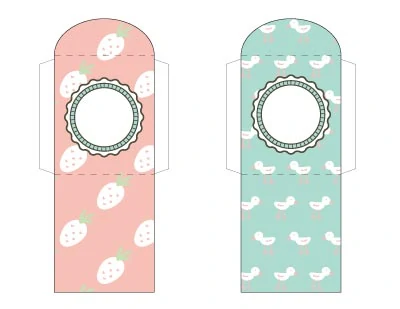 Printable Mother's Day coupons
How many of you gave coupons to your parents when you were a kid? I know I did! The coupon book is such a classic idea. It's fun for you and can help children learn the value of actions over material goods (and that you don't need to spend a lot of money to give a thoughtful present!).
I created these printable coupons with a blank space so your child can add whatever s/he wants to the voucher. They can also color the floral heart embellishment!
It's easier to write and color before trimming the coupons. Once your child is finished, help them cut along the dotted lines with scissors or a paper trimmer. I love this paper trimmer and find it much safer, and more accurate, than the guillotine-style.
To turn the coupons into a "book," simply staple the coupons together! If you printed on cardstock, it may be easier just to keep them loose and place them in an envelope.
Mother's Day Crafts & Gifts
These Mother's Day craft ideas, free printables for Mother's Day, and Mother's Day gift ideas are perfect for the mom or grandma in your life.