These affordable coffee gift ideas for moms are sure to be appreciated by the busy mom in your life. Save time shopping when you discover this list of mom-approved gifts for coffee lovers.
Let's be honest – moms are busy! We're always busy and pulled in every which direction between kids, our partner, work, cooking meals, perhaps caring for our own parents, and maybe even trying to have a bit of a life of our own!
Today I'm sharing my favorite coffee gift ideas for moms. They're fun, useful, and (unlike some coffee gift lists I've seen!) all under $25. 
Just as a quick note: I've done my best to find coffee gifts under $25, but prices change frequently. A few items might be in the 25-30 range when you check. If anything has gotten way off base since the last time I checked, please leave a comment and let me know.
This post includes affiliate links, which means I may make a commission on purchases made through these links at no additional cost to you.
Coffee gift ideas for moms
As tired as we are, sometimes moms need to cut back on the caffeine. If the mom on your Mother's Day gift list is drinking less coffee because she's pregnant, nursing, or has been advised to drink a bit less coffee, she needs to know about Mommee Coffee.
Mommee Coffee comes in a variety of strengths (full, half, and quarter caf). It's also fair trade, organic, and low acid (which makes it easier on the stomach). It's water processed, which means it's naturally decaffeinated without harsh chemicals!
Mommee Coffee Full Caf Ground Low Acid Coffee - 100% Arabica Organic Coffee...
Mommee Coffee Half Caf Ground Low Acid Coffee - 100% Arabica Organic Coffee...
Mommee Coffee Quarter Caf Ground Low Acid Coffee - 100% Arabica Organic...
Mommee Coffee Full Caf Ground Low Acid Coffee - 100% Arabica Organic Coffee...
Mommee Coffee Half Caf Ground Low Acid Coffee - 100% Arabica Organic Coffee...
Mommee Coffee Quarter Caf Ground Low Acid Coffee - 100% Arabica Organic...
For the days when half-can just won't do the trick, there's Death Wish coffee. Death Wish claims to be the world's strongest coffee, and it's organic + fair trade. Cool!
Sale
DEATH WISH COFFEE Ground Coffee Dark Roast [16 oz.] The World's Strongest...
WORLDS STRONGEST COFFEE: Our coffee grinds will transform your basic cup of joe into a delicious, bold, and dark coffee that will revolutionize your...
QUALITY BREW: Hands down, the best ground coffee in the world. One sip of Death Wish dark roast coffee will have you saying goodbye to store-bought...
BOLD FLAVOR: Immerse yourself in a smooth, subtle, never-bitter cherry and chocolate flavor profile. We've carefully selected and expertly ground...
Obviously I can't make a list of coffee gift ideas without mentioning dark chocolate covered espresso beans. What a delicious way to get some caffeine on the go, plus dark chocolate is good for you, right?
Chocolate Covered Espresso Bean Blend Jar | Made with Premium Ingredients |...
HIGH-QUALITY INGREDIENTS: Dilettante's Chocolate Espresso Beans are made using house-roasted coffee beans and decadent layers of chocolate made from...
LUSCIOUS CHOCOLATE TASTE: This bulk espresso bean blend is a decadent chocolate assortment made up of white, milk, dark, and marbled chocolate...
LARGE BULK SIZE MADE TO SHARE: This three-pound jar is perfect for filling candy dishes, sharing with friends, or for keeping in an office for an...
Although I don't currently use it (because I'm mostly at home), a French press travel mug was a real lifesaver to me in the past. It's perfect for moms who don't even have the time to wait for coffee to brew. Pop water in the microwave or kettle to boil while you're doing something else, pour it in your mug with some coffee, and then grab it as you head out the door!
This "coffee chaos and cuddles" shirt is really on point for those of us living the #momlife!
There are so many cute "May your coffee be stronger than your toddler" items available on Amazon Handmade. I have a toddler…that's why I drink espresso.
<script async data-uid="9943ea2805" src="https://the-artisan-life.ck.page/9943ea2805/index.js"></script>
This Chaos coordinator fueled by caffeine mug really speaks to me! I think that Chaos Coordinator should be my official job title (it sounds a lot better than Toddler Servant, which is what I really am).
Cute Funny Coffee Mug for Women - Chaos Coordinator Fueled By Caffeine -...
Perfect Gift for Women: Beautifully Designed Sarcastic Funny Coffee Mug! Perfect Gift for Any Women in Your Life, including: wife, mom, teacher,...
Funny Sayings Coffee Cup: Has the quote "Chaos Coordinator Fueled by Caffeine", printed on both sides.
Large 15 Ounce Coffee Mugs: This coffee mug is larger than most standard size mugs. 15 ounces, 100% white ceramic mug.
After my daughter broke two of our coffee mugs, we made the switch to double walled stainless steel mugs. They're durable, attractive, and great at home or on the go!
Although coffee mugs are fun, not everyone drinks American-style coffee. Our family is half Cuban, so we run on espresso! We used to use 'normal' espresso cups (actually, we collected different Starbucks cups whenever we traveled), but now we use double walled glass cups. They help keep the coffee warm for longer, which is nice for those days when you're too busy to enjoy all your coffee at once.
Double Wall Espresso Cup Set of 4 - Insulated Expresso Coffee Cups Sets -...
☕SIP YOUR SMOOTH, AROMATIC ARABICA IN STYLE: The Evaryl handmade double wall glass espresso cups set of 4 is here to offer you and your guests a...
☕ ENJOY YOUR LAVA-HOT ROBUSTA WITHOUT WORRIES: Our heat-resistant double wall lungo cups are made from shatter-proof glass and can handle even the...
☕ SLEEK & MODERN GLASS ESPRESSO CUPS: Enjoy all the flavors, aromas and colors of your Italian-style espresso with our sophisticated expresso shot...
Get your piggy bank bigger pants for Christmas when you sign up for a free Ebates account! Earn cash back on the online purchases you were going to make, anyway, PLUS cash bonuses for referring friends! (Ebates is called Rakuten now, but it's the same service.)
Speaking of Cubans and espresso, this is how we buy our coffee: 36 ounces at a time! This large container of Cafe Bustelo always make me laugh because it's called "party size."
It's typically a good price from Amazon Pantry, but if you don't use that service or the price is over $12, then you can get a better price at WalMart. (Incidentally – using the grocery pickup at WalMart is an awesome way to save time if you're a busy mom and it can help you save some $$, too, because it helps you avoid impulse buys.)
Call me weird, but I like getting socks as gifts. Getting a pair of socks that asks for coffee would be awesome! It'll be a great day when my child is old enough to bring me coffee. (Right now she'd just try to drink it because she's obsessed with water and tries to drink out of anything that even sort of resembles a cup.)
Haute Soiree - Women's Novelty Socks - "If You Can Read This, Bring Me...
SOCKS THAT SPEAK FROM THE SOLE - Our "Bring Me Some Coffee" socks are knit from vibrant premium yarn. The bottom of the socks features a funny...
ONE SIZE FITS MOST - Unisex design fits US sizes 6 to 12. Luxurious knit cotton will keep your feet comfortable all day long. Footie socks for Men and...
GREAT CHRISTMAS GIFT IDEA - These socks make the perfect stocking stuffer! Great for coffee lovers, Christmas gifts for her, gag gifts for white...
Another thing I adore are scrubs. Scrubs feel sooo good and using a scrub is like a trip to the spa (because, let's be real, what mom with young kids actually has time to get a pedicure???)
Coffee scrubs have the extra benefit of helping improve the appearance of your skin because caffeine stimulates blood flow. This can improve the appearance of veins (hooray!) and stretch marks (hooray again!).
If you're feeling in a DIY mood, check out this recipe for a homemade coffee scrub. It smells incredibly amazing – like walking into your favorite coffee shop in fall.
I have to admit that sometimes even a scrub is hard to find time for. #momlife This exfoliating coffee and oatmeal bar of soap is even quicker and easier to use, plus it's made without potentially harmful ingredients like Sodium Lauryl Sulfate and parabens.
Coffee & Oatmeal Exfoliating Soap, Natural and Organic Ingredients. A...
Made With Certified Organic Freshly Ground Coffee, Certified Organic Oats and Therapeutic Grade Essential Oils, This is a Wonderful Exfoliating Soap.
With certified organic shea butter, certified organic olive oil, certified organic and sustainable palm oil, certified organic castor bean oil and...
All of our soaps are made, cut and packaged by hand in small batches to ensure quality of each and every bar of soap.
If scrubs aren't your thing and you already love your soap, a coffee body cream can bring skin tightening benefits and plenty of moisturizing goodness.
Caffeine Skin Firming Cream Moisturizer - Slimming and Tightening Cellulite...
Feel the Difference - Embrace the tightening abilities of our caffeine eye cream that can help eliminate dark circles fine lines wrinkles and...
Reach your Goals - You can also use our firming body lotion on your body to achieve a tighter look with the help of natural caffeine extract and extra...
Target Stubborn Areas - Anyone tired of stubborn cellulite or wrinkles should try our skin tightening cream for stomach butt thighs neck and more and...
I love coloring books. I'm not really the best at actually coloring, but I enjoy it and coloring helps me relax after a hard day of moming. I was pleasantly surprised to find there are several different coffee themed adult coloring books.
I also have a whole collection of free printable coffee coloring pages here on The Artisan life.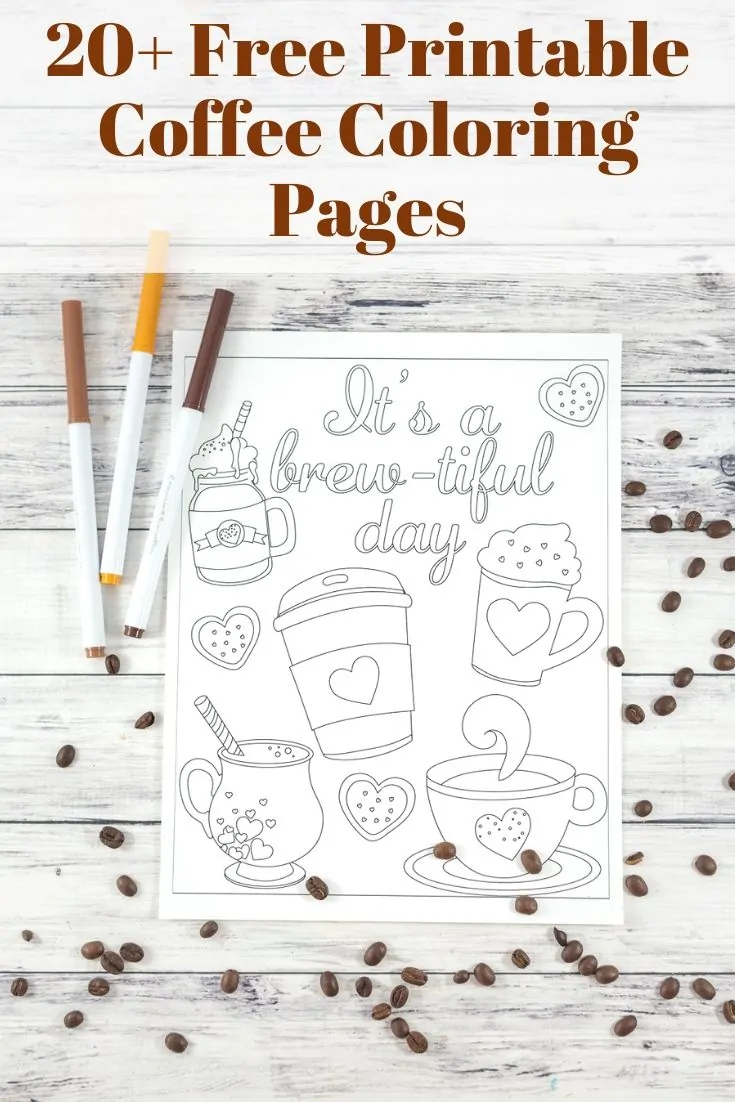 <script async data-uid="9943ea2805" src="https://the-artisan-life.ck.page/9943ea2805/index.js"></script>
I really hope you've enjoyed these coffee gift ideas for moms and found something a bit more unique & fun than the usual suggestions!
Remember to Pin this post now to your favorite board so you don't lose track of it!
Christmas tutorials and printables
Looking for more DIY ornament tutorials or free printables for Christmas? You've come to the right place!