This collection of the best gift ideas will grandma will help you find something special for the grandmother in your life whether you're shopping for Christmas, her birthday, a grandmother shower, or Mother's Day.
I was always close to my grandmother. We spent so much time together she'd frequently tell people I was practically her fifth child!
Now that I have a daughter of my own, I enjoy watching her follow my mother around. She clearly loves her "Ga," and I've never seen my mom smile as much as she does when she's with our LG. She's not the only person who's found renewed joy in grandkids – research shows that being a grandparent is physical and mentally healthy.
Picking a gift that's "just right" for the special grandmother in your life can be tricky, which is why I put together this guide to the best grandmother gift ideas. These items are all highly-rated and inspired by items like by grandmothers I personally know. I hope you enjoy and find something for the grandma in your family!
PS – You'll also find a few "abuela" gifts for the Spanish-speaking grandmothers like our LG's Abuela in Miami.
This post includes affiliate links, which means I may earn a commission on purchased made at no additional cost to you.
Sentimental and collectable gifts for grandmothers
Let's start off with meaningful, sentimental, and collectable gifts for grandmothers.
There are several sweet Willow Tree keepsakes for grandmothers, including a small jewelry box, a grandma & child statue, and a three generations sculpture. A cousin gave my mom a Willow Tree sculpture as a grandma gift after my daughter was born and it's still on her mantle!
My grandmother passed when my daughter was still an infant. We were very close, but I still wish I knew more about her. It would have been so wonderful if I'd thought to have her fill out a grandmother journal with details about her life.
Grandma, Tell me Your Memories is a similar memory journal, but poses one question a day for an entire year.
Letters to my Grandchild has 12 writing prompts with envelopes you can seal and date (to be opened on graduation day, for example).
I'm sure we're not the only bilingual family, so I also want to share Hazme una Lista Abuela, a memory book for grandmothers in Spanish.
This handmade glass grandma cross could be hung from a window, used as an ornament, or even hung from a rearview mirror.
Get your piggy bank bigger pants for Christmas when you sign up for a free Ebates account! Earn cash back on the online purchases you were going to make, anyway, PLUS cash bonuses for referring friends! (Ebates is called Rakuten now, but it's the same service.)
Outdoors & gardening gifts for grandma
My daughter loves helping grandma's garden! Here are a few of my pretty, and highly-rated, gardening gifts that are sure to delight the gardening grandmother.
This resin stepping stone can also be used as a wall plaque if Grandma decides it's "too nice to use." I love the little butterflies and the cheerful sunflowers!
This butterfly sun catcher and is so pretty! My grandmother loved butterflies – I know I would have it on my gift shortlist for her if she were still alive.
This Grandma's Garden flag is customizable so you add her grandchildren's names to the flowers!
A hummingbird feeder is a lovely gift! Hummingbirds are a delight to watch. We decided to get one for my mom's house after seeing a few hummingbirds enjoying her flowering plants.
Home, decor, and kitchen grandma gift ideas
A cute grandma sign for her shelf or wall is always a good choice!
And, of course, I have a to include an abuela sign in Spanish! I love the vibrant colors.
This "la mejor abuela" spoon can be hung on the wall or used as a spoon rest.
For the grandmother who loves throw pillows, there are many throw pillowcase options! (Just remember that most of these listings are for the cover only – you'll need to get a pillow insert separately if she doesn't already have extras.)
My grandmother always used tote bags, and now my mom has quite a collection of reusable bags of her own! This "This Grandma is Fabulous" tote is oversized and features multiple pockets that make it perfect for excursions with the grandkids.
Tea towels are perfect for the grandmother who's always in the kitchen.
This lovely woven afghan for grandmothers has a cute poem, flowers, and butterflies. It's 100% cotton and made in the USA!
If you'd prefer something in more neutral colors, this plush fleece grandma blanket is a good choice. It comes in gift packaging so it's ready to give!
Of course, there are lots of personalized grandma blankets available, too. There are many options on Zazzle that allow you to customize photos and names. Just click on the photos below to check out the details for each blanket! There are frequently coupons available on Zazzle, so make sure to look around for a moment before placing your order to ensure you're getting the best price.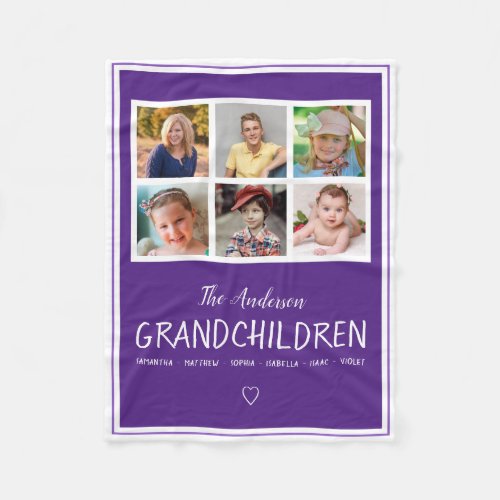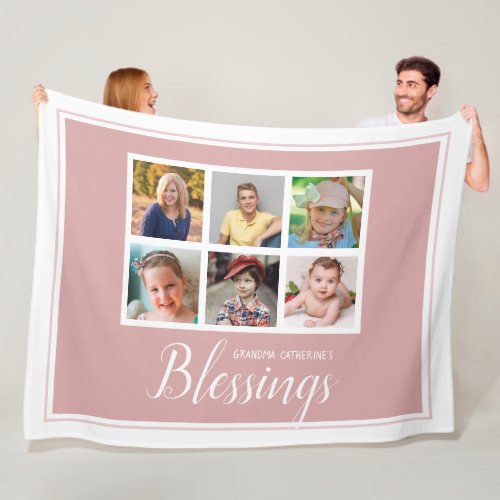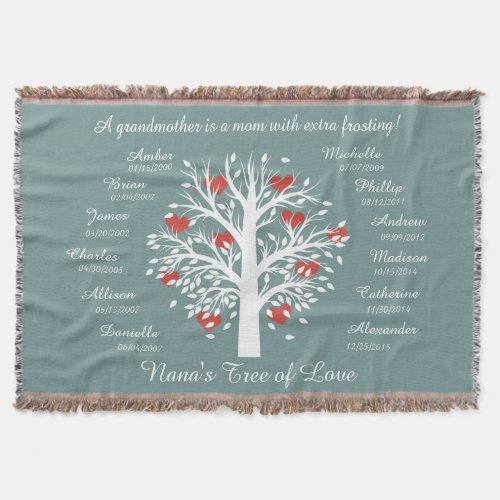 Grandparents 6 Photo Collage Personalized Purple Fleece BlanketGrandma's Blessings 6 Photo Collage Pink Fleece BlanketNana's Tree of Love! Personalized Keepsake Throw
Zazzle is the place to go for personalized signs, too! You can customize designs to have your family's special "grandma name" or add photos.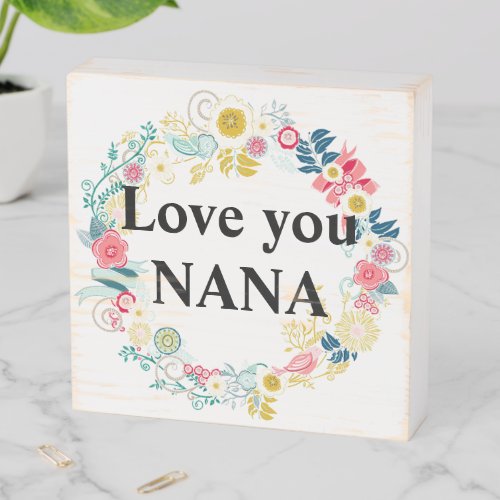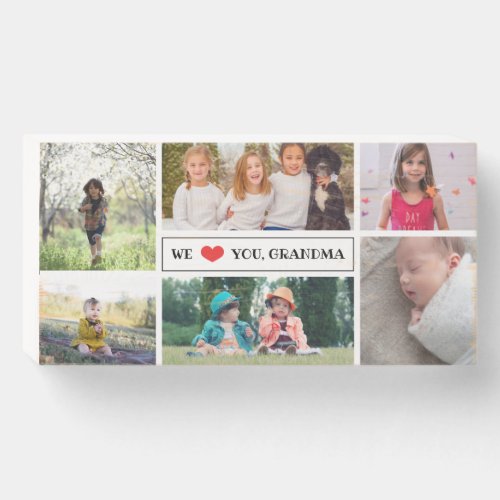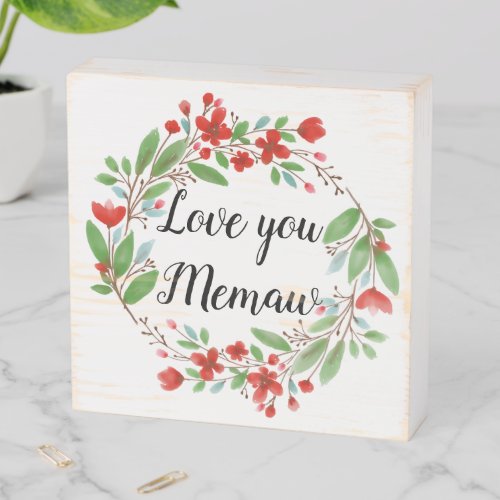 Floral Love You Nana Wooden Box SignWe Love You Grandma Photo Collage Wooden Box SignFloral Love You Memaw Wooden Box Sign
You can't have a roundup of grandmother gifts without picture frames! A digital picture frame is a great alternative to a traditional photo frame, especially if you pre-load it with photos and videos of grandkids!
Cups & mugs for grandma
Whether she prefers coffee, tea, or hot chocolate, there are so many fabulous mugs for grandmothers to choose from!
Travel mugs like these work well for cold beverages, too, and they're perfect for the grandma who's always on the go.
There are also plenty of options for the grandmother who enjoys wine.
Then, of course, there are classic coffee mugs for hot beverages.
This abuela mug reminds me so much of my mother-in-law! (The mug says "my grandmother, the queen of hugs and cookies.) It's one of the few mugs I could find that's all in Spanish, not mostly in English with "abuela" thrown on it.
Jewelry gifts for grandma
This interlocking heart necklace reminds me of a Christmas gift my own grandmother gave me years ago.
This sterling silver interlocking three generations necklace has an amazing 4.9 stars with hundreds of reviews. Its elegant simplicity would complement virtually any outfit.
If your family is lucky enough to have a living great-grandmother, this four generations necklace would be a beautiful choice.
The grandma who prefers a bit of sparkle will enjoy this special necklace!
Of course, not everyone wears necklaces. If the grandmother on your shopping list prefers bracelets, take a look at these fun options!
Of course, I can't forget the abuelas! Here are two abuela necklaces and a sparkly abuela bracelet (that we'll probably have to get my MIL for Christmas because it's just so her.)
Many grandmothers use reading glasses. Today there are many sleek, attractive necklaces that do double duty as eyeglasses holders. They make a very thoughtful gift!
I hope you've enjoyed this collection of gift ideas! I'll be adding to it as I find more grandmother-approved items.
Don't lose track of this post – Pin it now!
More gift guides & ideas
I'm one of those people who likes to do all the research before I buy anything. These gift guides are the results of my research while looking for gifts for my own friends and family members. I hope you enjoy!
Non-toy gifts for two year olds