These free printable spring do a dot pages are a fun, no-prep spring activity for toddlers and preschoolers! Grab these 11 cute spring themed dot marker coloring pages for free today so your little one can start having fun just minutes from now.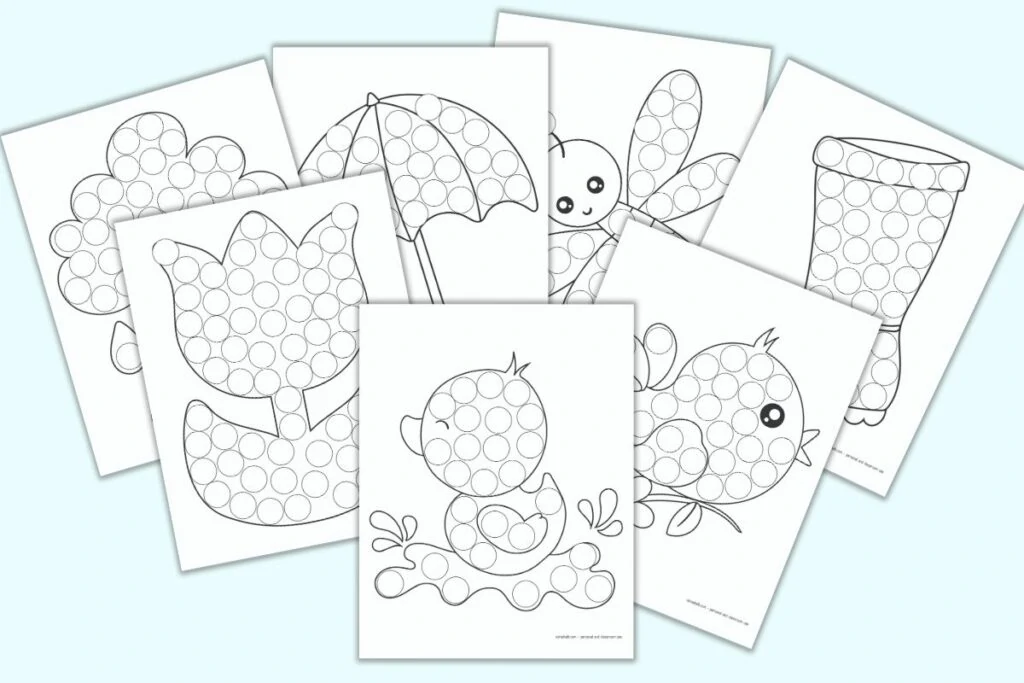 My daughter loves dab a dot painting printables. If your little one loves do a dot markers, too, be sure to check out these additional free printable do a dot pages.
These do a dot printables are an easy way to entertain your child and improve their important fine motor skills and hand-eye coordination. Just print and had them over to your eager little one with markers.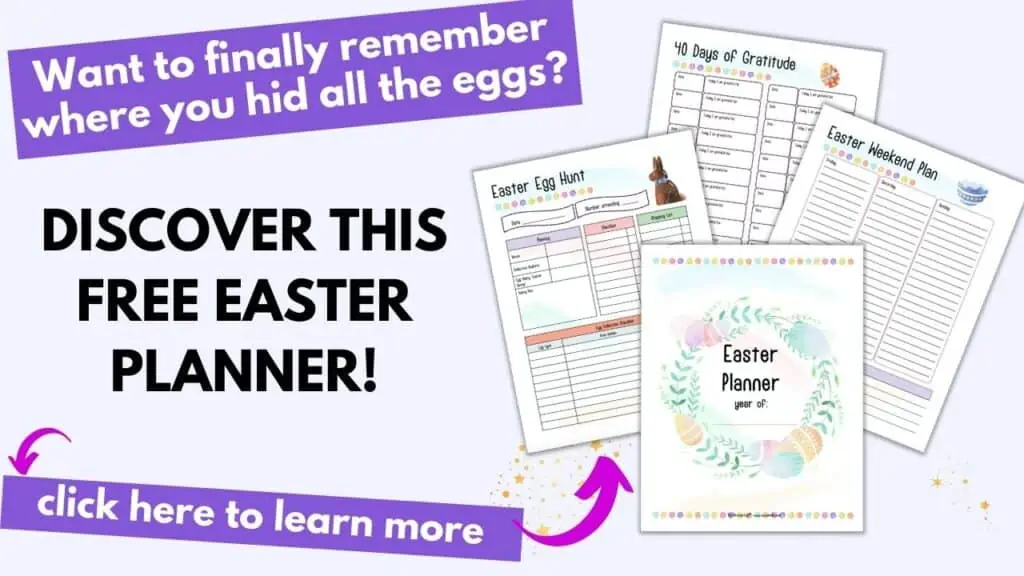 This post may include affiliate links which means I may earn a commission on qualifying purchases at no additional cost to you.
Are do a dot coloring pages developmental?
Do a dot marker pages are no prep fun. They're also beneficial for your child's development.
Do a dot worksheets help your child develop skills like their hand-eye coordination, grip strength, finger strength, manual dexterity, and fine motor skills.
This is very important. Educators are increasingly noticing children entering school with poor fine motor skills.
Researchers posit this is because of increased screen time and decreased time for other non-screen activities. One study found that preschooler's manual dexterity was inversely related to their screen time.
In other words, the more screen time the preschooler received, the worse their manual dexterity was. Screen time is also associated with behavioral problems in preschoolers.
Life with a preschooler can be challenging. Sometimes you just really need a minute of peace and quiet to yourself. These do a dot pages are great to have on standby for those times.
These printables can also make a great part of your regularly planned spring homeschool preschool lesson plans.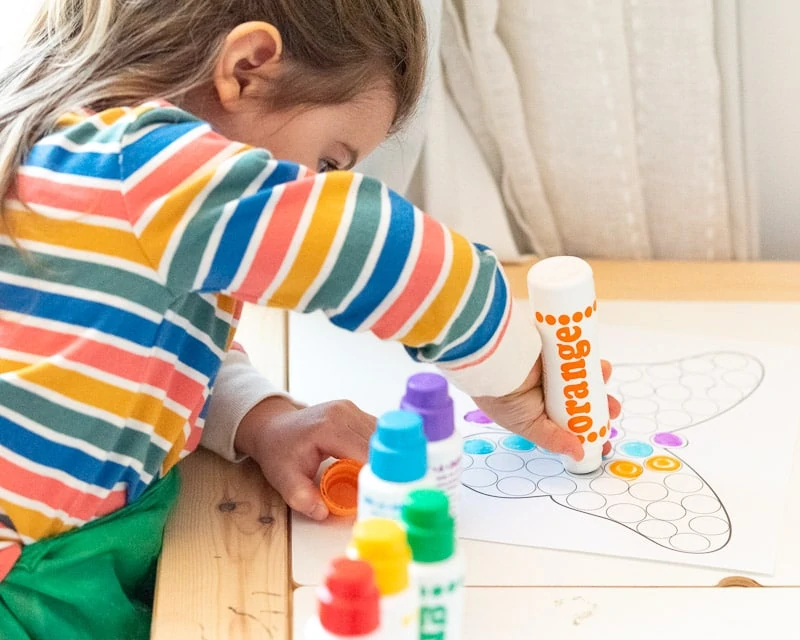 How to use dot marker printables
These pages were based on the measurement of my daughter's Classic Do a Dot Markers. The circles are perfectly sized for this brand of markers, but they also work fine with other dauber style markers.
For an easy, no-mess activity, use these dot printables with round label stickers. This makes a great quiet activity for car rides, plane trips, and doctor's offices. Make sure to get 5/8″ or 3/4″ round stickers – 1″ round stickers are too big for the circles on the printables.
For a greater challenge, have your child cover the circles with pompoms or big buttons. We've been using this set of wool pom poms with our winter activity printables:
Free spring dab it pages download
This set of spring dab it coloring pages includes 11 images:
A butterfly
An umbrella
A bee
A tulip
A rain boot
A raindrop
A watering can
A duck in a puddle
A bird on a branch
A dragonfly
A raincloud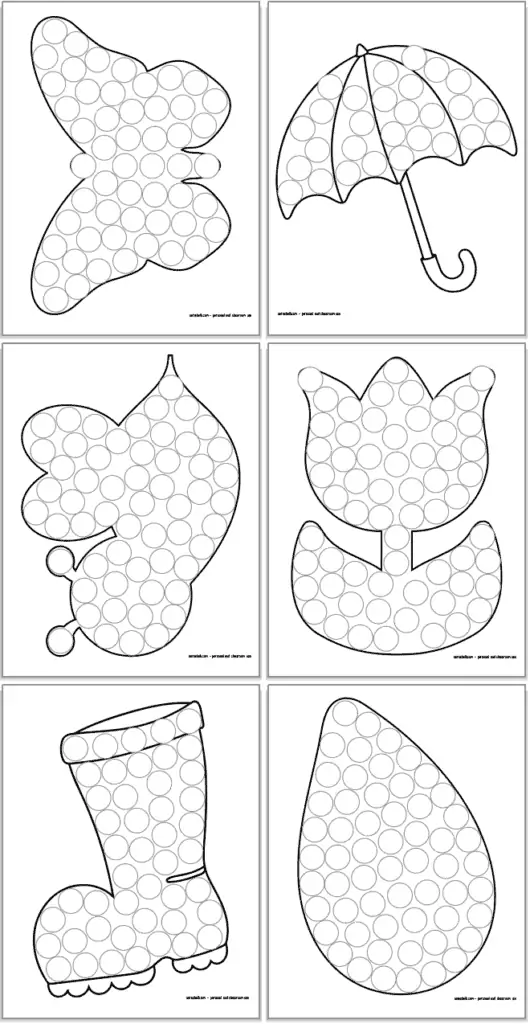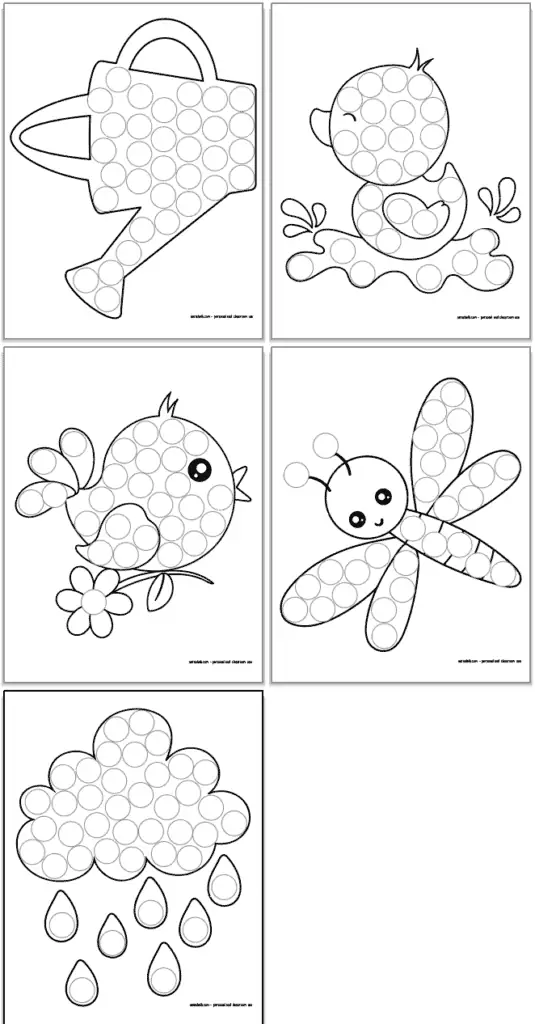 Like other free printables on The Artisan Life, these are for personal and single classroom use. This other use with scout groups, homeschool co-ops, Sunday school classes, your own therapy clients, etc. You are welcome to print and use them as many times as you you want for your own children, students, therapy clients, scouts, etc. as long as you are personally organizing the activity and not charging specifically to participate.
You are not licensed to sell, or redistribute the files to other adults for use with their students/children. Instead, please refer them to this post so they can download their own copies.
I hope your little learner loves these do a dot pages as much as mine does!
Free printables for spring
These free printables for spring are low-prep fun for children and adults.