This free spring word search printable is available in color or ink-saving black and white! Grab your word search printable today – no email address required.
I love word searches. Creating and sharing themed word searches is a lot of fun, too! That's why I created this spring word search printable for you to use at home or in the classroom. I hope you enjoy!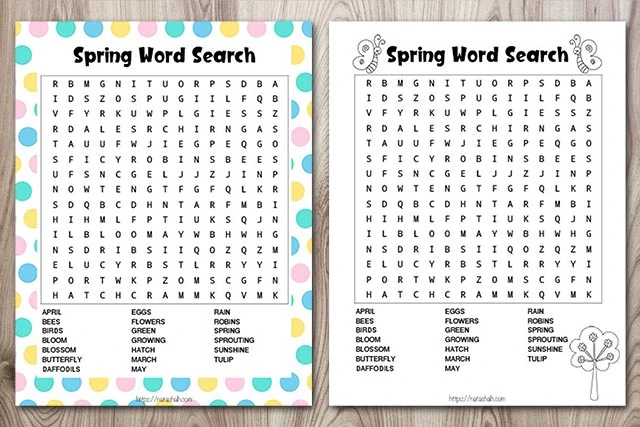 The words in this puzzle are all spring-related and not specific to any spring holiday. You can find an Easter word search here with both secular and religious versions.
Benefits of word searches
Word searches aren't just an easy substitute teacher activity or a screen-free way to keep your kids busy for a few minutes.
Some word search benefits include:
Improved letter and pattern recognition
Improved spelling
Improved working memory
Improved attention to detail
Improved focus and concentration skill
Increased vocabulary
Word searches are particularly beneficial for elementary students and English language learners. Word searches can be valuable for adults, too, especially older adults.
And, of course, word searches are an easy no-prep way to keep your kids busy. They're portable which makes them a great screen-free activity for doctor's visits, restaurants, and airplane trips.
To make the word search easier to use on the go, make sure to pack a clipboard for your little one!
Related: Free printable spring bingo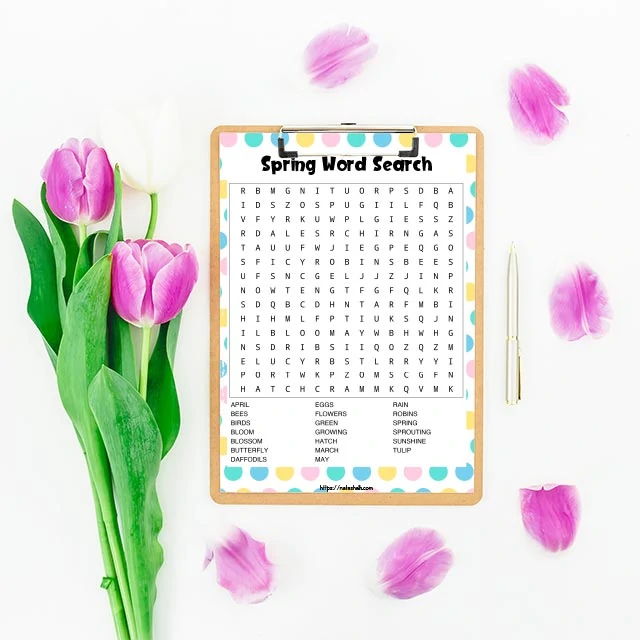 Free printable spring word search
These printables are available free for personal and classroom use. You are welcome to make as many copies as you'd like for your own children, students, scouts, etc. as long as you are personally organizing the activity.
Please do not redistribute the digital files or printouts to other adults for use with activities they are organizing. Just send them to this page so they can download their own copies! (Yes – it's fine to leave them with a substitute teacher. Please just don't give them to other teachers for their classroom use. Thanks to the considerate folks who've asked for clarification!)
Both word searches have the same set of words and share an answer key. There are 20 spring-related words to search and find. Words can be hidden forwards, backwards, and on the diagonal. Words can also share letters with other words. Don't worry – the answer key is included!
Download links are located below each preview image. I've highlighted the links with a grey box to make them easier to find! Please do not print the preview image – it's a low resolution file that will look terrible if printed.
Colorful word search for spring
First we have a cute, colorful word search with a pastel dots background:
Related: Free printable spring coloring pages
Black and white spring word search printable
Next there's an ink-saving black and white spring word search with spring coloring page elements.
Make sure do download these additional free printables for spring while you're on The Artisan Life:
Free Spring Printables
These free printables for spring will help you celebrate the season!