This free spring memory game printable is a low-prep, screen-free spring activity for kids! Older children can use it as a memory game and toddlers can play it face-up as a spring matching game. Keep scrolling to download your copy for free.
When I started making matching game printables a few months ago, I never imagined how much my daughter would love them. She gets so excited each time I create a new themed set of matching cards! (When she saw these, she announced "I have it bike, flowers, yay!")
I hope your children love these cute memory cards for spring as much as my daughter does.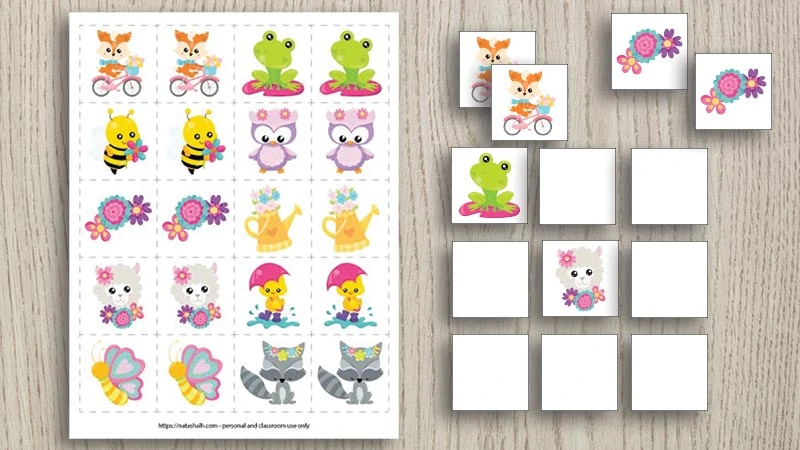 A quick head's up: this spring memory game printable features general springtime images. If you want an Easter memory/matching game, you can download it in this post.
How to print and use memory/matching cards
This post may include affiliate links which means I may earn a commission on qualifying purchases at no additional cost to you.
You probably won't be very please with the results if you print these memory cards on plain paper.
Instead, print the cards on cardstock or, my personal favorite, presentation paper. Presentation paper is a heavyweight paper with a special coating for crisp, vibrant images. If I'm going to use my colored ink, I want my printables to look their best!
For added durability, laminate your cards. I have a toddler, so laminating everything is a must. You can take the printable to an office supply store and have it laminated. I love having my own home laminating machine so I don't have to drag my daughter to Staples every time I want something laminated.
You can also go middle school on these cards and "laminate" them with clear packing tape. It's definitely not the same thing, but I've done it and it's better than nothing!
Finally, cut the cards out. You can use scissors or a paper cutter. Unless you have access to a heavy-duty paper cutter, it's easier to use scissors if your cards are laminated.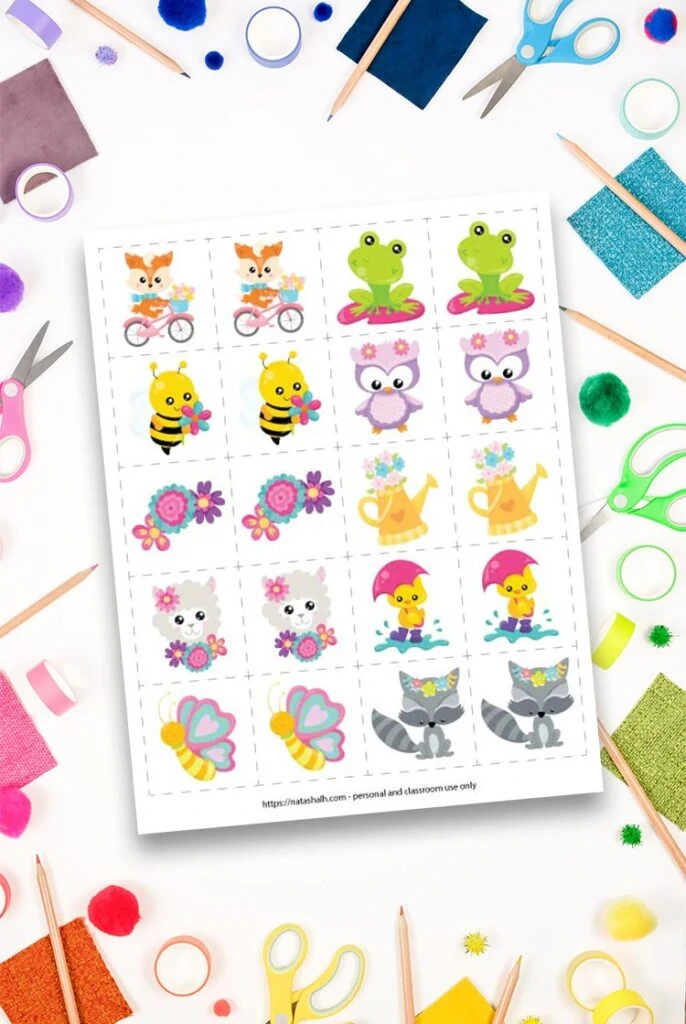 Related: Free printable spring bingo
How to play memory
Playing a game of memory with these spring cards is easy.
To play memory or concentration, place all cards face down in a grid. Have your child turn over any two cards.
If the cards match, they get to keep the pair.
If they don't match, flip them back over and try again.
This game can be played solo or with two or more players.
The game is over when all the cards have been matched.
To play a modified memory game, place half the cards face up and half the cards face down. You can also play a smaller game of memory with only a few pairs at a time. My toddler can play memory with up to four sets of cards as long as I'm there to help.
To use these as spring matching cards for toddlers shuffle the cards and place them all face up. Ask your child to find pairs of cards. For example, I ask my daughter "Can you find a butterfly?" Once she finds it I ask "Can you find the other butterfly?"
I don't have pictures of my toddler playing the spring version (yet), but you can see her playing with the St. Patrick's Day memory cards.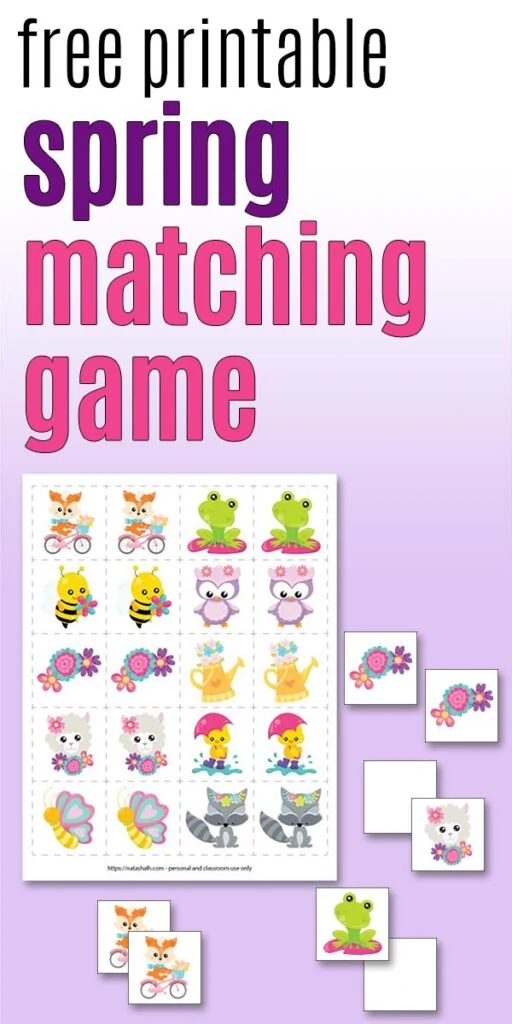 Free printable spring memory game
Alright, let's get to the printables!
These printable memory/matching cards are available for personal and classroom use. Please do not redistribute the digital files or printouts to other adults for their use. Just send your friends and coworkers to this post so they can download their own copies!
The preview image is low resolution and not for printing. Please use the download link below the picture to get the high resolution PDF file.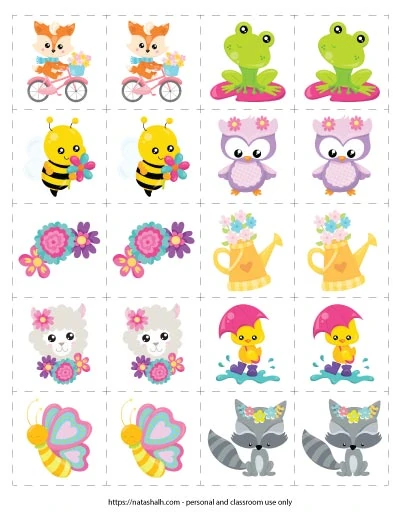 Download the matching card/memory game printable for spring here
Want even more low-prep kids activities for spring? Make sure to claim your free printable woodland animal activity pack today!
Free Spring Printables
These free printables for spring will help you celebrate the season!