This printable spring bingo is perfect for parties and everyday fun! Download 14 spring bingo games for free or grab an entire classroom set of spring bingo boards.
I absolutely love making and sharing printable bingo cards. The emails I get from readers telling me how they used their picture bingo cards with their children, classroom, or even with the elderly make my day. Seriously. I love making and sharing high-quality, low cost printables with the world.
These printable spring bingo cards were an absolute joy to make. I hope using them brings joy to you, too!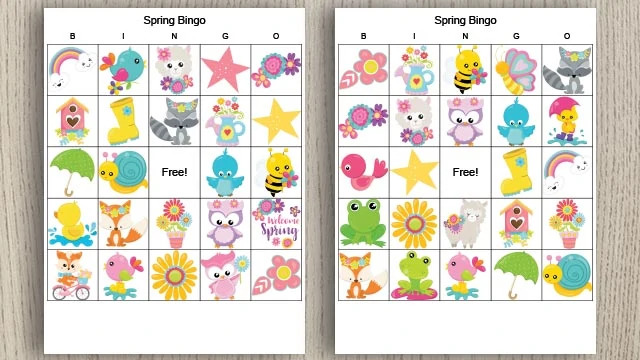 These picture bingo cards for spring feature a variety of cute images. Frogs, foxes, llamas, owls, birds, flowers, rainbows – these cards have it all!
If you're looking for bingo games for spring holidays, you can find free printable Easter bingo here and St. Patrick's Day bingo here.
How to play picture bingo
This post may include affiliate links which means I may earn a commission on qualifying purchases at no additional cost to you.
My husband used to get caught up on picture bingo and didn't understand how you could play bingo without that little spinning wheel with numbered balls.
It's very easy to play picture bingo.
Make sure to print the two sheets of call cards at the end of your PDF. Do not cut up a spare bingo card. Each card doesn't have all the possible images.
Cut out the call cards and place them in a bowl. Draw them randomly and describe the picture/show it around.
Because many of the images are somewhat similar (for example, there are different color/styles of flowers), it's a good idea to show players the picture. Having to seek out similar images helps children practice their attention to detail and visual discrimination skills!
I recommend printing bingo cards on white cardstock or, my personal favorite, presentation paper. Presentation paper is a heavyweight paper with a special coating for crisp, bright images.
I like to laminate bingo cards so they can be reused. Tuck the away with your seasonal decorations or classroom filing cabinet to use them again next year! You can also slide the boards into dry erase pockets instead of laminating them.
To make the bingo game even more enjoyable, use small prizes like mini erasers, animal crackers, or even stickers (on the paper backing) as bingo markers.
And, of course, remember to have fun!
Printable bingo for spring
Like all Artisan Life printables, these bingo cards are available for personal and classroom use. This includes use with your scout troop, homeschool co-op, Sunday school class, etc. You are welcome to print and use them as many times as you'd like – as long as you're directly involved with organizing the activity.
Please do not redistribute the files to other adults for their use – just send your friends and coworkers to this post so they can download their own copies!
There are three different sets of bingo cards available. All of the cards are unique, which means they can be combined for a total of 44 spring bingo cards. The sets of 10 and 4 are free!
Classroom set of spring bingo cards
If you want to play bingo with a crowd, this set of 30 bingo cards is for you! You can purchase the set of 30 spring bingo cards for one very low price.
Set of 10 free printable bingo cards for spring
Next we have a set of 10 spring bingo cards. This set is available free to Artisan Life members. Just fill out the form below the preview image to let me know where to email your bingo cards.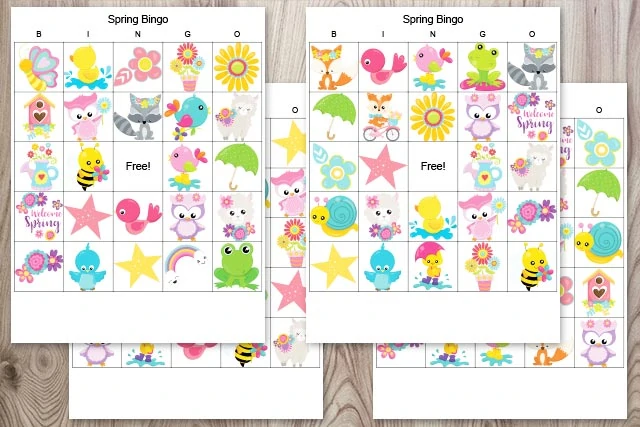 Set of 4 free printable spring bingo cards
This set of four spring bingo boards is free to download in this post – just follow the download link below the preview image. It should start to download automatically, but you may need to authorize downloads from Dropbox if asked for permission. You do not need an account or their app.
I hope you enjoy playing this spring bingo game as much as we do!
Free Spring Printables
These free printables for spring will help you celebrate the season!