These free printable penguin letter matching cards are a fun, low prep way to help your little learner practice matching their uppercase and lowercase letters. They're a great fit for your homeschool preschool winter theme or a polar theme.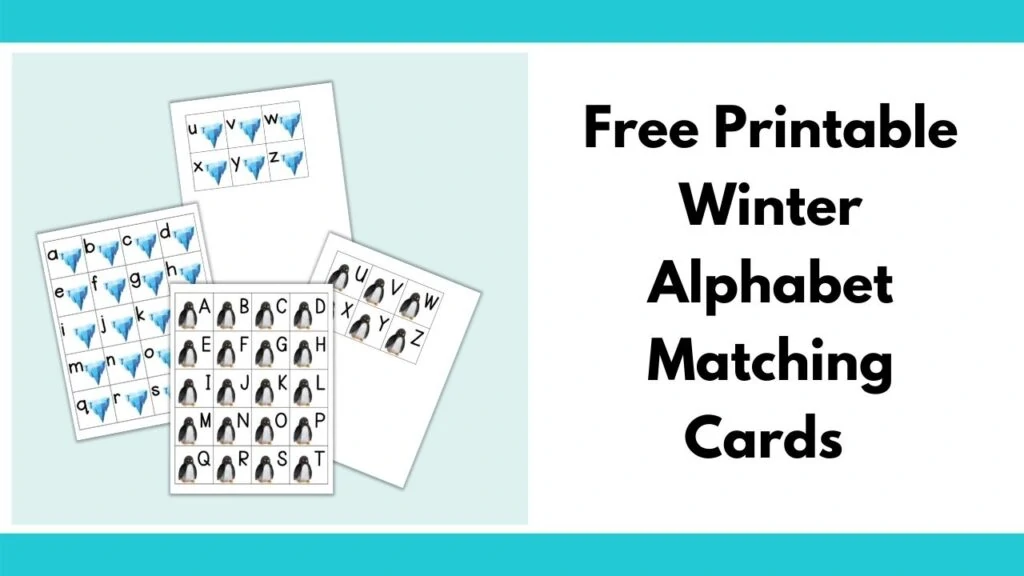 Letter matching activities help preschoolers and kindergarteners associate the lowercase letters with their uppercase counterparts. They're low-prep and make a great addition to a literacy center or to your go-bag of activities. When laminated, they're durable enough to use repeatedly and easy to wipe down with a cleaner at the end of the day.
These free printable penguin uppercase and lowercase letter matching cards feature cute penguins on the uppercase letters and icebergs on the lowercase letters.
These free printable winter do a dot marker pages, winter tracing pages, and free printable winter picture bingo boards are also a fun addition to your winter preschool theme. Make sure to snag them while you're here!
Teaching letter case matching to preschoolers
This post may include affiliate links which means I may earn a commission on qualifying purchases at no additional cost to you.
There are different ways to teach your child the alphabet. Some educators teach uppercase letters first, but others teach lowercase first. There are valid arguments for both options. Uppercase letters can be easier to tell apart, but lowercase letters can be easier to write and are more common.
Some educators and websites will tell you that one way is correct and the other is wrong. Based on my experience as a classroom educator and mom, I simply don't believe that's true. The best method for one child may not be the best method for another. Always "follow the child" and do what works best for your situation.
I personally teach my daughter lowercase letters first, as in the Montessori method. (I also teach letter sounds and am not teaching the alphabet in "alphabetical order." Living Montessori Now has a thorough post on what order Montessori teaches letters in and why.)
Whether you teach upper or lowercase first, your child will have to know both to read successfully. These cute, free printables can help!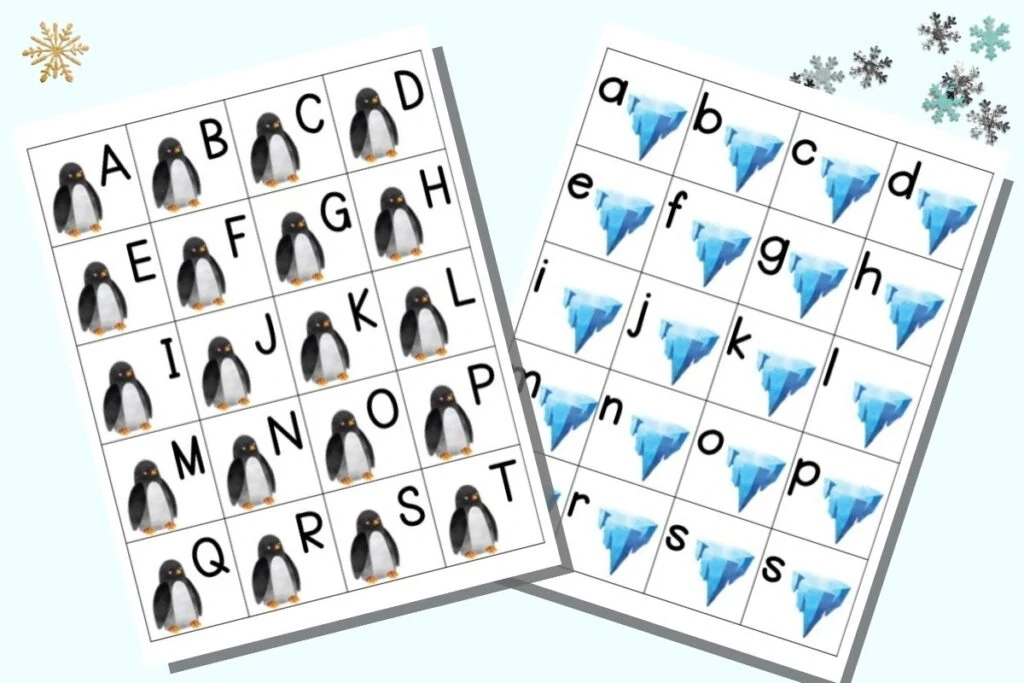 How to use and prepare letter matching cards
These cards are easy to prepare and use.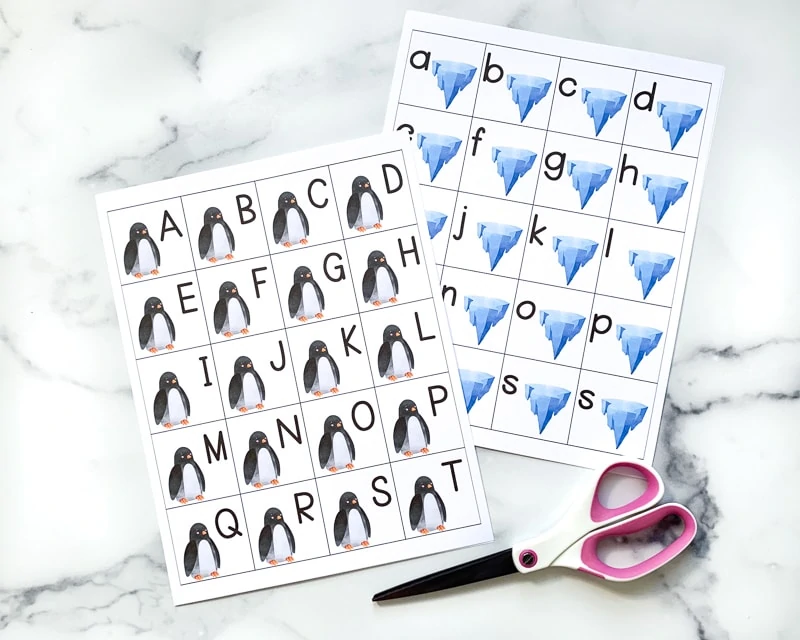 Materials needed: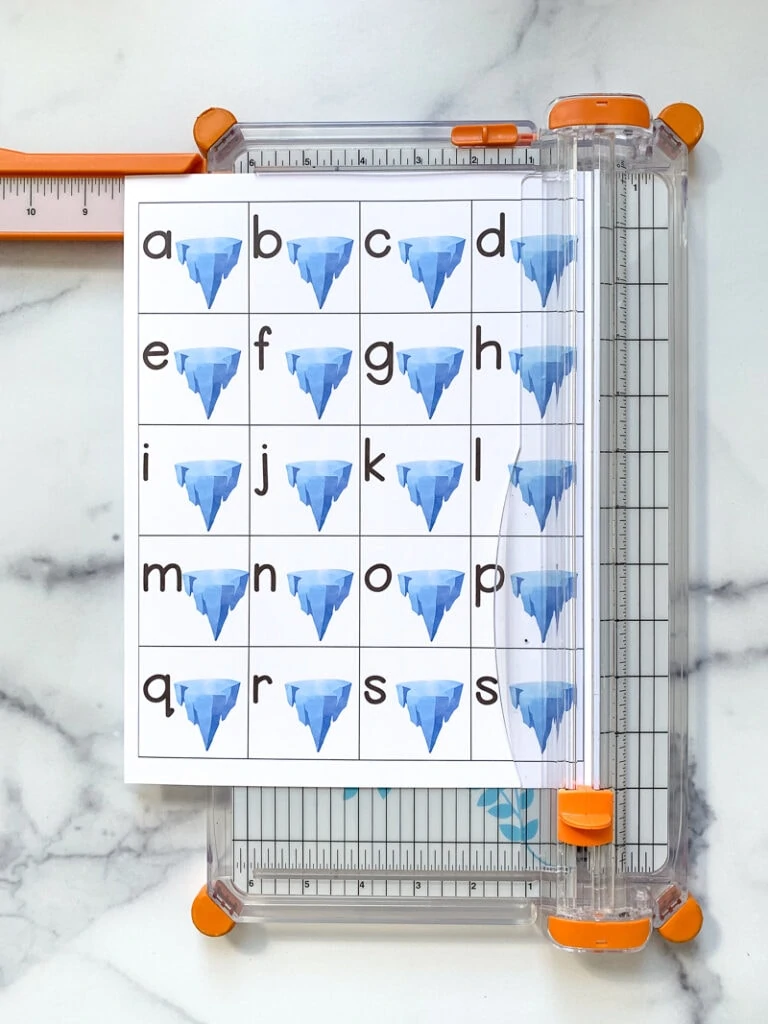 How to use alphabet matching cards:
Download and print your alphabet matching cards (keep scrolling until you see the "download here" picture.)
Laminate the pages first, unless your laminator instructs you differently. My laminator says to laminate pages, then cut.
Cut the cards. A paper cutter or paper trimmer works best, but you can use scissors. If your child is a bit older (4-5 years) and working on their cutting skills, you can have them use a pair of blunt-nosed small scissors to cut the cards. You can also cut the cards into strips, then have your little learner snip the cards apart. We use these small scissors from Fiskars.
If you don't have a laminator, you can protect the cut cards with a layer of clear packing tape. It isn't the same, but it's more protection than nothing!
Introduce a few letters to your child. I recommend starting with the four letters your child knows best in the case they know best. If your child is already proficient with letters, you can use more to begin with – even the whole set.
Review these four letters, then introduce the matching pairs. Telling you child that each penguin needs an iceberg can help them remember to match penguins and icebergs if they're still working on the concept of uppercase vs. lowercase. The letters are conveniently placed on the cards so the uppercase and lowercase versions will be next to each other if you place the penguin card on the left and the iceberg on the right: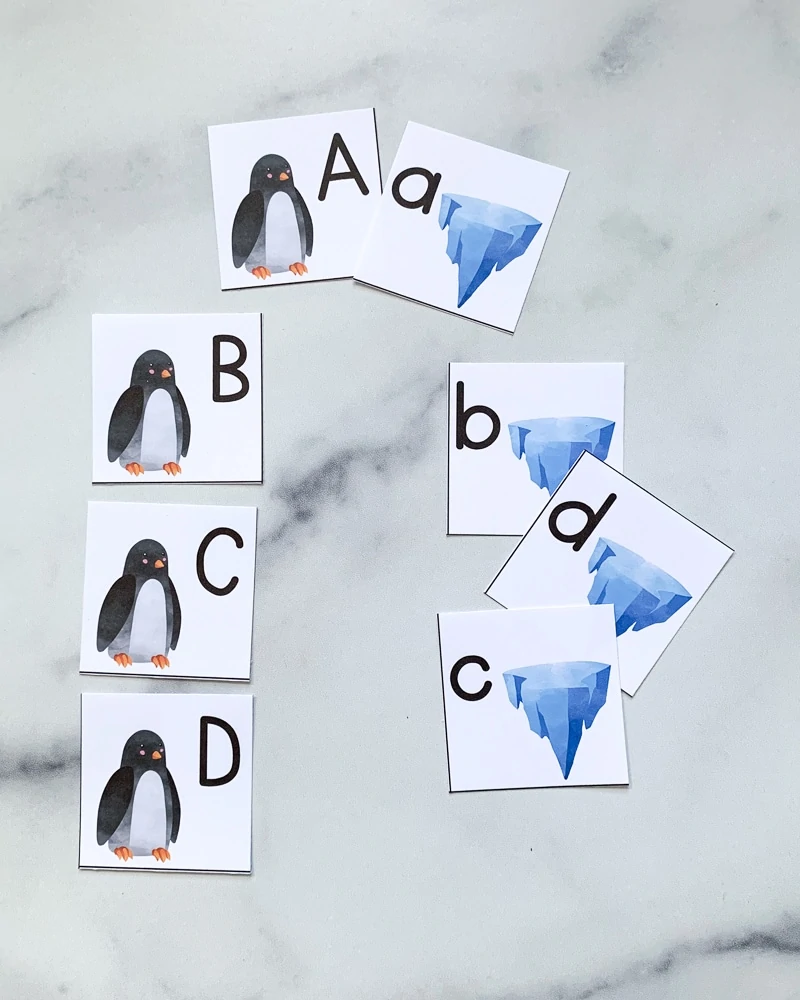 I love the "I do, we do, you do" method for activities like this. First you model how to match the letters, then you have your child help, and finally they do it independently.
An alternative, lower-prep way to play is by only cutting one set (uppercase or lowercase) into tiles. Have your child place the matching tiles onto the un-cut pages. You can even turn this into a cut and paste activity if your child loves gluing.
Printable letter matching cards download
Like all preschool printables on The Artisan Life, these are for personal and single classroom use (including use with scouts groups, therapy clients, homeschool co-ops, etc.).
You are not licensed to redistribute the digital files or printouts to other teachers/parents for use with their children or students. Instead, please refer your friends and coworkers to this page so they can download their own copies.
There are two ways to get these printable letter matching cards for winter. You can snag them along with 10 other winter-themed preschool activities for one very low price, or get the individual activity PDF for free.
The winter preschool learning bundle is a fantastic deal that saves you significant time. Eleven winter-themed learning activities for reading, math, fine motor, and emotional literacy skills are packaged together at one very low price.
Keep scrolling for the free individual PDF download link.
Ready for the freebie link? Click the box below:

I hope your little learner enjoys these winter alphabet matching cards as much as mine does! Be sure to grab these additional free printables while you're here:
Preschool Alphabet Printables
These alphabet coloring pages are a fun, no-prep way to introdue the alphabet to your little learner.
Get your chid's body invovled with learning the alphabet with these free printable alphabet play dough mats.