These free printable winter do a dot pages are the perfect indoor activity for cold days! Grab these 12 cute winter dot marker coloring pages for free today so your little one can start having no-prep fun in minutes.
My daughter adores dab a dot painting printables. In fact, she even uses her dot markers on "regular" coloring pages! If your little one loves do a dot markers, be sure to check out these additional free printable do a dot pages.
These winter do a dot printables are an easy way to catch a few minutes of time without a child literally climbing your leg. Just print and had them over to your eager little one with markers.
Winter is a great time to unplug. Instead of staring at a screen when winter weather strikes, grab a no-prep printable that celebrates the fun parts of cold weather
Your entire family can play along with this free printable winter picture bingo and kids love these free printable winter I Spy games. Visit this page for all the free printables for winter currently available on The Artisan Life.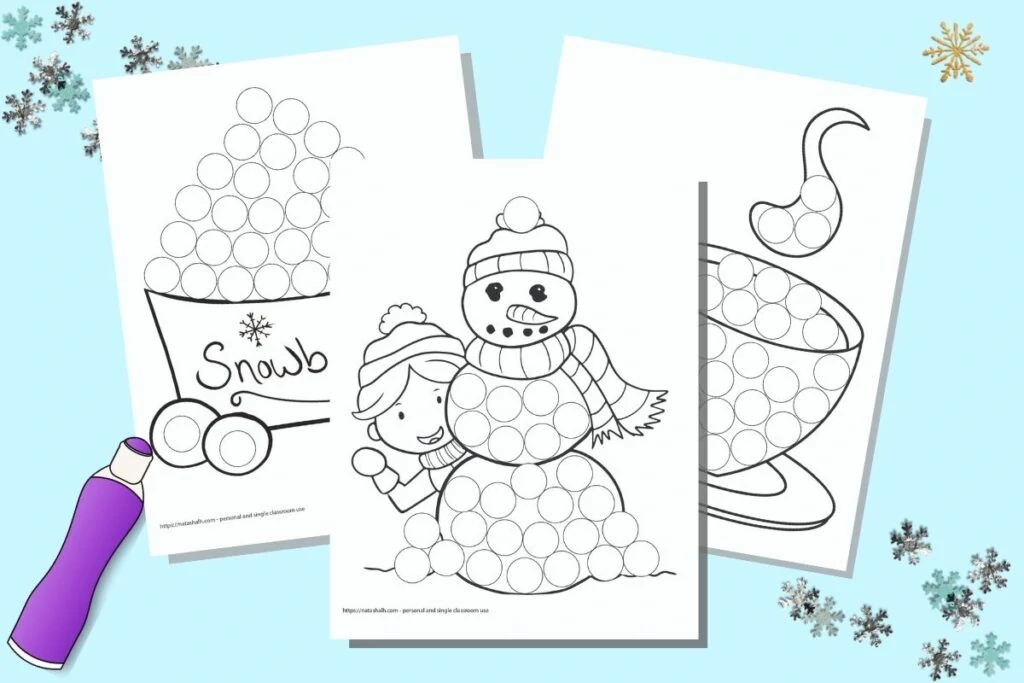 This post may include affiliate links which means I may earn a commission on qualifying purchases at no additional cost to you.
Benefits of do a dot printables
Do a dot marker pages aren't just no-prep fun – they're beneficial for your child.
Do a dot worksheets can help your child develop skills like their hand-eye coordination, grip strength, finger strength, manual dexterity, and fine motor skills.
Unfortunately, more and more children are starting school with inadequate fine motor skills and poor manual dexterity.
Researchers think this is because of increased screen time and decreased time for other non-screen activities. This study found that preschooler's manual dexterity was inversely related to their screen time. In other words, the more screen time the preschooler received, the worse their manual dexterity was.
I know sometimes you really, really just need a break no matter what. I've been there, done that. But instead of listening to Baby Shark for the 27,538th time, try giving your ears a break with these winter do a dot pages.
How to use dot marker pages
These pages were based on the measurement of my daughter's Classic Do a Dot Markers. The circles are perfectly sized for this line of markers, but they also work fine with other dauber style markers. 
A reader recently emailed to ask where we found our markers. This is the exact set we have. According to Amazon, I ordered them on May 19, 2019. We've been using them ever since and they're still working fine.
It's best to store your markers on their sides (with lids tightly closed!) to keep the dauber foam coated with ink.
For a no-mess activity, use these dot printables with colorful round label stickers. This makes a great quiet time activity for car rides, plane trips, and doctor's offices. Make sure to get 5/8″ or 3/4″ round stickers – 1″ round stickers are too big for the circles on the printables.
Another fun way to play is with small manipulatives like pompoms or big buttons. We've been using this set of wool pom poms with our winter activity printables:
Glaciart One Wool Felt Balls, Felt Pom Pom Balls (120 Pieces) 1.5 cm - 0.6...
15mm Handmade Felt Wool Balls: These rainbow felt wool balls are handmade in Nepal with a careful touch that creates uniform poms in the 1.3-1.7cm...
40 Color Craft Assortment: With Glaciart One what you see is what you get, so unlike cheap options, you get the 40 colors shown in the pictures for a...
120 Needle Felting Ready Poms: Crafters say the soft texture on these wool pom pom balls lets your needle travel easily making them great for core...
Free printable winter dab it pages
Like all free printables on The Artisan Life, these are licensed for personal and single classroom use. This includes use with scout groups, homeschool co-ops, Sunday school classes, your own therapy clients, etc.
You are welcome to print and use them as many times as you you want for your own children, students, therapy clients, etc. as long as you are 1) personally organizing the activity and 2) not charging specifically to participate.
You are not licensed to sell, or redistribute the files to other adults for use with their students/children. Instead, please refer them to this post so they can download their own copies.
I've had several considerate teachers ask if they can share these with their virtual classroom. Yes, that's okay (and thank you for asking!) but I ask that you please send parents to this page to download their own copies if possible. The pages are free and no email sign up is required so please link to this page and not the printable. The Artisan Life is user-supported. I rely on your support and cooperation in order to keep making you free printables like these.
Winter dot marker images in the set include:
A pair of mittens
A winter hat
A cute penguin
A snowflake
A scarf
An ice skate
A polar bear
A bucket of snowballs
A snowman with a child
A skating snowman
A cup of hot chocolate
A cute fox
Your download information is located below the preview images. The pages are shown in groups to help this page load more quickly, but each image has its own page in the PDF file.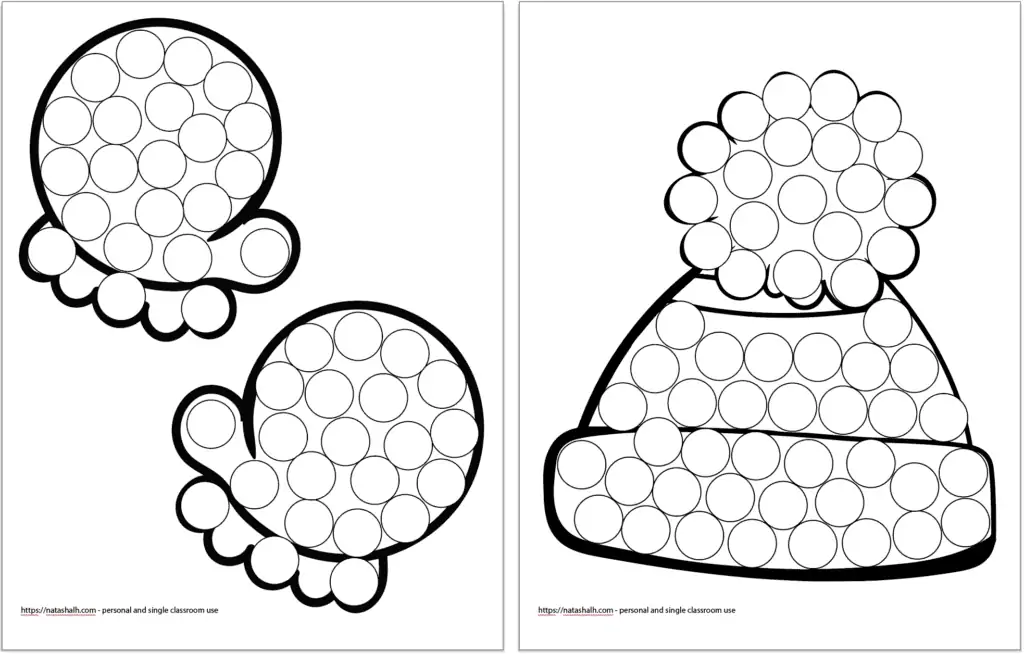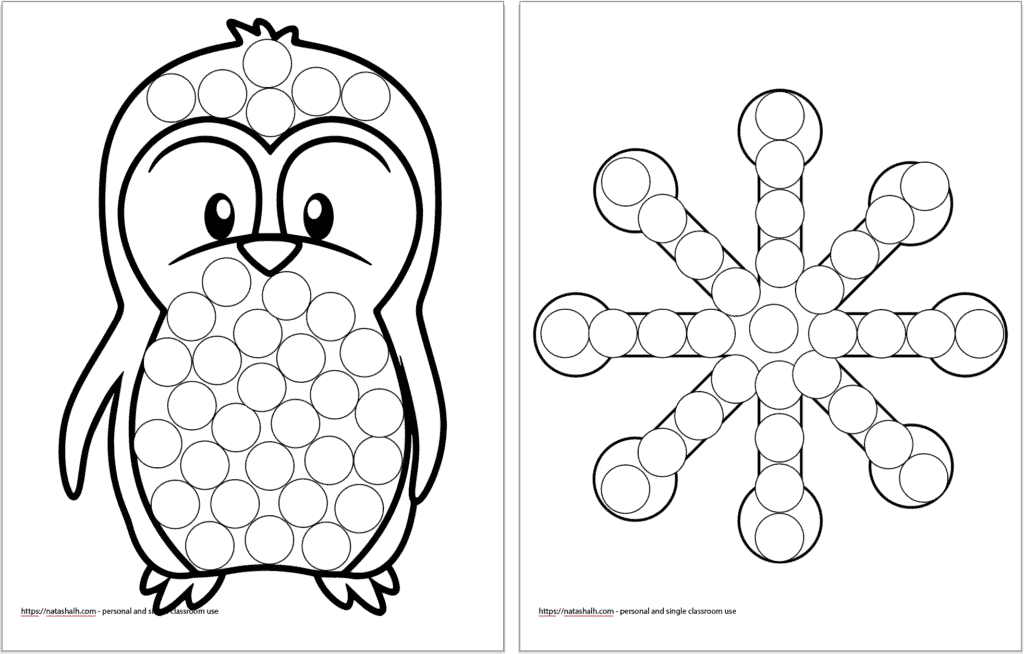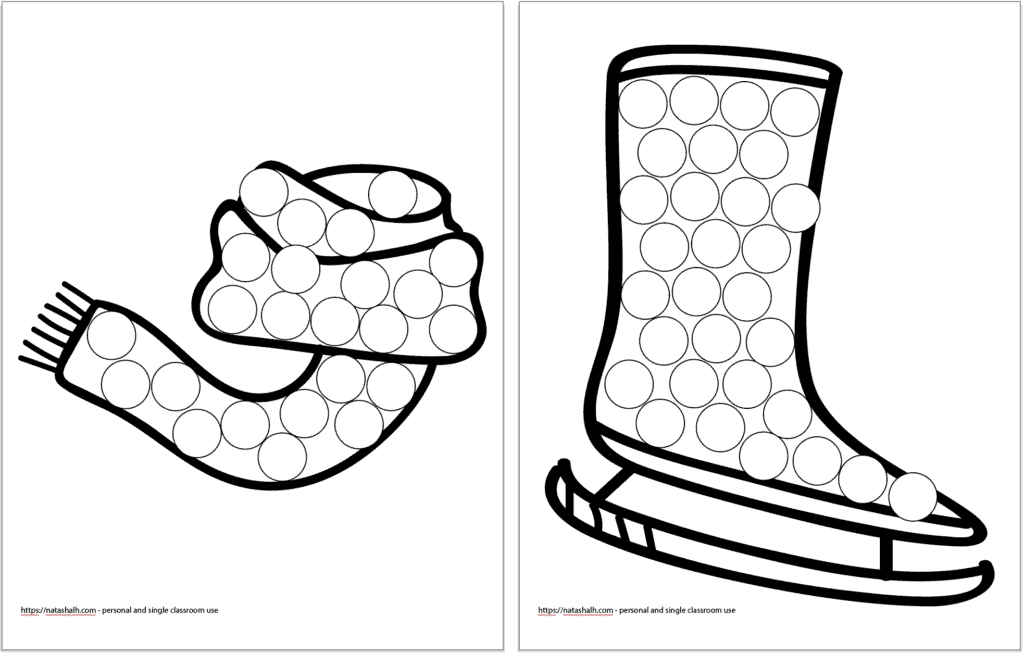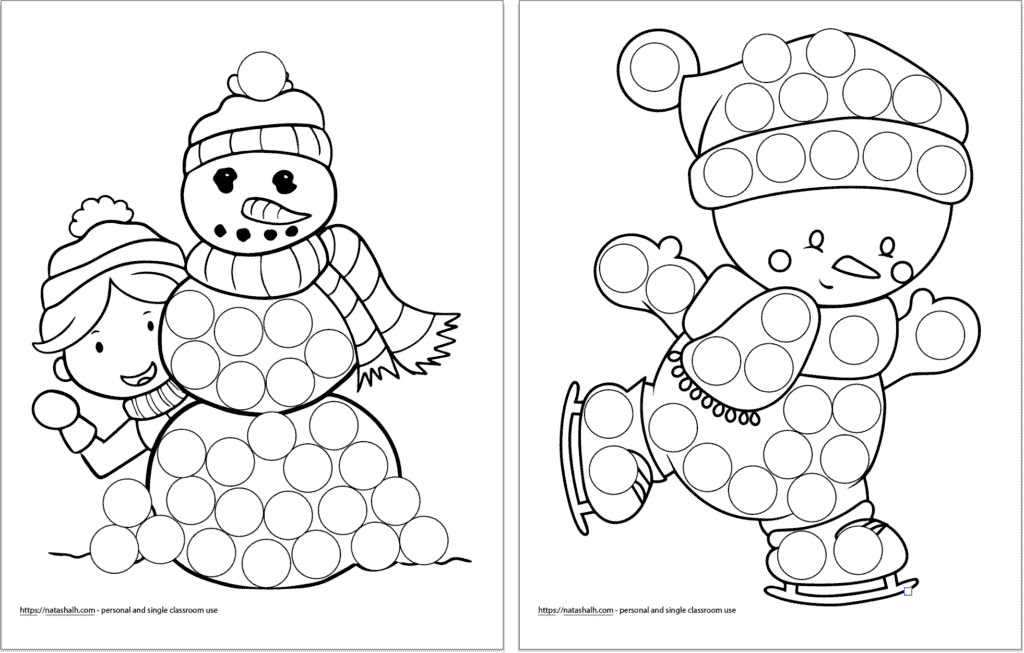 Download these additional winter themed printables on The Artisan Life to keep your family busy and learning, screen-free:
Winter printables and activities
Need more winter printables and activities to keep your kids busy on a cold day?