This printable winter bingo is the perfect way to have fun on a cold winter day!
These winter bingo picture cards are a cheerful way to brighten a dreary winter day. They're also great for your child because they encourage paying attention to detail, listening carefully, and practicing visual discrimination. I hope you have as much fun playing with them as my family does!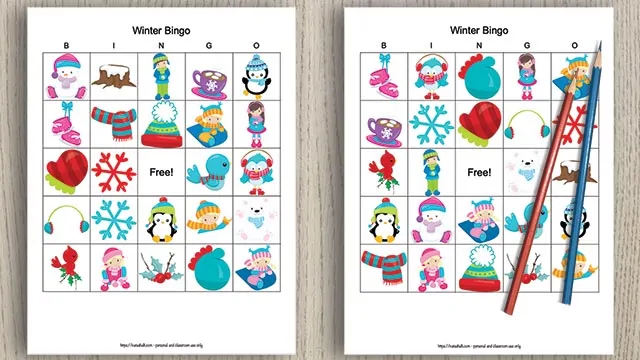 Tips for using bingo printables
This post includes affiliate links, which means I may earn a commission on purchases made through links at no additional cost to you.
I'm a huge fan of reusing items as much as possible. I also know how enthusiastically young children tend to play with things! That's why I recommend printing your winter bingo boards on cardstock or presentation paper.
Cardstock and presentation paper are both sturdier than plain printer paper. Images look nicer and more vibrant on presentation paper because it has a special coating, but cardstock is less expensive.
In the picture below, you can see my printable mermaid bingo on presentation paper (left) and cardstock (right). The difference is more obvious in real life, but you can see the board on the left has more vibrant images.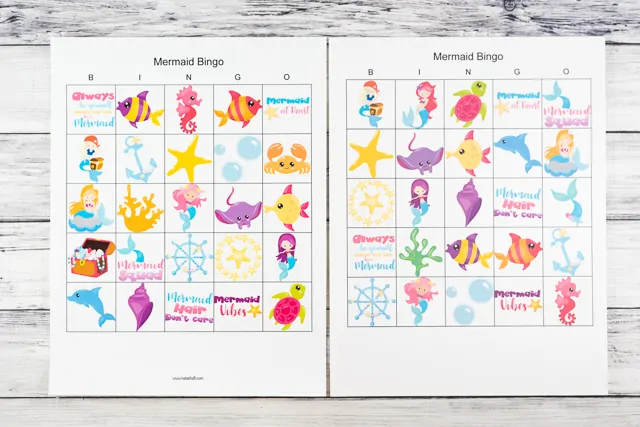 I also recommend laminating the bingo boards or using dry erase pockets, which are basically heavy duty page protectors. Laminating the bingo boards protects the from sticky hands and spills, plus it means you can use dry erase markers or stickers to mark off called pictures.
I worked at a copy shop after college, so I know taking pages to have them laminated adds up quickly. If you plan to laminate more than about 15 pages ever, it makes sense to buy your own inexpensive home laminating machine.
To make this winter bingo game even more fun, consider using prizes like small erasers or stickers to mark off called images!
If your children are old enough, you could also use mini marshmallows (and then make hot chocolate after the game!) or other small candies. For extra fine motor practice, have your kids place pompoms on their cards with tongs.
Printable winter bingo cards
First, some important housekeeping: these bingo boards are for personal and classroom use. Please do not redistribute the digital files or printed copies to others (except for use with your own kids, classroom, scout troop, etc.). Instead, just send your friends and coworkers to this page so they can download their own copies!
To play, cut the call sheet into pieces and place them in a bowl or have an adult call them off randomly. You can also print an extra board and cut it up to make tiles to draw.
We have two different sets of winter picture bingo boards: a set of 24 unique boards for one very low price and a set of 4 boards completely free.
You can purchase a set of 24 cards for one very low price. Please note that 4 of these are the same as the freebies, but I wanted to make it simple for people to get the whole set with just one click.
This set of printables is perfect for classrooms, scout groups, homeschool groups, etc. If you're looking for the smaller free set, just scroll a tiny bit more.
Free printable winter bingo boards
Next we have a set of four free printable winter bingo boards. These boards are available for free, no email address required.
If you enjoy free printables, I encourage you to become an Artisan Life member! I give away at least one premium printable for free each month to members. Join today (and get a free gift) using the form further down the post!
Just use the download link below the preview image to grab your bingo boards! The PDF includes call sheets. You can also print an extra copy of one bingo board and cut it up to make call cards.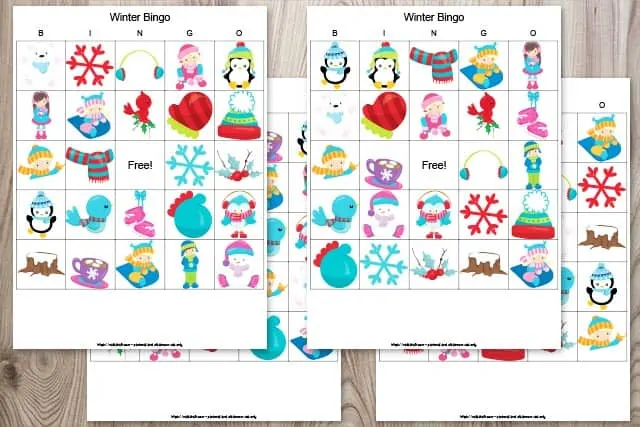 Download the set of 4 winter bingo cards here
Winter printables and activities
Need more winter printables and activities to keep your kids busy on a cold day?