These gymnastics toys for toddlers are toddler-approved ways to help your child practice gross motor skills and work out their energy!
I promised myself I wouldn't be one of those parents signing my child up for organized activities the second she was old enough.
Fast forward a year and I was counting down the days until I could enroll LG in toddler gymnastics at 18 months! She was so clearly interested in jumping and climbing that I knew she's love it. I'm glad I let myself be flexible and didn't hold myself to my earlier decision to not pursue any sort of organized activity for my toddler!
Today I'm sharing some of our favorite gymnastics toys for toddlers.
Some of them are toys we have at home, others are popular at her gymnastics class, and a few are toys we've encountered at indoor playgrounds and children's museums. They're all toddler-approved toys that are perfect for your little one who loves to jump, bounce, or climb!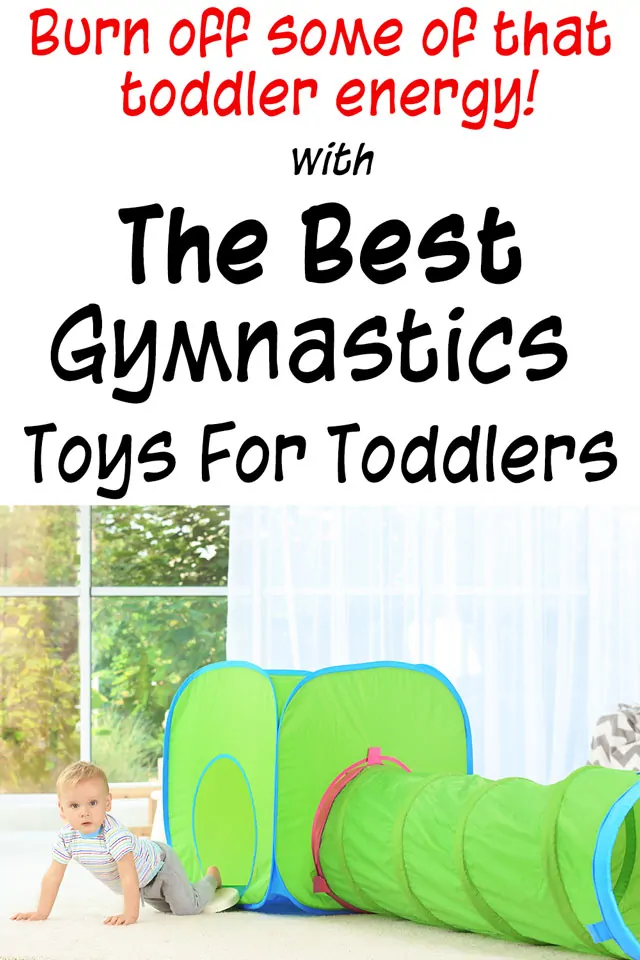 This post includes affiliate links, which means I may make a small commission on purchases made at no additional cost to you.
What is toddler gymnastics?
Gymnastics may make you think or organized routines, cartwheels, and flips. Toddler gymnastics is more like semi-organized chaos!
At our gym, there is a different setup each week and the teacher explains what the children are "supposed" to do at each station, but the kids are pretty much free to do what they want (as long as it's appropriate). Parents must stay with their toddlers, but there are also two or three coaches/teachers helping out. The toddlers don't have to do any stations they don't want to, and it's okay for them to enjoy one activity several times in a row as long as other children are also given an opportunity to use the equipment.
Basically, it's a gym full of little people who love to jump, climb, swing, bounce, and slide all having a whole lot of fun!
It isn't just fun (but don't tell the kids that!) Toddler gymnastics is a fantastic opportunity to practice gross motor skills, balance, coordination, and socialize.
Gymnastics toys for toddlers
Toddler gymnastics doesn't have to be confined to the official gymnasium – you can bring many of its benefits home with the right toys and equipment!
Although many gymnastics toys are large, others are smaller or easy to store away. They're the perfect way to keep you little one busy when it's too hot, wet, or cold to be outside.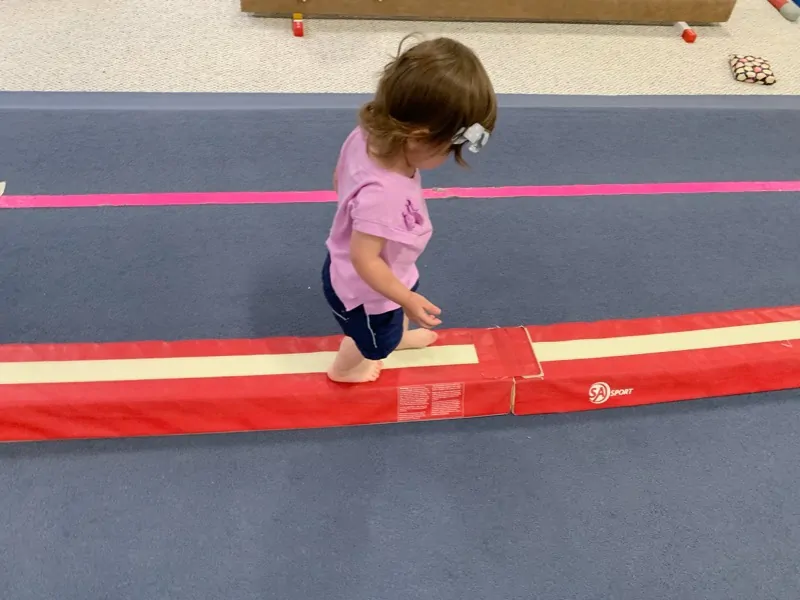 A balance beam is one of the best gymnastics toys you can get for your toddler.
Balance beams are used by many Montessori-inspired families (like us!). They give your child the opportunity to practice their concentration, coordination, and gross motor skills. Your child can use one for years to come, too. A balance beam is such a great choice for a child!
My pick for at home use is a soft, foldable balance beam.
It's low profile and easier to stash away than many of these toys, and it's soft and low to the ground. This means your little one is safe exploring on her own without the constant, hands-on vigilance required for toddlers on a higher balance beam.
Soft balance beams are easy to find in sizes from 6 feet to 9 feet (when extended) so you can pick whatever fits your space!
This set of balance beam "logs" is also a good, space-saving choice. The logs are plastic and stack on top of one another for easy storage. Because the sections are placed with gaps in between, it requires some extra strength, balance, and coordination so it's a great choice for older toddlers who need an extra challenge!
edxeducation Step-a-Logs - Supplies for Physical Play - Indoor and Outdoor...
IMPROVE COORDINATION -- Use these balance beams to teach better balance and proper movement while building the child's sense of coordination in a...
TEACH CONFIDENCE -- A great kindergarten toy to teach children confidence as their balance improves. The Step-a-Logs work well indoors and outdoors...
SAFETY IN DESIGN -- Each log has been load tested to safely support up to 400 lb. Balance ramps at both ends enable easy access for children to walk...
Stepping stones, like the Gonge Riverstones, are also a fantastic choice for toddlers. We own a different brand stepping stones that are all the same size and LG loves them. They have the Gonge set at her gymnastics class and she loves those, too! There are several brands and sizes available, just make sure to get one with a rubber gasket all the way around. Some of the cheap brands only have a few rubber dots and they don't stay in place as well.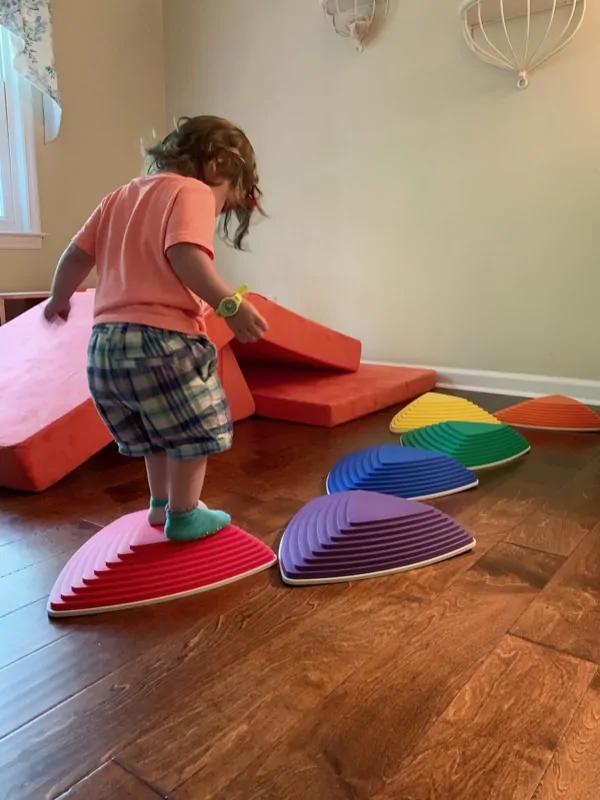 These stepping buckets are a similar toy, but with a broader flat top that may be better for younger toddlers or children who are a little less sure of their footing. Since the buckets are connected by a rope, they may also a better choice than the stones/hilltops if your child has a tendency to throw the stones. Really it's up to your personal preference and what you'd rather have!
Learn from my mistake! Sign up free for Ebates now to get cash back on purchases from tons of places, including Amazon. I cringe whenever I think of all the money I left on the table by not signing up years ago! (It's called Rakuten now, but it's Ebates.)
They do take up more room at home, but a foam play set is so much fun. Even a simple foam wedge with stairs provides a lot of entertainment! My daughter loves running up and down the foam ramp. It can also be used as slide and for practice rolls!
Sale
Foamnasium Gymnasium Playset, Red/Blue/Yellow/Green
MADE TO LAST. Soft, high-quality covers are durable and easy to wipe clean.
FUNCTION AND FUN. Non-skid fabric on select bottom pieces ensures playsets stay put during play
EASY TO MOVE. Handles make pieces easy to move for both parent and child.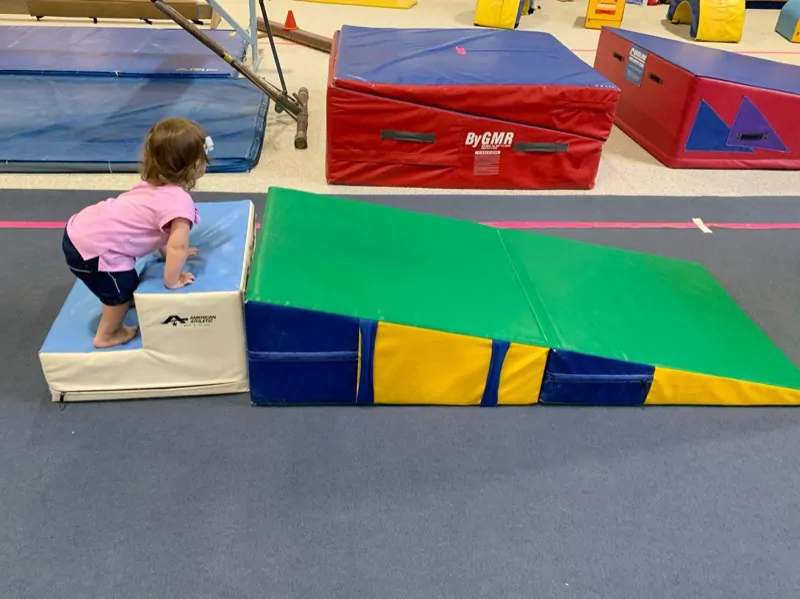 It may not be the first thing that comes to mind, but a small slide is a fantastic gymnastics toy for toddlers! Some weeks LG just wants to go up and down the slide for her entire gymnastics class.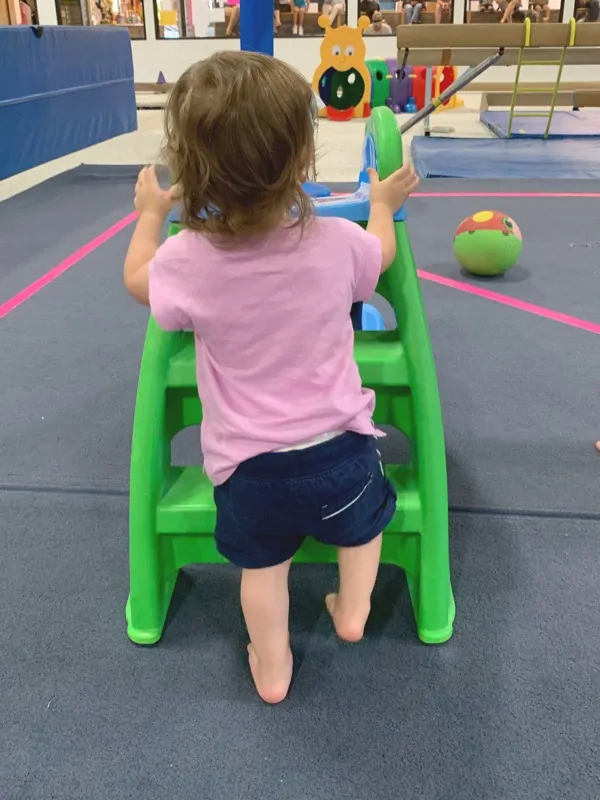 My top pick is the Little Tikes First Slide because it actually has a long and steep enough slide to, well, slide on. A lot of toddler slides are so short their feet are practically on the floor while they're sitting at the top! It's also great that the XX is really affordable.
Sale
Little Tikes First Slip And Slide, Easy Set Up Playset for Indoor Outdoor...
PERFECT BEGINNER'S SLIDE: This cute and bright playing set is perfect for Beginner slide, sized is 3 feet long ans safe especially for younger kids...
EASY TO KEEP AND TO SET UP: You can easily assemble it in a short time according to our instruction; This is also a space lover just folds down...
DIMENSION: Product Size-39 L x 18 W x 27.50 H inches and Slide length: 38.00''L.; Size is 3 feet long ,100% safe for little kids
Although jumping up and down with two feet seems like a basic thing, it's actually an important skill that requires strength and coordination.
Learning how to jump is hard work for a toddler! Once your toddler starts trying to jump, they may be so interested in jumping that they want to practice all the time. A toddler trampoline can be a good day to channel your little one's jumping energy.
There are a variety of toddler-friendly, low to the ground trampolines with and without handrails. There are even trampolines that can transform into a ball pit!
A short kip bar (gymnastics bar) is also lots of fun. The lowest most of them go is about 36″, so your younger toddler may need a boost to get up. (Which is fine since they need supervision while playing on the bar, anyway.)
At LG's gymnastics class, the kids usually either swing on the bar or have help doing a "bat hang" with their hands and feet on the bar. 
2021 update: We've owned a kip bar at home for more than 18 months now. My daughter uses it almost daily and loves swinging upside down! A sturdy gymnastics bar is an investment that will continue to pay off for years.
Another favorite toy at toddler gymnastics is a tunnel (or, I guess I should say "are tunnels" because they three different ones at our gym).
To save space, go with a pop-up tunnel. It's basically like a cat toy tunnel, just way bigger! They're easy to store and really affordable, too. We've brought ours on trips before and used it in hotel rooms. Some kids may like tunnels with "doors" on the end, but they always seem to freak LG out and they get damaged pretty easily, so I recommend a tunnel without doors. 
While not really toys, I couldn't help including some gymnastics leotards for toddlers.
Our gym does not require leotards in the toddler class, but several kids usually wear one. At first I thought that was a little silly, but I've realized that elastic-wasted shorts and pants tends to slip down during class. Following your toddler around to constantly pull their shorts back up gets old quick!
A "biketard" with shorts can also be a good choice, especially if your little one isn't potty trained and don't like seeing their diaper sticking out.
Some of these toys are also featured in this post on awesome gross motor toys for toddlers and others are in this post on climbing toys for toddlers, but both of those posts also have their own, unique suggestions.
If you didn't find what you're looking for here, stop by and check them out!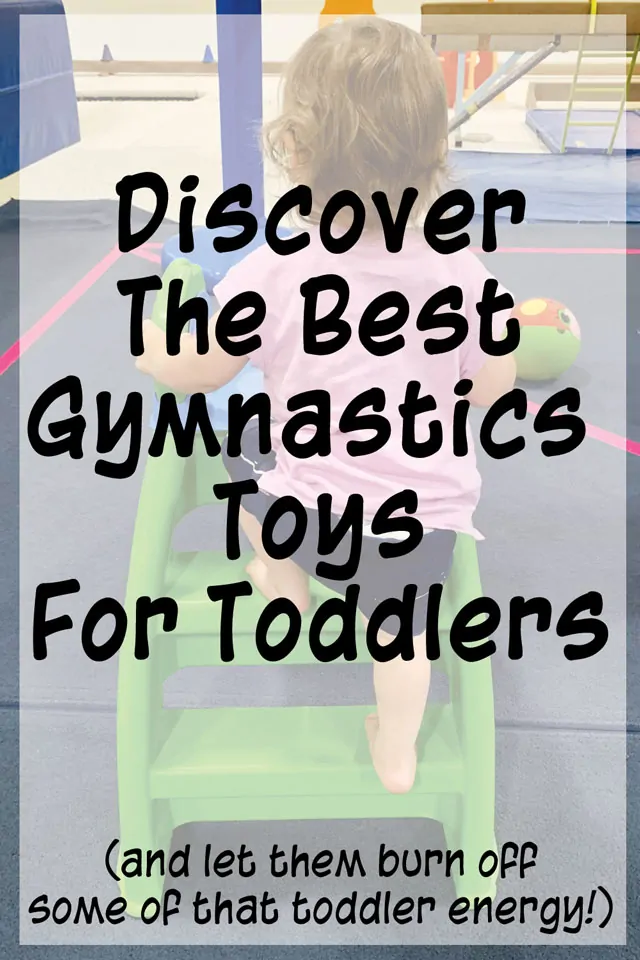 Do you have any favorite toddler gymnastics toys I've missed? Let me know so I can check them out!
More toddler toys & books
Non-toxic sippy cup alternatives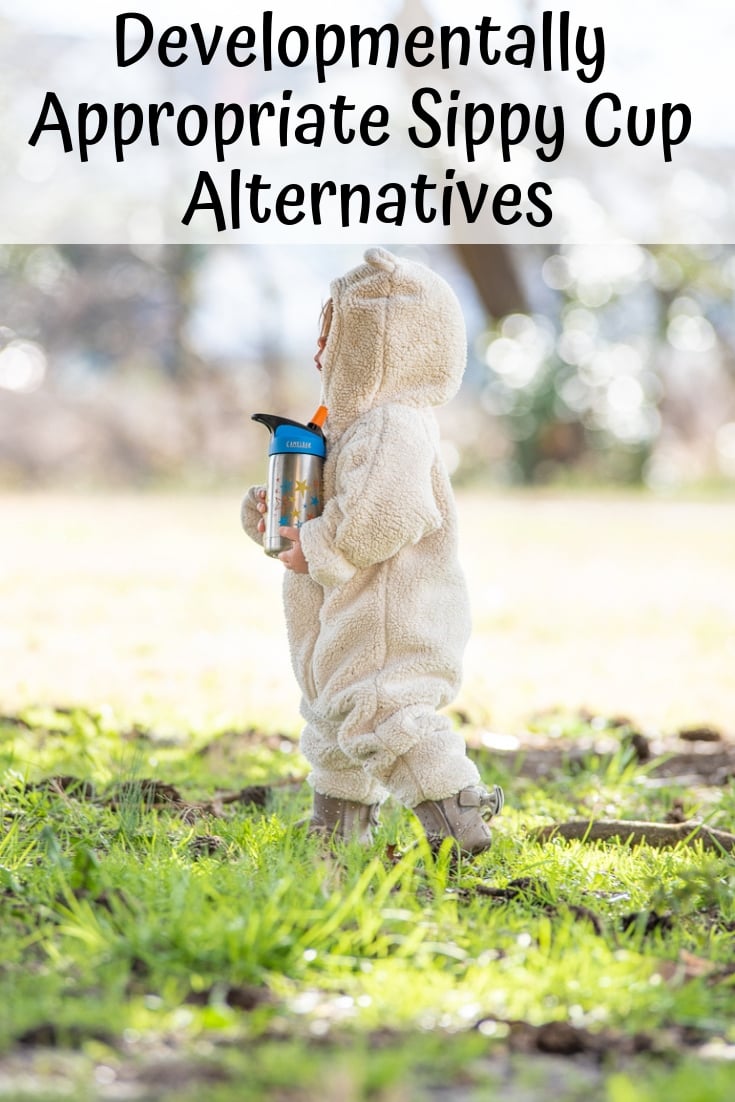 Toddler books about the ocean & fish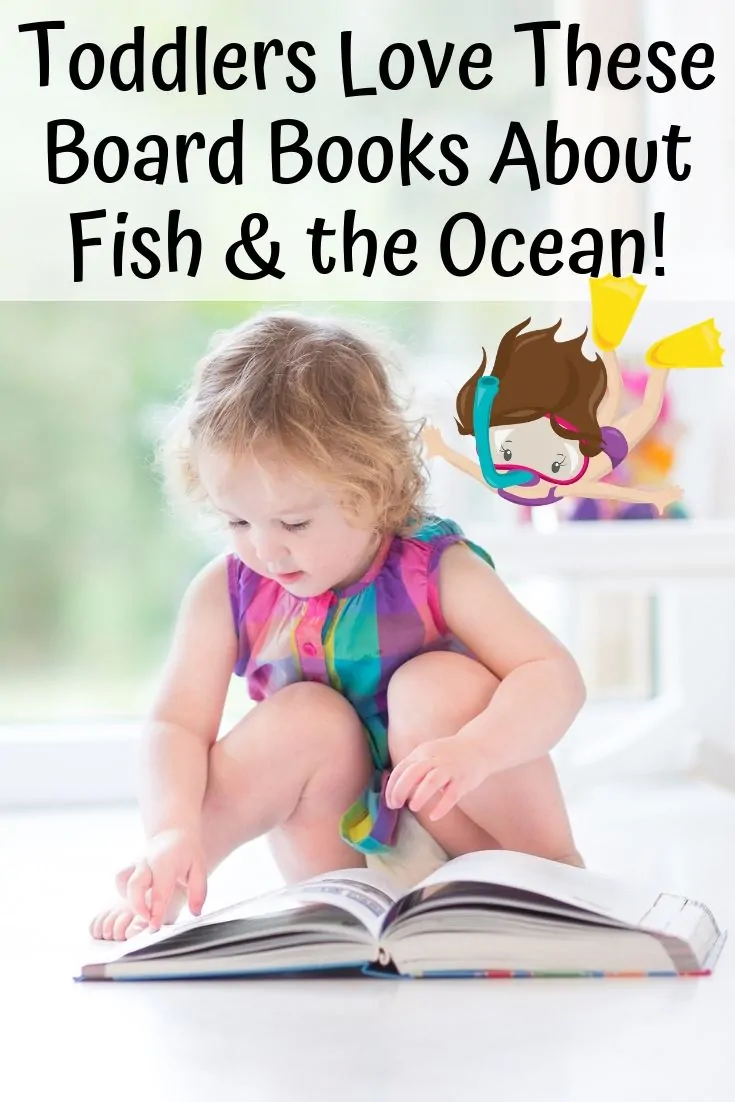 The best wood toys for toddlers (sorted by age)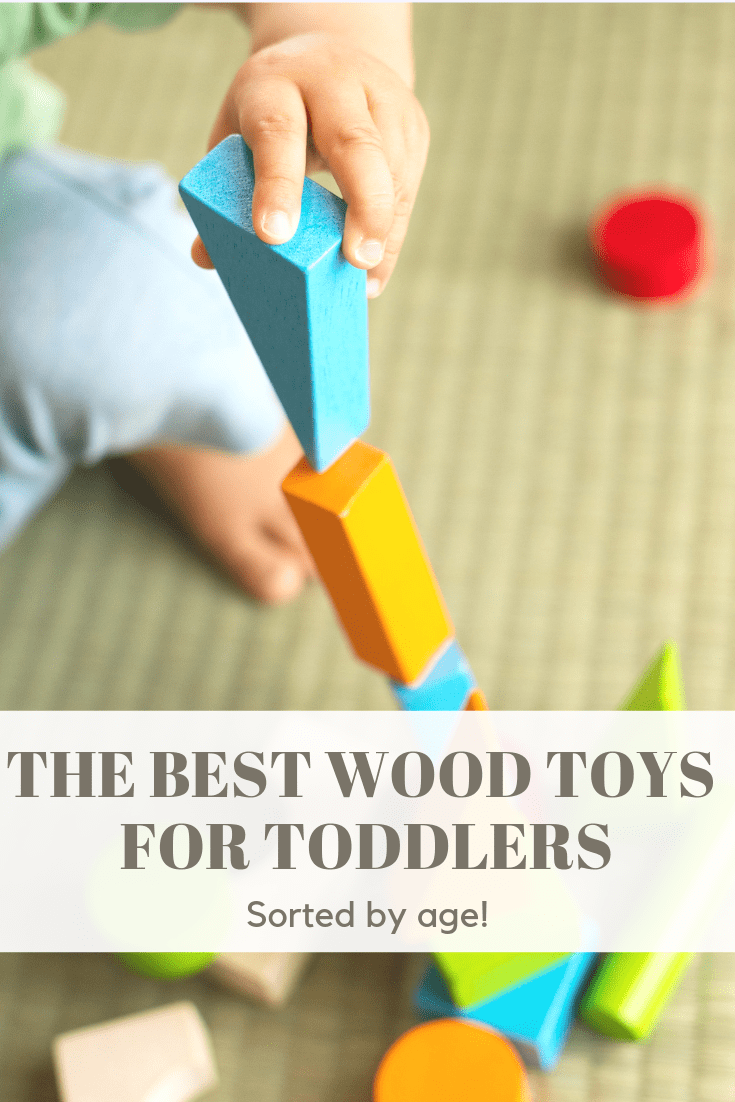 Indoor gross motor toys for toddlers