Discover the best toys for toddlers who like to climb! These climbing toys for toddlers will make sure your little one tired and happy.
This post was originally written when my daughter was 18 months old. It's been updated several times over the past almost two (!) years to include new recommendations as we find additional great climbing toys for toddlers. I hope these climbing toys for active toddlers help you tire your child out before bedtime like they tire my girl out.
My daughter has been an active little person since before she was even born, so it's not surprising that she loves to climb, run, and jump. She adores her Nugget and stepping stones (as seen in this post on indoor gross motor toys for toddlers), but warmer weather made me start looking for larger climbing toys, too.
I hope you enjoy this collection of the best toys for toddlers who love to climb!
This post includes affiliate links, which means I may earn a small commission at no additional cost to you if you make a purchase through one of these links.
Why toddlers should be allowed to climb & the benefits of climbing toys for toddlers
I think we're often really worried about our toddlers climbing. As moms, it's natural for us to be concerned about our precious little ones! Climbing seems scary, but remember that it's an important part of encouraging your child's development. It provides physical activity and promotes strength, bodily awareness, balance, and coordination.
Appropriate climbing toys can also help you channel your toddler's climbing energy. When she tries to climb the bookshelves, for example, you an redirect and explain that this toy of hers is for climbing, not the shelf. To help keep your child safe, always supervise her while she's climbing and, if you're really concerned, put down crash pads for a soft landing.
Slides for toddlers
Slide are great for toddlers who enjoy climbing. My daughter loves climbing up slides, so I try to let her (as long as she's not holding up slide traffic at the playground) because it's also fantastic climbing practice. If you have a slide at home, your little one can do up and down the slide all day long!
A simple small side is great for indoor or outdoor use. I really like this classic slide because it's tall enough for your child to use for several years. It also has high sides for their protection and folds for easy storage.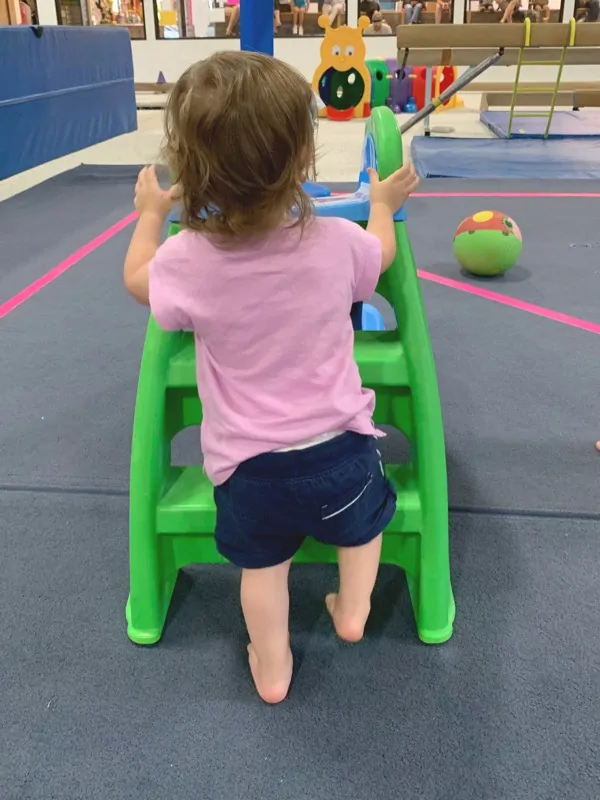 The Step2 Panda Climber is a fun choice with more options for climbing and crawling than a basic slide. It's fairly small, which means it can be used indoors and is a great size for toddlers. It takes up about four feet of space, which could easily fit in most living rooms, bonus rooms, or even a bedroom!
In addition to climbing, toddlers are also working on their ball-throwing skills. My daughter is in love with balls.
The Step2 Sports Climber comes with plenty of opportunities to practice climbing and ball throwing with a basketball goal and spots lower down to practice kicking and throwing balls. It comes with one "multi-purpose sports ball," which is nice because it's fewer parts to keep track of!
The Step2 Sports Climber It's fairly small at 5.5′ x 2.5′ which means it can fit indoors, if necessary. It has a dial to 'keep score,' but younger children have fun clicking the dial around as a sensory and motor experience.
The Pikler triangle
If you're unfamiliar with the Pikler triangle, it was developed by a Hungarian pediatrician who believed that children learn best when allowed to move and develop at their own pace.
Similarly to Dr. Maria Montessori, Dr. Pikler taught the importance of respecting your child and not forcing her into positions she's not ready to achieve independently. The Pikler triangle is not technically an official Montessori material, but it is widely used by Montessori homes and classrooms.
The Pikler triangle, also called a climbing frame, provides endless climbing fun. This Pikler triangle comes with a sliding board, has appealing colorful rungs, and a brace on the bottom for stability.
Table could not be displayed.
A Pikler Triangle can also be combined with slides, ramps, and climbing boards for endless gross motor fun!
Etsy is a great place to look for beautiful Pikler Triangles with accessories. This three piece climbing set is a fantastic choice because the sellers have YouTube videos demonstrating how to assemble your Pikler Triangle once it arrives.
The seller, Wood and Hearts, has an amazing number of 5 star reviews. When you look at their creations, it's easy to see why. They are sturdy, well made, carefully packaged, and include unique, saftey-conscious details (like brackets to hold slides and ramps in place.)
If you're handy, you can make your own Pikler Triangle. We made our own using the video and purchased plans from Wicked Makers on YouTube. (Just a warning – once you price the materials and Lowes or Home Depot, you may decide to simply purchase one, instead!)
The wood rocking rainbow is another "alternative parenting style" classic used in Waldorf and Montessori homes. It's fun as a rocking boat or as an arch to climb over. If you're feeling a bit nervous at a Pikler triangle, this rainbow is a great alternative because the slats are closer together and it's only 14″ tall.
One of my favorite rocking rainbows is from Etsy seller KateHaa. This rainbow rocker is the only one I've seen with a handrail to prevent smashed fingers. That's a feature that will put a smile on any mom's face!
Climbing towers, foam playsets, and construction sets
My daughter loves climbing on foam playsets like this whenever she visits her favorite bounce house. They're an excellent choice for younger toddlers, older infants, or if you're a bit apprehensive about letting your little once climb!
I like how easy to clean this particular set is, and that it's made in the USA. Foamnasium also sells individual wedges, steps, and more to customize your play area.
One of my absolute favorite toys as a child was this construction set called Pipeworks. It isn't available anymore, but I found this Quadro pipe construction set that seems super similar.
The tubes snap together easily and lock in place (you discontent them with a special tool/wrench). It's easy to make a climbing frame, small slide, or playhouse. You can get more sets to add on for even bigger creations and wheeled vehicles.
I was so excited to find the Quadro line because I want my daughter to have something similar to my beloved Pipeworks set. I also love that they are designed and made in Germany, not Asia. A Quadro construction set can provide literally years of open-ended play, not just climbing fun.
Until I saw one a friend had for her toddler, I didn't realize you could get climbing towers/geodesic domes sized for little kids! I immediately put one on my wishlist for LG. I love how this climbing set isn't just a dome – it also has a tower on top, too! The main part of the dome is about 3 feet tall the the tower sticks up a bit more, so this one is best for more experienced climbers.
There is also a wooden indoor climbing dome, but at the time of writing it is unavailable with no known restock date. Womp-womp. I'm hoping it comes back in stock sometime because I'd love to have it for LG!
Jungle gyms for toddlers and preschoolers
Regular readers know I'm a huge fan of selecting wood toys from trustworthy companies whenever possible. Luckily, there are some absolutely beautiful wood indoor/outdoor jungle gyms!
I love that the Wedanta jungle gym has so many features (including a slide, ladder, gymnastic rings, monkey bars, and a climbing net) and that it's made in Europe! It's constructed from birch, which is a hardwood. (Softer, cheaper woods are more likely to splinter and hurt little hands and feet.)
No products found.
For even more features, check out this larger jungle gym! (It's also made by Wedanta.)
This wooden indoor gym has a nice, natural birch wood color and is like a super-sized version of the Pikler triangle!
Although I'm a fan of wood toys and play structures, there are also lots of plastic climbing toys available. This caterpillar tunnel and climbing toy is one of my favorites. It's sturdy, easy to assemble, and great for a variety of age ranges! It's also fairly large (I can crawl through it without difficulty), which means it can be used for years by children of all ages.
This climbing wall is the ultimate climbing toy for children of all ages! When I showed the Step2 Skyward Summit Climber to my husband he asked "Can we get this right now?!"
It's quite large at 5×7 feet and best for outdoor use, but very durable and holds up to the elements well. With rock climbing holds, nets, and multiple platforms, it's great for playdates and use by multiple children at the same time!
Because it's so large and sturdy, it does require a bit of assembly. An electric screwdriver or drill can help you insert in all the screws without wearing out your wrists and hands.
Step stools
If your toddler is younger, smaller, or just starting to climb, step stools are a great "toy!" They're also practical for your child as she grows and can help her become more independent and capable of self-care tasks like washing hands and brushing teeth.
You may already have a short step stool around the house, but it's important to find one that's well-suited to climbing on by a toddler. My daughter first started trying to climb up on a folding step stool I was using to reach the top shelf.
The problem is that many folding stools aren't that sturdy and they don't lock in place. When your child bumps the stool or tries to move it on purpose, it may start to fold up or cause pinched fingers. Non-slip pads are also helpful because they can keep the stool from sliding around as your toddler tries to climb.
A low "mobility step" is the perfect first step stool for your young toddler. They're designed to help people with limited mobility step over doorframes, which means they're low, non-slip, and have a large top. All these features make them perfect for toddlers, too! You can also use it to help your toddler get into the house or place one at the bottom of the stairs if your last step is taller than the others.
This wood low step stool is another great choice (and, quite honestly, more attractive!) At 16.6″x12.6″, it has plenty of space for your little one to step up on! You can paint or stain it to match your decor, or leave it unfinished. I'd personally use my own homemade wood polish recipe on it because it's totally non-toxic and food safe.
A two-step stool is the next logical "step up" for a toddler who's mastered a single low step.
I've looked over about a zillion different options, and this wood two-step stool is my favorite for several reasons. One of the main reasons is that it has a textured top, which can help reduce slips. It also has carrying handles, which means it's easier to move around the house. A sturdy step-stool can be helpful for years to come, so this is a great feature! I also love that it matches the bedroom and playroom furniture from the same company.
My daughter is completely obsessed with water and splashing it whenever possible. If your child loves splashing, you might want to go for a plastic two-step stool. This two pack of stools is my favorite choice for wet locations because they have large no-slip bumpers and removable plugs to help any excess water drain away. The stools are also stackable, which is handy, easy to clean, and lightweight enough for little people to carry.
Lastly, I have to include this learning tower. Your little one can practice climbing up and down steps on the side and the upper platform is adjustable for years of use! It's perfect for helping in the kitchen, using a computer, or working anywhere that's more adult height. It has a flat front so it can stand right up against the counter without any annoying gaps and you can add on an easel for art time fun!
Update: Sometimes our favorite learning tower is out of stock. This ECR 4 Kids kitchen helper stand is also a great choice. We don't own this exact one (we have two different Little Partners models), but we own over ECR furniture and are very impressed by the sturdiness and construction quality.
My daughter loving her job as "kitchen helper" while using her stool. =)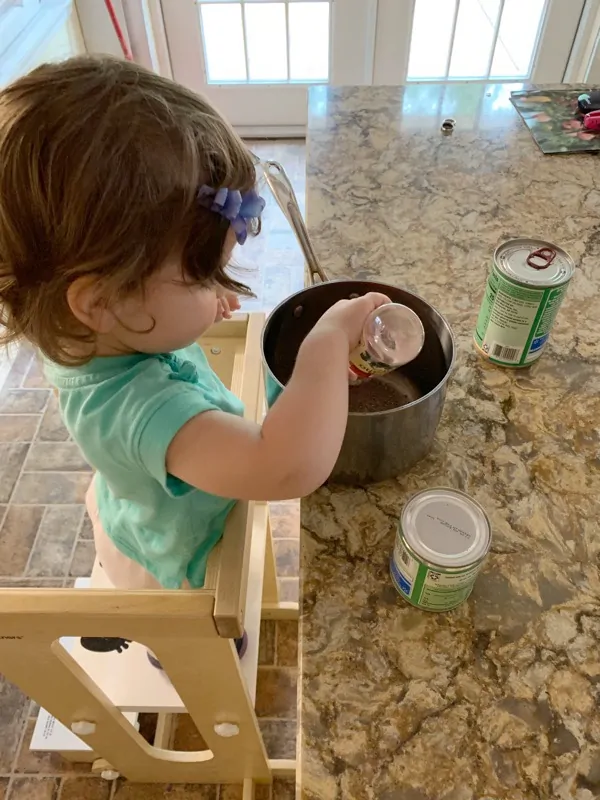 More parenting & toddler resources
Awesome gross motor toys for toddlers
The best sippy cup alternatives for toddlers
The best wood toys for toddlers