These "healthy" vanilla cupcakes use less sugar and swap some of the fat for Greek yogurt!
Our Little Gnome recently turned 1 – how is it even possible?! I created a healthy first birthday cake just for her and she loved it. Although I liked her "cake," I didn't think part guests would appreciate it quite as much, so I made vanilla cupcakes with buttercream icing. Y'all know me, though…I couldn't help making them a bit healthier!
I hope you enjoy this healthy vanilla cupcake recipe. Or, okay "healthier." They're not health food, but they are substantially lower sugar and healthier for you than traditional cupcakes, which makes them perfect for people like us who don't eat much dessert!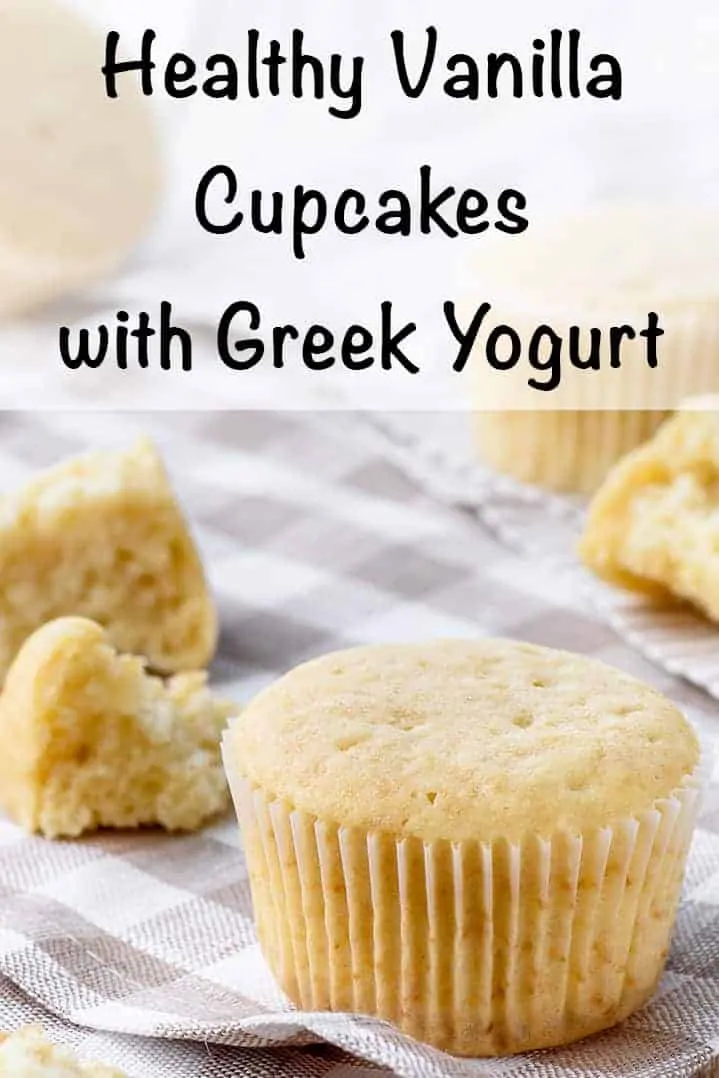 This post may include affiliate links, which means I may make a commission on purchases made through these links at no additional cost to you.
For LG's party, I tinted the buttercream with purple gel food coloring. Gel is my favorite for icing because it doesn't change the consistency as much as liquid food color.
I also added cute Very Hungry Caterpillar toppers. I was unable to get any photos of LG's first birthday with my real camera because we accidentally left our cameras at a motel in Virginia! 😱 We discovered this unfortunate fact about an hour before her party. It was such a gut-dropping realization!
Amazingly, we called the hotel and they had our camera bags behind the desk! My wonderful husband drove 9 hours round trip to retrieve them the next day. We are so thankful to have our cameras back and will always pick this particular hotel whenever we need to stop on the way to WV as a result.
Lower sugar cupcakes
I was so proud and happy when one of the party guests, who is a pediatrician, complemented the cupcakes for not being too sweet!
I think they're just right – sweet enough that you know they're a 'treat' if you're normally a low-sugar person, but not too sweet to eat. If you prefer a sweeter cupcake recipe, you may like this recipe for a dozen cupcakes better (though it's still slightly lower sugar than 'normal.')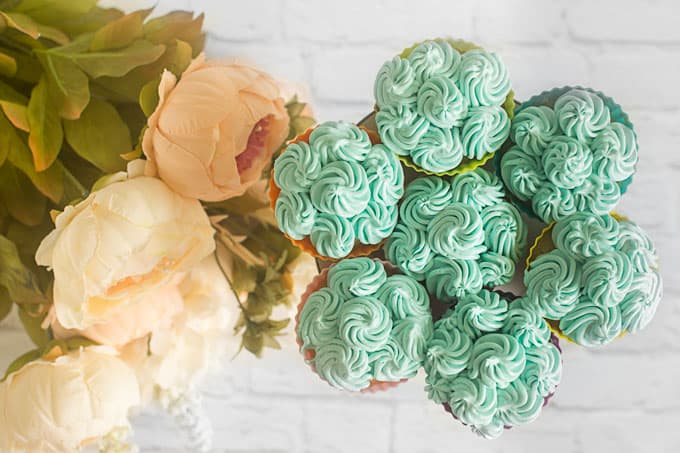 I think these strawberry shortcake cupcakes are a little sweeter, too. This recipe uses whipped cream instead of icing, so you might prefer it if making buttercream isn't your thing!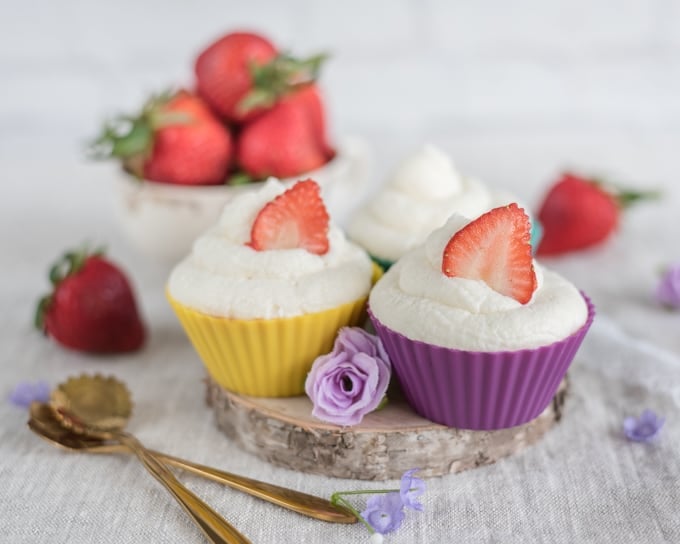 Healthy vanilla cupcake recipe
Alright, let's get to the star of today's post – the healthy vanilla cupcakes!
Although I baked them in paper wrappers, I typically use the silicone baking cups pictured with the other cupcakes linked in this post. I just didn't feel like dragging them out of storage where they're currently living (above my mom's garage!).
I know it's hard, but do let these cupcakes cool before digging in. In my experience, they need a few minutes to cool and settle before they're quite ready to eat. If you try one when it's hot, it may be difficult to remove the wrapper and it won't taste quite the same. I think they taste their best the day after baking, which is perfect if you're planning ahead for a party!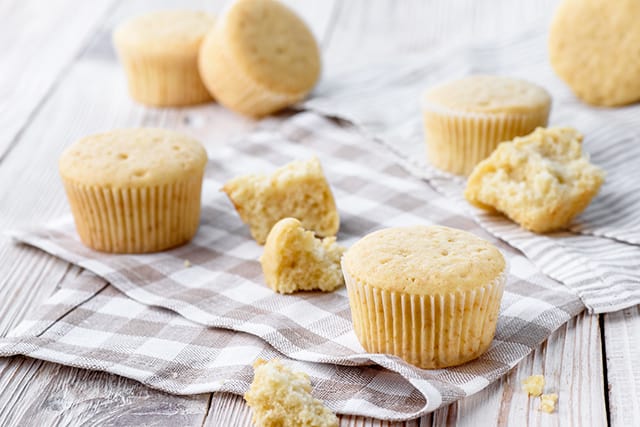 Yield: 12
Healthy Vanilla Cupcakes Recipe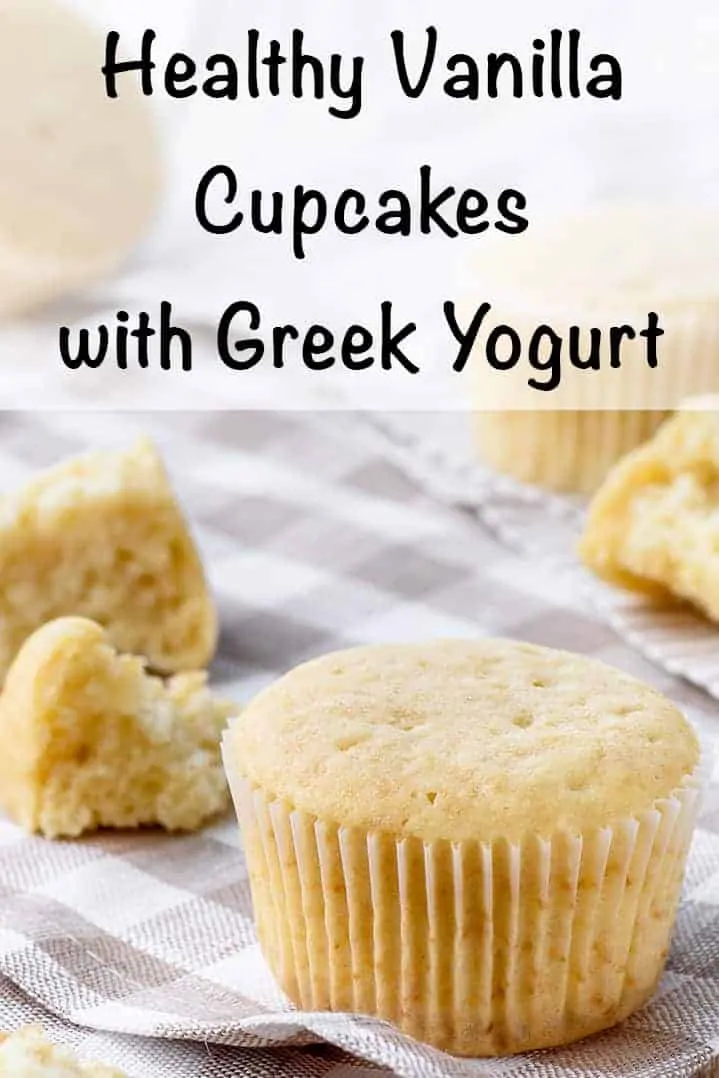 This recipe makes a dozen standard-sized cupcakes that taste decadent but are better for you!
Ingredients
1/2 cup + 2 tablespoons milk or non-dairy milk
1 teaspoon lemon juice (optional, but highly recommended)
1 cup all purpose flour
1 1/4 teaspoons baking powder (make sure it's fresh!)
1/4 cup butter, room temperature and cut into 1/2" slices
1/3 cup granulated sugar
1/4 cup plain Greek yogurt
1 teaspoon vanilla extract
1 egg, at room temperature
1 egg white
Instructions
Preheat your oven to 350ºF and prepare your muffin pan with cupcake liners.
Combine the milk and lemon juice in a small bowl or glass measuring cup and stir to combine. Set aside.
Whisk or sift the flour and baking powder together in a small bowl and set aside.
Cream the butter and sugar in the bowl of your stand mixer on medium using the paddle attachment. Combine until the mixture is fluffy and fully combined.
Add the Greek yogurt, egg, and egg whites. Mix until fully combined.
Add the vanilla extract and milk/lemon juice mixture and mix on low until combined.
Add the flour mixture a spoonful at a time. Mix until just combine, but do not over-mix! Increase speed to medium-low, if necessary.
Pour or spoon the batter into your prepared cupcake liners, filling each cup 1/2 - 2/3 of the way full.
Bake until the tops of the cupcakes are just turning golden brown and a toothpick inserted into the center comes out clean, about 20 minutes. Ovens and pans vary - I've had these cupcakes ready in under 20 minutes, but I've also had them take 25+.
Once they're done, remove the cupcakes from the oven and allow them to cool completely before icing.
Lower sugar frosting ideas
While these cupcakes are healthier, I've learned not to experiment with too many different things at the same time so I used my favorite buttercream icing recipe. You can find it included with the cupcake recipe in this post.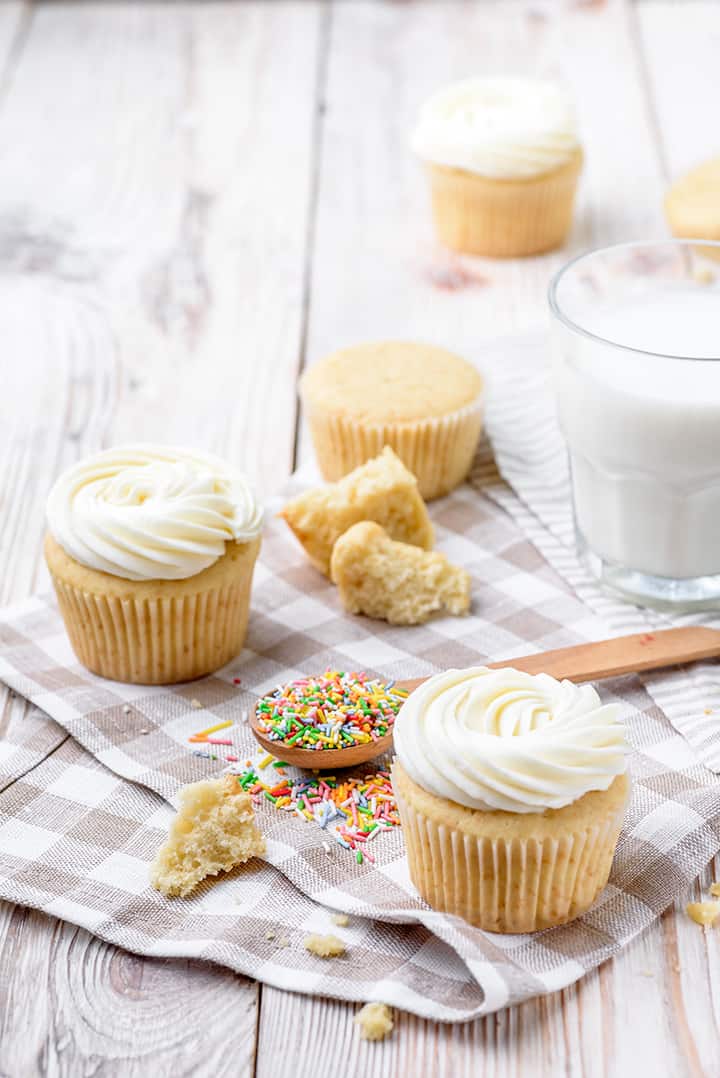 Although it's lighter, and lower sugar, than a basic buttercream, you may want to swap for something more health-conscious. Homemade whipped cream without much sugar, whipped coconut cream, cream cheese frosting, or even strained Greek yogurt can all work as icing! I used strained whole milk Greek yogurt for LG's birthday cake and it worked wonderfully. I used a cream cheese & Greek yogurt frosting with the small batch chocolate chip cupcakes pictured below.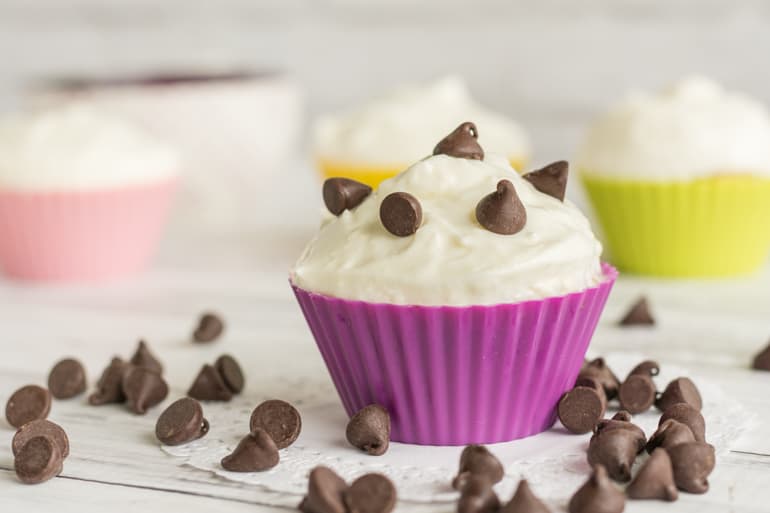 I really hope you enjoy these healthy vanilla cupcakes with Greek yogurt! They're such a welcome reprieve from overly sugary desserts. "Normal" American desserts are so overpowering if you focus on eating whole foods like we do.