This post may include affiliate links, which means I may make a commission on purchases made through these links at no additional cost to you.
One measure of recipe success for me is how hard I have to fight to keep enough of the finished product around to photograph. If I have to battle to even get pictures of something before it's all gone, I know it's a tasty recipe!
These homemade Oreo cookies were being stolen right off the 'set!' I cut mine into hearts because Valentine's Day is in a couple of weeks, but you can cut them into any shape, including simple rounds. They're easy to make, but the cream filling does take a few hours to set up so you need to plan at least a little in advance.
I hope you enjoy this recipe for double chocolate sandwich cookies!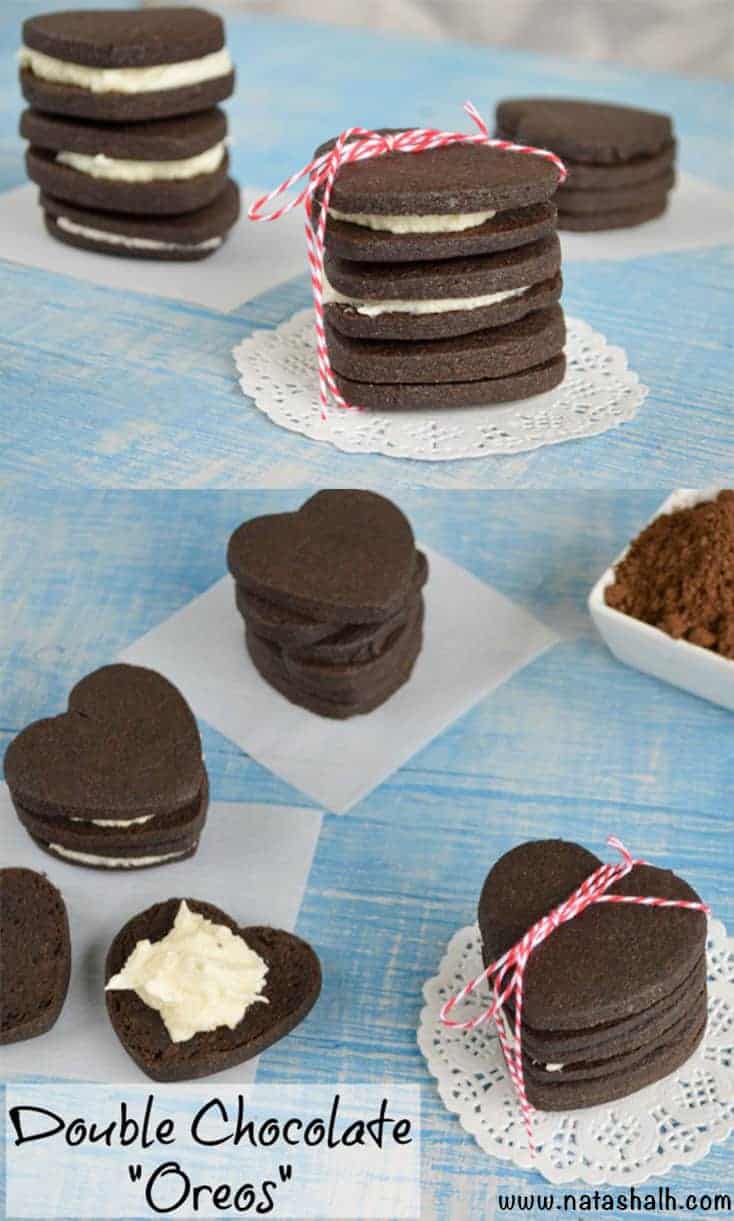 My favorite part about the white chocolate cream filling for this recipe is that it doesn't have any vegetable shortening, but it is stiff enough not to ooze out of the cookies. I try to avoid making icing or filling with vegetable shortening when I can because I can always taste it. Maybe it's just my imagination, but I always think that slightly odd flavor and slick texture are lurking right behind whatever flavors I do want. This simple filling only needs white chocolate, cream, and a dash of vanilla extract, so it's delicious and easy to make!
I included a tablespoon of actual espresso in the cookie dough to enrich the chocolate flavor. We make espresso every morning because Papi Chulo is Cuban and that's the only coffee he drinks, but you could use a tablespoon of regular coffee or just leave it out, entirely.
Like I said above, you can make these cookies in any shape you'd like. You can even roll the dough into logs instead of flattening it with a rolling pin and simply cut it into slices for super easy, no cookie cutter required cookies.
When you go to add the filling between cookies, it works best if you heap a mound in the middle of a cookie instead of spreading it out like I did in the photo below. This allows you to have more filling and it spreads out easily when you press the top cookie in place.
Of course, if a few of the cookies never make it to the filling part, I won't blame you! Go ahead and try one early.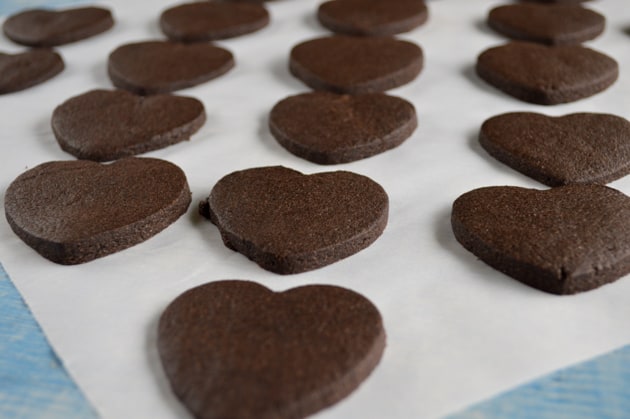 No matter how many cookies make it to the sandwich stage, these cookies are sure to be a hit.
With my cookie cutter, this recipe made about a dozen sandwich cookies. They keep fairly well for at least a few days – I don't think any of them made it past the fourth day without being eaten, though! You can also wrap the cooled cookies in aluminum foil and place them in an air tight container to freeze them for later. Just make sure to freeze them in the 'cookie' stage, rather than the 'sandwich cookie' stage!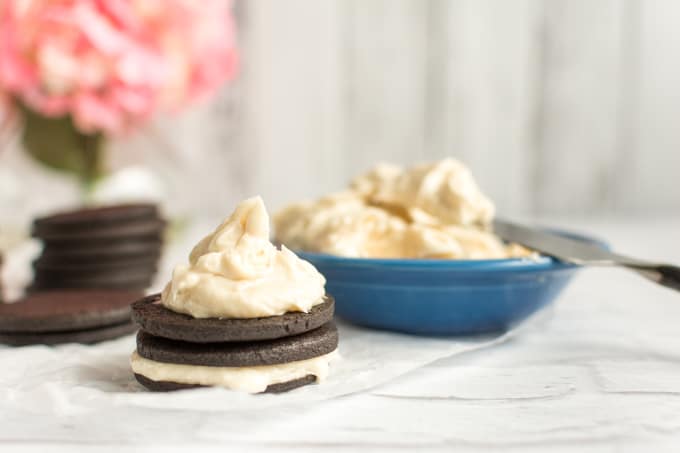 I think these would make super sweet edible Valentine's, but you can just cut them out in rounds for a delicious treat any time of year. Of course, you could also flavor or color the cream filling for added holiday flair! I recommend using gel extracts like AmeriColor for high-quality results.
If you're looking for a nice set of heart cookie cutters, I highly recommend these from Fox Run. You can't tell from the Amazon photo, but they come in a cute case and they've held up to a lot of abuse!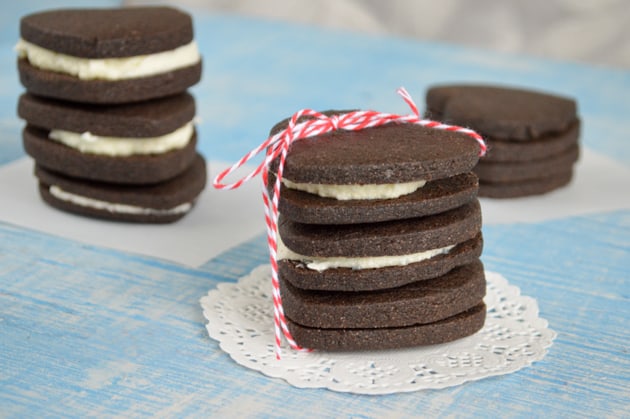 If you're looking for more heart-shaped treats for Valentine's Day:
I used the same set of cookie cutters with both of these recipes!
Greek yogurt "Graham" crackers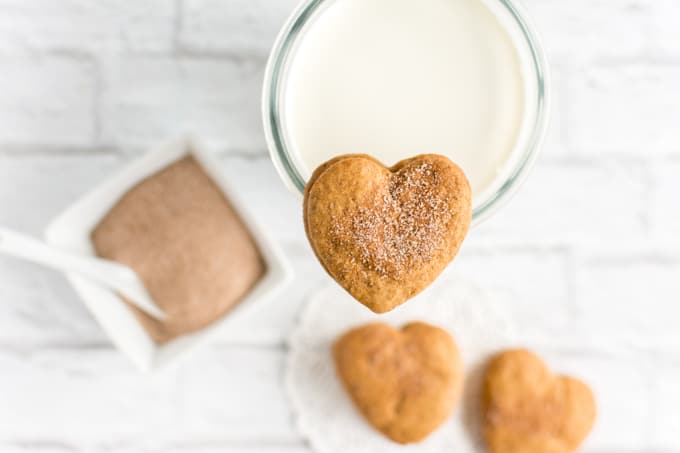 Egg-free funnel cakes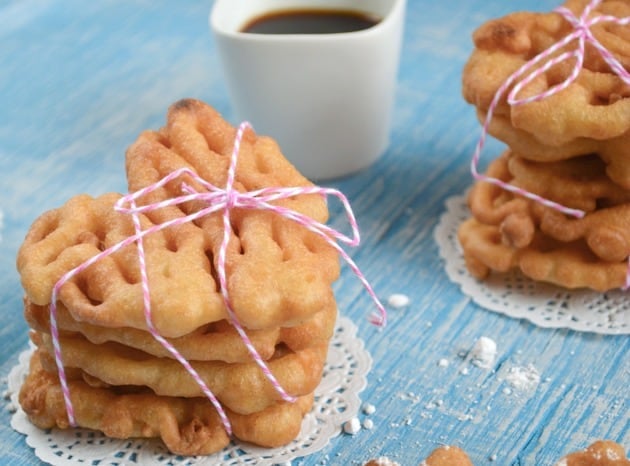 And some heart templates with free printable Valentines!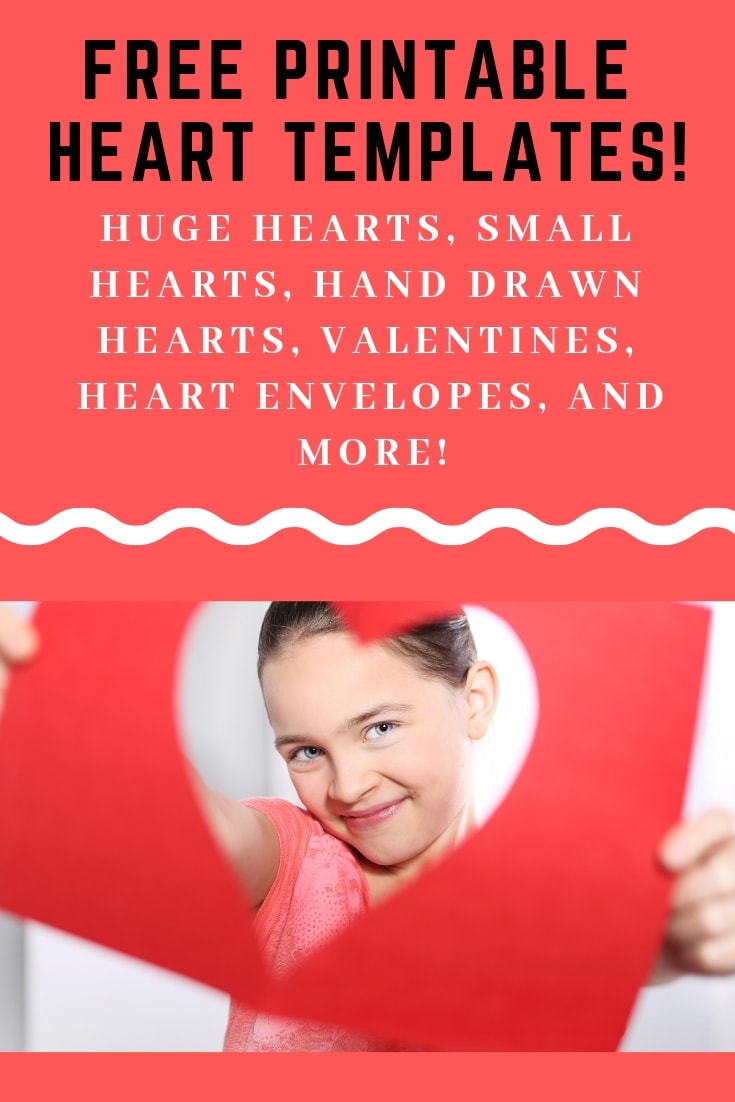 I hope you enjoy these double chocolate homemade Oreos! Thanks for stopping in and a I look forward to seeing you again soon!