Learn how to make a dishwasher safe galaxy mug with this video tutorial!
I am incredibly in love with today's tutorial and thrilled to have it ready to share with y'all! I enjoyed painting these galaxy-inspired mugs so much and I know you're going to love them, too. They're awesome looking, inexpensive, and a great way to spruce up a boring plain mug.
Let's take a look at how to paint a mug and make it dishwasher safe!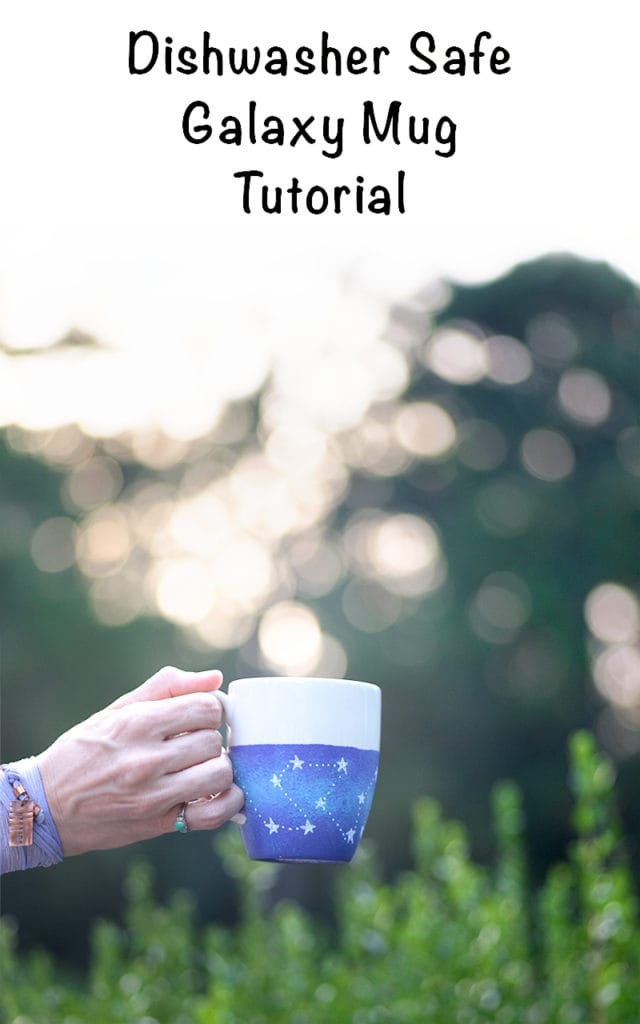 This post may include affiliate links, which means I may make a commission on purchases made through these links at no additional cost to you. 
A bit of back story on these mugs: when my grandmother passed, I told my uncle I'd take a specific set of dishes back to the 'old family farm' in West Virginia.
Apparently my cousin did some of the packing up and he got a bit bored with sorting though my grandmother's things because suddenly I found myself with several boxes of stuff I hadn't agreed to take!
It seems like he just packed up kitchen stuff he didn't feel like dealing with any more because I literally got several used 'disposable' pie plates, a half dozen plastic bowls of dubious cleanliness, and some dirty dishrags. The pair of mugs shown in this tutorial were part of the stuff delivery.
When I see blank dishes, I literally see a blank canvas and I knew immediately I had to create a fun tutorial with them! Although I chose to use mugs, you could also follow this exactly same method to create your own dishwasher safe painted glassware. Wouldn't that be cool?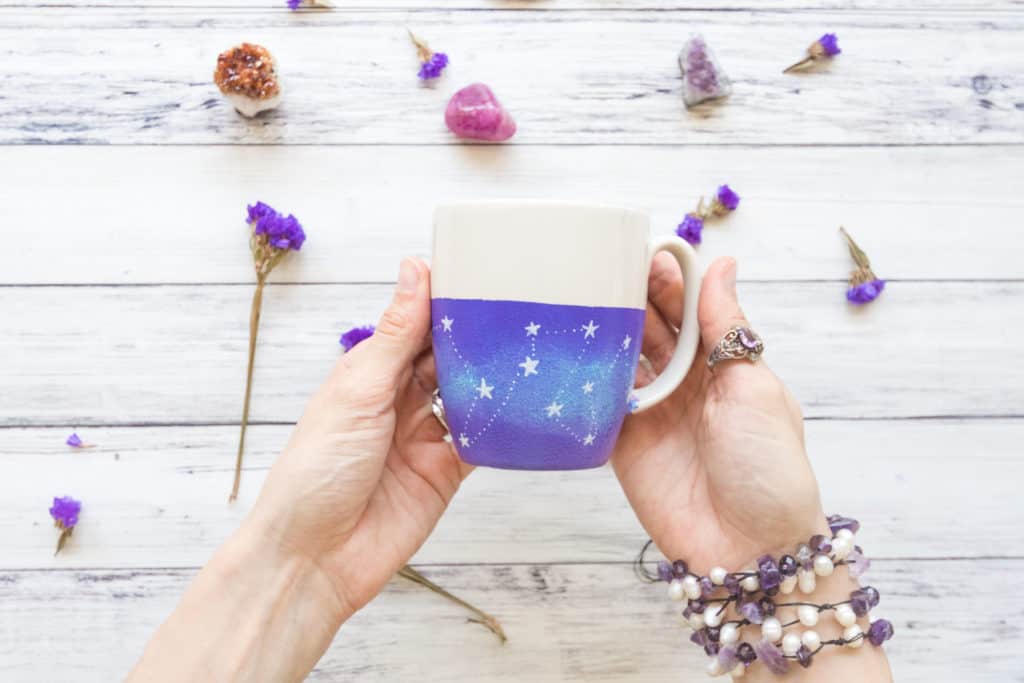 Materials needed to make a dishwasher safe galaxy mug
A mug!
Paper towels
Dishwasher safe paint for glass/ceramics. I used Folk Art Enamels.
Foam paint brushes. I used two round pounces.
A plastic plate or plate to use as a palette
A fine or extra fine tip oil based white paint pen. I used a Sharpie brand, but there are other brands available. Make sure it's oil based!
Quick update! If you're considering making this galaxy mug as a gift, you might also enjoy this unique coffee mug gift ideas guide! It has tons of unique, themed gifts (like gift ideas for readers, gardeners, and cyclists) that people will actually use and enjoy!
How to paint a dishwasher safe mug with a galaxy
Clean your mug with rubbing alcohol to remove any residues.
Apply painter's tape so that you have a blank rim around the lip of your mug. The paint isn't food safe so this is important!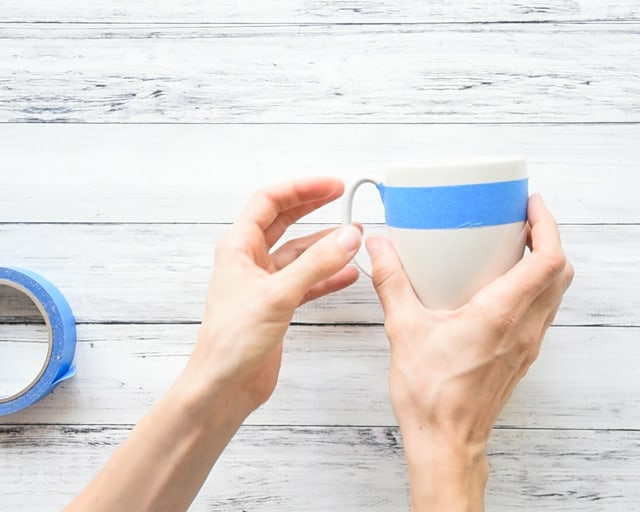 Pounce on your paint. I painted the whole area purple, then came back in to add blue down the middle.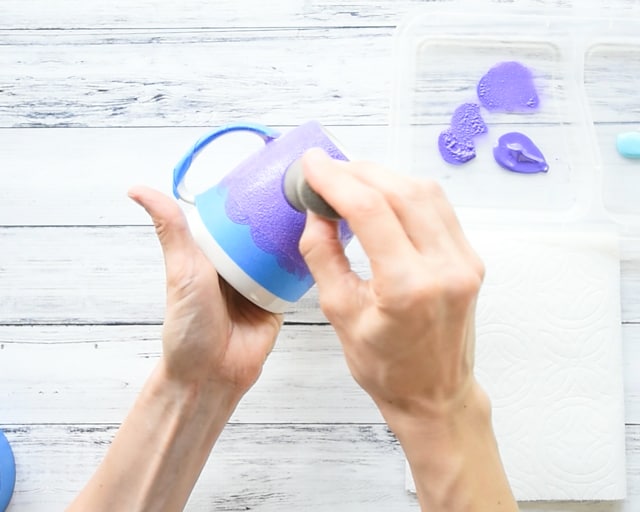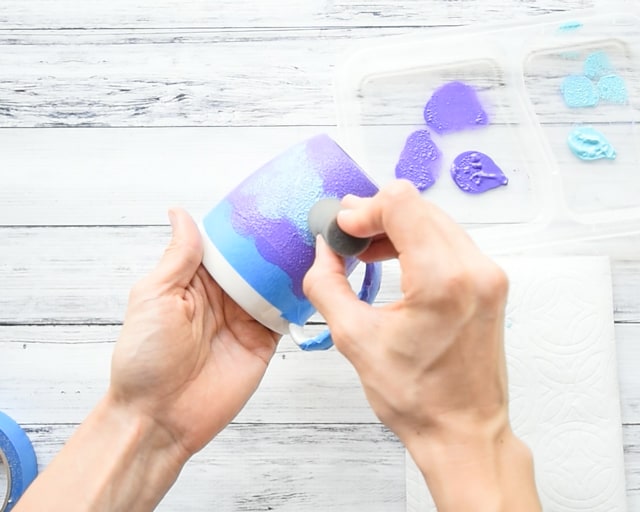 Allow the paint to dry fully (I prefer to let it dry overnight), then create a constellation pattern. I created stars connected by dotted lines, but you can do whatever you'd like!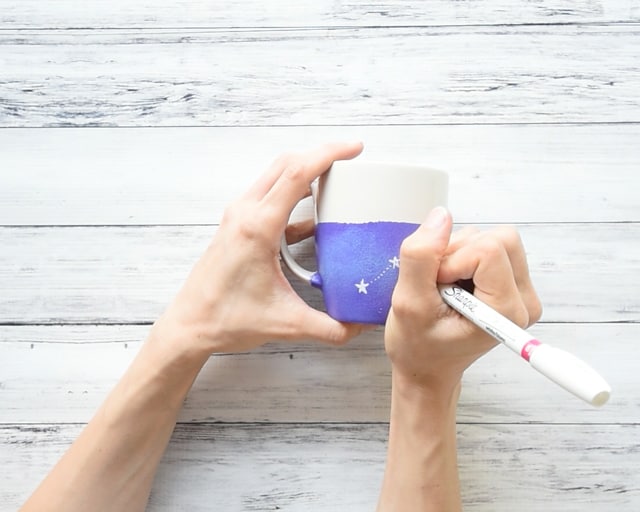 Bake or cure according to your paint's directions before placing in the dishwasher. The Folk Art Enamels need to cure for 21 days or in a 350ºF oven for 30 minutes. Always make sure to place ceramics and glass in a cold oven, bring the oven to temperature, and then allow your piece to cool fully in the oven.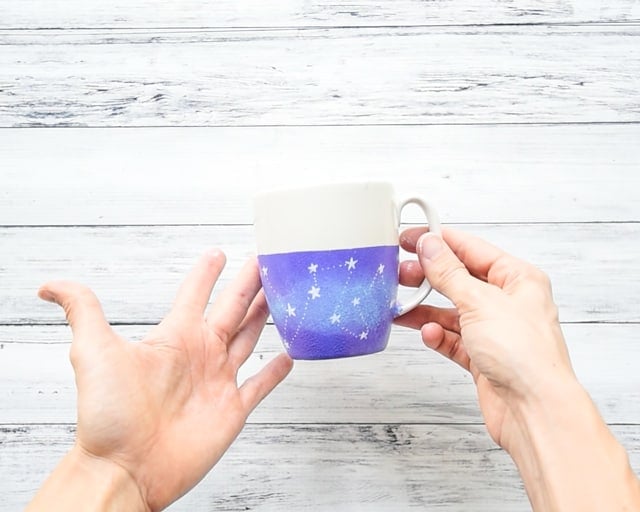 These directions are a bit basic because I have a full-length video detailing the entire process! You can watch it in this window below, or click on over to YouTube to comment on the video and check out my other painting & crafting videos. 🙂
I really hope you enjoyed this galaxy mug tutorial as I did! If you like galaxy paintings, please be sure to check out this mini galaxy canvas with craft paints tutorial: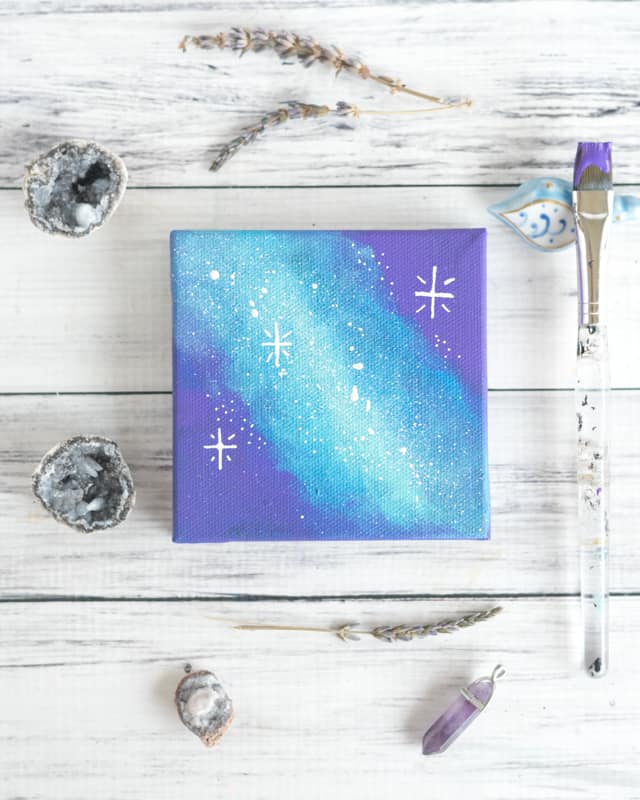 And this watercolor night sky with minimalist mountains video:
Oh, and I also have this tutorial for painting a galaxy on a wood slice. Maybe I'm a bit of a galaxy painting addict!
I really hope you enjoy making your own dishwasher safe galaxy mug! If you do and post a photo on social media, please tag me. Someone tagged me with a project just a couple of days ago and it was so much fun to see!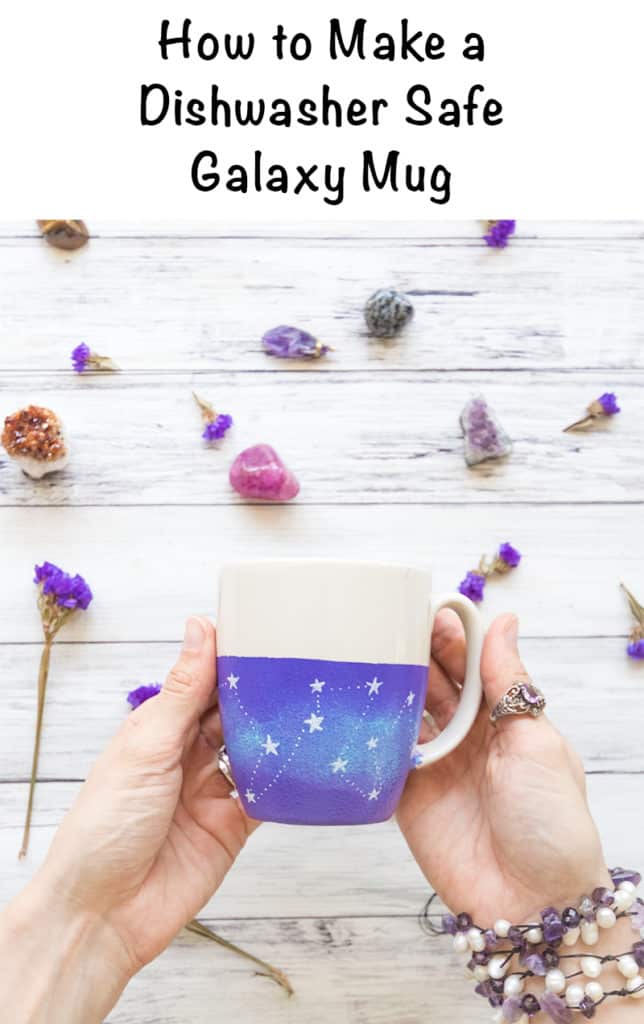 More Related Posts
[pt_view id="15d429e15n"]