Cucumber vines can be enormous plants with long vines that take up a lot of vegetable garden space. They also do surprisingly well in containers. By choosing the correct pots and right cucumber variety, you can easily get an abundant harvest from just a small amount of space.
Cucumbers are a child-friendly garden plant, and growing them in containers makes them even more kid-friendly. Growing cucumbers in containers is perfect for families, classrooms, and even school gardens. Discover how to grow cucumbers in containers, including important care tips that will keep your plants thriving and producing.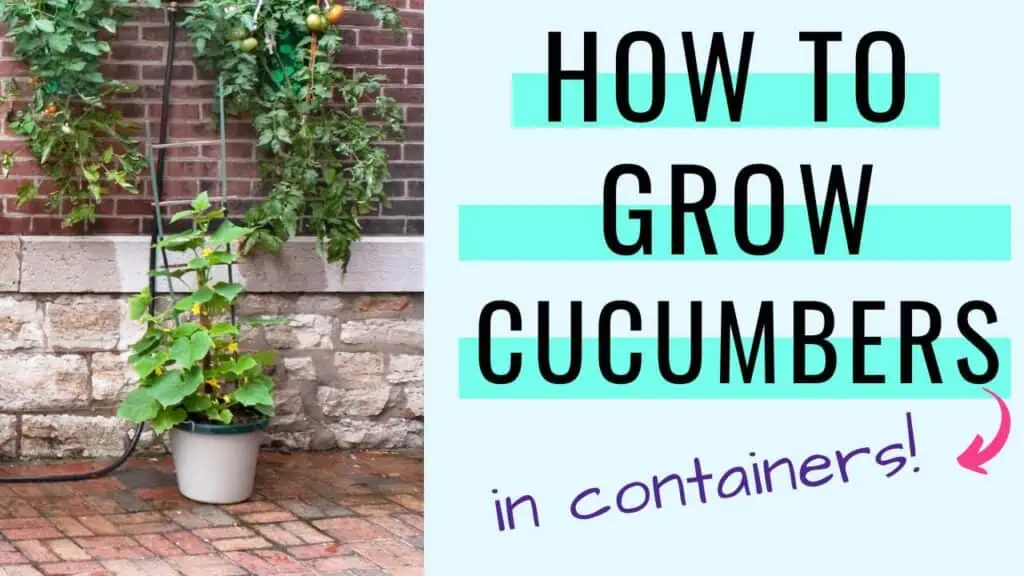 This post may include affiliate links which means I may earn a commission on qualifying purchases at no additional cost to you.
Gardening with kids is a fantastic way to teach them about responsibility, patience, persistence, and, of course, what real food tastes like! Produce starts to lose nutrients once it's picked. Getting your kids involved with growing veggies can help them want to eat their vegetables and ensure they're getting the most nutrition per bite. Make sure to stop by this page for a complete list of posts about kid-friendly gardening.
Growing Cucumbers in Containers
Cucumbers (Cucumis sativus) are vining plants related to zucchini and winter squash. They are relatively easy to grow and thrive in hot, sunny weather.
Though you might not think of them as a typical container plant, cucumbers do well when grown in a large container. You can make use of a trellis or netting to grow the plants vertically, or choose compact bush cucumbers and let them trail over the sides.
Do not let a lack of space or ideal growing conditions stop you from growing your own cucumbers. If you keep them watered and give them plenty of sun, they will produce.
The soil in containers heats up more quickly than garden soil, which is something cucumber plants enjoy because they require a warm soil temperature. This is particular importnat in a cooler climate with a shorter growing season.
For delicious cucumbers, make sure your plants receive regular watering. Irregular, insufficient water will make your cucumbers bitter, no matter where they're grown.
Containers for Growing Cucumbers
The first step of how to grow cucumbers in containers is choosing the right pots.
In general, the larger the container, the better your plants will grow. At minimum, a pot should hold at least 5 gallons of soil and have dimensions no smaller than 12" across and 16" deep. Using 6 – or 7 – gallon containers is even better. I have also used a large Earth Box container for cucumbers. The Earth Box and other self-watering planters are particularly good choices for thirsty plants like cucumbers.
Delxo 10-Pack 7 Gallon Grow Bags Heavy Duty Aeration Fabric Pots Thickened...
Large capacity: 10 pack-7 gallon. Get the best planting bags at the lowest price and buy them at once to meet all your needs.
Sturdy Fabric Material:Made of 300G thickened nonwoven fabric wihich is fairly permeable,environmental-friendly and heavy duty & durable,...
Great For Root Formation:Whether they are small/large or indoor/outdoor plants, these fabric pots are great at growing plants.Allow your roots to...
Always choose containers that have drainage holes in the bottom. (Grow bags don't need holes because the fabric breathes. This prevents water from accumulating and rotting the roots of your cucumbers. If your pots do not have drainage holes, you can drill your own before planting. You do not need to add holes to a grow bag because the material breathes. Do not add rocks to the bottom of your pot. This does not improve draining and can actually lead to soggy roots.
Container material is up to you. Plastic, fabric, and ceramic pots are all good choices. The only material you may want to stay away from is clay because it tends to wick moisture away from the soil. Large clay pots are also heavy and can break if you need to move your plant.
The pictures in this post feature an experiment I conducted by planting multiple Spacemaster bush-type cucumbers in one tier of a GreenStalk Grower. They were crowded and the container was too small for all of them, but they managed to produce plenty of cucumbers.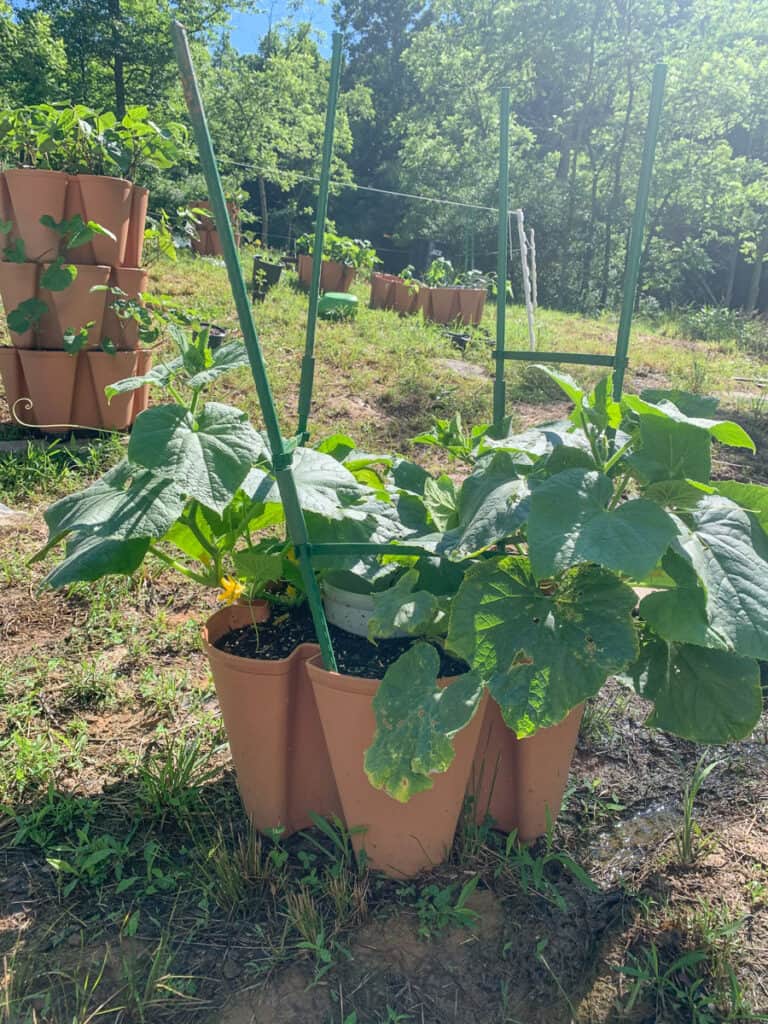 Choosing the Right Cultivar of Cucumber for Containers
All types of cucumbers can be grown in containers if you are willing to put in the work, but the easiest ones to grow are compact, bush cultivars.
Though all cucumber plants form vines, bush varieties usually top out at 2-3' long and don't typically require a trellis. They are not a "bush" like a blueberry bush, but they are more compact than vining cukes. Vining varieties are large plants that can grow up to 8' long! Within the larger bush category, there are several compact cultivars that are perfect for containers.
If you really have your heart set on a specific vining cultivar, you can put a sturdy trellis in your pots or place them against a support system so that the vines can be trained upwards. Vining varieties will also need an even larger container than bush cucumber plants.
How to Grow Cucumbers in Containers: Getting Started
Filling Pots for Container Gardens
Cucumbers are heavy feeders, so it's important to supply them with a nutrient-rich soil. For containers, you'll want to look for a high quality potting mix. Do not use soil from your garden because garden soil will be too heavy and will prevent good drainage.
Combine the potting soil with compost in a roughly 50-50 mixture. If your potting soil doesn't already have fertilizer in it, you can also add an organic, slow-release fertilizer to the soil mix at the rate listed on the bag.
Before filling up your containers, you can use a small square of old fabric to cover any large drainage holes in the bottom of the pots. This allows water to still drain but will keep the soil from washing out through the holes.
Starting Cucumbers from Seed
Cucumbers are easy to start from seed but don't always transplant well. If your season allows for it, plant the seeds directly in your containers several weeks after your last spring frost date when the temperature is consistently 65°F or warmer.
To help your seeds germinate, mix enough water into your potting soil to get it damp before planting. Then, plant 1-3 seeds per pot about 1" deep. I also mix mycorrhizal fungi inoculant into my soil. I've had great luck with Myco Bliss. Mycorrhizal fungi help your plant produce greater yields while using less water. (Yes, really!)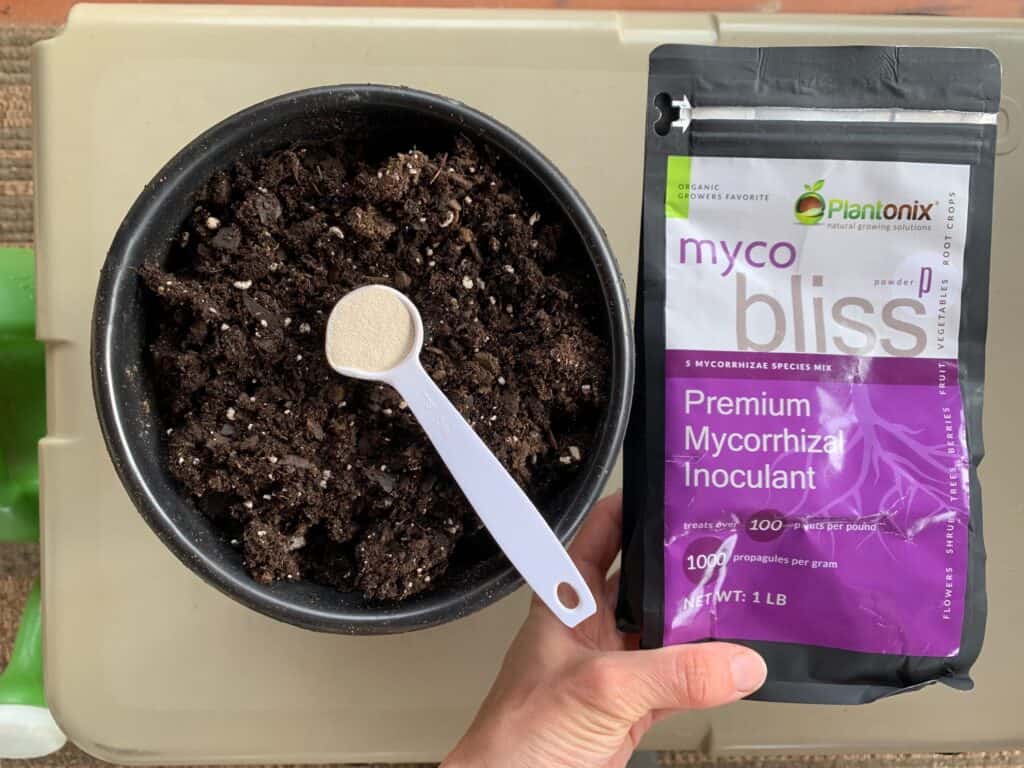 Sale
Myco Bliss - Mycorrhizal Inoculant for Plants - 5 Superior Strains -...
🌻【Why Plantonix Myco Bliss?】- Fungi root enhancers contain beneficial fungi that can help improve the health and growth of plants. These fungi...
✅【Highly-Concentrated Root Booster】- With a concentration of 1,000 propagules per gram, Plantonix Myco Bliss is the ideal product for improving...
🌱【Promotes Vigorous Plant and Root Growth!】- Mycorrhizal fungi inoculants contain unique strains which develop robust and beneficial symbiotic...
Keep the soil in the containers consistently moist until germination. When your seedlings get a few inches tall, thin them to only one per pot, keeping the healthiest looking one and snipping the others off at soil level.
If you need to get a head start on the cucumber-growing season, you can start your seeds indoors about 3-4 weeks before you intend to transplant them outside. Use small biodegradable pots to minimize disturbance to the roots when you do transplant.
Remember to harden your seedlings off about a week before you plant them outside, and be gentle with the root system. Discover
Cucumber Growing Conditions
Cucumbers are heat-loving plants. Only plant your containers once the weather is warm and settled with temperatures consistently in the upper 60s or 70s.
Apart from planting in good quality potting soil mixed with compost, the best thing you can do for your plants is to place your containers in a location that gets full sun. Cucumbers will not produce in shady areas.
You can get a cucumber small harvest with 6-8 hours of sunlight, but cukes thrive with 8+ hours of sun a day. This means full, direct sun, not dappled shade. The great thing about container gardening is that you can move your cucumber plants, if needed, to a location with better light.
If you don't have a trusted local source for compost, you can find organic certified compost on Etsy. Finding clean compost has become increasingly difficult because so much hay is sprayed with herbicides that go on to contaminate manure and can kill your crops. You can read more about this problem in David the Good's guide Compost Everything.
If you are growing a vining type of cucumber that needs support, be sure to put in a trellis or something similar at planting time. I have used simple coated stakes with clip on trellis pieces, like you can see in the photo below. It was definitely not ideal, but it got the job done. Done is better than perfect!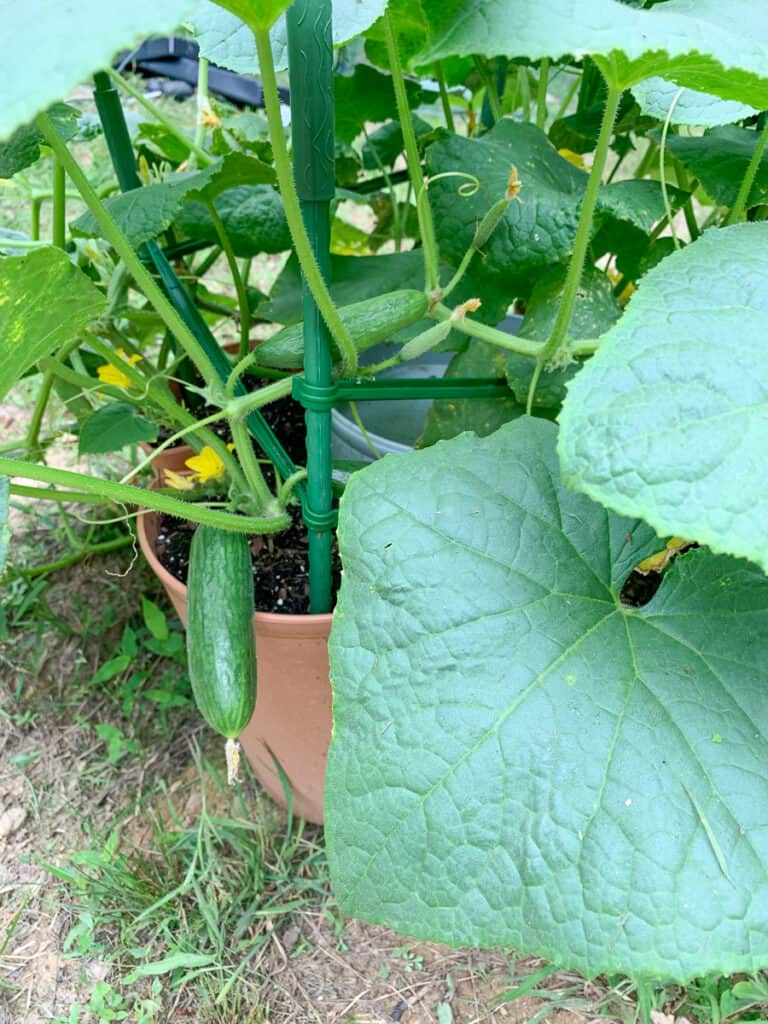 Caring for Cucumber Plants in Containers
Plants in pots need to be watered more frequently than plants in the ground because the soil dries out more quickly. In the heat of summer, this can mean watering twice a day to ensure the plants have a sufficient amount of water.
Dry cucumber plants produce bitter cucumbers, so keep your plants well watered. I typically water with my favorite hose end watering wand. It's so easy to use that even a young child can help. =)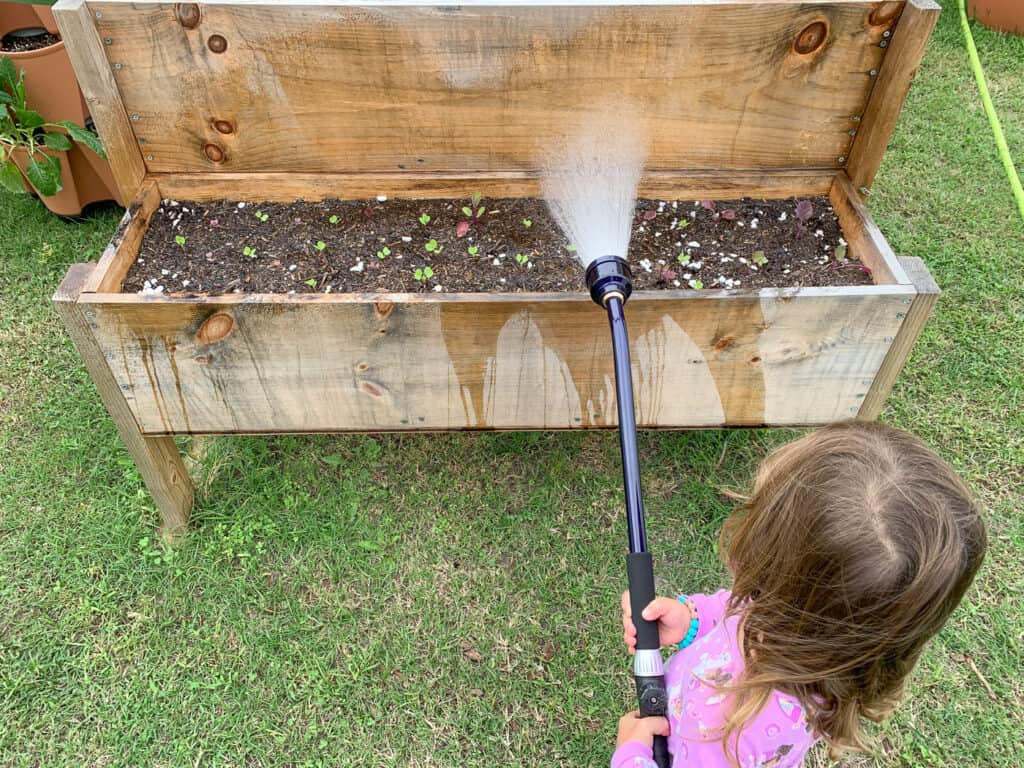 Sale
GREEN MOUNT Watering Wand, 24 Inches Sprayer Wand with Superior Stainless...
IDEAL CHOICE. The GREEN MOUNT sprayer wand is ideal for watering bushes, gardens and shrubs. It dose have a nice curve along the wand and gives a...
NEW DESIGNED SHOWER HEAD. Especially 661 holes are perfect for delicate flowerbeds and seedbeds. The head is fully removable which allows to break...
EVERYTHING IN REACH. Hose wand allows you to water over, under, and around where traditional nozzles can't reach.
To check the soil moisture, stick your finger into the top few inches of soil. If it feels dry, give the container a deep watering. If it feels moist at the tip of your finger, you don't need to water yet. If your plants looked wilted, water them ASAP!
Using a liquid fertilizer throughout the growing season is another way to help your plants thrive. You can use something like compost tea or a diluted kelp fertilizer every 3-4 weeks, making sure to water deeply when you fertilize so that it gets down to the roots.
I like to use Neptune's Harvest and I also feed my plants and soil with EM-1. EM-1 costs a fair amount per ounce, but the company gives instructions for using it to make more of your own so you can buy once and make "EM extension" using just EM, water, and molasses.
TeraGanix EM-1 Plant Growth, Microbial Inoculant Concentrate (1 Btl = 16...
THE #1 ALL-NATURAL SOIL MICROBES are here to recharge your soil and improve texture and drainage, while promoting growth for your plants, flowers,...
IMPROVE WATER QUALITY IN YOUR PONDS AND AQUARIUMS with our non-toxic and safe EM1 microbial inoculant. This non-GMO, user-friendly probiotic inoculant...
1 MILLION COLONY-FORMING UNITS OF LACTIC ACID BACTERIA will help eliminate foul odors (pet, smoke, garbage or paint smell) while conditioning your...
The other important care task you'll have is keeping your plants trained and supported.
If you planted a compact bush cultivar, you won't need to provide any support, although some gardeners like to put a tomato cage around each cucumber plant to help them stay upright. Vining varieties can be trained up a trellis, netting, mesh frame, etc.
You can also let your plants simply trail over the sides of the containers, but growing them vertically allows for better airflow and healthier plants.
Cucumber Pests and Problems
Cucumbers in containers aren't usually affected by fungal diseases like powdery mildew unless you crowd the pots together or have an extremely wet summer. Good airflow is essential for preventing disease, so keep this in mind as you arrange your container garden.
That having been said, I have experienced downy mildew on container cucumbers, but when they were packed in closely with too many in one container.
According to soil and plant health experts Matt Powers and John Kempf, incomplete lipid synthesis causes susceptibility to downy mildew. Complete lipid synthesis can only be achieved through robust microbiology, which is more difficult to achieve in a container.
You can help your plants by inoculating them with mycorrhizal fungi and using EM-1. If you didn't inoculate your plants when you started them from seed, you can use a water-in inoculant like Big Foot. These beneficial microorganism can help ensure you have a healthy plant and a bountiful harvest.
Sale
Cucumber beetles and squash bugs are the two most likely pests to attack cucumbers. In the home garden, you can typically control them by handpicking the insects and dropping them in soapy water. Healthy plants are better able to withstand insects, so use fertilizers like Neptune's Gold that contain micronutrients and feel your soil with things like compost tea and EM-1. This is a cucumber beetle: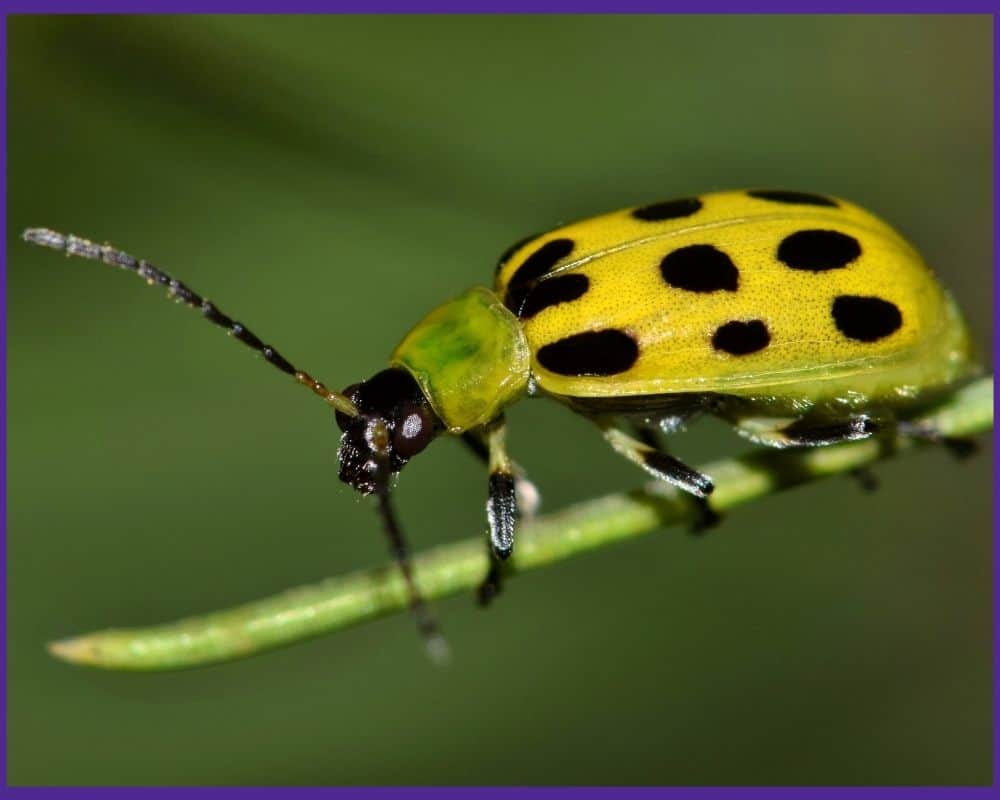 Harvesting Your Cucumbers
Now that you know the most important steps of how to grow cucumbers in containers, you'll be able to start harvesting the fruits in mid to late summer. (Fun fact for your science lesson, cucumbers are botanical fruits, but culinary vegetables.)
Depending on which variety you chose to grow, your first cucumbers will be ready anywhere from 45 days to 2 months after planting. A few of the larger varieties may take a little longer.
You will probably see male cucumber blossoms first. Most cucurbit plants produce male flowers before female flowers to ensure pollination can take place. You'll know as soon as you get female flowers because they'll have a tiny cucumber at the base of the flower: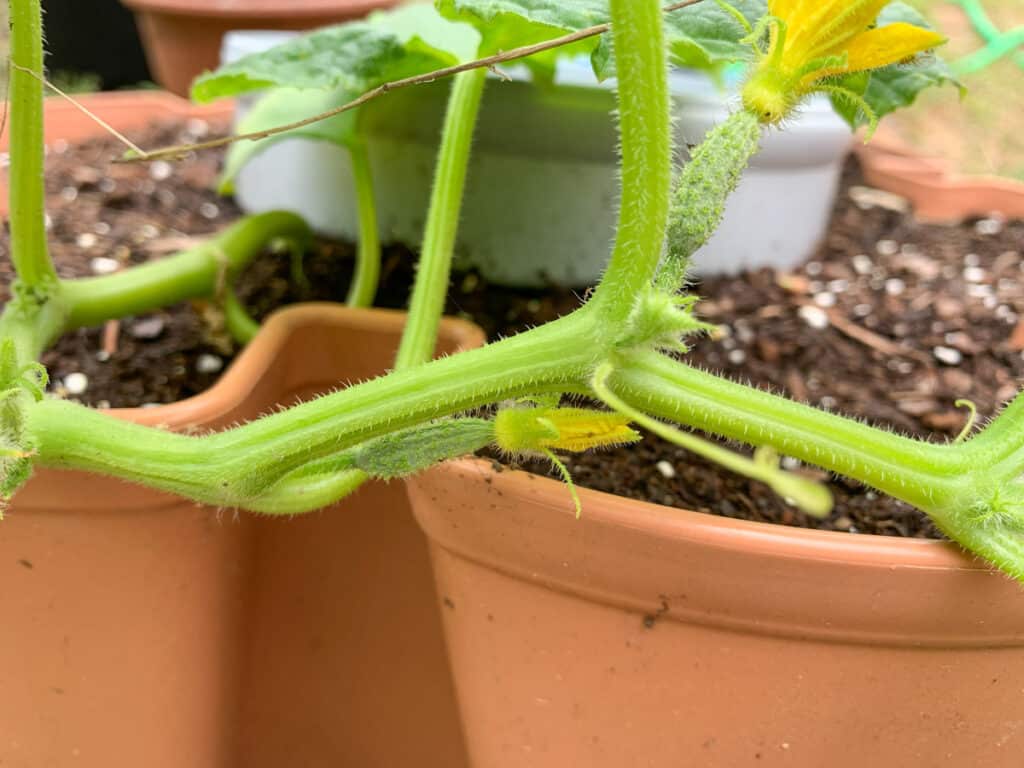 If you get cucumbers that are weirdly thin or shriveled on one end, they may have experienced incomplete polination. Help your local pollinators out by manually transferring pollen from the male flower to the female. The picture below shows a different cucurbit family member, but cucumber flowers will be similar (just a lot smaller).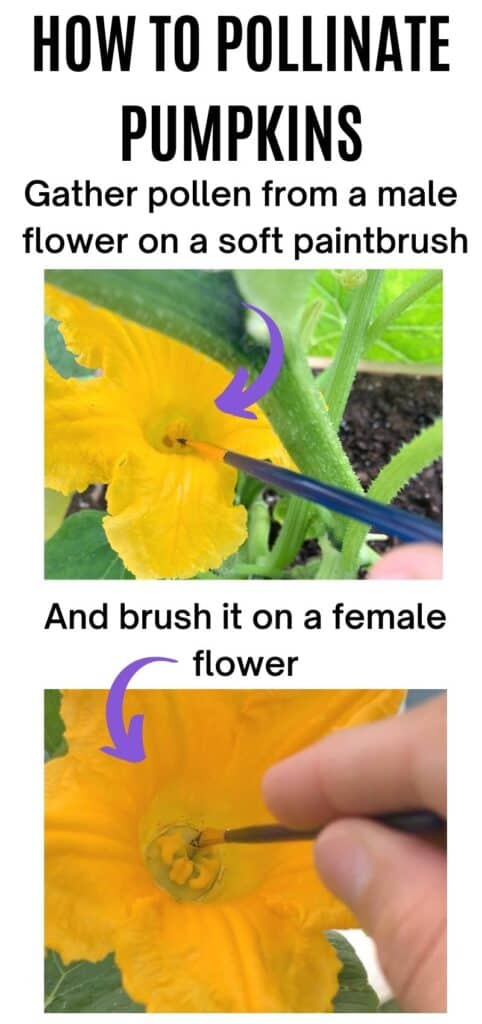 Cucumbers are best harvested when they are slightly under full size and still tender. This could be anywhere from 2" long to a foot long, depending on the cultivar, so be sure to read the seed packet to know when yours are ready to pick. Keep a close eye on your cukes – sometimes a small cucumber spotted one morning will be gigantic and tough by the next morning!
Harvest individual cucumbers by using a pair of hand pruners or sharp scissors to snip them off the vine. Once your plants get going, you'll probably want to harvest every one or two days to make sure no fruit gets overripe. Cucumbers past their prime are tough and bitter.
The good news is that the more cucumbers you harvest from your plants the more they will produce!
If your plants last until the fall, be sure to pick any remaining fruit before cold temperatures arrive. Enjoy the wonderful flavor of your freshly picked cucumber harvest, and freeze any extras or turn them into pickles to preserve their texture.
Happy gardening with your little learners!