This post may include affiliate links, which means I may make a commission on purchases made through these links at no additional cost to you.
I don't tend to post my crafting and culinary failures. I know some bloggers do, and some people think they should, but I don't. Usually when I mess up, it's too much of a discouraging, unappealing mess to look at! I picked up a bunch of purple sweet potatoes recently with the intention of creating sweet potato latkes. Well…they may have tasted okay, but they were hideous. The potatoes oxidized and turned this awful brownish grey color that I didn't even want to eat, no matter how good them smelled! Purple sweet potatoes are gorgeous, though, and I really wanted to create and share a recipe using them. I went back to the drawing board and came up with these mashed Paleo purple sweet potatoes with lime and coconut.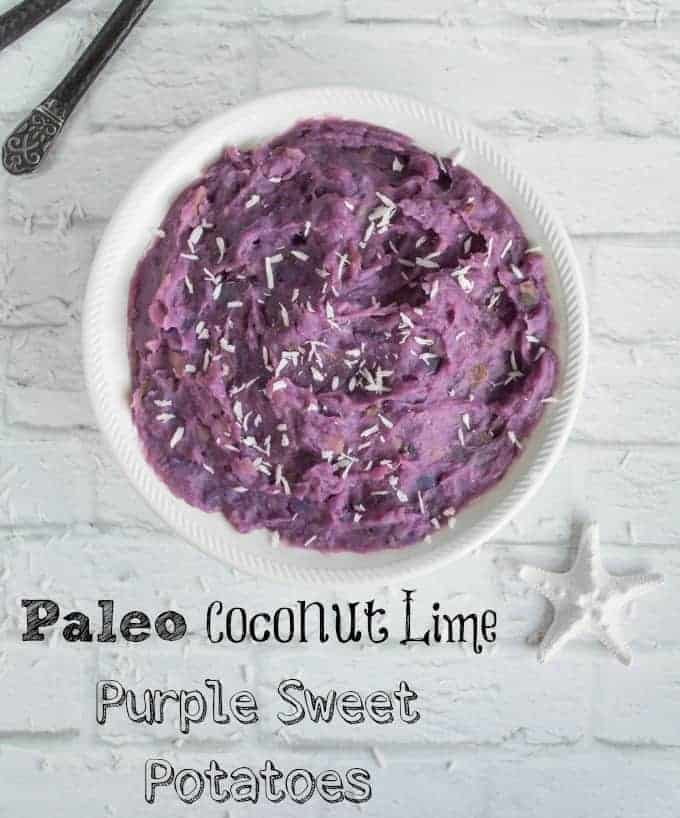 I'm actually glad my latke attempt turned out horrible or I probably never would have made these. Man, they are delicious! Especially when you steam or roast the potatoes, instead of letting them get all soggy in a pot of water, and then add more coconut on top.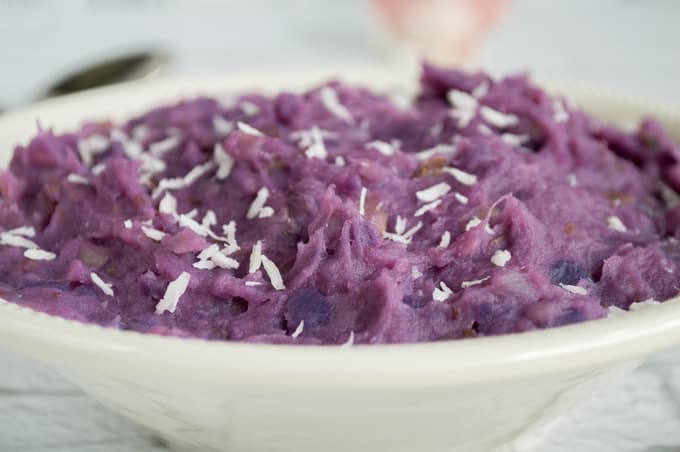 Have you ever steamed potatoes? It's pretty easy, and the purple sweet potatoes smell fantastic while they're steaming! I know that doesn't seem possible, but it's true.
I don't actually have a steamer basket for any of my cooking pots, but our large rice cooker does have one.
Like most of our useful kitchenware, the rice cooker was a gift from my dad. I don't actually use it all that often for making rice (especially since Papi Chulo is gone right now), but I love using it to steam things! Steaming sweet potatoes (or roasting them in the oven, if you don't have the steaming capability) makes them more flavorful than boiling, and it also keeps them from getting as soggy.
Microwaving sweet potatoes doesn't really do them justice (but I do admit to doing it for convince from time to time!). Exactly how long you'll need to steam your potatoes depends on how big they are. I like to start with about 25 minutes and then go from there. Steam them until a knife can slip in and out very easily. This takes anywhere from 25 minutes for smaller potatoes to 45 minutes for the larger ones. Most 'medium' potatoes seem to take about 35 minutes in my steamer.
In addition to my rice cooker, I also used my stand mixer for these mashed sweet potatoes.
Through one of life's mysteries, we don't have a potato masher. It's okay, though, because we do have our fantastic stand mixer! If you don't have a stand mixer, feel free to mash them the old fashioned way. =)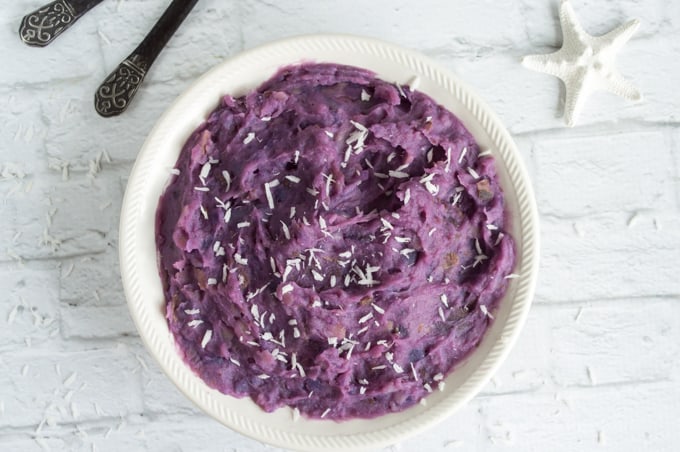 Last little bit of info before the recipe – I only used two medium sweet potatoes. This is enough for two people to have a generous serving, or for 3-4 to have a smaller one. If you want more mashed sweet potatoes, just add more! Make sure to increase the coconut milk and lime juice proportionally, too, and you'll end up with a tasty side for everyone.
Yield: 2-4
Mashed Paleo Purple Sweet Potatoes with Lime and Coconut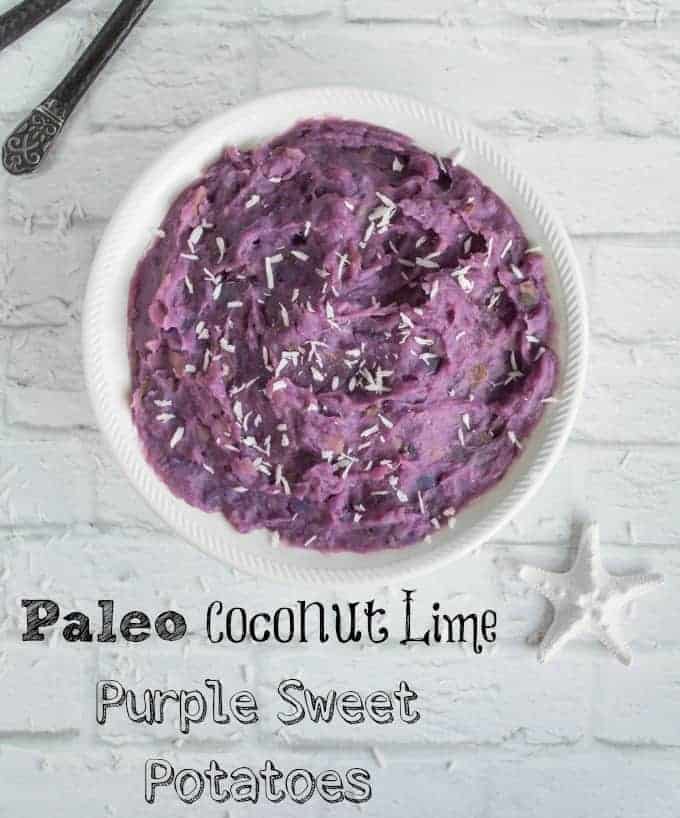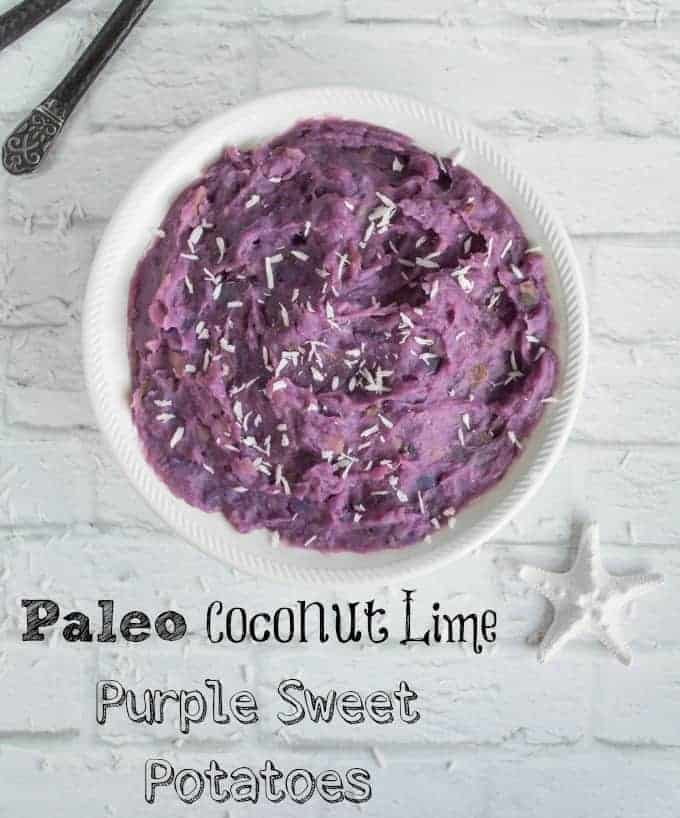 Prep Time 5 minutes

Cook Time 35 minutes

Total Time 40 minutes
Ingredients
2 medium purple sweet potatoes
1/2 cup coconut milk (the kind in a can, not the dairy case!)
1 tablespoon lime juice
grated or flaked coconut, to taste
Instructions
Wash and scrub your sweet potatoes, then steam them until a knife slips easily in an out, about 35 minutes.
Carefully remove the sweet potatoes from the steamer basked and place them on paper towels to remove surface moisture. Cut each potato into three or four chunks, being careful not to burn yourself in the process!
Fit your stand mixer with the paddle or dough hook attachment.
Place the potato chunks in the bowl of your standing mixer, lock it in place, then mix on low until the potatoes are fairly well broken up but not totally creamy, about 30-60 seconds.
Swap out the paddle or dough hook for the balloon whisk attachment, add the coconut milk and lime juice to the bowl, and lock everything back in place. Start mixing on low so the coconut milk doesn't splash everywhere then increase speed to medium. Mix until the ingredients are fully combined and the potatoes are fairly smooth, but still have a few lumps for texture, an additional 30-60 seconds.
Transfer to a serving dish, top with additional coconut, if desired, and enjoy!

These mashed sweet potatoes keep and reheat fairly well. Just wrap them tightly with plastic wrap or transfer them to a reusable, sealable container and stash them in the fridge! I will make these mashed sweet potatoes one day and then have them with two or three additional meals throughout the week, so they're a great way to cook ahead.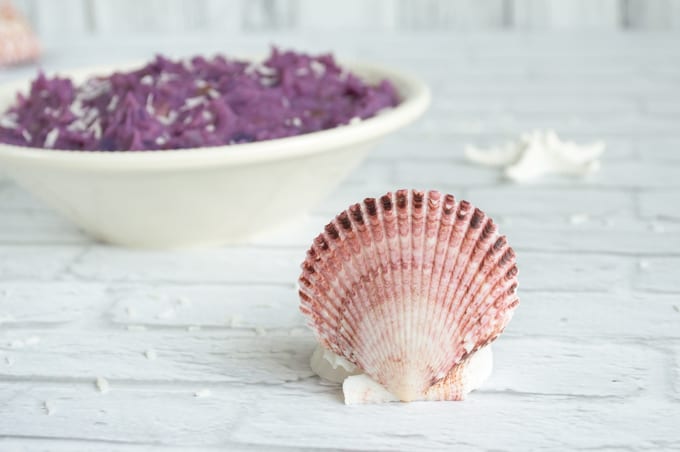 So why is there a seashell in that last photo? Well, because there aren't many varieties of purple sweet potatoes left in the world and one of them is Hawaiian! Moloka'i sweet potatoes are delicious and closely related to Okinawan purple sweet potatoes. I am also aware of the Alabama Purple. If you're out at the store searching for purple sweet potatoes, they probably won't actually look purple from the outside, so knowing these varietal names may help you find what you'er looking for!
Have you tried purple sweet potatoes yet?