This free printable nature scavenger hunt for toddlers and preschoolers is great for summer fun! Take this scavenger hunt with pictures on a nature walk or camping.
As I wrote in this recent post on camping essentials for toddlers, our LG loves the great outdoors! I designed a nature scavenger hunt printable to use with her this summer (and beyond). She's too young to use it alone yet, but she'll grow into it. I hope you enjoy this printable nature scavenger hunt for kids!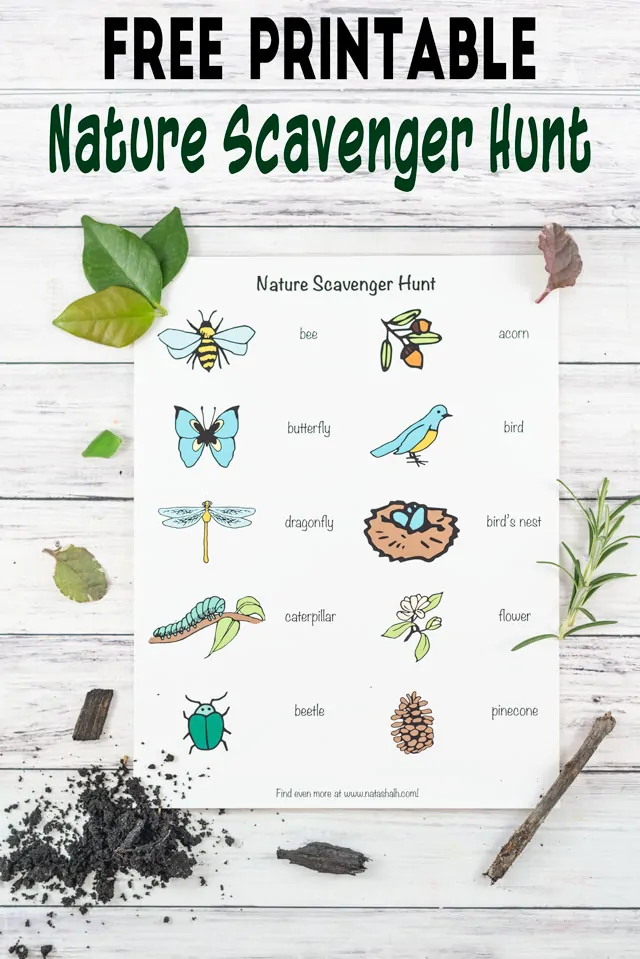 This post includes affiliate links, which means I may earn a commission on purchases made at no additional cost to you.
Tips for printing printables
Using the right materials can really make or break a printables. If you print them on flimsy printer paper and hand them to a young child, they probably won't last long!
Instead, print on presentation paper or cardstock and then laminate the pages or place them in a dry erase pocket.
What is presentation paper? It's a heavy weight paper/lightweight cardstock with a special coating for images. Pictures are more clear and vibrant on presentation paper than on regular paper or cardstock.
The difference is even more notable in real life, but in the picture below the bingo board on the left was down on presentation paper, the one on the right was done on cardstock. They were printed on the same printer – only the paper was different.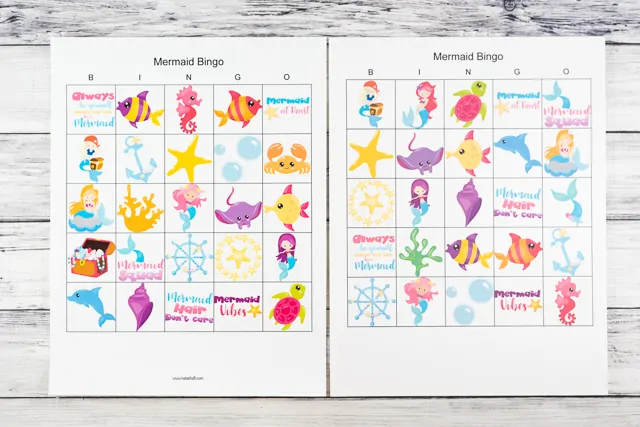 What's a dry erase pocket? It's like a page protector, only better! It's way sturdier than a standard page protector, which means it lasts longer.
Dry Erase Pockets With 10 Assorted Colors Markers, Bonus Ebook For Teaching...
Dry Erase Pockets Helps Parents organizer gaming and learning at home for kids easily and comfortably.
Complete Teacher Accessory Pack- Keep your classroom or office organized with sheet protector pocket organizers, dry erase markers.
Reusable, See-Through Dry erase Pockets - The 10 pocket organizers hold worksheets, calendars, or schedules and let you write on the surface to save...
When your child draws on a dry erase pocket or laminated page instead of on the printable, you can use the same sheet over and over again!
Fun fact: I worked at a copy center right after college. Getting pages laminated at a copy shop is not a good deal if you want to laminate more than about 20 pages ever. If you have young children, buying an inexpensive home use laminator will save you time and money.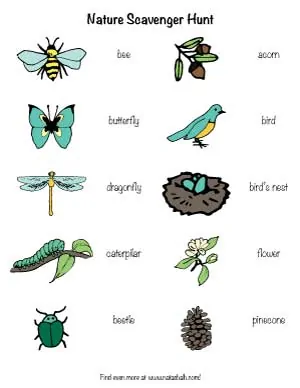 For the nature scavenger hunt, a clipboard can also come in handy since you won't be working at a table. Even though I love natural materials, I think a plastic clip board is the way to go with a young child. The pressboard "wood" clipboards can't survive an encounter with water!
Although laminating or using a pocket lets you use the same scavenger hunt all summer long, it can also be fun for older children to write the date on a page and keep it. Do the same hunt (on a new printout) several times throughout the year, then compare the pages discuss what you found that was similar/different and why.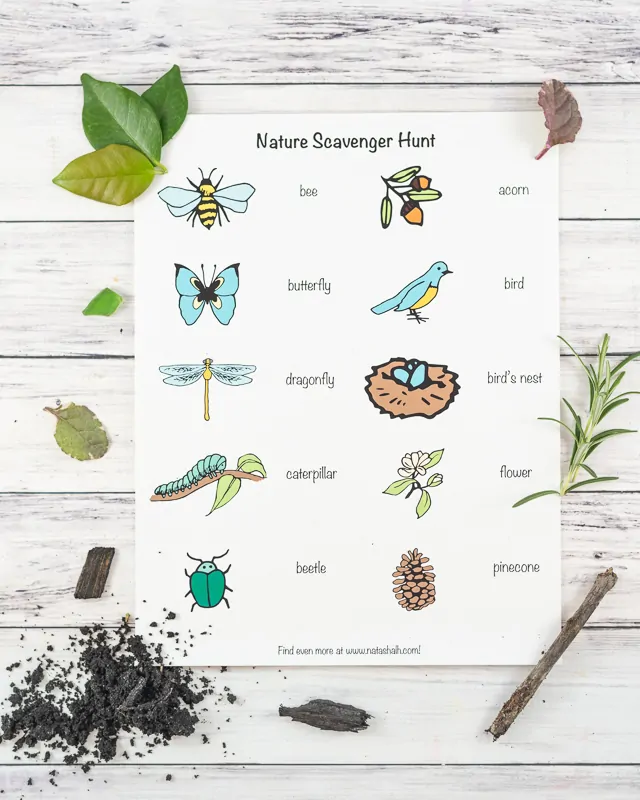 Nature scavenger hunt printable
This printable is free for personal and classroom (or co-op) use, but please do not distribute the digital file. Just send your friends or fellow teachers to this post so they can download it for themselves!
The nature scavenger hunt features a: bee, butterfly, dragonfly, caterpillar, beetle, acorn, bird, bird's nest, flower, and pinecone. Simply circle the object or the word when you and your child find it! Older children may also enjoy making tally marks to count how many of each them find.
Please note that the image is just a low resolution preview – don't try to print it because you'll be disappointed! Make sure to download the high resolution PDF linked below.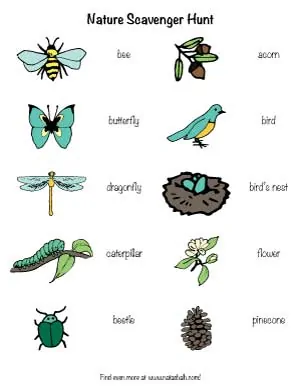 Almost all of my free printables are in the Member's Resource Library, but I decided to make this nature scavenger hunt available right here in the post!
>>Download your nature scavenger hunt here<<
I create new free printables on a very regular basis. (I have a nature bingo game and nature activity pack for preschoolers using these same graphics in the works!)
Update: The printable nature activity pack is available now!
To make sure you don't miss out, become an Artisan Life member today! You'll receive instant access to all the great printables already in the Resource Library, plus twice a month emails with updates about new printables.
More printables & resources for parents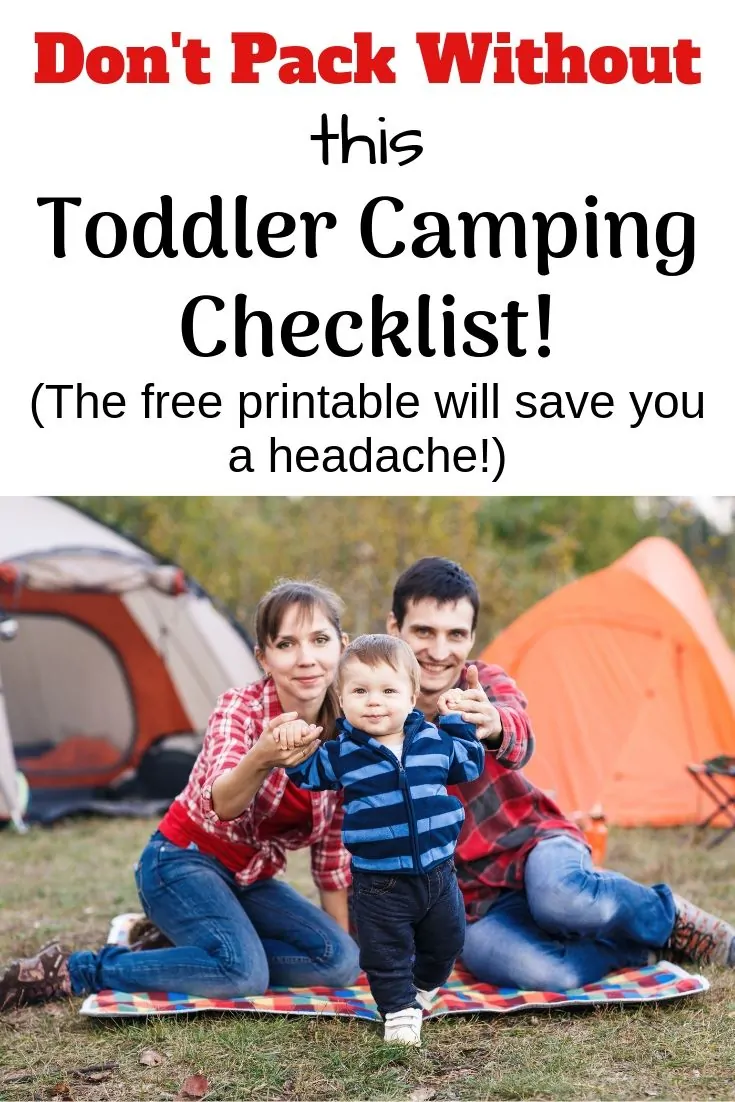 Free printable first day of school signs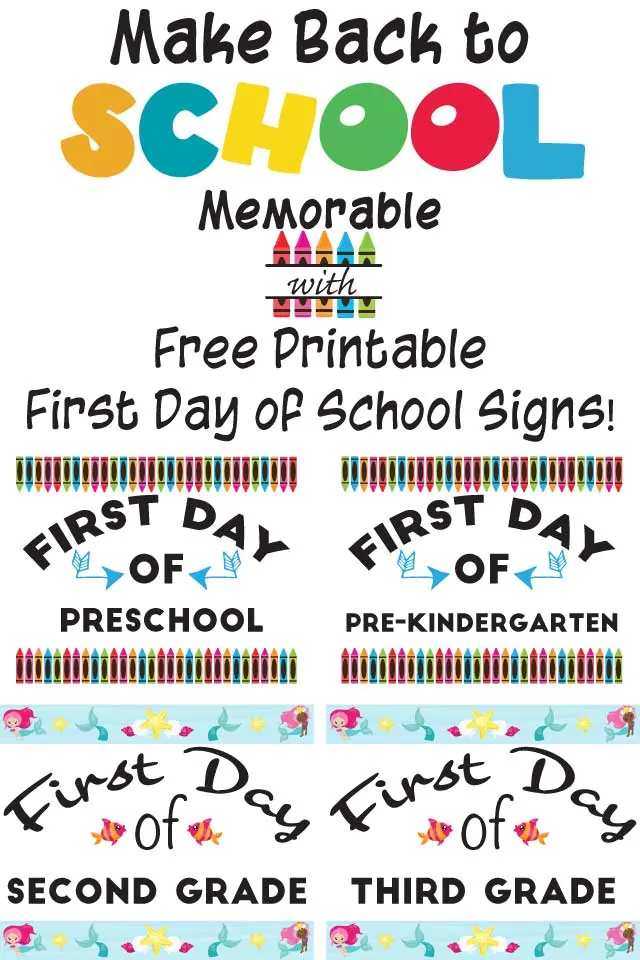 Frog books and toys for toddlers