This post may include affiliate links, which means I may make a commission on purchases made through these links at no additional cost to you.
It will probably never cease to amaze me that people think preparing homemade, healthy food is more expensive than eating junk. Yeah, sure, if you're buying things from the hot case at Whole Foods, it probably is more expensive, but there are so many wholesome, inexpensive ingredients you can throw in the crock pot and enjoy for multiple meals! This pinto bean kale and veggie soup is exactly that type of recipe.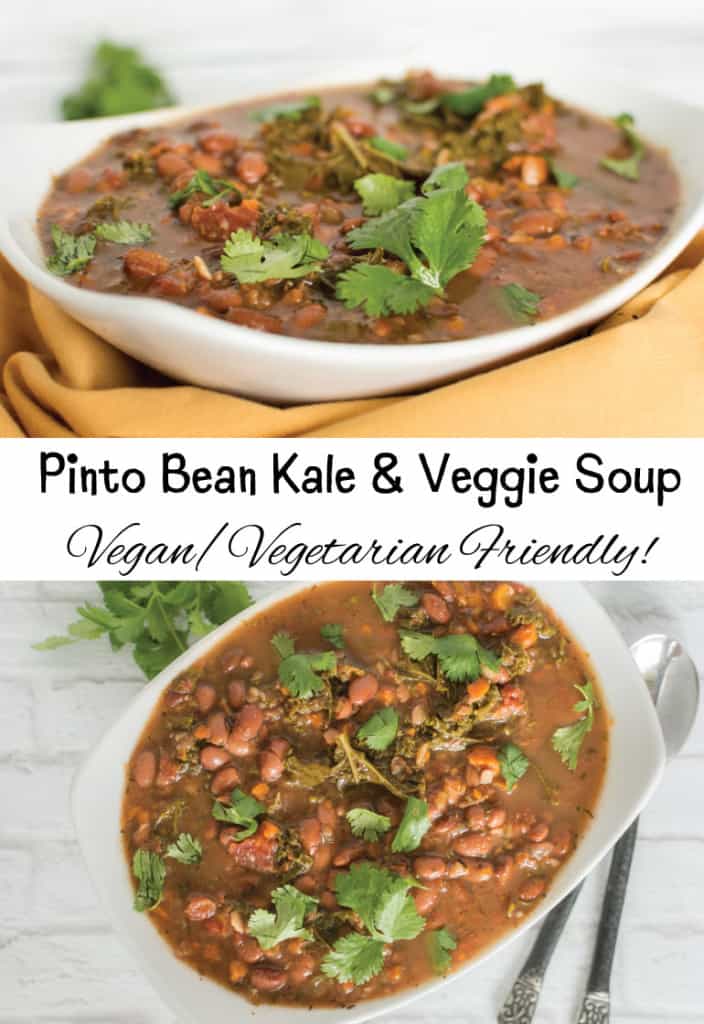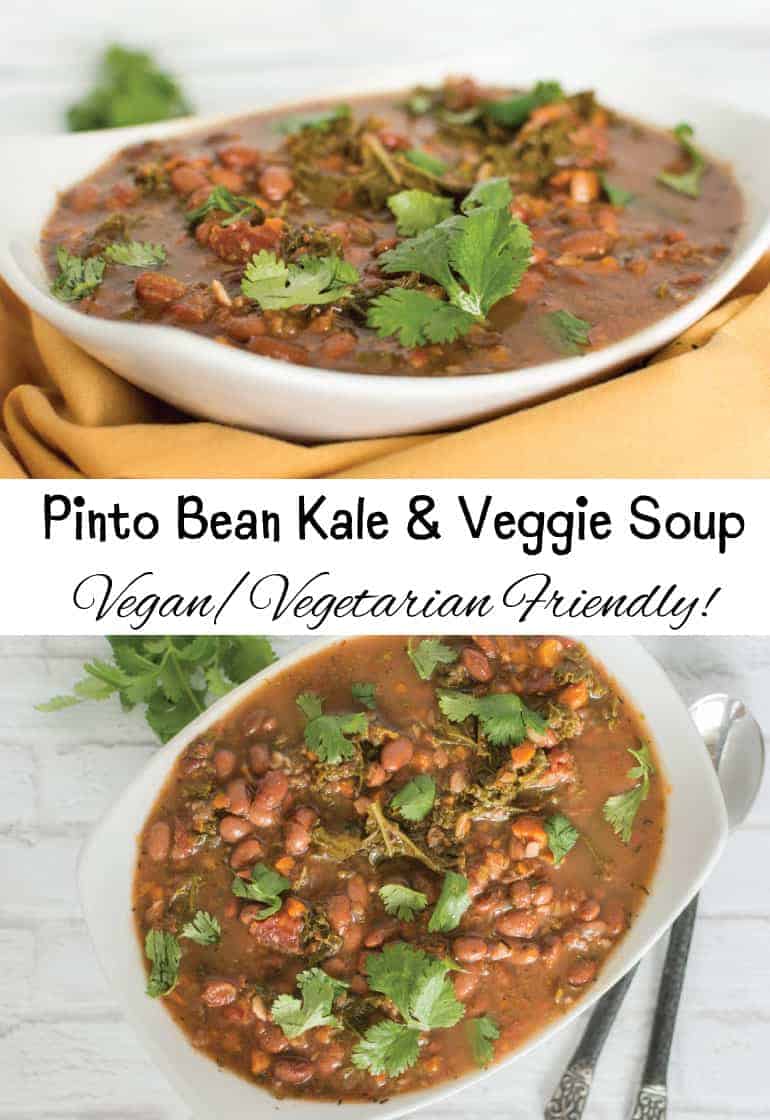 The ingredients cost a total of about $3. Three dollars! And it makes six generous servings, so that makes it about 50 cents a serving. It's filling, but it doesn't sit "heavy" in your stomach like a greasy fast food meal, and it has a good amount of vegan/vegetarian friendly protein. It also has all the vitamins and minerals ever. Okay, so that's obviously not true, but per serving it does have more potassium than banana, 3/4 of your vitamin A needs, 45% of your iron, and a goodly quantity of Vitamin C and calcium. It is also amazingly easy to make – the only tricky part is remembering to pre-soak the pinto beans overnight.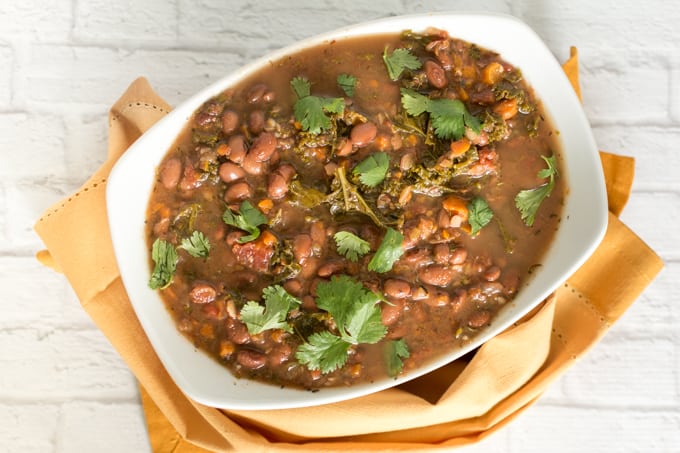 The basic plan is to rinse a 1 pound bag of pinto beans and let it soak overnight. In the morning, throw all the ingredients (less the kale) in a crock pot and cook for about 10 hours. Right before serving, mash or blend some of the soup then add the kale and let it cook for a final 15-20 minutes. That's it! To make prepping the veggies super easy, simply wash and roughly chop them, then pulse them in a food processor a few times. We have a tiny food processor, so I chop each vegetable separately. You can prep the veggies the night before and then throw everything in the slow cooker in the morning. At dinner time, you'll not only have a tasty bowl of soup, you'll also have leftovers!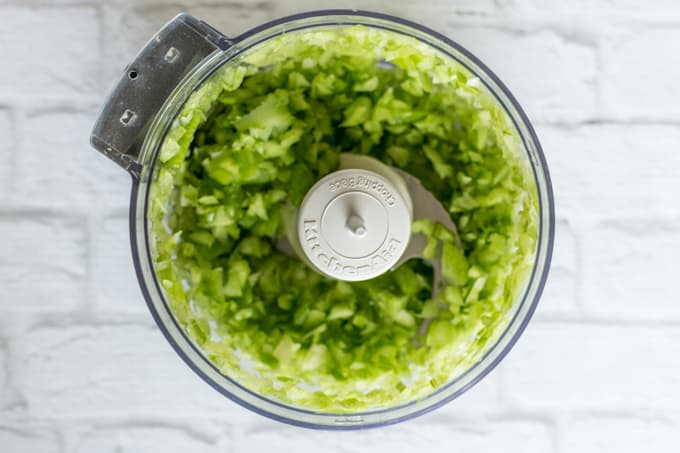 Yield: 6
Pinto Bean Kale and Veggie Soup - Vegan/Vegetarian Friendly!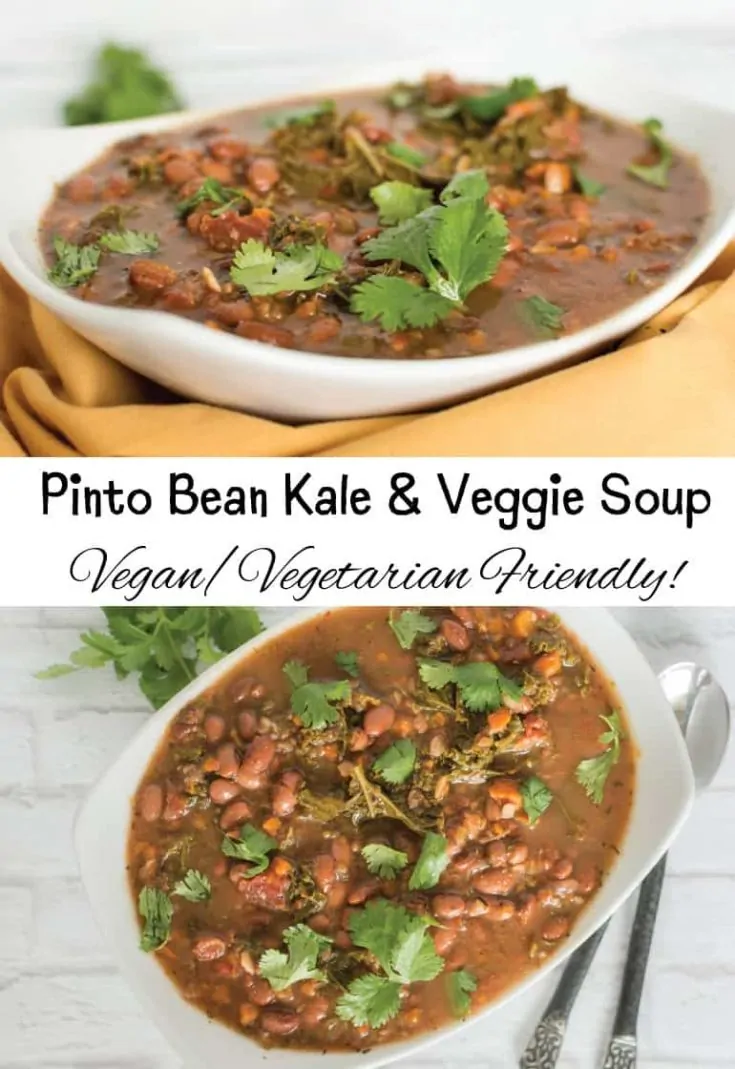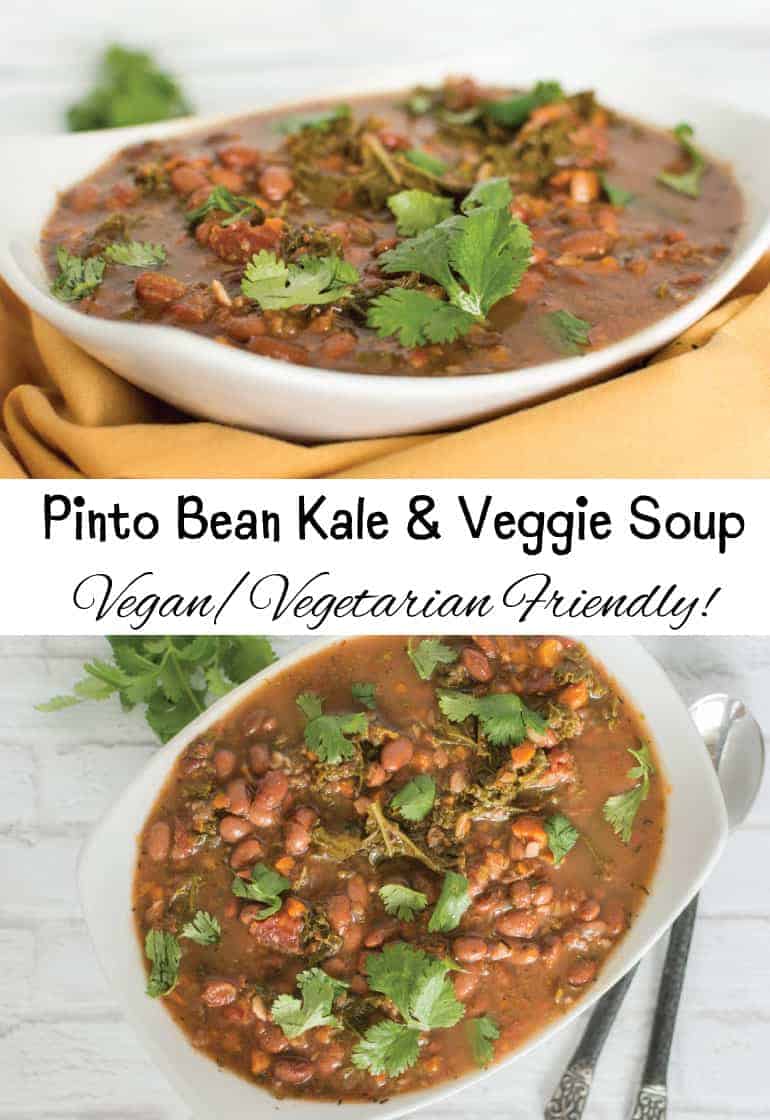 Prep Time 15 minutes

Cook Time 10 hours

Total Time 10 hours 15 minutes
Ingredients
1 pound bag of pinto beans, rinsed, soaked overnight according to package directions, and drained
3 celery stalks, chopped
4 medium carrots, chopped
1 medium onion, chopped
1 (14.5 oz) petite diced no salt added tomatoes (you can also use regular "diced" or dice fresh tomatoes)
4 cups water
3 tablespoons olive oil
1 1/2 teaspoons dry thyme
1 teaspoon dry oregano
1 teaspoon dry parsley or 1 tablespoon fresh, minced parsley
1/2 teaspoon granulated garlic or about 3 garlic cloves, minced
1/2 teaspoon red pepper flakes
A pinch of salt (we don't eat much salt so I just crank the grinder twice over the pot!)
Additional salt and pepper, to taste
6 kale leaves, stemmed and roughly chopped (add more if you love kale!)
Additional parsley or cilantro, to serve. Optional
Instructions
This is seriously easy, y'all! Add everything except the kale to your slow cooker and stir to combine. Go ahead and add the liquid from the tomatoes, too! Cook on high for 6-8 hours then switch to low for an additional 2-4 hours. (You can just leave it on high the whole time, but you might want to check the liquid level after about 8 hours). The soup is ready when the beans are soft enough to eat. If you want to check them quickly, scoop a few out with a spoon and blow of them. Tender, fully cooked beans will have skins that split.
Use a spoon, potato masher, or immersion blender to smash/blend some of the soup. I just do a few pulses with the immersion blender to give the liquid some body without totally pureeing the soup.
Add the kale, stir, and cook for an additional 15-20 minutes until the kale has wilted.
Serve and enjoy! It's great with fresh parsley or cilantro.

We actually like stirring in cooked whole grain pasta or brown rice when we're ready to eat a serving of this bean kale and veggie soup. By itself, a single serving only has just over 200 calories and that isn't enough for us at meal time! That makes us should pretty greedy, doesn't it? But with as much as we hit the gym, we need to eat a lot. We, or at least I, will also be spending extra time at the gym in the coming weeks because I'm signed up for a local competition. Eek! I'm trying to actually "get" my ring muscle ups, which I think are a bit harder than the very clunky bar muscle ups I managed a few weeks ago. I'm following this four week plan that involves three days a week of extra work. Hopefully it pays off!
Today is also Day 1 of my Daily Gratitude Challenge! Stop by my video post to see my response to the day's journaling prompt and leave your thoughts on today's post or the video for your chance to win that handmade pen. =)
Do you have any go-to slow cooker meals that are inexpensive and wholesome? And how about your answer to the first journaling prompt??
SaveSave