This free printable nature activity pack is a fun, educational low-prep activity for young children! Keep your kids busy without turning them into YouTube zombies with this set of nature activity sheets.
I recently shared a nature scavenger hunt that's lots of fun to do on a hike, while you're camping, or just in your yard. Today I'm continuing the theme with a free printable nature activity pack for preschoolers & kindergartners! Toddlers may enjoy some of the activities, too – it depends on what they're interested in.
These nature activity sheets are low-prep and a great way to catch a few minutes to yourself while your little one is busy. They're also perfect for use in your homeschool curriculum or at activity centers at preschool/kindergarten.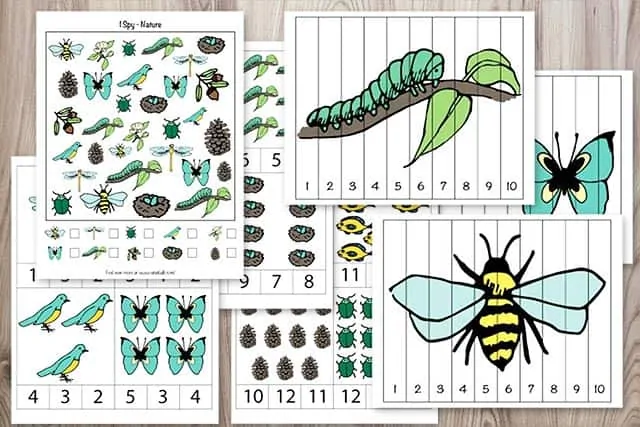 This post includes affiliate links, which means I may earn a commission on purchases made.
A familiarity with nature is incredibly important for children, and something that's becoming all too uncommon.
A couple years ago I read The Last Child in the Woods by Richard Louv. It was a fascinating read that discusses the problems caused by "nature deficit disorder" and how we can help children experience more of nature. Louv did an interview with NPR back in 2005 that you can listen to if you want to find out a bit more!
Nature activity pack for preschoolers
Let's take a look at what's in this nature activity pack. As I said above, I'm calling it a nature activity pack for preschoolers, but slightly older or younger children may enjoy it, too. The more difficult I spy puzzle, for example, may entertain an older child while a toddler may like the tracing sheets.
Here's what's included in the nature activity pack:
3 I spy printables in varying difficulties
Prewriting traceables/cutting practice
Number building puzzles
Counting clip cards (1-12)
Previews and download information are located below the suggested materials and information on how to use the printables.
How to use your printables
I highly recommend laminating the building puzzles and counting clip cards before cutting them out.
By the time you laminate all the clip cards and puzzles, it's worth it just to get your own laminator. Most copy shops charge $1-2 per sheet and that adds up fast!
Sale
Scotch TL901X Thermal Laminator, 1 Laminating Machine, Gray, Laminate...
LAMINATING MACHINE: One Scotch TL901X Thermal Laminator to help you protect frequently used documents up to 9 in. wide
PROFESSIONAL FINISH: Two heated rollers with two temperature settings create bubble- and wrinkle-free results that give your holiday paper items a...
FAST LAMINATING: Laminates one letter-size page per minute and has a release lever for quick pouch release to save you time during the busy holiday...
Inserting the I Spy printables in a dry erase pocket or laminating them is a great idea, too.
The prewriting traceables can be used over and over again when laminated, but don't laminate them if you plan to use them for cutting practice or if you don't want your little one using markers.
I love printing on presentation paper whenever it makes sense. Presentation paper is thicker than regular paper but thinner than cardstock. It has a coating that creates detailed, vibrant prints. It's well worth the investment for sheets you plan to use over and over again!
Sale
The puzzles and clip cards also do well on cardstock, especially if you won't be laminating them. Prints on cardstock aren't as vibrant, but they do hold up well. The difference is more noticeable in real life, but the mermaid bingo card on the left was printed on presentation paper. The one on the right was printed on cardstock.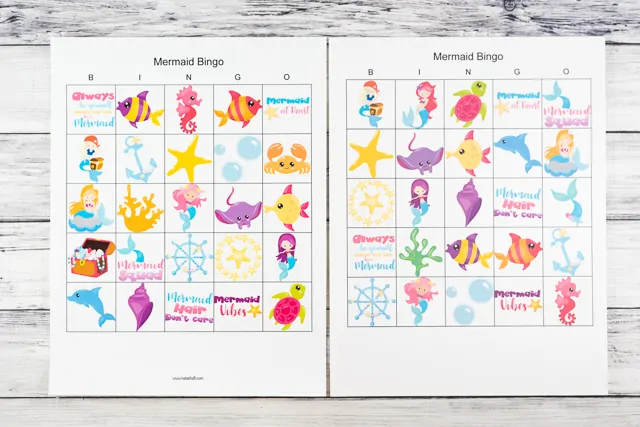 If you're using the traceable/cutting sheets for cutting, I prefer to use a heavyweight (62 lb) paper. I've noticed that it's easier to hold the paper out to cut because it doesn't just flop over. We aren't to the point of cutting along lines yet – I cut 1″ wide strips of paper and we practice snipping off pieces. We use blunt tip small scissors and don't leave them out when I'm not right there to supervise.
Free printable nature activity pack for preschoolers
These images are just low resolution previews, not the high resolution printable PDFs. Please look below the previews for the download links.
These printables are available for personal and classroom use. Please do not share the download links or printouts with others – just send your friends and coworkers to this page so they can download their own copy!
All files are linked individually for free, but you can save yourself valuable time and clicking around by grabbing the whole activity pack for just $1!
Want to take more time and put more miles on your mouse? Just keep scrolling a tiny bit more.
Nature I spy puzzles
There are three levels of nature I spy puzzle so you can pick whatever works best for your child.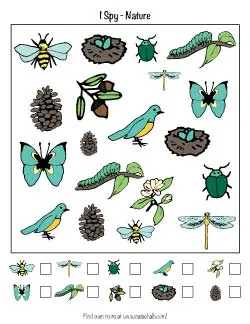 Download the easy nature I spy puzzle here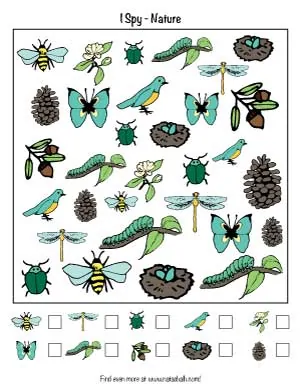 Download the medium I spy nature puzzle here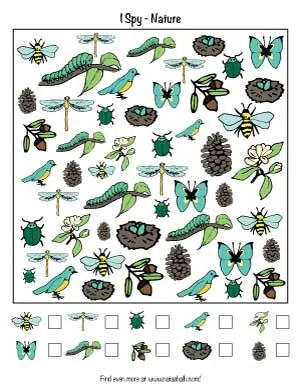 Download the difficult I spy nature sheet here
Nature tracing page/cutting practice sheet
This sheet works well either for tracing or scissor practice. Laminate the page to use it for tracing over and over again!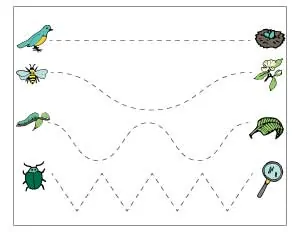 Download the nature prewriting practice sheet here
Nature number building puzzles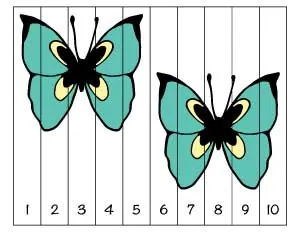 Download the butterfly number building puzzle here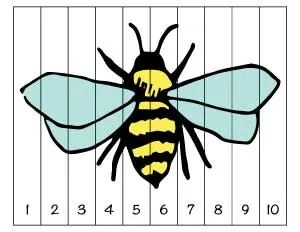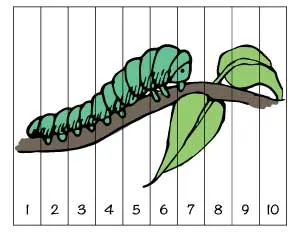 Caterpillar number building puzzle
Nature themed clip cards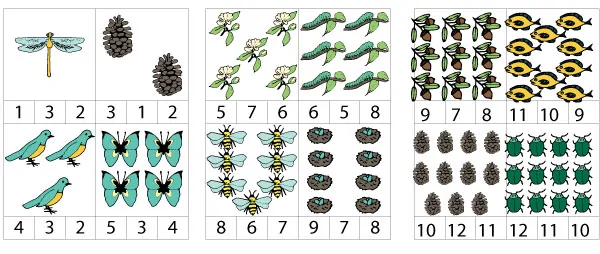 Download the nature clip cards here
Don't lose track of these printable nature activity sheets – Pin them now!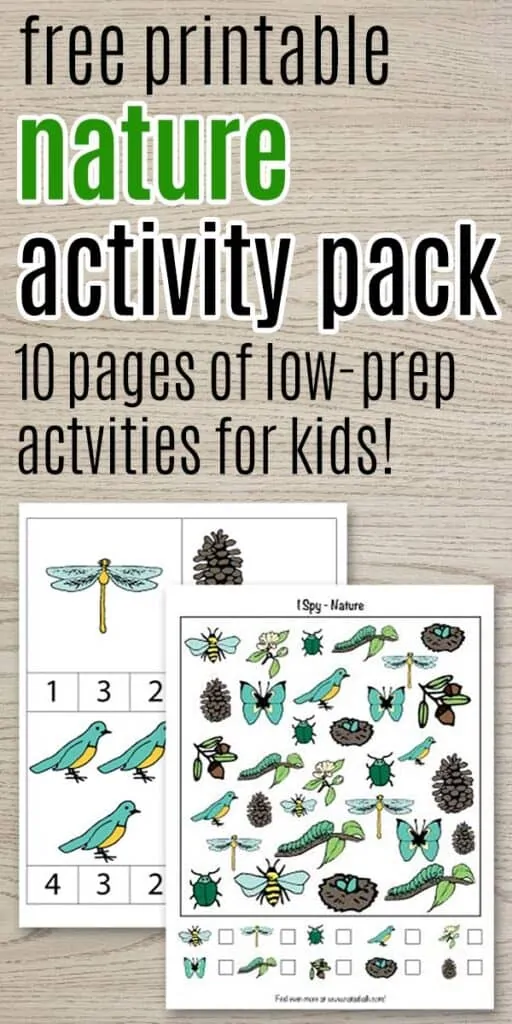 Printables & Activities for Children
I believe you shouldn't have to pick between fun and education. These free printables keep your kids busy and learning without resorting to screen time.
Make sure to join The Artisan Life family newsletter so you can get the latest freebies and low-prep activities for your littles.