Two year olds can be challenging, but it's so much fun to play a game with your two year old! Discover the best board games for two year olds that encourage cooperative play and bring smiles to faces.
I'm one of those "picky parents" who does all the research before buying things for my daughter. I'm also a former classroom teacher with a Masters in teaching, so I'm big on developmentally appropriate toys and games. This post includes my top picks for cooperative board games for toddlers that are fun, engaging, and educational.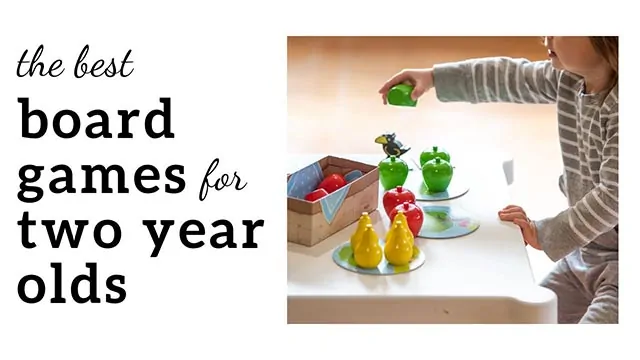 The benefits of playing games for toddlers
Children learn through play. Playing is a child's most important work! Playing games, especially cooperative games, is beneficial for toddlers.
Playing games can help toddlers with:
Color recognition
Learning routines
Cooperating with others
Learning and following rules
And more!
The games included in this post are board games – not electronic games. There are no mindless bopping games, batteries, lights, or toys that play with themselves in this list!
Parents sometimes worry that providing "old fashioned" toys like blocks, cards, and board games will put their child at a disadvantage.
Luckily, this simply isn't true!
The packaging on all those electronic toys and games tries to convince you that they're great for development and your child will fall behind without them. The fact of the matter is that traditional toys encourage better language development than electronic toys.
Non-electronic toys, like board games, encourage interaction with other people, turn taking, emotional regulation, and physical activity in a way that digital toys simply can't. You can read more about why traditional toys are better than electronic ones for kids here.
All of these board games for toddlers rely on cooperative play/are games that have no single "winner." I hope you enjoy them as much as we do!
The best board games for two year olds
This post may include affiliate links which means I may earn a commission on qualifying purchases at no additional cost to you.
HABA's First Orchard was, appropriately enough, our LG's very first game. Haba is one of my favorite wood toy companies so I knew it was a product I could trust. The game is perfect for learning colors and encouraging cooperative play. We've had it for several months now and still regularly enjoy playing First Orchard as a family. My daughter claps with excitement every time we "pick" a fruit!
The Little Balancing Game brings together two toddler favorites: balancing objects and frogs. (If your child loves frogs, be sure to check out this post with frog toys for toddlers!)
Monkey Around is perfect for toddlers who love to wiggle and move (so, basically all toddlers!). It encourages pretend play and developing important motor skills. It can be truly fun to play because it's not just a boring "roll the dice and see who chance decides will win" game.
Bedtime Bunny is a great game to include in your bedtime routine. It's a quick game that allows your child to make some common bedtime decisions (like which potty to use) and work on color recognition while reinforcing your bedtime routine.
We've just ordered this one and are hoping it helps bedtime go a little more smoothly. (A Potty for Me! really got LG interested in the potty, so it seems pretty likely this game will help with our bedtime routine.)
No products found.
HABA has another cooperative game for toddlers called Little Garden. Players help the gardener plant, water, and weed his garden before a mole finishes her borrow.
Little Garden teaches cooperative play, shape and color recognition, fine motor skills, and a bit about the concept of gardening. I think it's a little more challenging than First Orchard and some of the other games on this list, so it's a good choice if your two year old has already mastered some other games.
No products found.
Where's the Bear? works on stacking blocks, spacial awareness, and object permanence. There are multiple different ways to play and, of course, the stacking blocks are great for independent play.
Roll and Play is a great introduction to games. The large die is easy for toddlers to throw (plus it's soft, which is nice! I've been hit a few times by a large flying wood die from other games.) Match the color rolled to action cards, then perform the action together. The game get you up and moving, searching for colors in the room around you, and having plenty of fun with your toddler.
I'm a big fan of Haba products because many of them are still made in Germany. That's why I have to include a couple more games from the Very First Games series! Not all of the games in the series encourage cooperative play, so I've left them out of this post. After reading research presented in several of Alfie Kohn's books, I've come to believe that cooperation, not competition, is the way to go.
Haba's Flower Fairy is a sweet cooperative game with variations for older toddlers/preschoolers. It's not suitable for strict Montessori families, but it's a good choice for anyone who doesn't mind their child playing with fairies!
Hanna Honeybee is another Haba cooperative game for toddlers (yes, I love Haba!). This one is a lot of fun and involves dropping tokens into "beehive" to turn flowers into honey. It works on color recognition, fine motor skills, and cooperation.
And, of course, there are always matching games! There are many matching games for toddlers, so I went ahead and complied a few of my favorite into a table instead of listing each one separately.
Shortly after her second birthday, LG became interested in a matching game I made her a while ago. Your child may be a bit younger or a bit older when they become interested in matching cards. It's a lot of fun to watch when them get excited about matching up pairs of like items!
Sometimes you need a new activity for your toddler right now. That's why I created a set of printable animal matching cards for you! Even better – there are 10 animal matching cards, a set of animal shadow matching cards, a tracing/cutting practice sheet, and four woodland animal bingo cards all available for the incredible price of $1.50.
I hope you've enjoyed this list of board games for two year olds!
Please Pin this post to save it for later so you don't lose track of it.