This collection of to do list printables will help you keep your tasks organized with monthly, weekly, and daily printable to do lists!
I love writing things down on paper. You'd think that, as a blogger who works on my computer, I'd prefer a digital planner. I love my Happy Planner and making actual, paper lists for everything!
That's why today I'm sharing a variety of printable to do lists for you. There are long-term to do lists where you can track your tasks and goals, monthly to do lists, weekly checklists, and daily to do lists. I hope you find something you enjoy!
How to use printable to do lists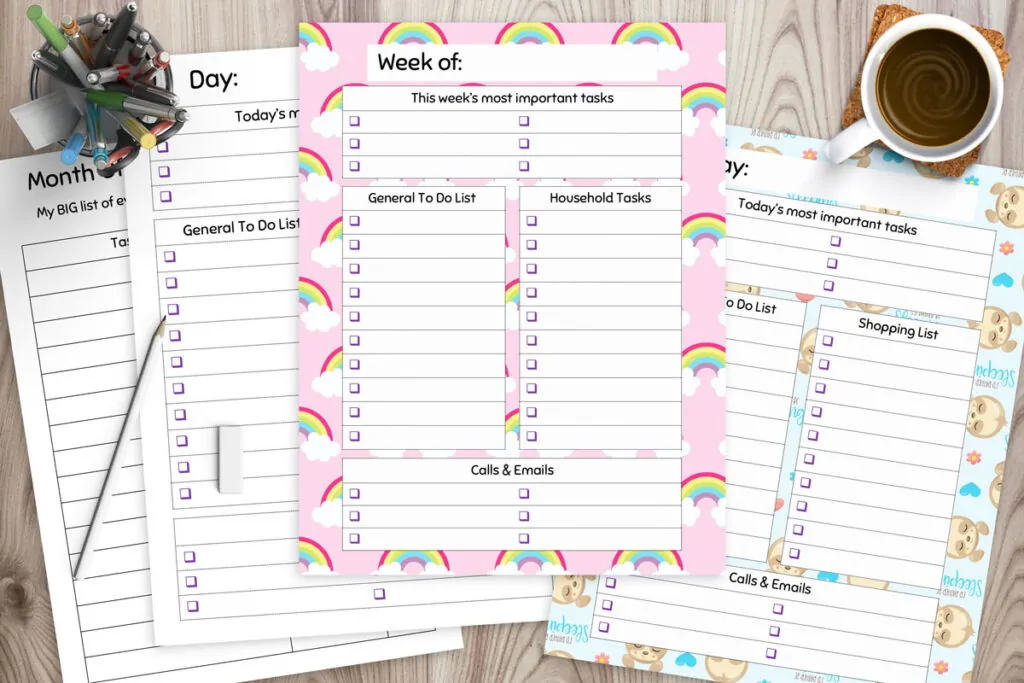 This post includes affiliate links, which means I may earn a commission on purchases made through links at no additional cost to you.
If you want to use these printables in your Happy Planner, simply print them scaled to 84%, then use a paper trimmer to cut away the excess and hole punch with a Happy Planner punch. This is the magic percentage that works for most printers, but make sure to print a single sheet first to be certain!
Free printable to do lists
These printables are all free for personal use. that means you can print and use them as many times as you'd like, but please do not redistribute the digital or printed pages. Just send your friends and family to this post so they can download their own copies!
Please use the links to download the compressed files from Google Drive. You will need to download and uncompress them before printing. The images in this post are just low resolution previews that will look terrible if printed.
Make sure to keep scrolling to see cute versions of the weekly and daily to do lists!
You can download each to do list page below individually, or you can save valuable time and grab the whole set one one handy file for $1!
Individual free download links are located below the preview images.
Long term master checklist
This longterm checklist has pages for you to write out specific areas of your life and things you want to accomplish. For example, you might set separate goals for your fitness, spiritual health, and progress on crafting projects.
Download the master to do list here
There's also an undated/unspecified to do list checklist with things to do, places to go, and a place for notes.
Monthly to do list printable
Plan out your month with this printable monthly to do list!
Download the monthly printable to do list here
Weekly to do list printable
The weekly to do list has space for this week's most important tasks, a general to do list, household tasks (like cleaning the kitchen, changing air filters, etc.) and any calls or emails you need to make.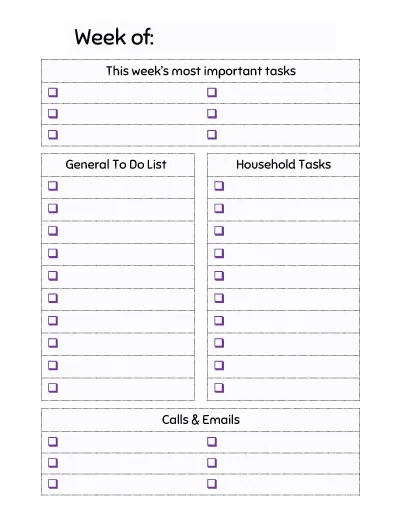 Download this weekly printable to do list here
Daily to do list printable
The daily to do list includes important tasks, a general to do list, important calls & emails, and a shopping list.
Download the daily to do checklist here
Cute printable to do list
Time for the cute to do list printables! So far I have a rainbow themed version of the printables and a sloth version. If there's some other "cute" theme/pattern you'd like to see on a to do list, please leave a comment and let me know what you're looking for!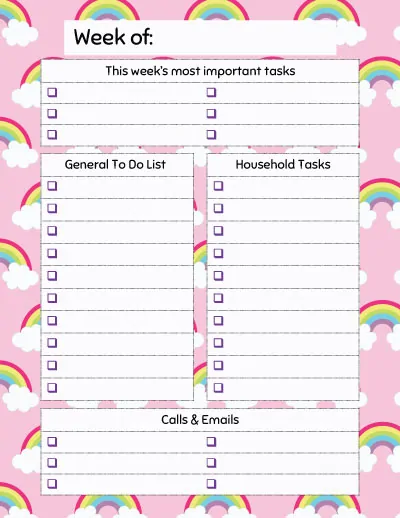 It's not too late to grab all these printables in one handy file for just $1!
Don't lose track of these free printables! Pin them now!
More free planners & organizers on The Artisan Life
Planning & Organizing Printables